After seeing so many beautiful photos of Águeda, I decided that next time I went to Portugal I would find the time to discover this city with my own eyes. So I did and I was not disappointed with the trip.
As soon as I arrived, I headed to one of the famous streets that displays the Umbrella Sky Project. Believe it or not, I had hardly given my first steps on one such street, when I had the most unlikely encounter! I was marvelling at the umbrellas of the Luís de Camões street, which is the largest pedestrian street, when a lady came towards me pointing at my camera. Her name was Maria de Jesus and she was offering to take a photo of the reflexion of the umbrellas on my glasses! Finding this quite unexpected but funny, I handed her my camera and she did not hesitate a second! Click!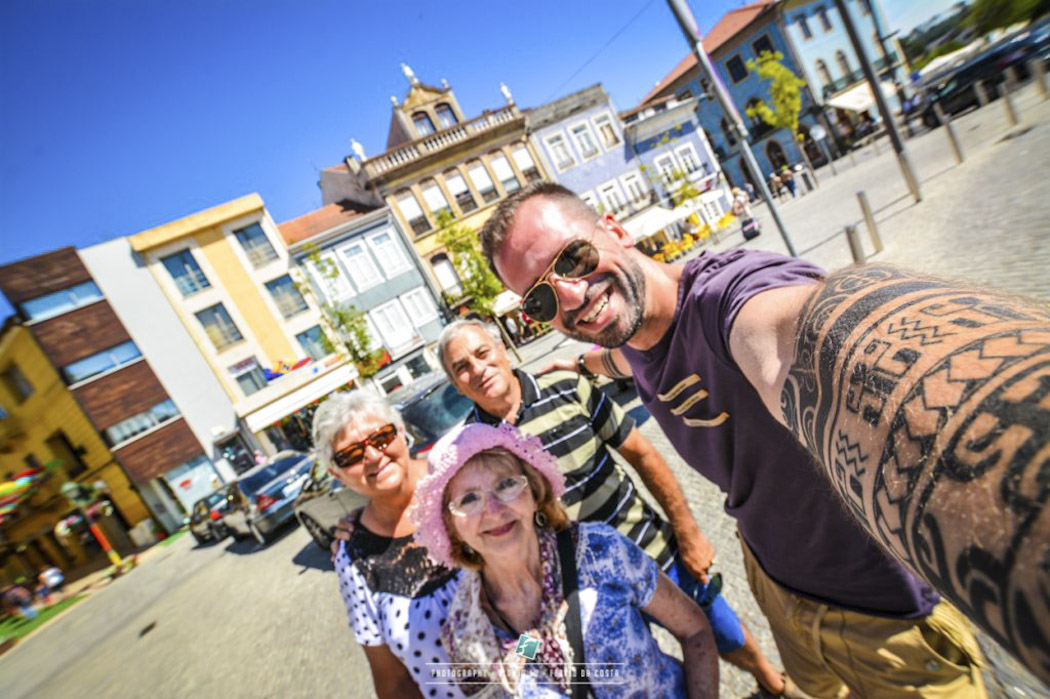 Finding her very friendly, we started a chat and were soon joined by her husband, João, and her mother-in-law. They were a Portuguese couple, who emigrated to South Africa a long time ago, but who remained enthusiastic about Águeda, which they visit every year when they return to Portugal on holiday. So, they knew every nook and cranny of the city.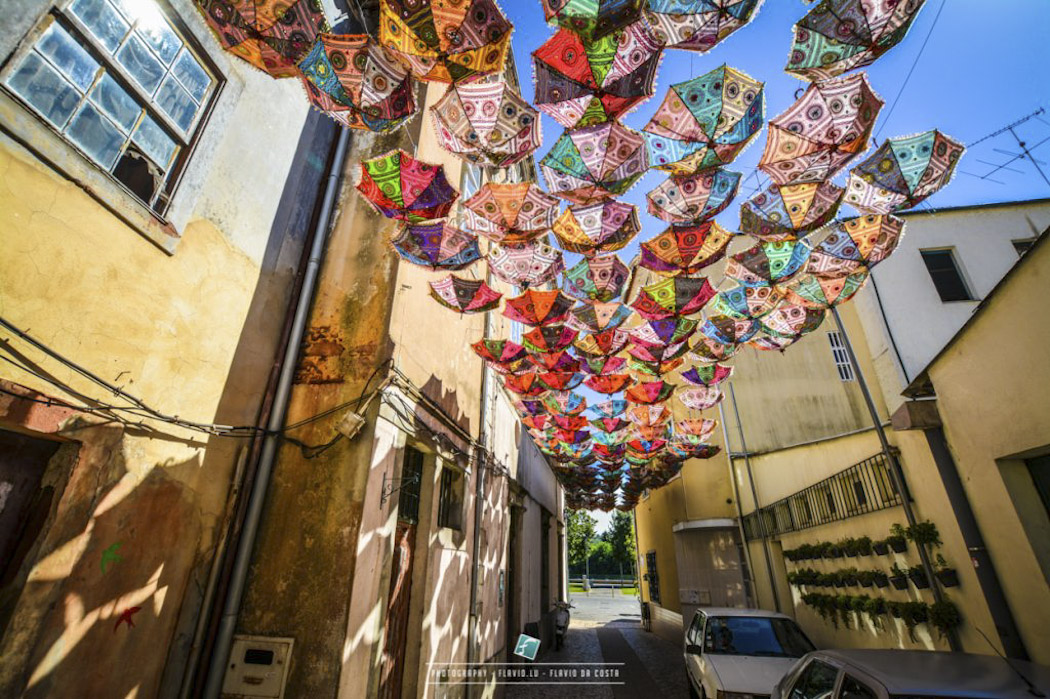 My luck! They gave me lots of tips about what to see and photograph in town. I could not have had any better guides! So I went through all the streets where the Umbrella Sky Project is installed and I was surprised to find that there are umbrellas for all tastes and in all shapes!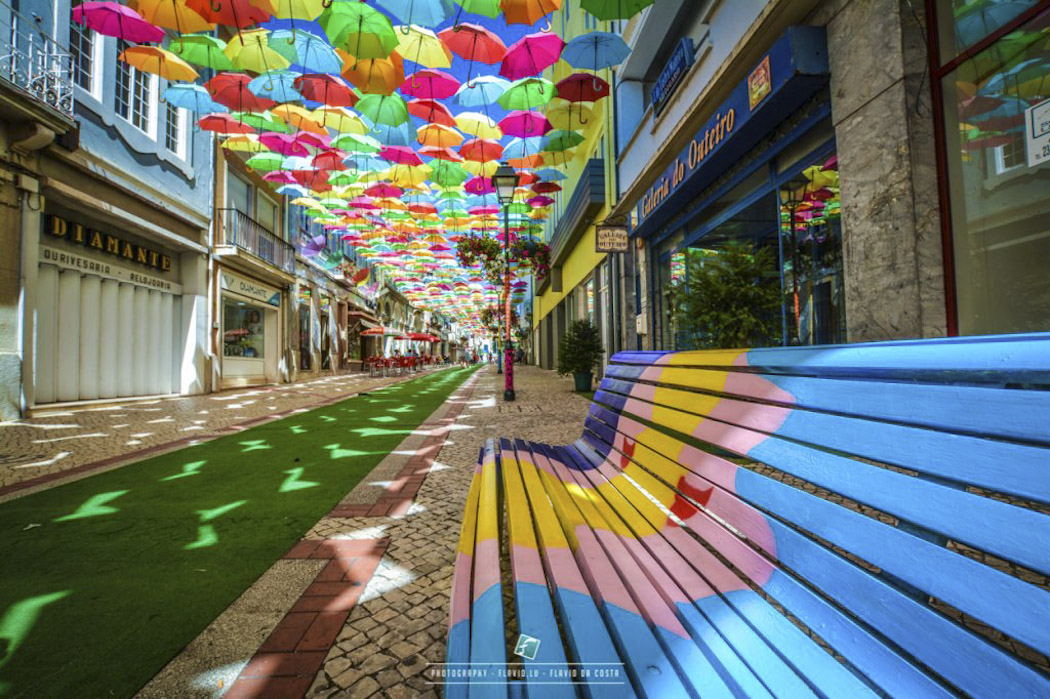 Besides the umbrellas that give shade to the many cobbled streets in the old town of Águeda, each shopkeeper gives his own personal touch to the decoration by ornamenting their facades or showcases with small or large coloured umbrellas.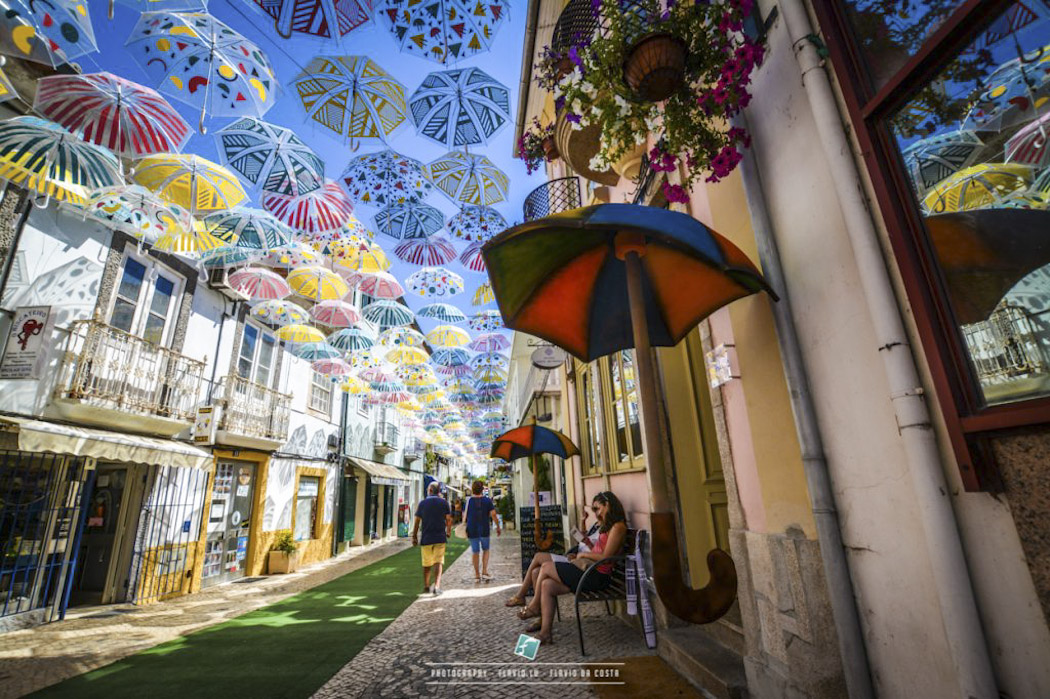 And finally, my last meeting turned out one of the most beautiful of the day. I was strolling randomly through the old town again, along the Luís de Camões street, when I came to a small door, where a very old man was sitting. Approaching the door I discovered, inside, a tiny room that looked like a barber's shop. It was here that I met Acácio, a barber aged 85, who has been doing his job for over seventy years. He lost his father, himself a barber, at the age of fifteen and was forced to make a living off his father's shop. Ever since then he has been working in this barber's shop.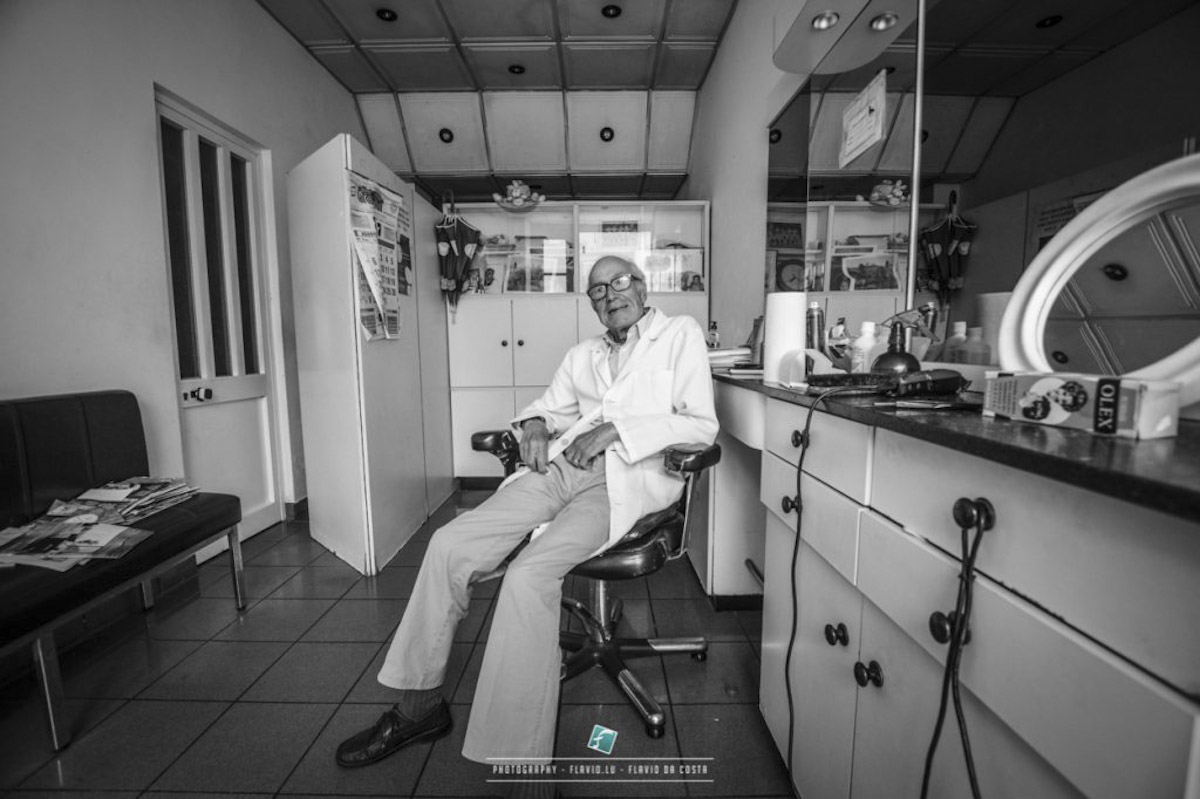 Seventy years working at the same place! I could not resist and asked him to take care of my beard and I can assure you that despite his age he still has a precise and pleasant gesture. His know-how that is probably unique and invaluable and it was touching to see him at work. This old man manoeuvring skillfully his razor, reminded me of my own grandfather who, during his lifetime, always spoke about the old days when craftsmanship was still valued. This barbershop, where time seems to have stopped, is probably one of the few places with a strong link to the past and I hope to return there often.
Do not hesitate to go through Águeda where you will find much that will amaze you.