We have travelled with our motorbike from Vladivostok to Donghae (South Korea). In this article, you will find all the information regarding how to ferry your bike from Vladivostok (Russia) to South Korea (Donghae), ferry prices, customs clearance and motorbike insurance.
Tourist Visa to South Korea
All European Union citizens, as well as US citizens, do not require a pre-arranged tourist visa. There's a visa-free policy to stays for up to 90 days for these citizens. This was our case, so we did not have to organise visas. From Vladivostok it is possible to fly to South Korea or to get a ferry. We got a ferry.
Your Own Transport (in our case, one motorbike)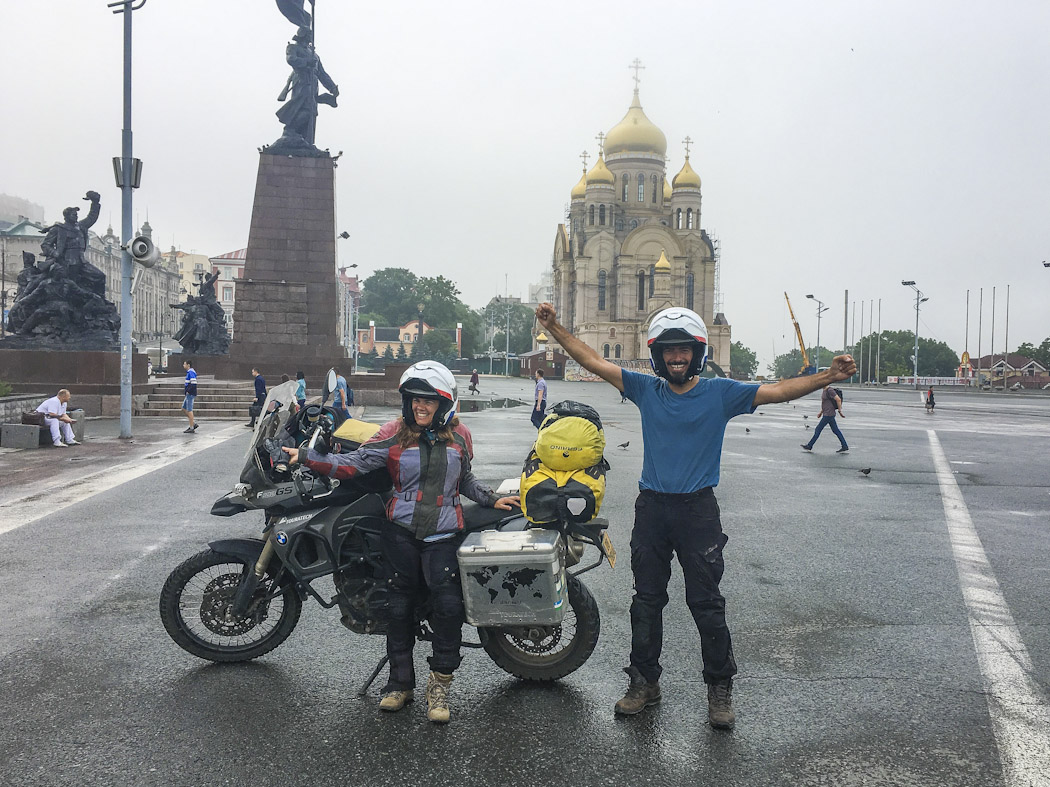 As we were driving our motorbike, we decided to take a ferry from Vladivostok to Donghae. The ferry company doing this sea crossing is called: DBS Ferrys
It is necessary to make some pre-arrangements to get the motorbike on the ferry to Korea. Most travellers (including ourselves) chose to handle the process through an import agent – Links ltd, the agency of famous Mr. Yuri – although we wonder now whether we could have done it all by ourselves. At the time we didn't try it because we were told that the ferry (which runs only once per week) tends to fill up very quickly. Therefore, we contacted the import company some weeks in advance to reserve a place for us and the bike (we heard of riders who had made the reservation months in advance). Once there, and although we were travelling during high-season, we realised that the ferry was far from being full. The 5 motorbikes that made the crossing that week, had an entire floor of the ferry all by themselves). Perhaps the import company creates scarcity, so that travelllers book with them in advance and do not try to figure out how to handle customs on their own. Perhaps…
Ferry Prices (passengers, motorbike and customs clearance)
All together, in Vladivostok we paid:
  39,77 Dollars – Port fees
606,18 Dollars – Motorbike ticket
150,00 Dollars – Customs clearance (for the import company)
144,48 Dollars – Driver Ticket (Vladivostok-Korea-Japan)
230,34 Dollars – Passenger Ticket (Vladivostok-Korea-Japan)
see below prices at Korean Port
Notice:
Be aware that the tickets of the driver and the passenger included Vladivostok (Russia) – Donghae (South Korea) as well as our next leg of the trip, two weeks later, to Sakaiminatu (Japan). This because, in our case, we continued the trip to Japan. From other travellers, we learnt that it gets cheaper to have a direct ticket Vladivostok-Sakaiminatu.
Customs clearance in Vladivostok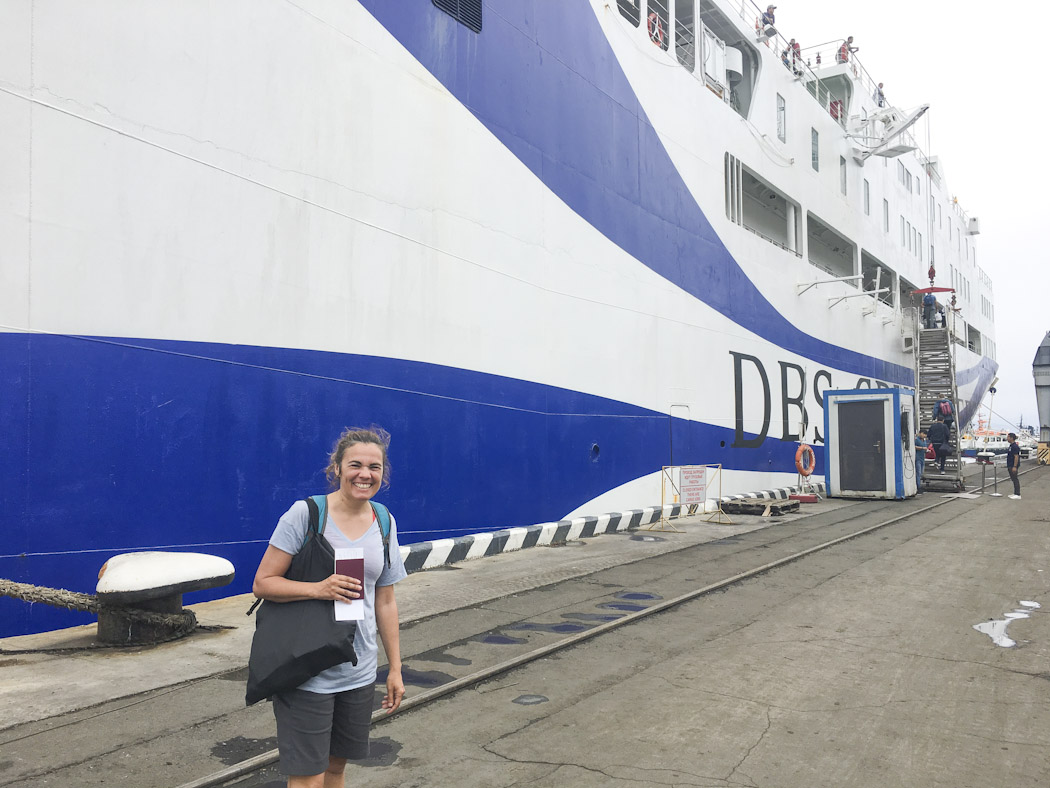 The import company asked us to arrive the day before departure, in the morning. On that occasion, we made the payment and took the bike to the port, where it stayed, with the keys. We were not allowed to drive the motorbike into the ferry ourselves. The port employees do it. It did hurt to leave the bike and the keys there. But we found everything in order upon arrival in South Korea.
It was also on that occasion that the import company concluded the customs clearance at the port, and all we needed to do was sign the papers. We must admit, that all was very smooth and straightforward. Perhaps for that alone, it is worth to pay the import company to do all the paperwork for us.
Necessary documents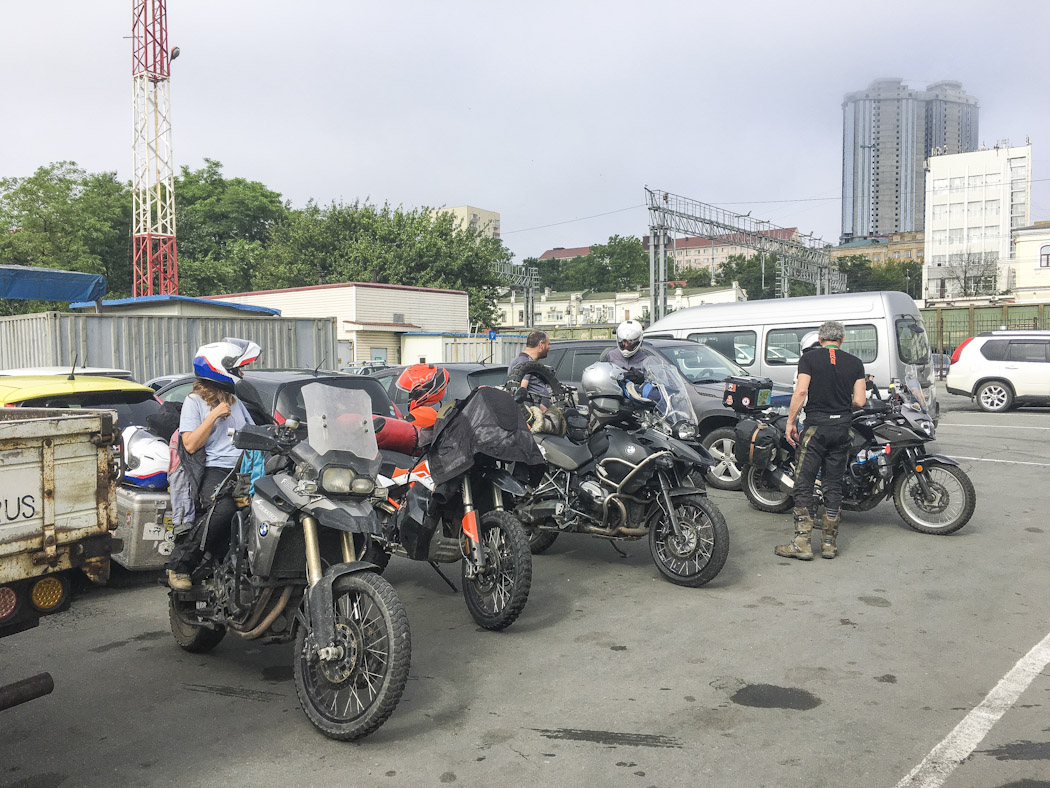 During our e-mail exchange with Links ltd, we were asked to provide the following documents:
photos of the motorbike, of its license plate and of the chassis number
copy of the international driving license.
copy of motorbike's grey card (motorbike's passport)
copy of the driver's passport
Arrival at Donghae's port
Once the ferry arrived in Donghae, the motorbike drivers were assembled and taken to the motorbikes, so we actually drove the motorbike out of the ferry. There, we were taken to DBS' offices to handle the customs clearance on the South Korean side. This was also all very well organised, the person in charge spoke perfect English and was very clear.
The customs clearance included paying for a temporary import guarantee (this is South Korean's answer to the CDP, which is not accepted in Korea. They have their own system and call it a 'guarantee') and the motorbike insurance for the time of our stay. In our case, we paid:
150 Dollars for the guarantee
134 Dollars for two weeks motorbike insurance
And we were ready to leave the port to explore the country!
Roads and Highways (Expressways)
We had heard of motorbike riders telling us that Korea was not a country for motorbikes. This is only partially true and probably based on the fact that in South Korea motorbikes are not allowed on the highways (in Korean called Expressways). In any case, we avoid driving on highways (both because we prefer to go slowly and because of our budget). There are many alternatives to these Expressways, and the condition of all roads, even the less important ones, connecting very small villages, is in excellent condition.
We advise you to have a proper GPS system that recognises tolls so that you can program the GPS without toll roads. Unfortunately, we only had maps.me, which did not recognise Expressways, so it did happen that sometimes we were directed to them. Once, because it was so hot and we were a bit tired, we decided to enter the Expressway, not expecting to have any issues. That was not the case though. In less than 10 minutes we had the Expressway patrol behind us, escorting us out of the Expressway to the police. The police were kind though and just gave us a friendly warning. They even offered us water and other drinks when we explained that it was too hot for motorbikes to stay in the stop and go traffic of big cities.
Apart from this issue with the Expressways, we do find that South Korea is a haven for motorbikes. There are so many hills and roads zigzagging through them. We absolutely loved the experience and would do it again!