In a previous article, we wrote about how to get your motorbike from Vladivostok (Russia) to Donghae (South Korea). If you are interested in knowing more about procedures and prices for this crossing, read below. In this article, we put together the rest of the leg, from South Korea to Japan with ferry (Donghae to Sakaiminato). In our case, after spending two weeks travelling in South Korea, we proceeded to Japan.
We boarded the ferry in Donghae (South Korea) to land in Sakaiminato (Japan). If we had to do this again, we would have done it quite differently. We think that the best option would have been to buy a ticket Vladivostok-Donghae (for the first leg of the trip). And then buy a second ticket from a different port in South Korea, namely from Busan, a city that is much closer to Japan, and therefore the ferry crossings are also much cheaper. This needs to be done with another ferry company, and this is probably the reason why no one suggested us to do it this way.
Tourist Visa to Japan
All European Union citizens, as well as US citizens, do not require a pre-arranged tourist visa. For these nationals, a 90-day tourist visa is given upon entry to the country. This was our case, so we did not have to organise a visa for us. From South Korea it is possible to fly to or to get a ferry to Japan.
Your Own Transport (in our case one motorbike)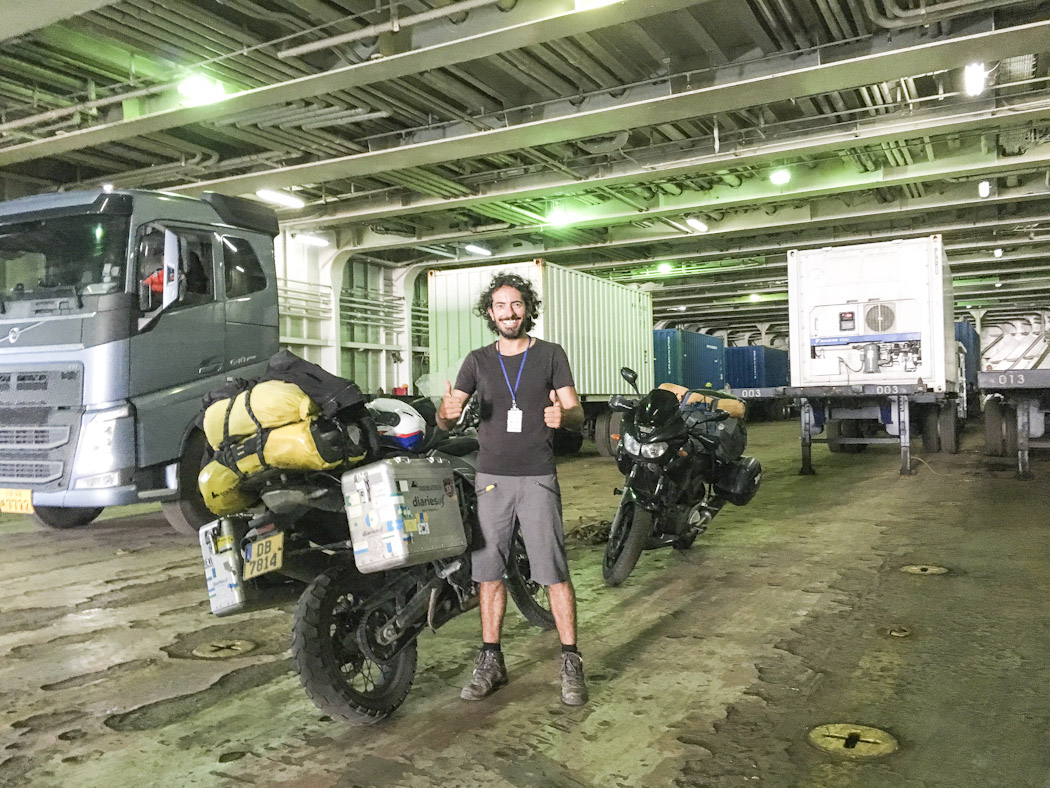 As we started the crossing to Japan from Vladivostok, we took a ferry from Vladivostok to Sakaiminato (Japan) with a stopover in South Korea, for a stay of two weeks. The ferry company doing this sea crossing is called: DBS Ferry
Be aware, however, that it is possible to do this in a much more practical way. It would have been better to take a single ticket to South Korea (Donghae), and from there pick another port in the South, namely Busan, to cross to Japan. As the distance is shorter from here, prices are also better. Unfortunately, we did not know this at the time, and bought our ticket Vladivostok-Donghae-Sakaiminato.
In South Korea, it is the ferry company DBS Ferry, that handles all the temporary import procedures. To board the ferry to Japan, all we had to do was to come to the port two hours before departure, buy the motorbike ticket (we had already bought the passengers tickets in Vladivostok, but we were not allowed to buy the ticket for the motorbike there) and drive our motorbike into the ferry. DBS Ferry had handled all the necessary paperwork.
Ferry Prices (motorbike and customs clearance)
All together, in South Korea we paid:
400,00 Dollars – Motorbike ticket
150,00 Dollars – Temporary Import Insurance
134,00 Dollars – Motorbike Insurance (for two weeks)
see below prices at Port in Japan
Notice:
Be aware that we did not have to buy passenger tickets to Sakaiminato because we had already bought them in Vladivostok.
Customs clearance in South Korea
In South korea, it is the ferry company DBS Ferry, that handles all the temporary import procedures. To board the ferry to Japan, all we had to do was come to the port two hours before departure and buy the motorbike ticket. We also exchanged the passenger tickets for new ones, and even got upgraded to a double bed cabin, although we had economy tickets. At DBS we had to pay 150 dollars for a temporary import insurance (Korean answer to the carnet de passage, which is not valid here) and also the motorbike insurance. All was quickly done and it was always clear what we were paying for.
Arrival at Sakaiminato's port
Once the ferry arrived in Japan, we had Tatiana – who is DBS' officer in Japan – waiting for all the foreigners at the port. We had been in contact with her since we started the procedure of buying ferry tickets in Vladivostok. Her contact was given to us by Mr. Yuri, of Links, ltd.
Tatiana will ask you for the necessary documentation so that when you arrive at the port, she will have all the paperwork done and all you will need to do is sign the papers and pay her and get your bike out of the port.
Necessary Documents and Charges in Japan:
During our e-mail exchange with Tatiana, we were asked to provide the following documents:
photos of the motorbike, of its license plate and of the chassis number
copy of the international driving license as well as the Japanese version of the international driving license.
copy of motorbike's grey card (motorbike's passport)
copy of the driver's passport
With these papers, Tatiana prepared all the paperwork and all we had to do was pay her:
150,00 Dollars for customs clearance
 45,40 Dollars for two months of motorbike insurance
Important Notice regarding insurance!
Be aware that the motorbike insurance only covers personal injury, it does not cover material damage, not on your bike not on the third party. So, if you have an accident, and you are faulty, you will still have to pay for all the material damage.
The Carnet de Passage
We had first read that the Carnet de Passage was required to enter Japan. Afterwards, we were told that no Carnet would be required as long as we entered and left Japan from the same port. Later, we found out that what the law says is that one can enter Japan without a carnet de passage as long as one leaves the country through a port that has passenger transit (not only merchandise). Which in the end means, you need to leave with the motorbike.
Roads and Highways (Expressways)
We had heard of motorbike riders telling us that Japan was not a country for motorbikes. This is only partially true and probably based on the fact that in Japan Expressways are much too expensive and regular roads can be very slow due to the enormous amount of traffic lights.