It's official: a reopening of the United States as a travel destination for fully vaccinated tourists from the EU is looming around the corner (8th of November). So, since travel agencies and tour operators are trumpeting (that's the only time you'll read these 5 letters in that order here, promised!) this fact all over social as well as conventional media, I thought it might be time to write an unbiased article about the classic self-driving tourist route in the Southwestern United States.
It's official: The United States has re-opened as a travel destination for fully vaccinated tourists from the EU.
'Why unbiased?', you may ask. Let me explain: since people know that Nadine and I travel quite a lot, they tend to ask us what's the most beautiful place we've ever been to. And often, when I tell them that would be the Southwest of the United States, they seem taken aback. 'What? The land of guns, stupid politics and patriots? You've been to so many places around the world and that's where you like it the most?" Then, they often 'wisely' add; I'd never go to the US since they xxxxx (add whatever historic or social fact you disapprove of here).
Well, let me tell you, if you choose your travel destination by such criteria as politics, historic behaviour patterns or crap they told you on TV, you might end up on a lawn chair in your garden. Simply imagine what you'd say to a foreigner that told you, he would never go to Luxembourg since he thinks we're all morons due to our financial place and tax schemes or because he can't stand any national politician. Exactly, I'd tell them the same. And if you knew me personally you would laugh at the idea of me caring in the slightest way about any politician. In many parts of the US (this goes for most parts of the world, actually), you're further away from politics than from the moon.
In my opinion, the interesting things in a country are the following:
First and most important: its nature, its cities, in short: its overall beauty. Secondly: the way residents welcome you. For the former, let me assure you that you'll struggle to find an area on this planet treating you with such diverse and breathtaking nature and landscapes as the Southwestern US. For the latter; never form your opinions solely on hearsay or what you see on Tell-lie-vision. Get up and go see for yourself. You might be surprised and feel compelled to overthink your prejudices. If there's one thing we learned on our travels it's that you'll find nice people everywhere around the globe. And unfortunately, the occasional idiot pops up in every four corners of the world, no matter where you are.
Never form your opinions solely on hearsay or what you see on Tell-lie-vision…
But enough of the jabber, let's get to the subject. Nadine and I travelled the so-called Western National Park Route twice, with slight modifications on the second stint. We chose May for both trips since, in my opinion, it's the best time for this route. You'll avoid the big crowds in the National Parks and you'll have a 90% chance of perfect weather (there are more pros for this time, but I'll come to that later). Just try to avoid Memorial Day on the last Monday in May. We went twice for three weeks between Cinco de Mayo and Memorial Day and avoided the masses successfully.
So why is this area such a popular destination? First: as I said, the wonders of nature are very concentrated in a relatively 'small' area that you'll simply be blown away by nature every day. You'll find enough National Parks, State Parks or National Monuments in this area to fill a year without getting bored. Second: infrastructure is good and perfectly laid out for tourism so planning and organising a multiple-week tour is a piece of cake. Third: the cost benefit ratio is very interesting (although I have to say that some prices, especially for accommodation, rose significantly between our first trip in 2011 and our last one in 2018). But when it comes to rental car, National Park fees, gas and food, one can say it's manageable. Especially since you have plenty of options (budget wise) when it comes to accommodation and food. It's up to your purse if you choose a food truck or taco joint over the fancy restaurant (and it's certainly not cast in stone which one will leave a better impression).
So, off we go… Many flights from Europe's major airlines arrive at Los Angeles International Airport in the late afternoon. On both occasions, we chose to leave Los Angeles immediately and saved a few days for it at the end of the trip. Reasons? Most of the time, when you're going on a vacation, you're looking for peace and quietness after months of stress in your office, national traffic jams or the queue at your local Cactus or Auchan. So why punish yourself immediately with more traffic jams and more shopping malls. Your mental condition will be much better suited for this after three weeks of rocks, canyons, Sequoias and maybe an occasional bear (if you're lucky).
But arriving in late afternoon doesn't necessarily mean you'll be in for a stress-free evening. You'll have to get through customs and immigrations, pick up your rental car and in our case, drive a couple of miles to get to the outskirts of L.A. in order to be able to have a hassle-free first day of your vacation the following day.
Nadine and I chose to pick up the rental and drive to West Covina, which shaved off a good hour and some forty miles from our itinerary for the next day, the way to Joshua Tree NP. But since L.A. traffic is just as unpredictable as ours in Luxembourg, we made these forty miles in a bit over an hour in 2011, while it took us more than two and a half a few years later. Same day of the week, same arrival time. So, beware if Google tells you it only takes forty minutes and you're tempted to go further or even all the way to Joshua Tree; it's a lottery and you might end-up very tired behind the wheel in the middle of the night.
Joshua Tree National Park
Twelve years ago, when we planned our first trip to the Southwest of the US, I was connecting the dots for every daily journey with the goal to see as many National Parks as possible in three weeks. Initially, I wanted to skip Joshua Tree since the pictures I saw on Google where not even half as spectacular as what I'd seen from Grand Canyon, Monument Valley, Brice Canyon, Zion, etc… But people on internet platforms kept raving about its beauty, so we decided to give it a go and spend a few hours in the park before continuing to Lake Havasu, another stop-over on our way to the Grand Canyon. Little did I know then, that Joshua Tree would become one of my favourite NPs.
Joshua Tree is quite small so we were able to squeeze it in on our first day.  You can easily pass days, sometimes even weeks, in any NP in the US. I suggest trying to stay one or two days in most of the parks if you're a first-timer. That gives you the opportunity of many view-points and a couple of one- or two-hour hikes which will give you a pretty good impression of the respective Park.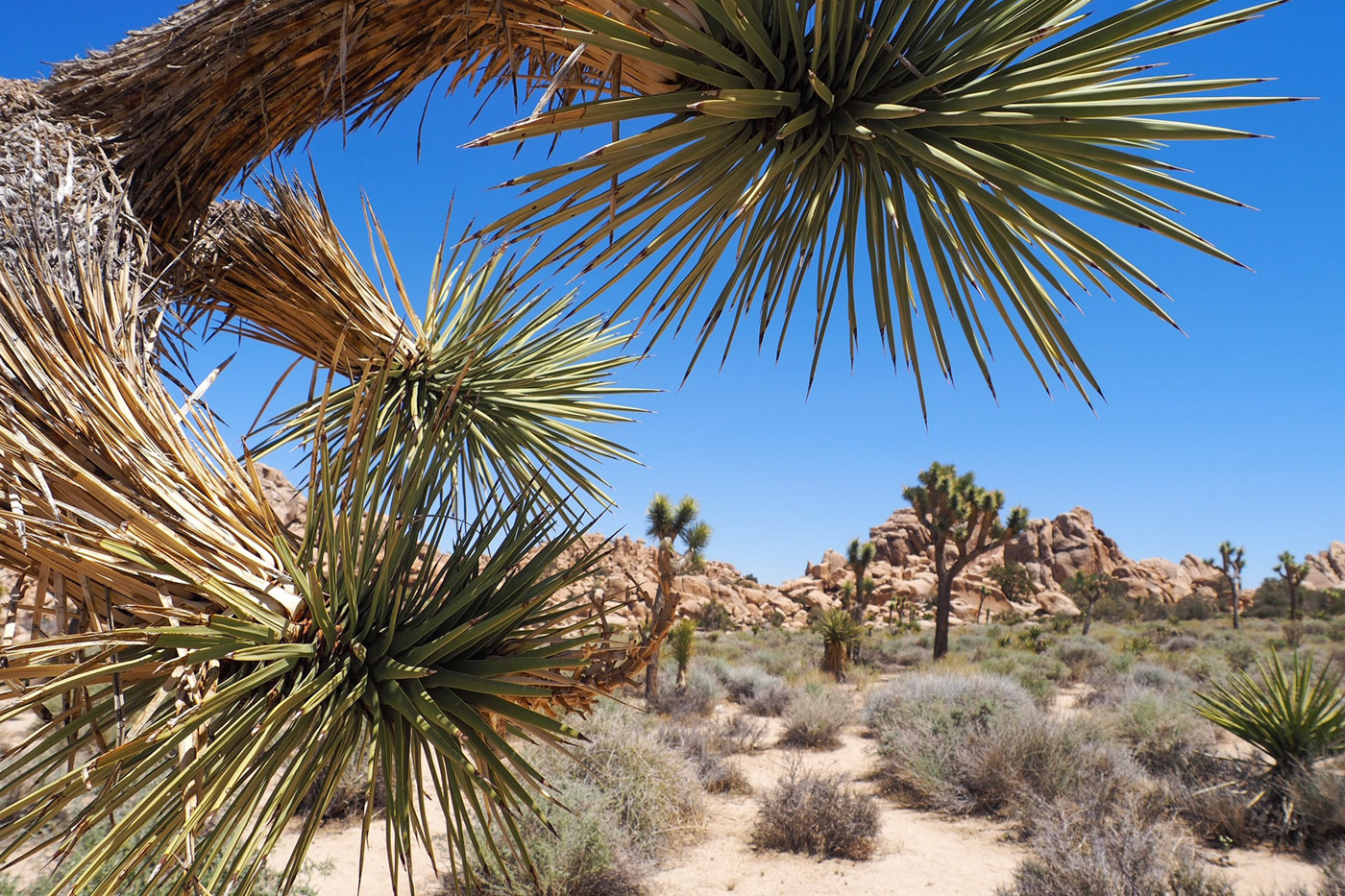 We bought our National Park Annual Pass in Joshua Tree NP Visitor centre upon arrival in the morning. This pass grants you access to all of the locations from the National Park Service (more than 2,000 sites). It will set you back an 80 Dollars, but it covers a car and all its occupants at 'per-vehicle' sites or up to four adults at 'per-capita' sites. Honestly, if you plan to visit more than two parks (on this route you will) it's an absolute no brainer and a hell of a bargain.
Insider Tip for the National Parks
The National Park Annual Pass grants access to all of the locations from the National Park Service (more than 2,000 sites). It costs 80 Dollars, (car and all its occupants at 'per-vehicle' sites or up to four adults at 'per-capita' sites). The pass is a bargain for those who plan to visit at least three parks.
After spending too much money on souvenirs at the visitor centre, we drove up into the park. On the first miles, before the entrance to the park, my skepticism only grew since we drove trough a boring desert landscape without the slightest interesting thing around. But once you pass the park entrance, dullness gradually makes way for an unbelievably beautiful landscape. The park is named after the Joshua Tree, a Yucca Palm that is endemic to California, Utah and Arizona. These trees, combined with the piles of marble-like rocks make for an otherworldly scenery. Driving along the well paved roads of the park makes you feel as if you've been beamed to a far-flung planet. I know, it sounds weird, but this is one of the places on earth you have to see with your own eyes because pictures simply cannot capture the atmosphere.
With the rest of our journey in mind, we only had a couple of hours, so we started to hike the Hidden Valley Loop. This takes you on a one-hour hike through a rock enclosed valley said to be used as a hide-away by cattle thieves back in the days of horses and gunslingers. It's fabulous, a must see. Since it's enclosed, it literally sucks you into the landscape.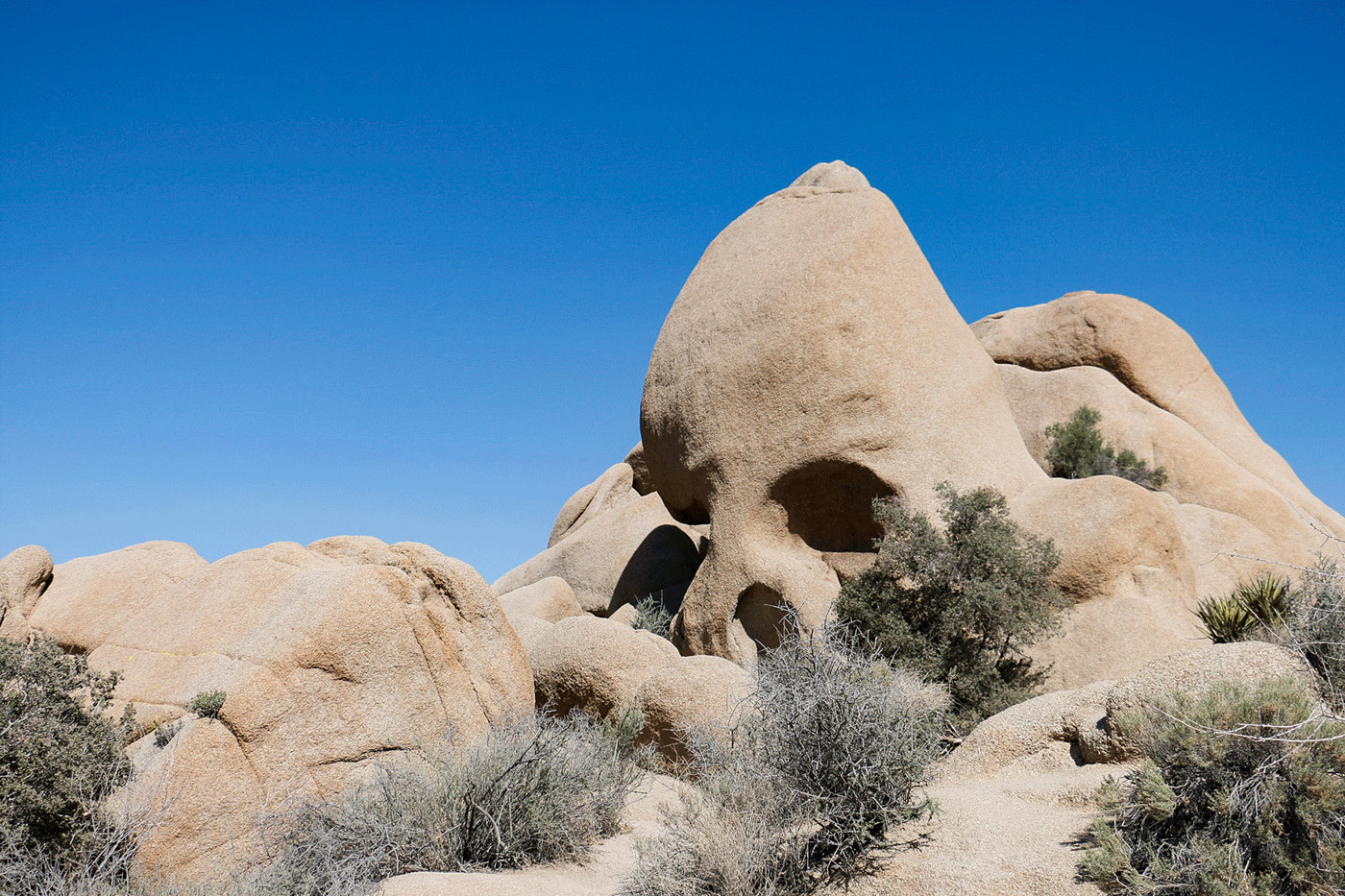 Further, we hiked the so-called Skull Rock Loop, an easy hike that gives you the opportunity to explore boulder piles, desert washes, and of course the namesake Skull Rock. It's fabulous as well, unfortunately, a bit more crowded with flip-flop clad people and their goddamn selfie-sticks. But if photographed from the right angle, said rock indeed resembles a skull. Our last stop in Joshua Tree was Keys View, a popular view point that allows for a breathtaking view over Coachella Valley (yes, that's where the Coachella Festival, the place-to-be for every self-proclaimed influencer, is held every year) and a very clear view of the famous San Andreas Fault (the place to be for every serious seismologist).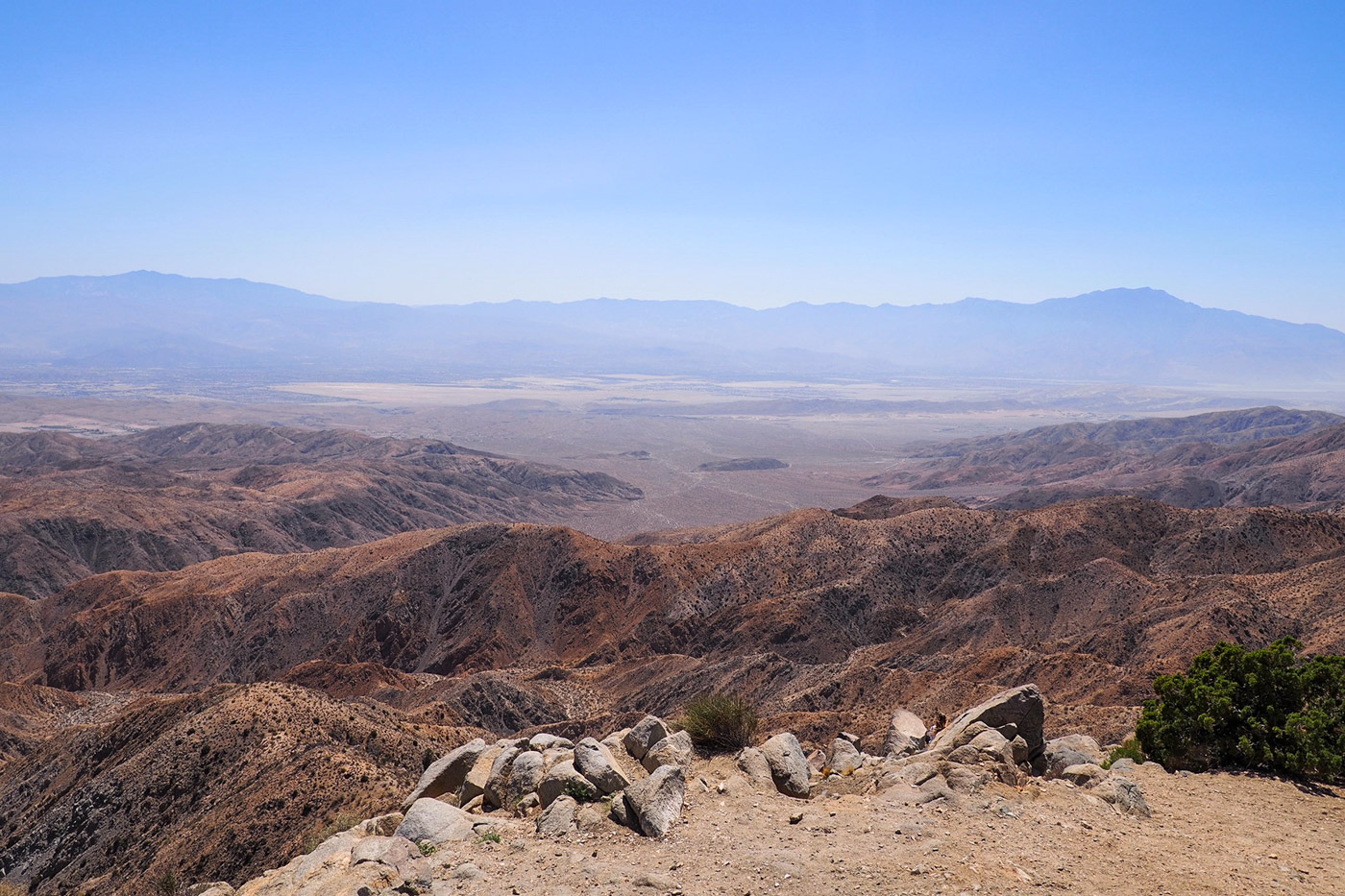 We left Joshua Tree for Lake Havasu City around 4 p.m., having in mind that it would take us two and a half hours to get there. If in doubt, I'd consider filling up your gas tank since the next 100 miles are sparsely populated and I can't remember seeing any gas stations. Lake Havasu City is a popular recreational city located in Arizona. Due to its lake, you'll cross loads of boats, jet skis and other nautical stuff on trailers on your way to get there. Consider the city itself as a good resting point on your way to the Grand Canyon.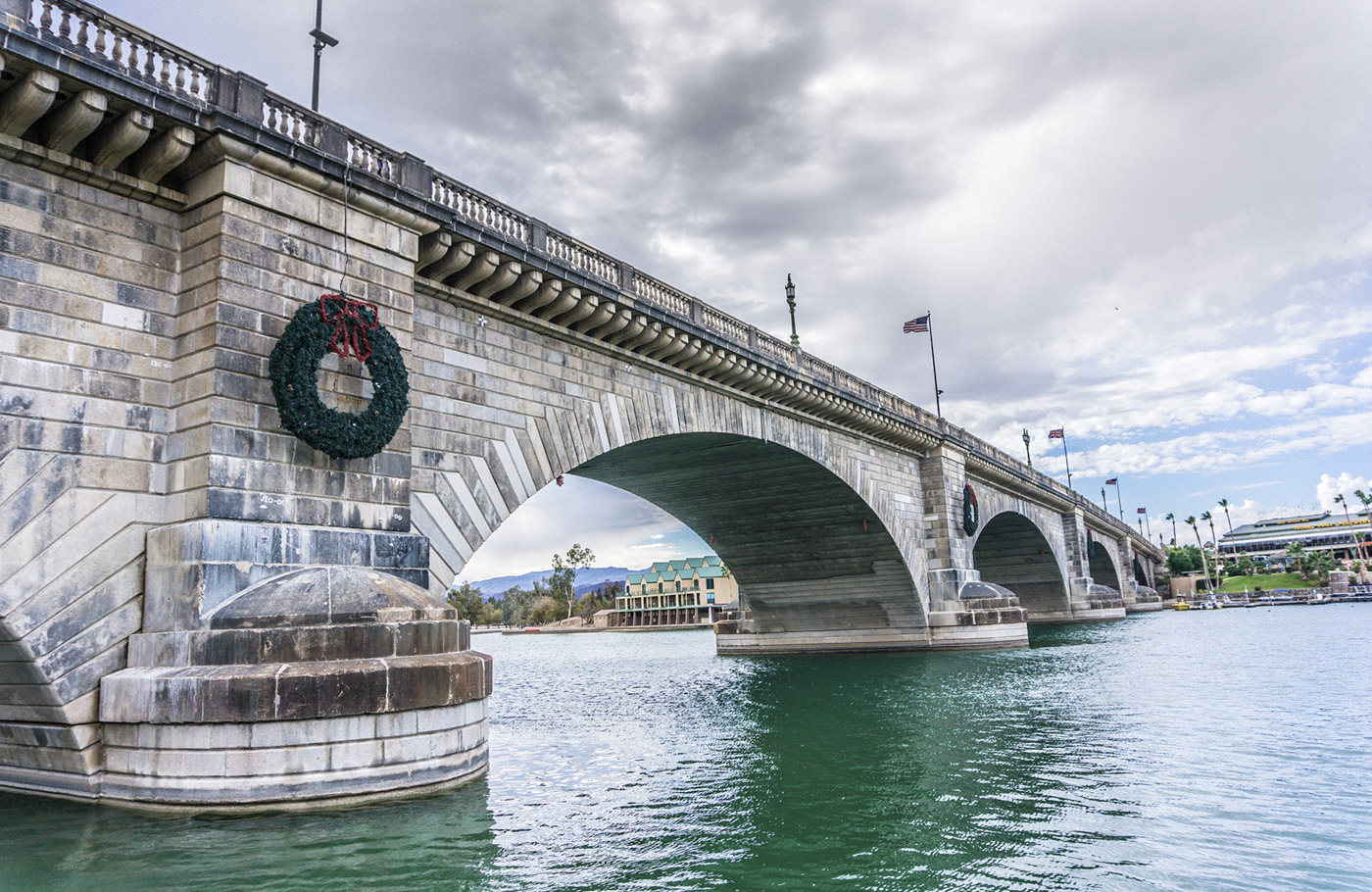 But there's one curious fact about the city that's worth mentioning; the reconstruction of the London Bridge to cross a narrow channel at Lake Havasu. Hoping to attract tourists, the founder of Lake Havasu City, Robert McCulloch, bought it for 2.5 million dollars from the City of London when the bridge was replaced in 1968. The bridge was disassembled and the marked stones were shipped to Lake Havasu City and reassembled in its new home. Since then, rumour goes McCulloch was convinced he had bought the Tower Bridge instead of the far less spectacular London Bridge.
Grand Canyon National Park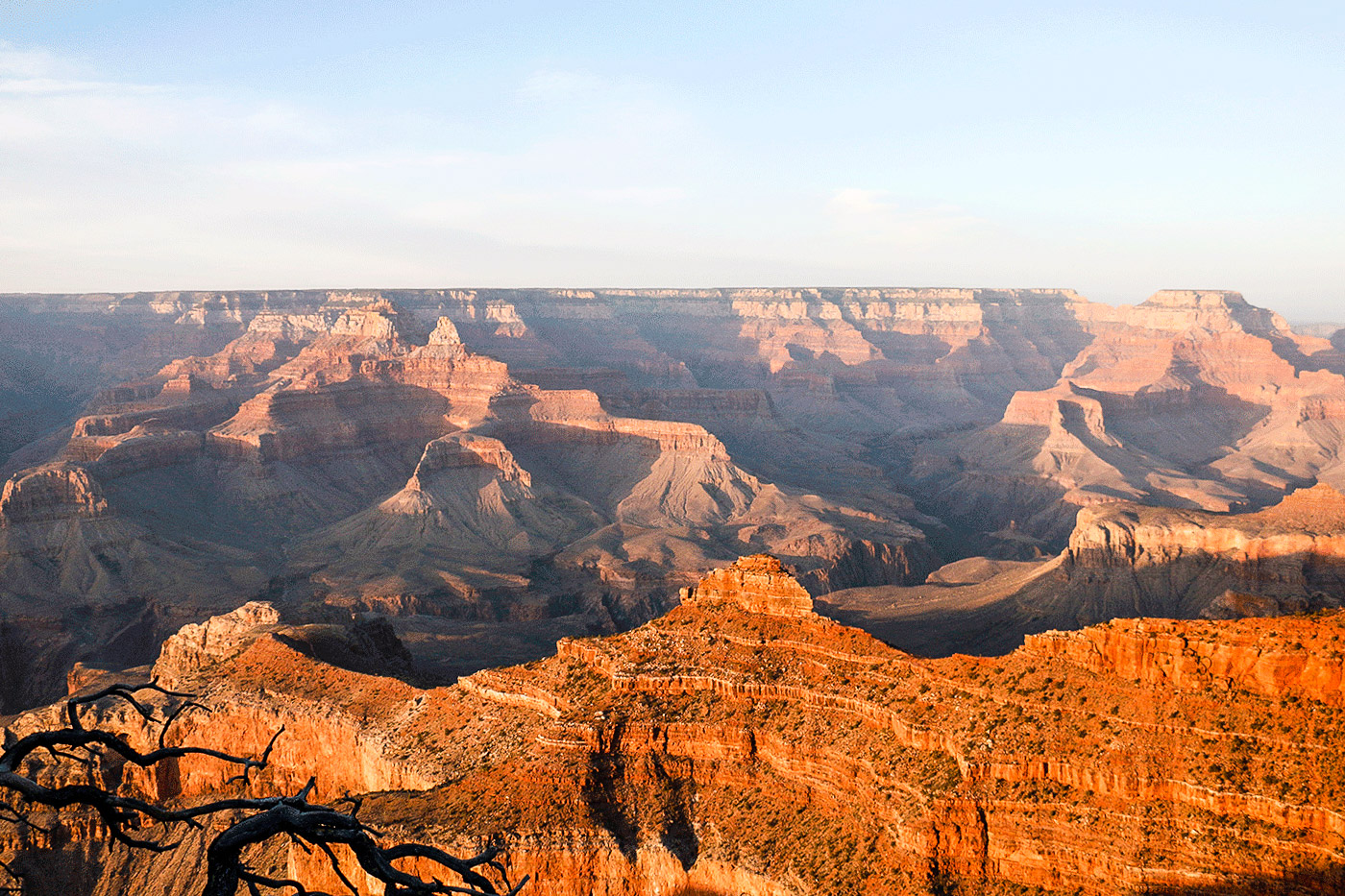 The following day, we left early in the morning for Grand Canyon National Park. This is a four-hour drive if you follow the direct way, but you can add around two hours on top of that if you choose to make a detour to visit Oatman.
Oatman is a former gold mining town that is located in the Black Mountains on Historic Route 66. Although many of the original buildings of the early twentieth century you'll see in Oatman are protected, the whole town feels like a big tourist trap. In fact, it's a gathering of souvenir shops, tourists, free-roaming donkeys and people riding the Route 66 on their motorcycles. I suggest you wander a bit off the main road, try to find a gap between the shops to take pictures of an abandoned miners' town, just like the ones you've seen in western movies as a kid. You'll wonder if Clint Eastwood will be trotting around the corner on his horse any minute. All in all, I would readily tell you to skip it, if it weren't for the fantastic stretch of road you'd miss after you passed Oatman and continue to Grand Canyon. If you are an aficionado of beautiful roads and vistas, you should add the detour to your itinerary.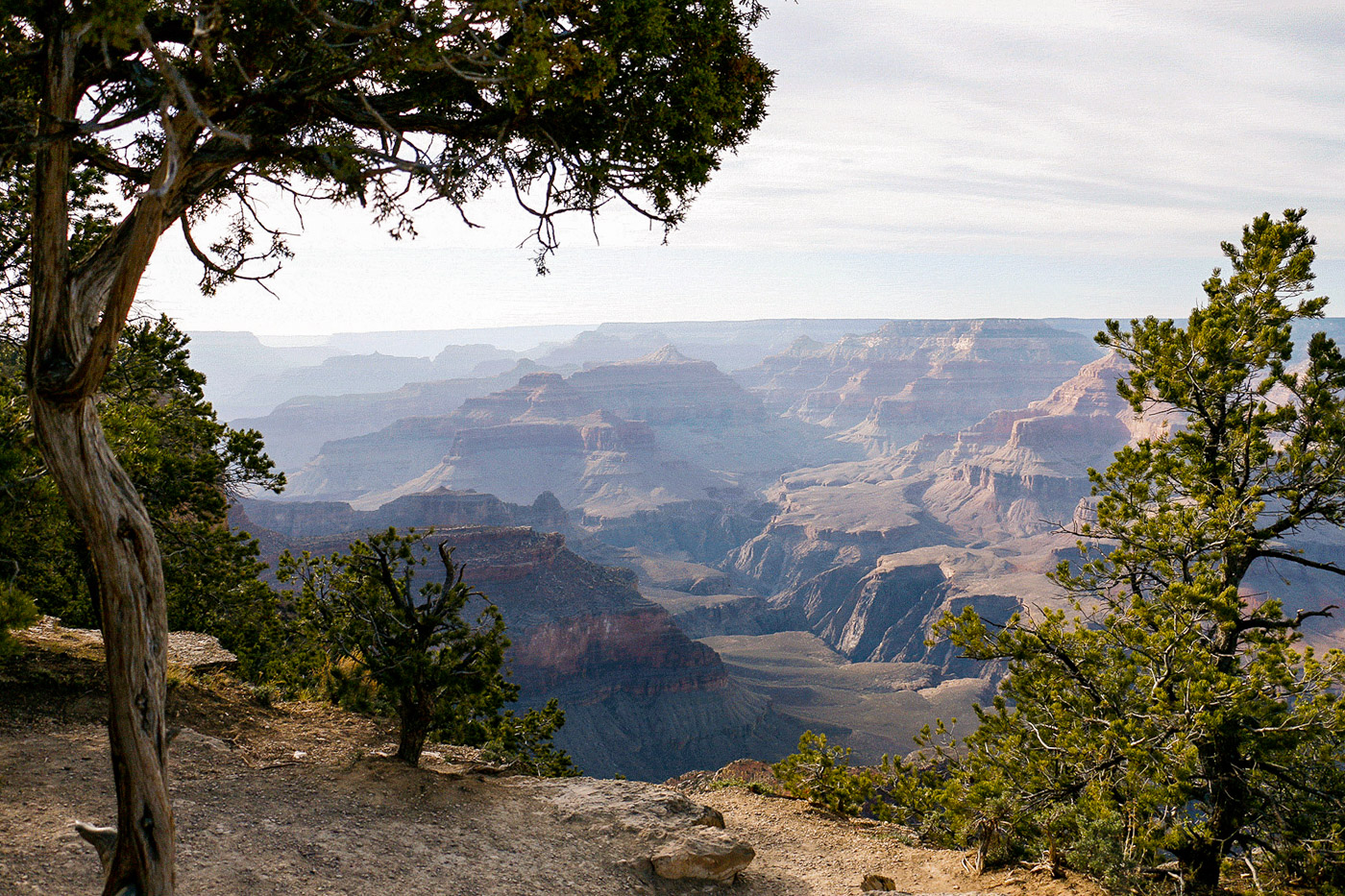 We arrived at the Grand Canyon National Park in the late afternoon, which is perfect since the Grand Canyon in all its splendour becomes breathtaking as soon as the sun starts to descend. The colour of the rocks turns from beige or brown into glowing red, with dramatic contrast emerging from the dark shadows that get longer the more dusk prevails. To be honest, it's quite difficult to describe the Grand Canyon with words, you'll simply have to see it with your own eyes. Its vastness will leave you speechless and you might get a glimpse how insignificant lifespans, centuries or even a thousand years are compared to the age of our planet.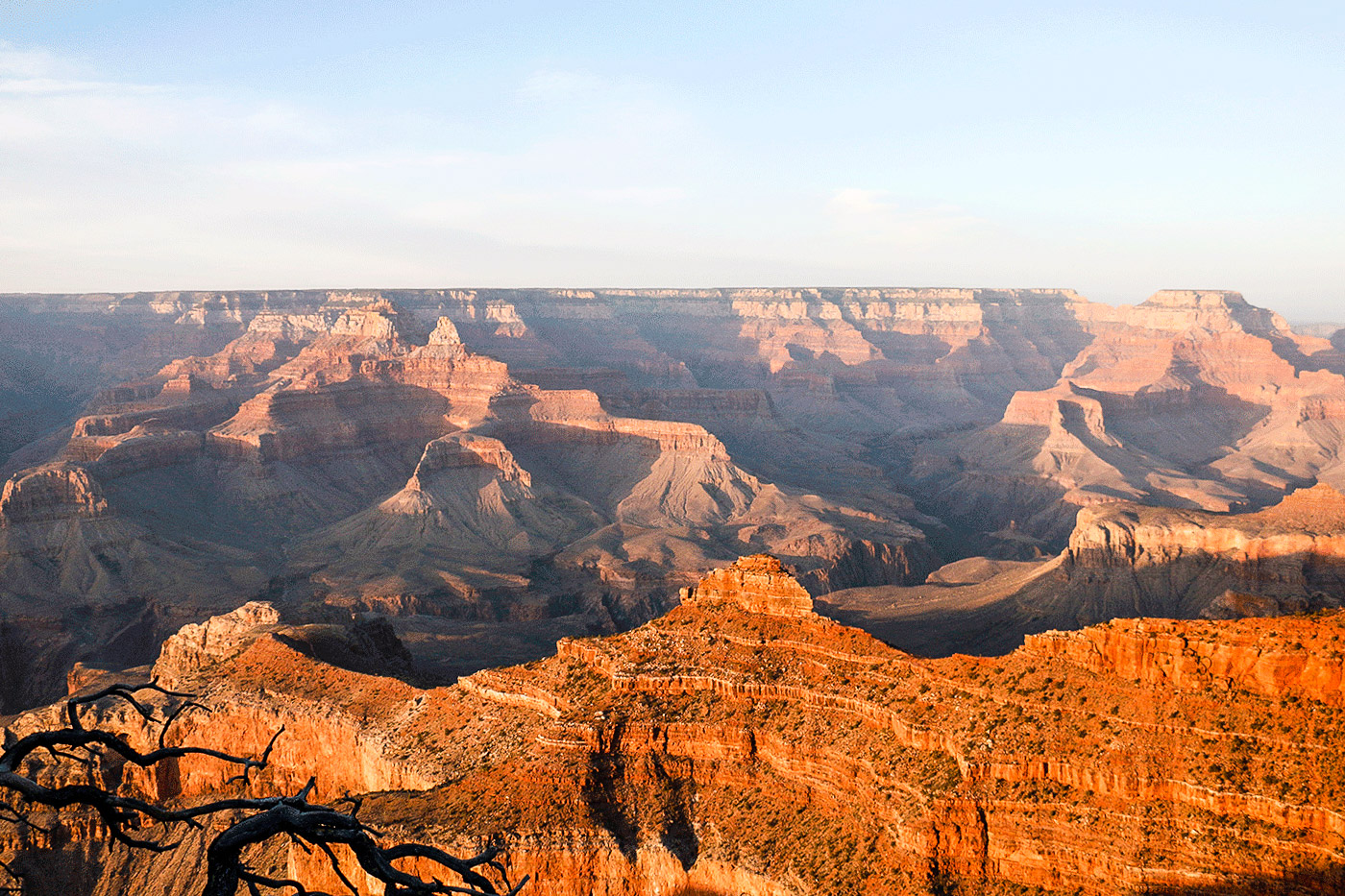 If you're lucky and able to avoid the masses (check the size of the parking lots and you'll get an idea what's going on here during high season), you might be able to soak in the strange atmosphere and acoustics that reign in this place. Sound and noises are literally swallowed by this vast, gaping hole in the earth. As I said, it's difficult to find the right word to describe the Grand Canyon. Just go and see for yourself, you have to be very sedated if you're not blown away by this World Wonder.
Our advice is to walk the Trail of Time. This is a flat 4.56 km long paved walk, designed to be a geologic timeline. Each meter walked on the timeline trail signifies one million years of the Grand Canyon's geologic history. Yes, one million! Now you see what I meant by insignificance of human understanding of time. The trail is nicely laid out and brings you to some of the most jaw dropping viewpoints. Further, along the way you'll find exhibits of rock explaining how the Grand Canyon was formed. The Trail of Time is the thing to do at Grand Canyon.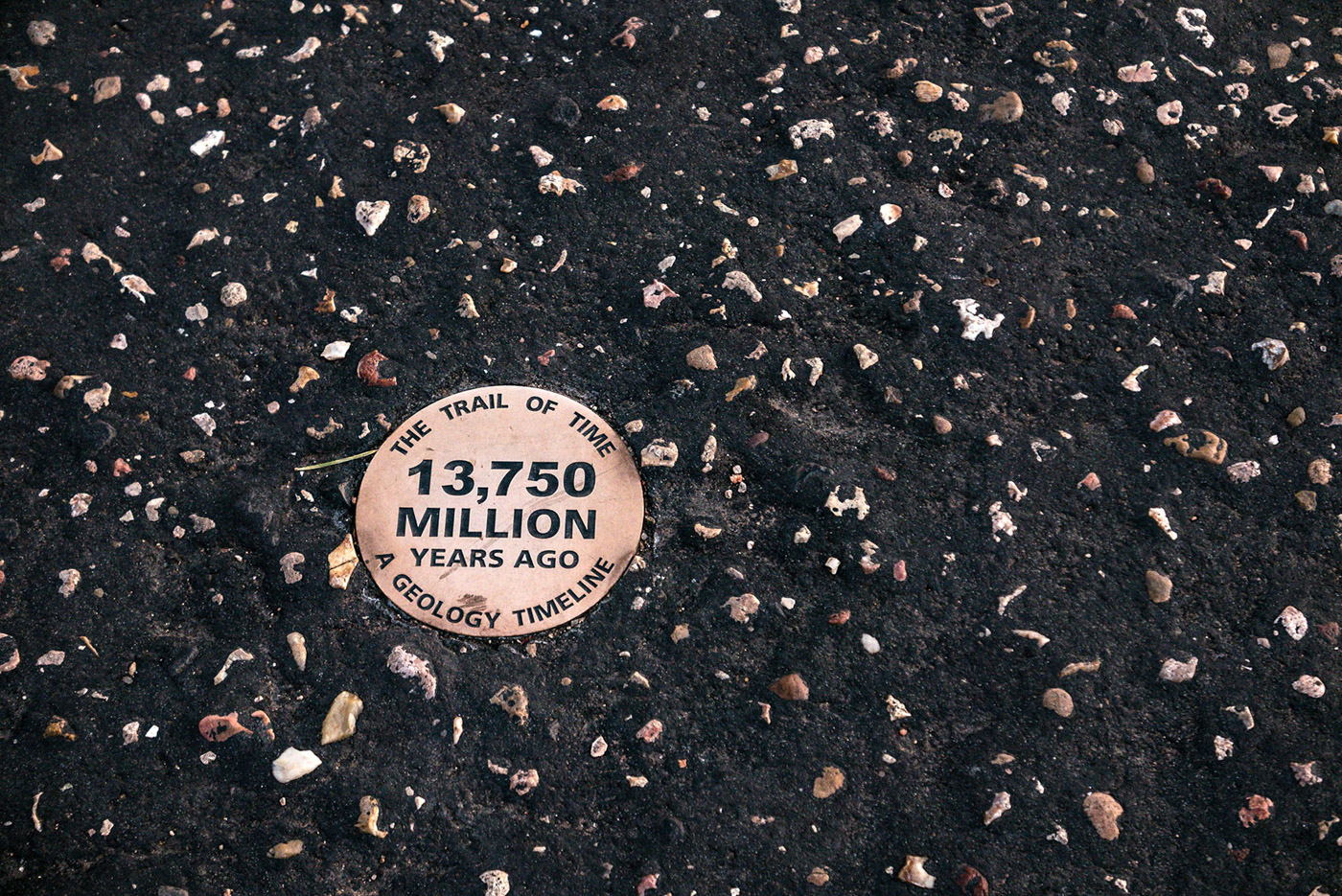 Another thing to do is to choose a nice point of view to sit down and watch the drama of the last half hour of the day's sunlight vanishing in the Grand Canyon. But beware: don't get too clever with your camera in order to get a fancy picture for your social media account. There's no fence or guardrail at the GC. Every year, people are stumbling into death there. Further, don't think about trying to take a stroll down to the Colorado River. You might be able to easily see it from the edge of the rim, but you will not make it down there and back up. Dehydrated people have to be rescued on a regular basis from the canyon. Well trained, perfectly fit people. Some of them even don't make it back alive.
Be Careful!
Don't hike down to the Colorado River. You might be able to easily see it from the edge of the rim, but you will not make it down there and back up. Dehydrated people have to be rescued on a regular basis from the canyon. Well trained, perfectly fit people. Some of them even don't make it back alive.
Where to sleep when visiting the Grand Canyon?
When it comes to accommodation, you have three options:
Staying in the Grand Canyon Village (in the park, expensive and difficult to get a room)
Staying in Tusayan (still no bargain, just at the entrance of the park)
Staying in Williams (you may be able to find cheaper accommodation).
All three of the locations should be booked way in advance if you want to have any kind of choice. Nadine and I stayed both of the times in Tusayan, since we considered practicality worth the premium on accommodation. From Grand Canyon to Williams (where you might be able to get cheaper accommodation) it's a sixty mile and one-hour drive – in the end, you might end up with higher cost and considerably more miles and stress than if you pay the premium for a hotel in Tusayan. Just imagine driving to GC, driving back to Williams after sunset and going back again the next morning since you have to cross the National Park in order to get to Monument Valley. By passing the park again on the following morning you will be able to drive Desert View Road trough the park and stop at more Viewpoints to see the GC in the morning light.
So that's it for part one. I could have written twenty more pages about the first three days on the National Park Route but you've probably already dozed off while reading this. I initially planned to add Monument Valley to this first part of my story but this would have inflated the article even more. So, I kept this for the next part.
If you're interested in this classic sightseeing route in the southwestern states of the US, come back to DIARIES OF for more, when we head to Monument Valley, Canyonlands NP, Arches NP, Capitol Reef NP, Bryce Canyon NP, Zion NP, Las Vegas, Death Valley NP, Kings Canyon NP, Sequoia NP, Yosemite NP, San Francisco, the legendary Highway One as well as Los Angeles.
Hope to see back here for part two…