A few years back, Nadine came home from a girl's night out with her good friend Sara and told me (with a slight smell of red wine in her breath) about her friend's plans to visit Mexico. Now, knowing Sara and her husband Miguel, I knew they were probably not in for a Cancun spring-break vacation. My premonition was confirmed by hearing they were going on a road trip visiting several places of interest in different states. So, no flat rate booze parties here. But, to be honest, I said: 'Oh, wow!' but thought: 'Are they nuts? A road trip through Narco-Land?' Most of us have seen pictures of bullet-riddled bodies hanging from bridges in the newscast, victims of the gruesome gang wars gripping Mexico for decades.
Why would anyone apart from a war photographer rent a car and cross these bridges with a camera around the neck?
A few weeks later, after their return from Mexico, Sara confessed she had the same worries before leaving but had cooled down after only a few days.
Anyway, a year or so later, when our plane approached Mexico City's Benito Juarez International Airport (yes, Sara and Miguel figure among the people whose travel tips Nadine and I seriously consider), I have to admit seeing Benicio del Torro from Sicario in my mind's eye. Two hours later, driving in a cab from the airport to our city centre hotel, we saw legions of highly armoured police cars patrolling and whizzing the streets around us. Okay mate; you're in Mexico now. For once, TV didn't lie; this is a war zone! But hey, let's have a couple of Margaritas and see what will happen tomorrow!
On the next morning we found out about the reason for all the fuzz that was going on; the pope landed in Mexico City the same day as we arrived! With heavenly assistance, what could possibly go wrong?!? But Mexico only took half an hour more to make me throw my unfounded fears overboard; after we met Sergio, our guide for the day, we hopped on a public bus headed to the Zocalo. Now, being always a bit on the cautious side when we travel, I took a few closer looks at the people surrounding us and noticed a young guy, around 14 to 15 years old, smiling at me. At the next stop, he came over and asked us where we came from. After hearing our response, he shook our hands and said: 'Welcome to Mexico! It's nice to have you here!' Wow, what's going on?!? That boy was genuinely happy we came that long way to visit his country.
I looked around and literally all the people around us smiled and nodded at us. That whole bus!
Wow Mexico; what a debut! (for the record: no, none of us was missing any wallet or mobile phone after that handshake). As I mentioned before, we had booked private guides for our two days in Mexico City. First because, over the years, we found out visiting places becomes way more interesting and exciting with all the background knowledge a guide (precisely a human guide; not your 'routard'-book or that silly app you can download on a mobile) can provide. And that's before you start getting to know each other and the tour starts to get that human touch a book or app can never provide. Secondly, because Mexico City can be quite a dangerous city in certain areas. There are no-go areas here and they sometimes are hard to identify for a clueless tourist. Your guide, booked in advance over a good rated tour operator, knows where he takes you.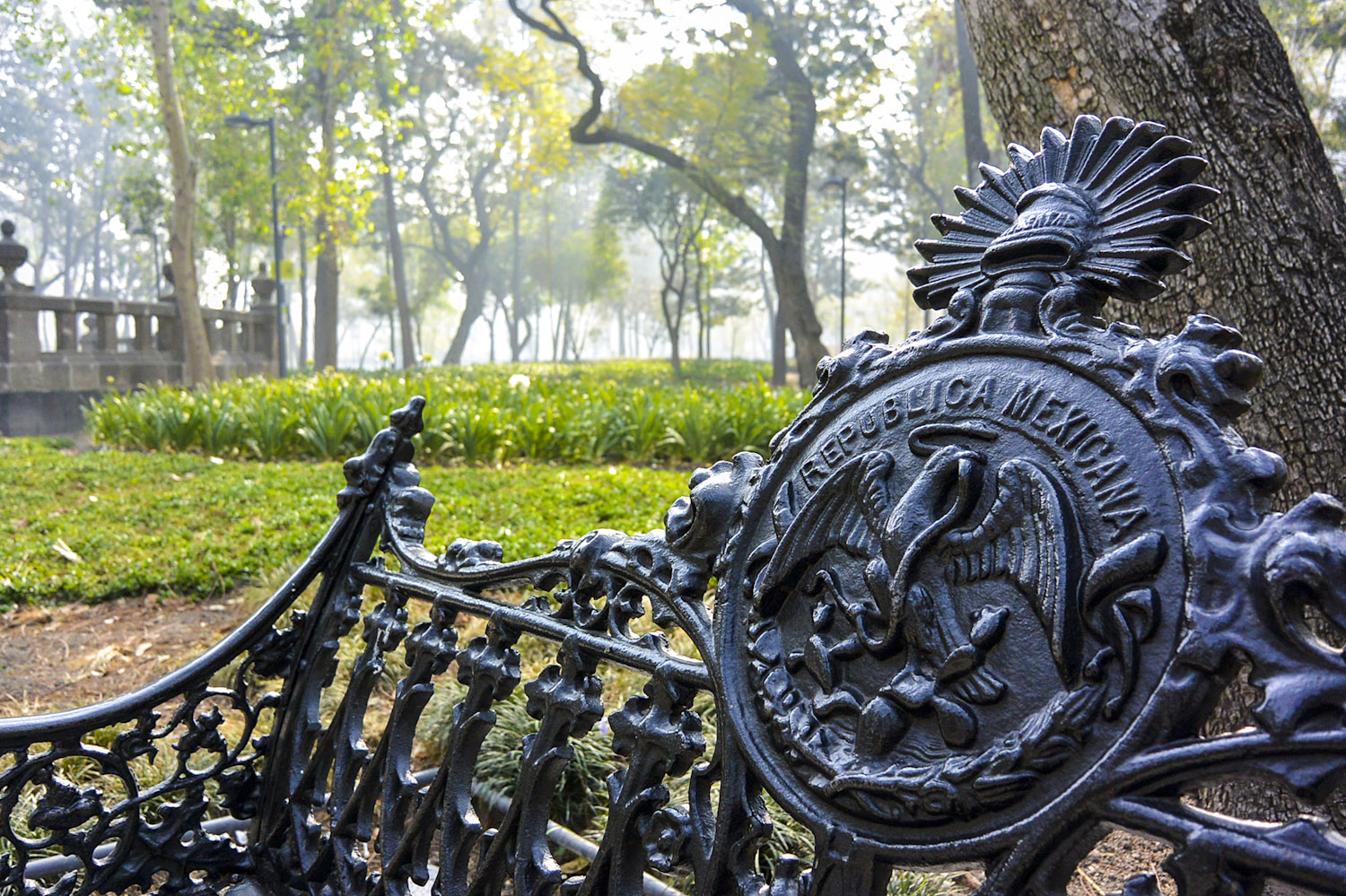 Sergio took us to the Zocalo first. Now, a Zocalo is the main place of every Mexican City, usually surrounded by a church and several other historic buildings. Mexico City's Zocalo refers to the Plaza de la Constitution and literally is the centre of the City. Being one of the biggest city squares in the world, it is also a bit the centre of the Mexican soul. Anyway, you should absolutely see it and hope for a bit of wind since the gigantic flag flying in the middle of the square is an attraction in itself.
For the entire day, Sergio showed us several landmarks of the city, museums, the University campus, the Templo Mayor and quite some historic buildings of an astonishing architecture. For someone being less and less attracted by cities, I have to admit Mexico City was impressive. But it was only in the late afternoon that we visited one of my favourite places in Mexico City: Xochimilco.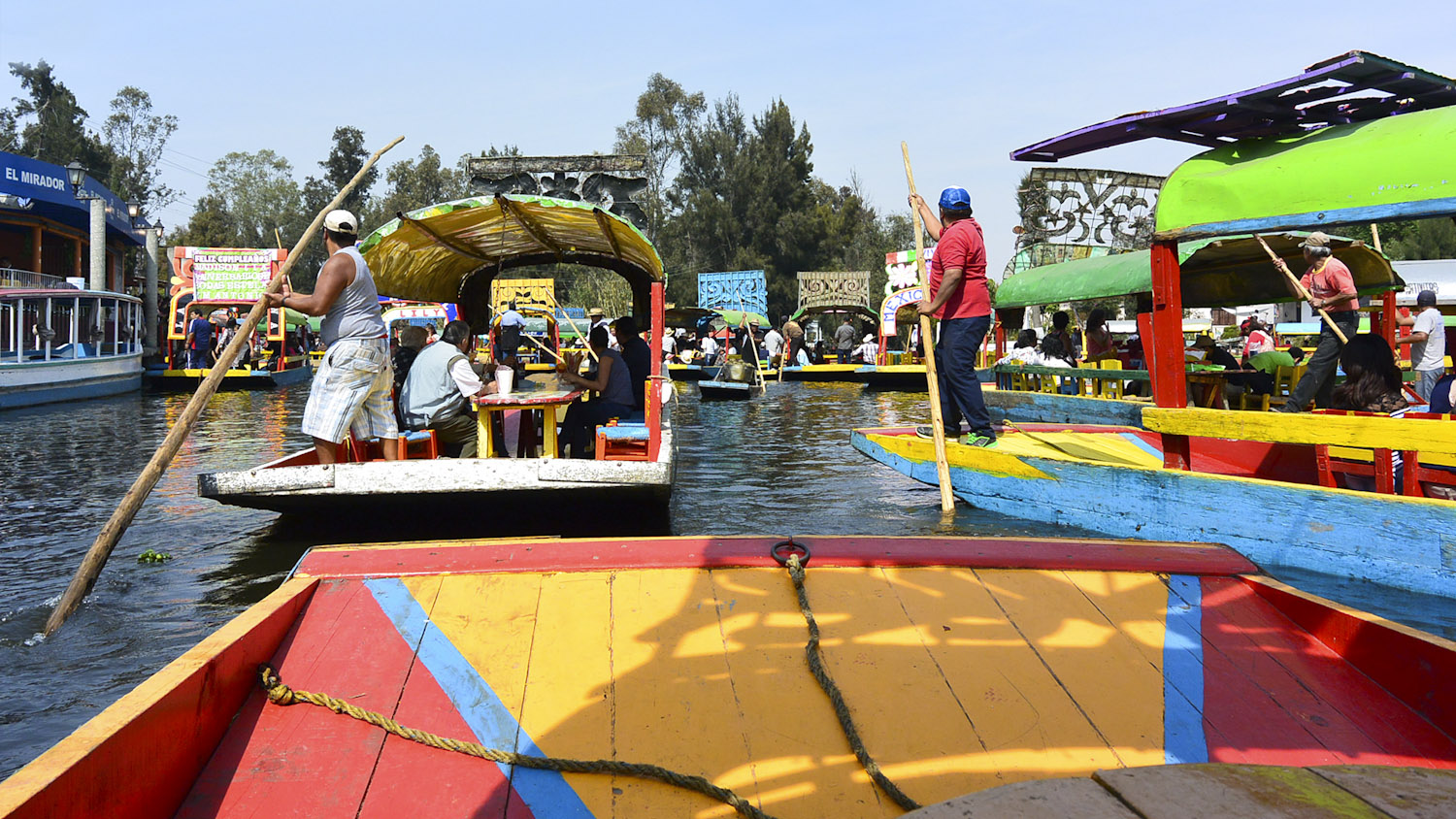 A friend of us told us about this maze of canals where Mexican families gather on weekends to hire a so-called Trajinera, a brightly painted and decorated wooden boat that accommodates some 15 people. People bring drinks and food, embark on the boat and swim the canals. I know, this doesn't sound too exciting, but the fact that there are way too many Trajineras on the canals adds all the spice you need for a hilarious couple of hours.
Trajineras occupied by Mariachi Bands playing their folklore music at full blast (their music gets more crooked with every Tequila that's being poured) float beside Trajineras converted into floating kitchens selling Tacos and Tamales on the canals, liquor vendors selling beer and booze off their Trajineras, floating wedding parties on Trajineras and so on… In short, think of Xochimilco as the bumper cars of your local funfair with added water, Mariachi music, food, drinks and a fantastic atmosphere.
We embarked on our trajinera named Lupita on a late Thursday afternoon in 2016 and spotted only a handful of tourists in between the locals. I remember having a bit of a hard time finding information about Xochimilco back in 2016 and our guide Sergio was surprised when we asked him to bring us there. Apparently, it was quite uncommon for tourists. If you look up Xochimilco on Tripadvisor today, you'll find lots of operators proposing tours to the canals. I don't know if it's lost some of its authenticity but I recommend the detour anyway. If it's still only half as fun as it was four years ago it's worth some of your time.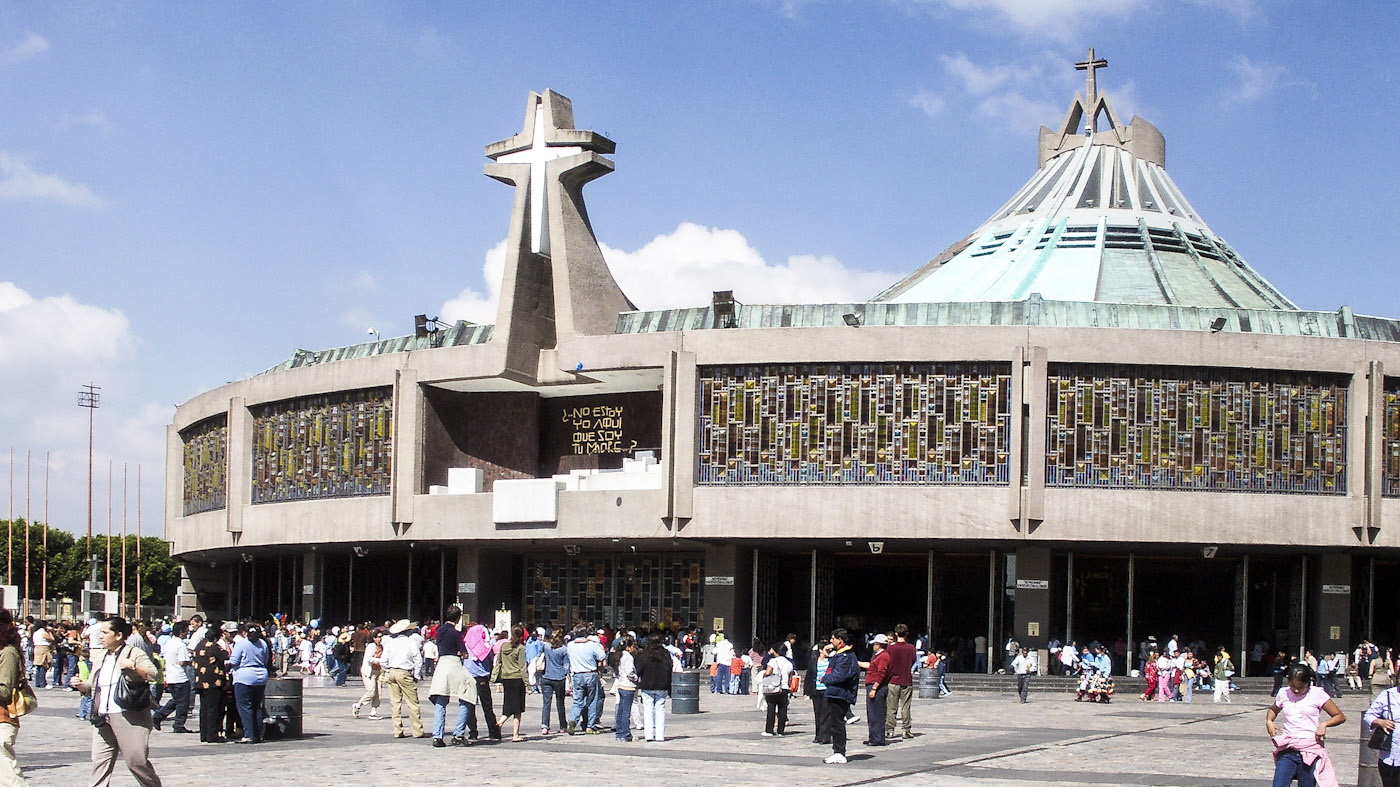 On the second day, we were headed to what seemed to be the first prehistoric highlight of our two-week stay in Mexico; Teotihuacan. But first, we went to see the Basilica de Santa Maria de Guadalupe. Our guide for that day being pretty pious, she absolutely had to show us her favourite place in Mexico City. We, on the other hand being not very (or, to be honest, absolutely not) interested in any religion were not amazed by that overpopulated, modern church. But, I have to admit the old Basilica, just a few metres away from that 70's era flying saucer, had a few very interesting peculiarities.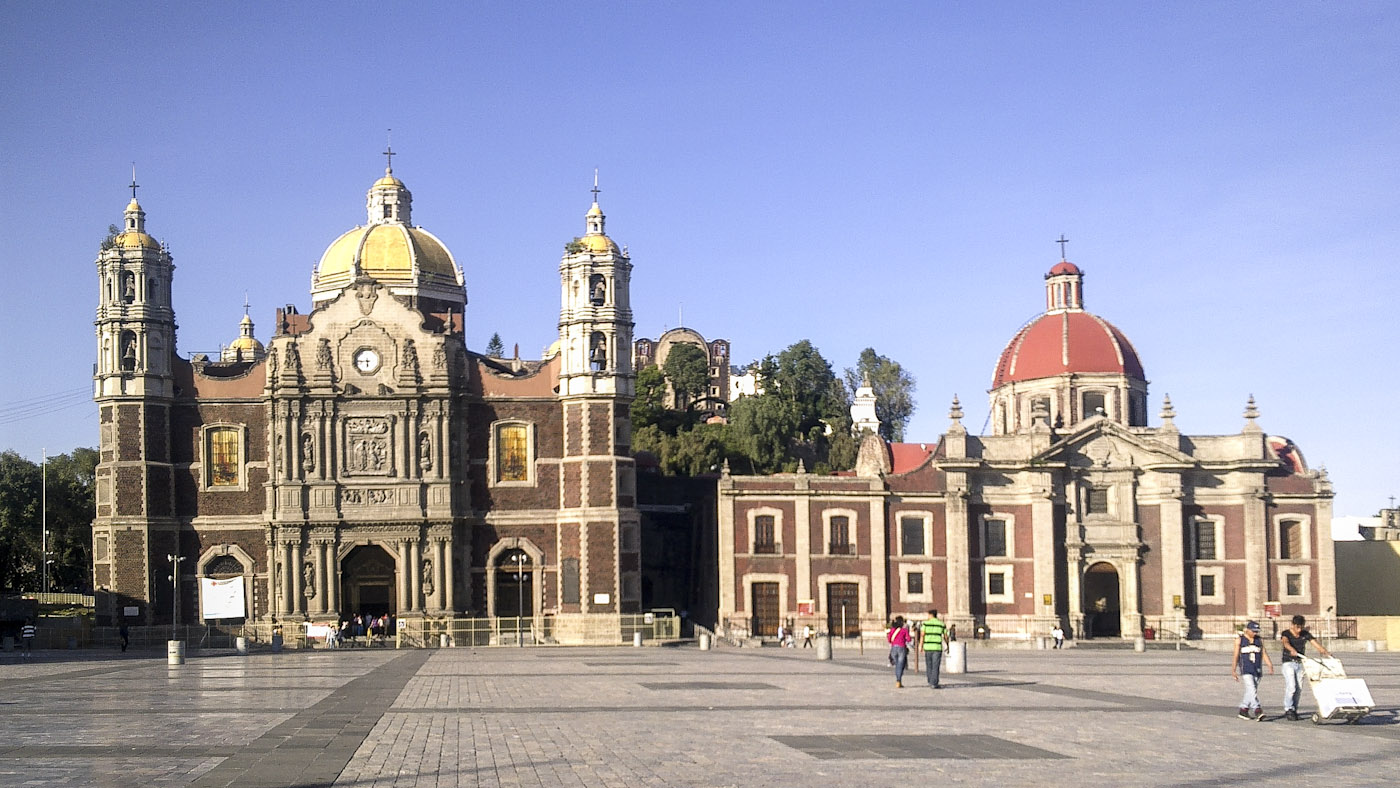 With much of Mexico City being built on the dried lakebed of Lake Texcoco and the whole area being regularly shaken by more or less strong earthquakes, the whole Old Basilica is sinking into the ground. Taking a stroll around the vicinity reveals massive, deep gaps in the ground and even the Basilica itself being torn in two pieces by the movements of said ground. If you stand in front of it, you'll discover the left side of the whole building is tilted by more than 2 degrees. But eventually, we returned to our guide's car and off we went for Teotihuacan.
If you stand in front of it, you'll discover the left side of the whole building is tilted by more than 2 degrees.
Teotihuacan, the biggest ancient Mesoamerican city, is located some 40 kilometres northeast of Mexico City. Famous for its ancient architecture and well-preserved murals from Aztec culture, Teotihuacan definitely is THE must-see if you go to Mexico City.
The 4-kilometre-long Avenue of the Dead is flanked by the Pyramid of the Feathered Serpent, the Pyramid of the Sun and leads to the Moon Pyramid which marks the end of the Avenue. (One has to admit the Aztec urban planners were a bit more venturesome than their modern peers when it came to naming their streets. Avenue of the Dead sounds a bit more dramatic and exciting than Avenue de la gare or 5th avenue, doesn't it?)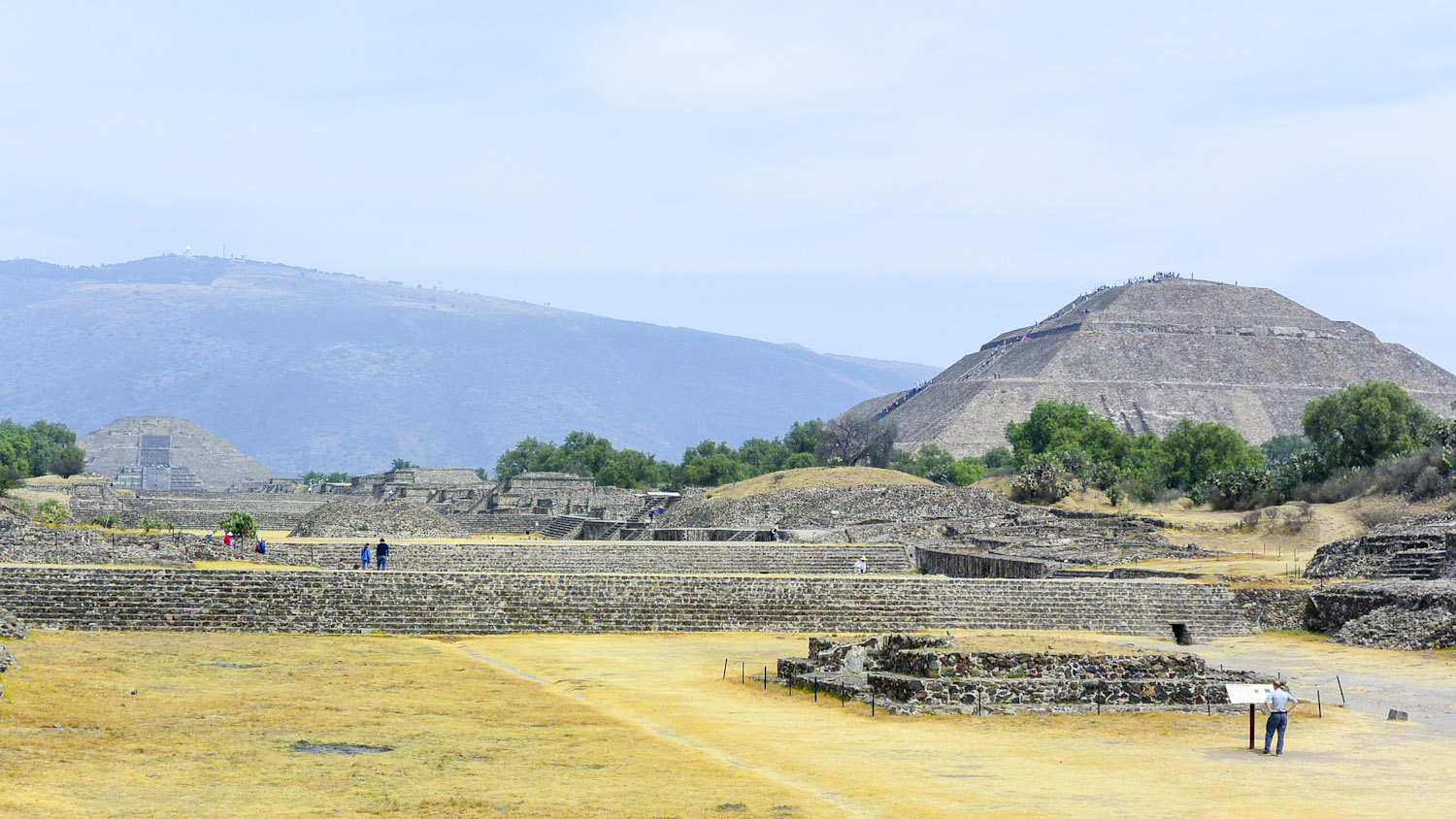 The Pyramid of the Sun, being the 3rd highest in the world, is accessible and can be easily climbed to its top. I strongly suggest you tackle that little effort since the view from above is priceless. You'll be able to see the whole of Teotihuacan and discover details you won't be able to see from the ground. The climb is fairly easy since the stairs are not too steep and well maintained. Further, there's a very nice museum just beside the Pyramid of the Sun illustrating every aspect and holding many artefacts from Teotihuacan and its ancient inhabitants. Take a little stroll trough the museum since it's included in the entry fee of the UNESCO world Heritage Site if my memory serves me well.
Again, I'll strongly consider a guide for visiting Teotihuacan since ours showed us some well-preserved murals in quite hidden areas we probably wouldn't have found by ourselves. Further, the Pyramids and buildings are beautiful but it's only by getting to know the historic facts behind all that stuff that you'll become impressed and go to bed wiser than when you got up in the morning.
Plan at least half a day for Teotihuacan since it takes quite some time to get there from the city center. Further, if you plan to ascend at least one of the pyramids, that takes some time as well. We personally could have spent a few more hours there instead of visiting a modern church that looks like the fusion of a baseball-stadium and a circus tent but hey, at the end of the day our guide made up for it by driving us to a nice little cantina serving tasty tacos and cold Sol beer. Apology accepted.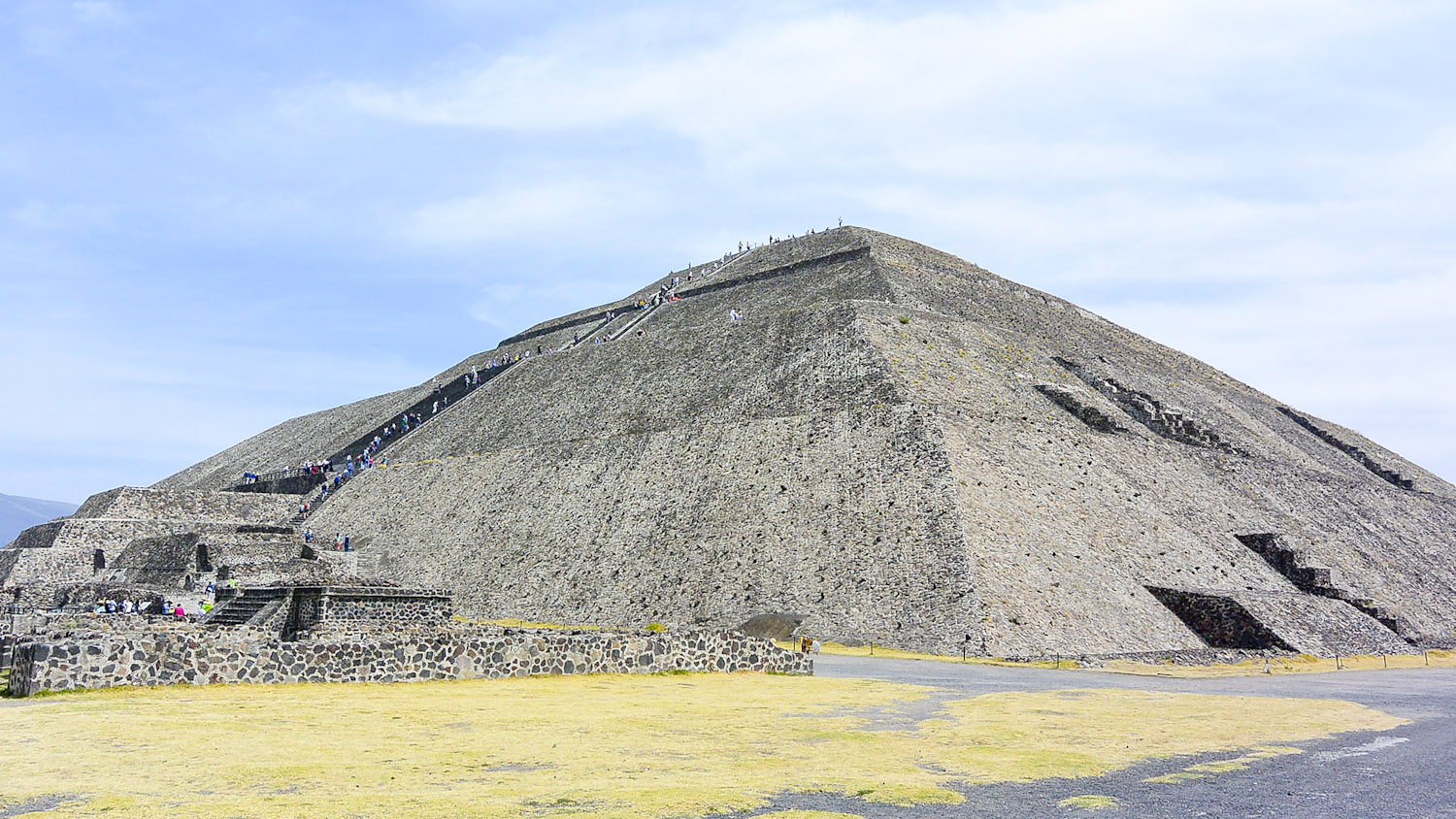 Oh, by the way; Teotihuacan was the main place for obsidian trade back in its glory days. In fact, there are a few mines just around the corner where that beautiful black, volcanic glass was and still is obtained. You'll find some vendors on site selling different objects made from either black, golden, silver or rainbow obsidian. They're not made-in-china-tourist-junk so they come with a decent price tag but aren't over expensive. Do some bargaining with the seller and you'll have a nice souvenir to gaze at for the next years.
There are probably many things we missed to see in Mexico City but on the next day, we hopped on a plane that flew us to Campeche were our rental cars for a two-week road trip awaited us. And that was when Mexico improved from great to fabulous. Over the next two weeks, we fell in love with the country, its inhabitants, its culture and its geography. But there's a lot to tell so that's for a next story sometime in the near future here on diariesof.
Pëckvillecher in Mexico City??
You'll find vendors in Teotihuacan selling little, clay devices resembling the Pëckvillecher most of us know from Nospelt or Luxembourg-City. But instead of imitating the chirping of a bird, these little toys imitate the hissing and snarling of a Jaguar in a remarkably realistic manner. So, back in the days I acquired one of these little devices plotting to get rid of the neighbour's cat once and for all since it has the habit of peeing right in front of our door. But unfortunately, I'm still unable to reproduce that menacing sound and need a little lesson. So, if you own one of these toys or visit Teotihuacan and happen to buy one of these toys, make sure the vendor shows you how to properly use it. And then, feel free to contact me and teach me how to. Our doormat would be grateful.