While my mother and I were on our tour of the Yucatán peninsula, one of the first things she would tell locals was that she had been in the area more than thirty years before.
'Mas de trenta años pasado,' she'd say slowly, as if unsure of the fact.
After recounting this to multiple taxi drivers and hostel clerks, she realized it had actually been forty years. She had been there with my father in 1976, at the age of thirty-one—the age I had just turned.
One feels like much less of a tourist when a fellow traveler is constantly making acquaintances with the locals.
I was following in my mother's traveling footsteps. I had traveled on my own to the U.K. at the age of twenty-seven, the same age she was when she embarked on her year-long solo Latin American tour. Now, here I was discovering the Mayan Riviera at the same age she was when she explored the same coast with my dad.
At seventy-one, my mom is still very much the traveler. On our first day in Mexico, we took a local bus (first-class, but still cheap) straight out of the tourist trap of Cancún and were dropped off at a gas station in the tiny town of Puerto Morelos, a bit inland from the beach. My mom knew the name of our hostal/bed-and-breakfast but not its location. She gave the name to a taxi driver, who was leaning against his cab parked at the gas station, and asked if it was walking distance. He shrugged and nodded, pointing the way. So off we went, dragging our luggage down a broken sidewalk, parallel to the highway, past little taquerias with plastic chairs. None of the streets had signs. We were unsure which street he had said to turn onto, so we stopped at a corner where two young women, one Mexican and one gringa, were sitting in waiting chairs outside a health clinic. They hadn't heard of the hostel, but they did have smartphones with (shoddy) WiFi. After a few minutes of the map loading, we located our destination and continued on, turning onto the side street and finding Buenos Dias Hostal further down.
It occurred to me, in the midst of this mundane experience, that not many American tourists would go to this trouble, especially those over seventy. Spending the first day in Mexico walking through an unknown neighborhood off the highway to find a small hostel, while most people on our flights were probably already relaxing on the beachfront of a resort, is an interesting way to start a vacation. During our bus ride from the airport, my mom had recounted a conversation she had with a couple on her flight from Albuquerque. They were discussing their vacation plans and asked which car rental she was using.
"I'm not renting a car, actually," my mom replied.
"Really? Well, how will you get around?"
"The way anyone who lives here does—buses, taxis…"
They were genuinely surprised that there was transportation in Mexico, or maybe just flabbergasted that an American tourist would choose to travel the way locals do. Maybe they pictured third-class, broken-down buses, crowded with caged chickens, people riding on the roof, bumping along dirt roads. In actuality, the buses we took were comfortable and air-conditioned, transporting locals up and down the coast to jobs at various resorts.
Like other tourists, we were there for vacation—to relax on the beach and drink margaritas, to tour famous Mayan ruins, swim in pools, and eat fresh ceviche. But the desire for real travel, for unique experiences, for a taste of the local in whatever location we were in, and yes, the need for saving money—these goals trumped the weak notion of simple relaxation, even for my mom. She had somewhat higher expectations than when she was there last—she wanted a nicer room than the cheapest $10 bug-ridden rooms she and my dad had stayed in, and she wanted to eat at restaurants rather than roadside food stands. But she still hated resorts and wasn't bothered by some walking or anxious about an itinerary.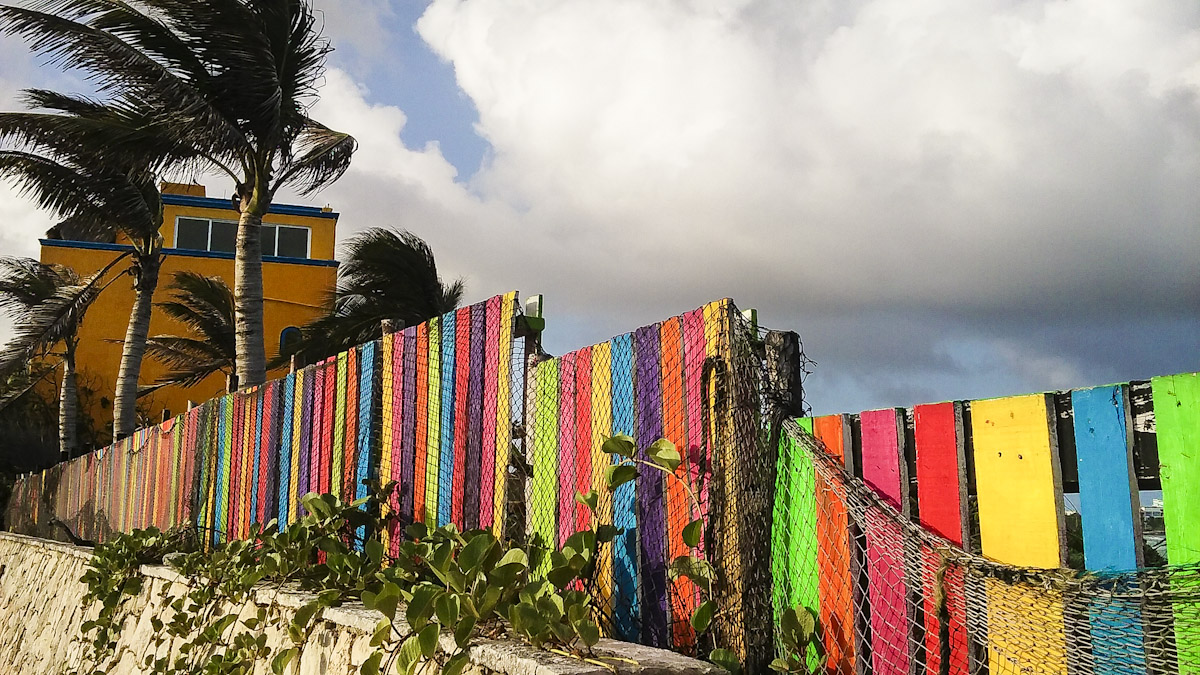 After a quiet night in Puerto Morelos, we caught another bus (from the same roadside gas station) to Akumal, a secluded beach town. This was the closest to a resort experience that we had on the trip. The owner of Del Sol, our hotel, is the uncle of a woman my mom had met in a travel bookstore in Santa Fe. This woman helps book the reservations, so we got upgraded to a suite for no additional charge. We luxuriated in the three-bedroom suite, equipped with double balcony and full kitchen, which we didn't really use because we were enjoying the Mayan Tic Kin Xic fish and fresh ceviche at the nearby Buena Vida restaurant. Our first night there, a near-full moon shone above the ocean onto our balcony, and after trying to capture the image with cameras, we ended up walking on the empty beach under it, bathing in its glow and wading in the warm waves. The greatest effort we made during our two days in Akumal consisted of a fifteen-minute walk to the tiny "town" to have breakfast at a café, making friends with the lean but contented stray cats there, and chatting with the British owner who had lived in the area for sixteen years. On our last evening there, we drank mango margaritas on the beach, gazing out at the waves and watching a wedding party in all white pose for pictures on the white sand. We didn't notice the ants climbing up on our table and biting my mom's arm, but I guess paradise can come with minor disturbances.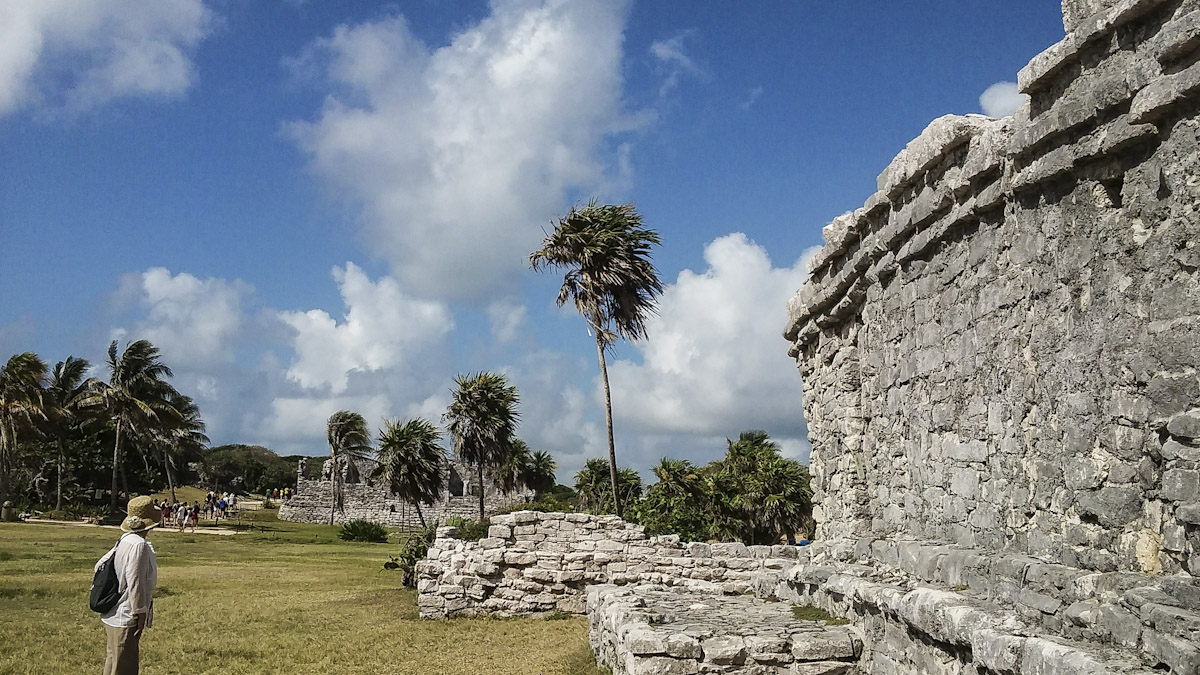 From Akumal, we walked back to the highway and waited for a colectivo (shared vans that came somewhat more frequently than buses) that took us to Tulum. Tulum is the funky hippie town of the Mayan Riviera, built next to one of the most famous ruin sites. The beachfront south of the ruin site has been built up with resorts over the past thirty years, but the area we stayed in—between the beach and the town—didn't feel inundated with tourists, maybe because they were spread out among the many youth hostels and restaurants, not packed in one area. Our hostel had a lobby with huge palapa roof, a smiling man behind the desk, and an included breakfast served on the porch. We made the mistake of trying to walk to the beach the first day (a two-mile walk in the sun), after which we took taxis and didn't explore further than a small inlay of sand connected to an affordable restaurant with brightly colored tables and chairs. We ate dinner in town each night, asking taxi drivers and waiters where to find the best food. Rather, my mom asked them, since she talks to everyone. One feels like much less of a tourist when a fellow traveler is constantly making acquaintances with the locals.
My mom had been to the ruins of Tulum twice before—first on her own, then with my dad. Of course, there had been some changes since she'd been there. The entrance to the seaside ruins now looked like a veritable theme park, with enormous tour buses lined up in the parking lot (we had taken a colectivo from town and walked to the entrance from the highway), an array of tourist shops (including a Starbucks), people dressed in Mayan costumes, and a trolley to take you to the ruins, which robbed us of an extra $3 we could have skipped. When my mom and dad were there, they had simply walked into the ruins on a dirt trail. But despite the built-up entrance, the site itself was still untouched—a Mayan port city with palaces and temples inhabited by iguanas and picturesque views of a pristine sea. Leaving the site just as the midday swarms of tour groups were arriving, we walked to the beach and found a deserted stretch—white sand, water four shades of blue, photogenic fishing boats scattered about.

From Tulum, we headed northwest towards Valladolid, stopping along the way in Cobá, another ruin site. It was well worth the stop—I climbed the highest Mayan pyramid, and we toured the thankfully-shaded ruins in the back of a bicycle taxi. But getting from there to Valladolid after we saw the ruins meant waiting four hours for the twice-a-day bus or paying more for a taxi. This is when it would have been good to have rented a car. We could have made our own schedule, maybe stopped in one of the villages along the way for lunch and bought some handwoven baskets. But then we wouldn't have had the pleasure of sharing a taxi with a woman and her four children—two of whom were eight-month-old twins who entertained us for the length of the two-hour ride with their constant smiles.
We spent five days in Valladolid, a town of skinny, cobblestone streets lined with brightly painted buildings. A bustling plaza sat in the center, and 16th-century churches were scattered throughout town, along with a cenote (cavern-like swimming hole) and a local museum. It became a place that stopped feeling like a site on a map and more like a real community, a home, where one could imagine living. We stayed in affordable hotels, equipped with pools and AC and close to the plaza, we went out on day trips to see the nearby ruin sites and other cenotes, found restaurants serving chile rellenos and margaritas with chaya (the Mayan equivalent of spinach) in cool courtyards, and enjoyed a light show projection on one of the churches with local picnickers. We also happened to catch the 473rd-anniversary celebration of the town—two nights of entertainment in the plaza, ranging from hard rock performances to traditional Mexican dances. We dropped some clothes at a laundromat, and my mom sought out the local mercado on the edge of town, where everyone buys their produce, spices, and meat from older women wearing traditional huipils—white cotton tunics with embroidered flowers. We went to the mercado one early morning, bought a pineapple and mango liquado breakfast from a very popular vendor, and purchased local honey, vanilla, and habanero chile powder, packaged in repurposed plastic bottles and baby food jars.

One of our day trips from Valladolid was to Chichen Itza, probably the most renowned site in the area, thanks to its photogenic pyramid. We went late one afternoon and stayed after closing for the light show. In line for the show, we noticed a mother with her five-year-old daughter both wearing matching huipils and adorned with paper flowers in their hair. My mom told me to request a photo of them, but I was too timid. So she did; and they were glad to acquiesce, maybe because she had a fancy digital camera with a zoom lens. When we got into the ruins, the pyramid and other structures were glowing with shifting, projected colors of red, green, blue and pink, and the same family approached us. The twenty-something-year-old sister of the huipil-dressed mother asked, in English, if we would take a photo of them in front of the pyramid with our nice camera, since it had flash and could capture figures in the foreground and the glowing colors in the background. We gladly took some photos of just the mother and daughter in front of the pyramid bathed in red light, and then a group shot of us all. The sister and I used our phones to connect on Facebook so I could pass on the photos. Then we all sat down in folding chairs and enjoyed an astonishing animation projection, telling the story of the Mayan civilization and displayed onto the iconic pyramid—the Mother Tree climbed up the steps, warriors fought across it, stars burst from it, snakes slithered down it. I only understood about a quarter of the Spanish narration, but the visuals told a story on their own, of history and myths deeply rooted in the land we were passing through.
Outside in the parking lot, we were looking around for one of the colectivos to take us back to town and spotted the family getting into their car: the mother with her daughter, her husband, and her two sisters. We waved and walked over. They asked if we were staying in Valladolid, then insisted we ride with them. My mom declined out of politeness, but also because it seemed clear that seven people couldn't fit into a five-seat car.
"Está en México," the woman said to my mom, as if to say, "This is what we do here."
The mother squeezed into the front seat with her younger sister, the little girl sat on her older aunt's lap in the backseat, my mom and I squished next to them, and the husband drove the car full of women the forty minutes back to town. We all (but mostly my mom and the mother in the front seat) chatted in Spanish, sometimes switching to English, translated by the twenty-something sister. They were from Guanajuato (a town my mother had visited multiple times on other trips) and were on a family vacation. They showed us photos on their iPad of their trip thus far: family portraits of themselves covered in grey mud on the island of Holbox, swimming in a nearby Rio Lagartos with flamingoes, in front of their vine-covered colonial hotel in Valladolid.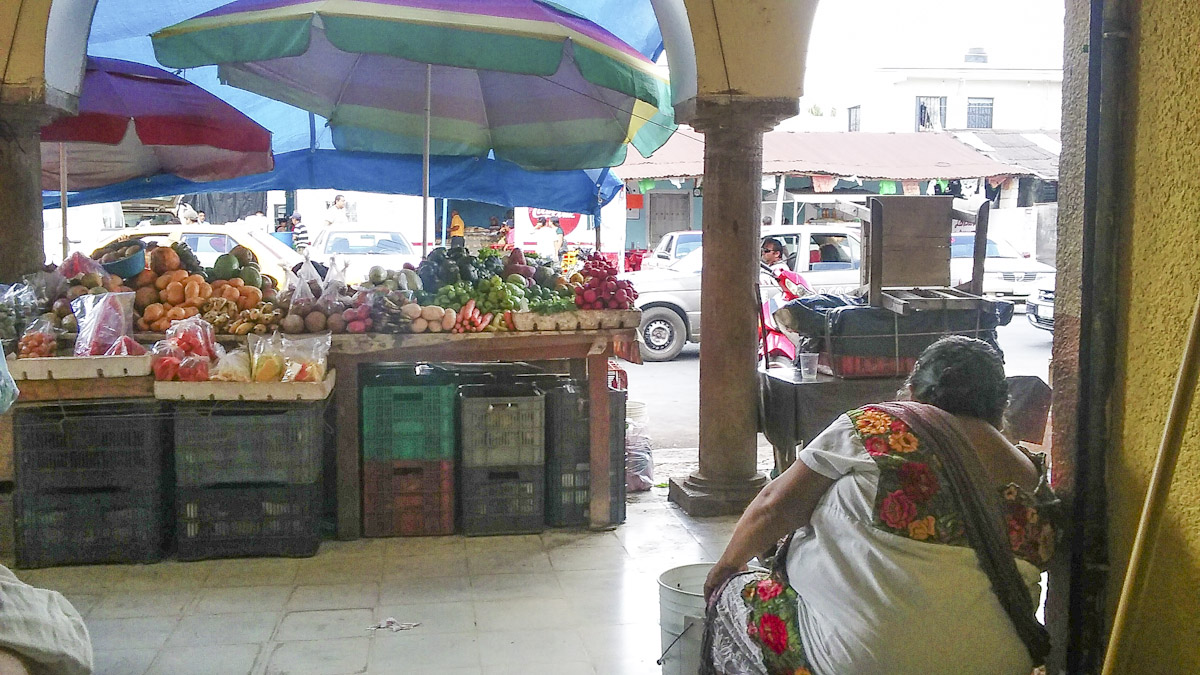 Many tourists, like the couple my mom met on the plane, might prefer a tour bus or their own comfortable rental car, but they would be missing out on car pools and conversations with warm-hearted locals. In a country many see only as a collection of beach resorts, my mother has always been enamored of the people, who are proud of their culture, upfront about their history, and eager to share it all with outsiders. Whether it was finding the local restaurants in Tulum or the local mercado in Valladolid, traveling with my loquacious, curious, and friendly mother meant seeking out the real aspects of a place—the authentic food, the hidden-away spaces, and the people who make Mexico what it is. In between the touristic ruins and historic churches, we reveled in the unexpected experiences as well as the everyday realities. One of the virtues of traveling is the headspace it affords—a calming of the mind and a renewed focus on the surrounding physical world, on the present moment.
After five days in Valladolid, we took a bus back to Cancun and stayed a night in a hostel. The next morning we would board a plane to Havana, Cuba, a place neither of us had ever been. We had an Airbnb booked for the first night, a few hundred pesos in cash, and no concrete plans, just an openness to the unknown.
Photos @ Aria Chiodo