If you are planning to visit Morocco in October, there is an event that you just cannot miss. Head to El-Jadida, a city situated on the coast merely 100 kilometres south of Casablanca, for the International El Jadida Horse Show to experience the Tbourida in Morocco.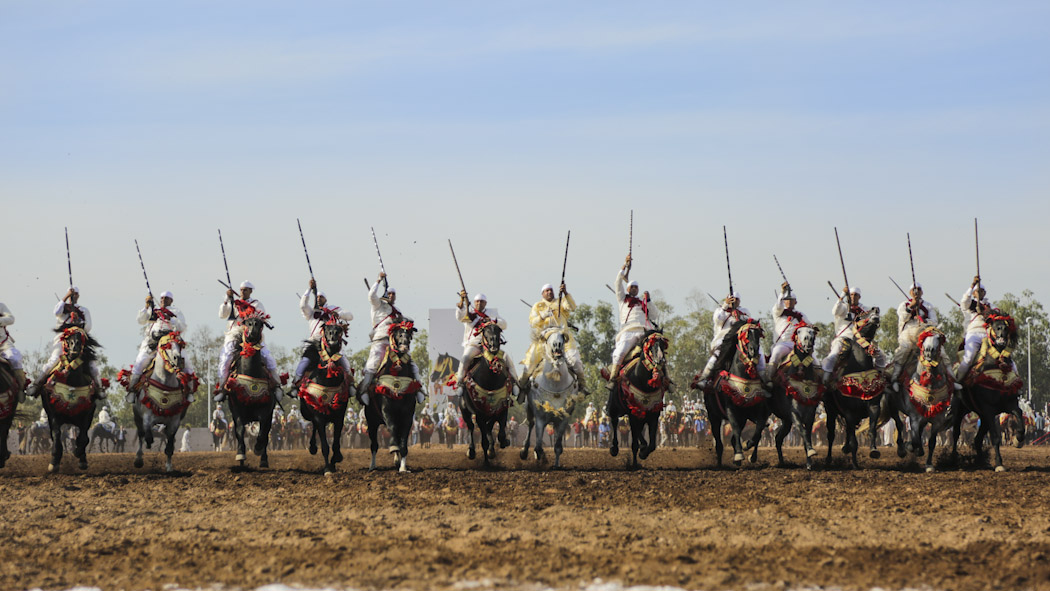 This horse festival is held at the recently built Mohammed VI Exhibition Hall, which is a huge infrastructure with two large halls and an outdoor arena. The event serves to show not only the different Arab horse breeders but also to display the Moroccan rich equine history and equine competitions.
One of the most popular events of the festival is a Tbourida Grand Prix. The Tbourida (also called Fantasia) is an ancient practice in the Maghreb region. It consists of a group of around ten riders wearing the traditional costumes of their tribe, elegant djellabas. The saddlery of the horses is also well decorated with handmade embroidery. The ensemble of riders and horses achieves a very colourful and photogenic frame.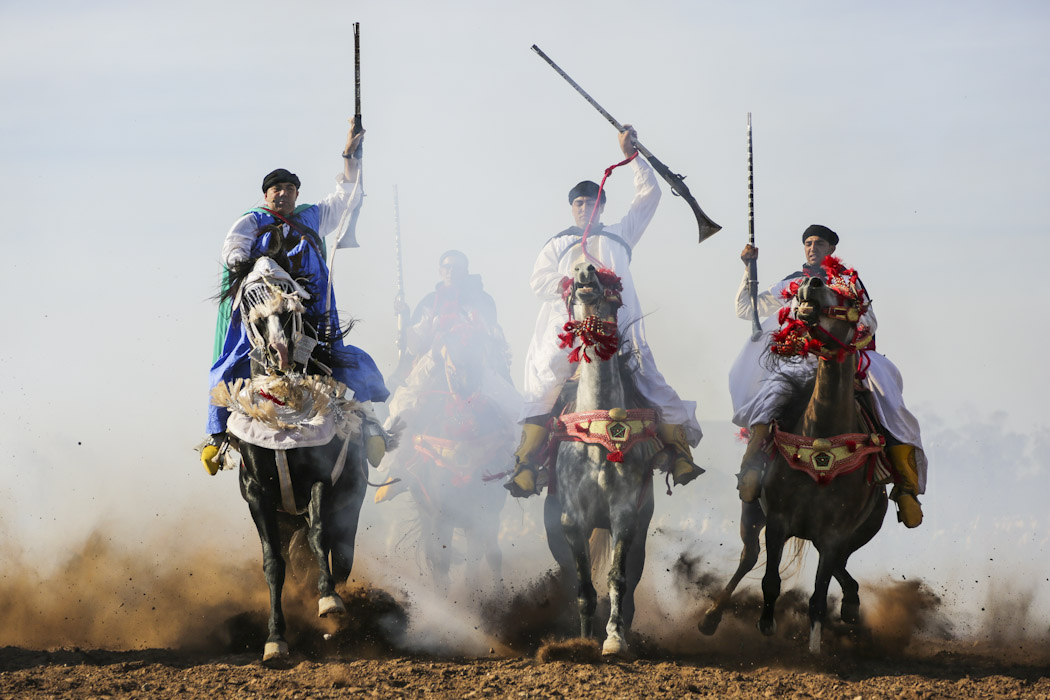 The group charges, under the command of the lead rider, the M'qaddem, for around 200 metres, in a straight line in which it gets speed. At a specific point they all fire the old muskets that they are holding in a well-synchronised shot.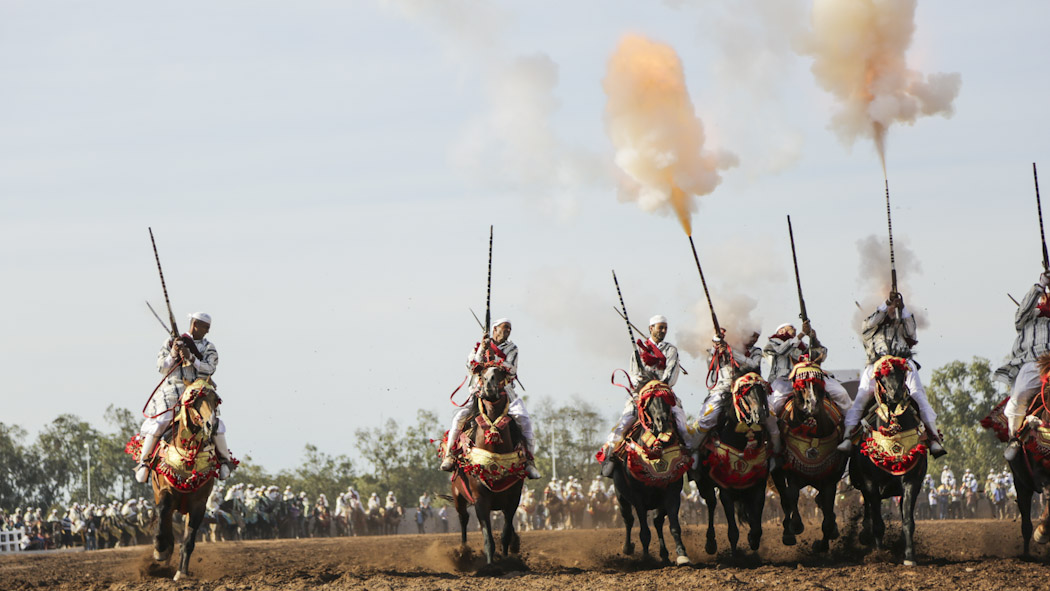 The effect of one single shot multiplied by ten is the apotheosis of this race. It is a huge explosion, especially if you happen to be watching the show from a position near the arrival place. If possible try to be immediately at the front of the horses. The adrenaline shoots as the blast takes place, the smoke invades the air and the riders are quick in reining their horses to welcome the new explosion, this time of applause of the hysterical public. We had hardly recovered our spirits when a new group was already lined up and ready for the frenetic race…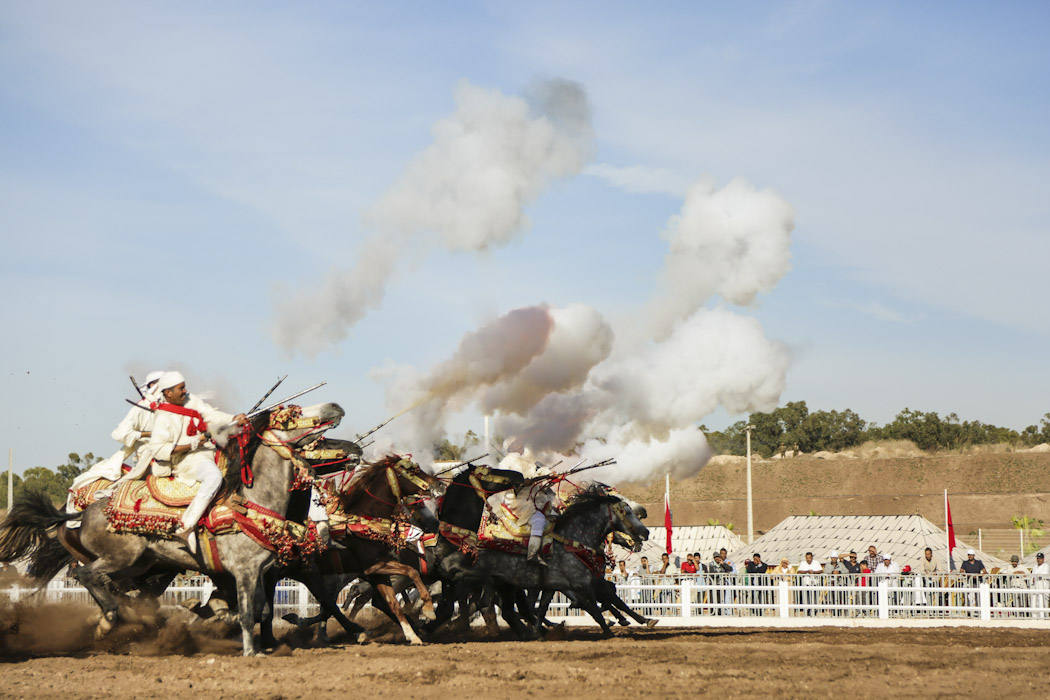 It is an impressive exhibition that doesn't leave anyone indifferent to it, either due to the beauty of the costumes, the ability of the riders, the supremacy of the horses or the power of the synchronised gunfire. Not to be missed!
Need a tip for a hotel?
While in El-Jadida we stayed at the beautiful Art Riad. This is a lovely riad by the sea and we paid less than 30 EUR for a double with breakfast! Check the photos! 🙂
Curious about Morocco now? Get inspired by this beautiful country and the friendly Moroccans and order diariesof Morocco now and have it delivered home with free shipping.