Before we startet our trip with 'Betty' around Europe, we looked after some interesting hiking trails to do. This is where we came across an interesting article on the web, which described the most dangerous hiking trail of the Vosges called the 'Sentier des Roches' (Rock Trail). This trail was located around Gerardmer, a place we already knew from former short trips.
We drove Betty to the 'Col de la Schlucht', where the hiking trail 'Sentier des Roches' starts. The internet said we should follow the blue rectangle signs, which we did. Why this was partly a mistake, we'll explain later…
Already the beginning of the trail was quite spectacular. There was an increase of boulders up to a forest where we came across several other hiking trails. We followed the blue rectangle. We walked on a wonderful forest trail, a very old stone wall on the one side and a steeply sloping precipice on the other side. This must have been the old trade route to Muenster…
Between the forest sections, we found huge rocks around and on the hiking trail. It was an impressive backdrop! We recognised why this trail was classified as 'difficult' and why it was not recommended to go there in wet conditions and in winter time. It was hard enough to avoid slipping on the rocks by dry weather.
After a while we came across a sign which marked "Hirschsteine Belvedère/Escalier". This sounded like a lookout, so we decided to leave the trail to follow these signs. The small detour was rewarded with a sensational hot prospect, including a picnic place to stay. After a short rest we went back to the junction and followed the blue-marked path again.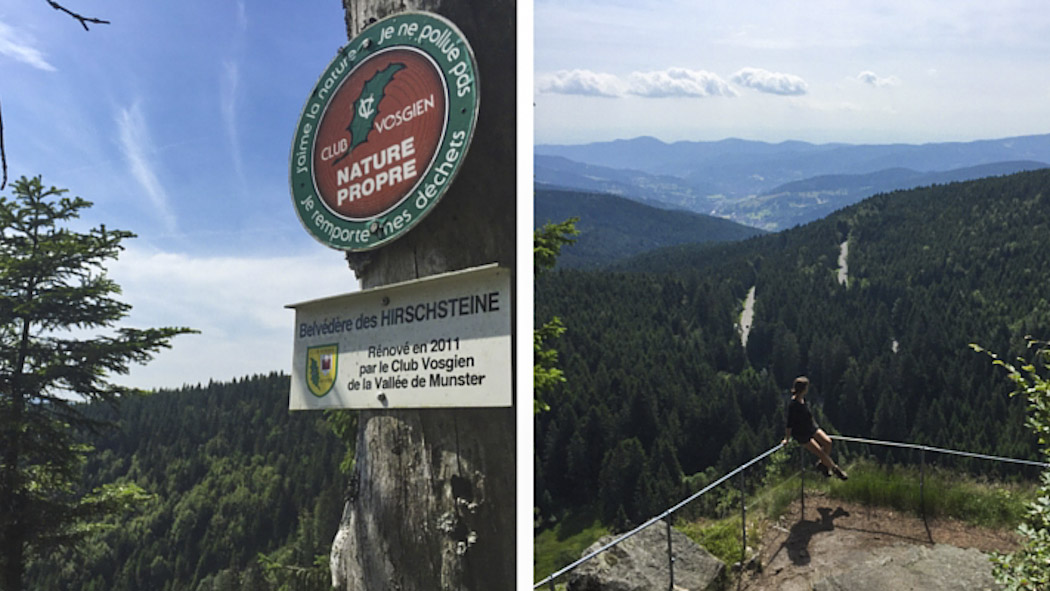 We walked a small path, past lush green meadows and refreshing mountain streams. But somehow the rock landscape was gone. Shouldn't this be the 'Sentier des Roches', one of the most dangerous footpaths of the Vosges? Here absolutely nothing seemed dangerous anymore…
Another hour passed with no rocks, until we came to a crossroads. There were several trails which came together and led in different directions. We searched for the blue rectangle, but had some doubt whether this really should be the right way.
The universe was gracious and redeemed us at this point (although we didn't yet fully understand that at this moment): the blue-rectangle-path was closed due to forestry work and there was absolute pedestrian ban! What the f… Should we walk all the way back, two and a half hours hiking for nothing?! We were damn frustrated and had no idea that this was the best thing that could happen to us on that day…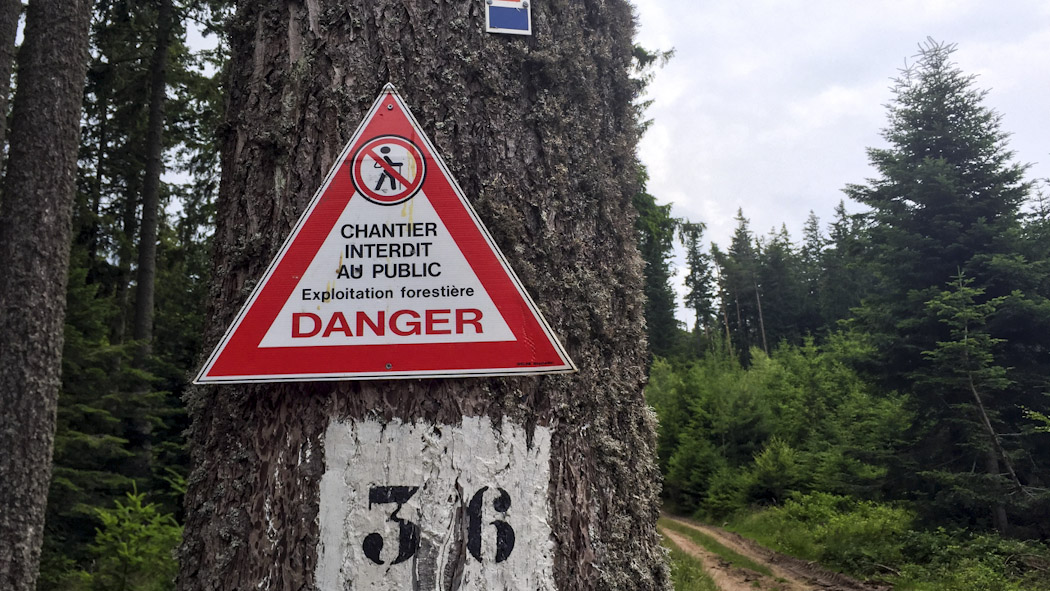 The disappointment had subsided after a while and we enjoyed the beautiful nature around us again. We tried to find out whether we could switch to another trail leading back to the Col de la Schlucht.
After nearly two hours return march we met again on the spectacular cliffs and look … there's still a walking path that had escaped us at first. We were probably too focused on the blue rectangles. This trail was marked with a yellow triangle and had a warning sign that only experienced hikers should join it.
It's hard for us to ignore such signs…Perhaps this could be the continuation of the 'Sentier des Roches'? We decided to follow the yellow triangles now.
We came again past the lookout 'Hirschsteine Belvedère / Escalier' and followed the path in a different direction than at the beginning of the day. Then we came to a metal railing. Again, we were warned by a sign that only experienced hikers should enter this path.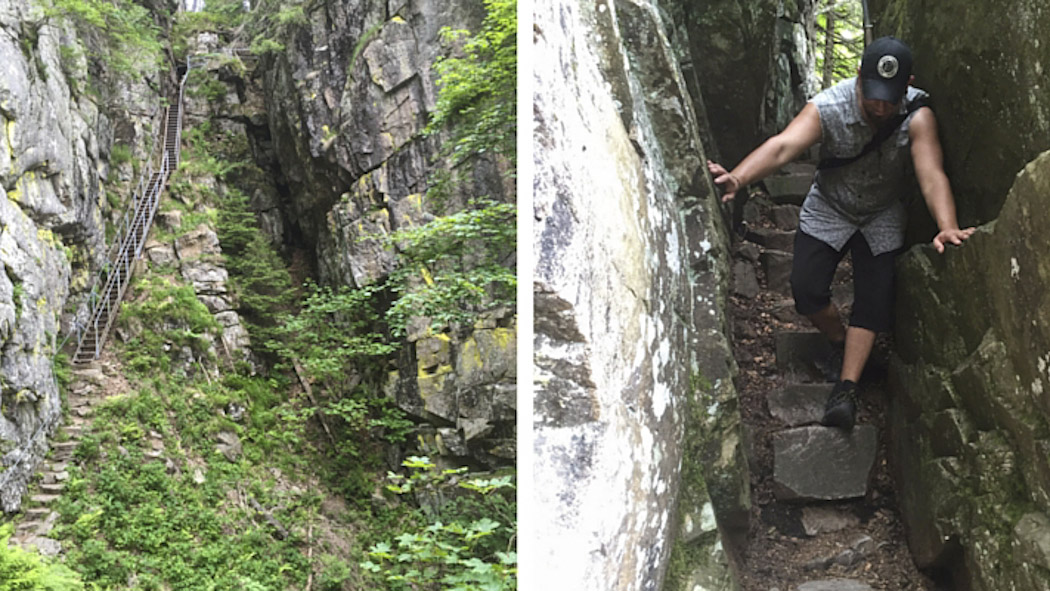 As we looked around the corner, we understood why: an enormous canyon! A metal staircase led down a part of the gorge, followed by narrow rocky passages with metal railings on one side and the steep descent falling gorge on the other side. Here you are all on your own and better should have no fear of heights! This was exactly our thing and the adrenaline increased at every step.
We came back to the original trail (the blue rectangle), the way back to the 'Col de la Schlucht'. But there was another way, with a red and white label, which led back there too. Now we wanted all or nothing and followed this path. Meanwhile we were already about five hours on the road and it began to rain.
Finally, we got rewarded with a magnificent view point before we walked back the slippery, rocky forest path to our beloved Betty.
Check Patascha's full article here.