Some twenty years ago, my brother came up with the idea to jump on our motorcycles and ride to Normandy in order to see the famous landing beaches and the remains of one of the grimmest eras in European history.
Last month we finally went. In our car. We were too cold. I know; we're a disgrace.
Now, if you put that in the right perspective (said twenty years it took us to finally lift our bums and get there), it even gets dumber: in twenty years, Europe went from being liberated from Nazi oppression to miniskirt-clad teenagers buying records of the Rolling Stones singing I can't get no satisfaction.
But in my own defence, let me explain that I've always kept certain 'wanna-see' European destinations, like Normandy, in my mind for later days, when I'm too old to squeeze myself in a tight airplane seat or have any other issues that would prevent me from travelling further around the globe. Who would have thought a bloody little virus called Covid 19 would force me to Omaha Beach? That, and a bunch of guys drag racing their pre-war cars and motorcycles on a beach in Normandy, just like bored young Americans did in the U.S. after returning from Second-World war. But more on that later…
Who would have thought a bloody little virus called Covid 19 would force me to Omaha Beach?
Like always, we travelled off-season in order to avoid big crowds (and as a positive side effect; save money on accommodation). With Covid regulations constantly changing throughout Europe, I booked a nice house in the countryside only a few days prior to our departure. Located near the town of Bayeux, I figured this would be a strategically good position to visit all the major WW2 spots. So far, I was right.
On the other hand, I was wrong thinking we would only need two days to visit all of said WW2 locations and explore the region of Normandy in the rest of the week. You could probably do that if you get up early in the morning and rush trough the region just to tick off every location. But that's not my idea of a vacation, especially not in this damned year 2020.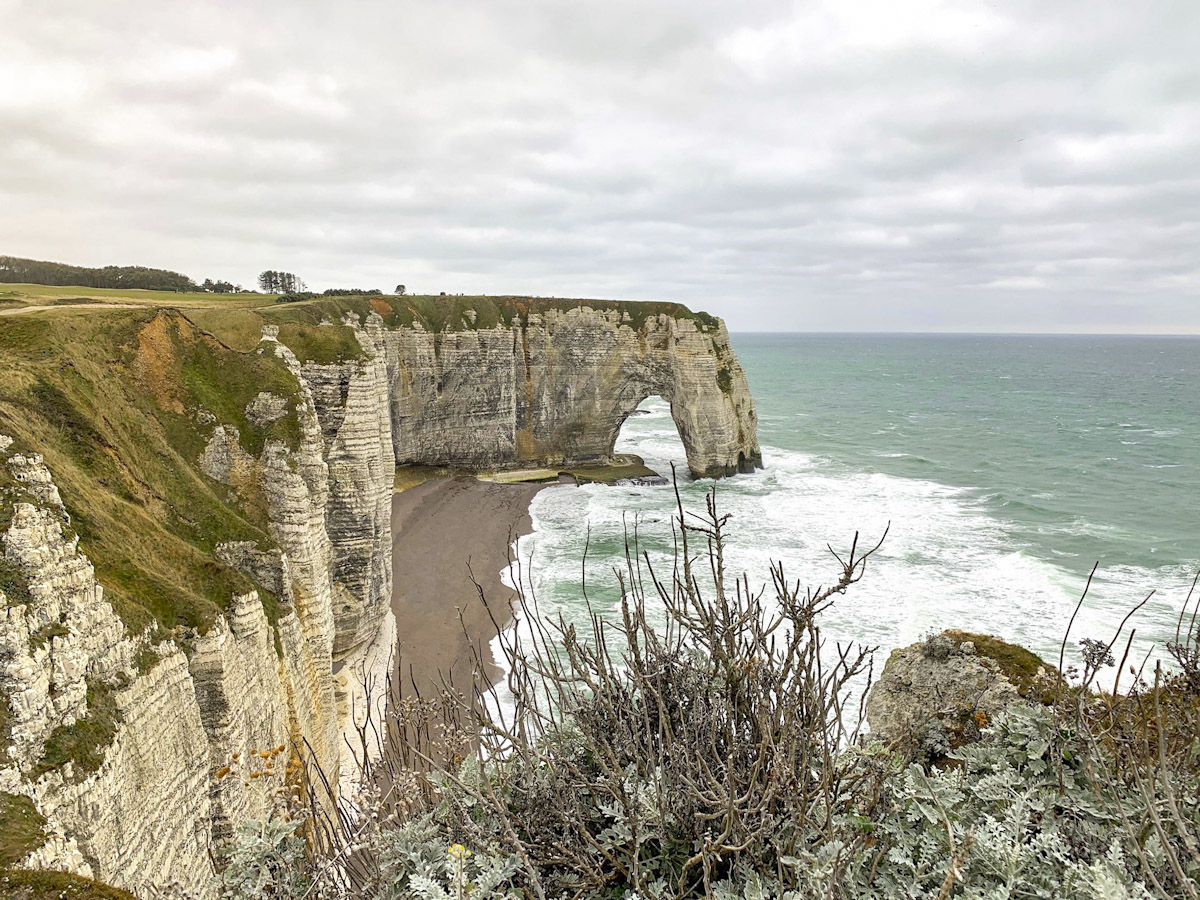 We started by visiting Étretat with its famous cliffs, since the weather on that day was cloudy and windy. Believe it or not, Le Guide du Routard tells you to visit Étretat on a cloudy day, as a bit of stormy weather adds to the drama of the scene. Routard was right: standing on the cliffs with a gusty wind around your nose and a troubled sea below is something! Étretat is a two-hour drive from Bayeux but you should definitely visit it if you're in the area. It's worth a detour. But please, don't nick one of the stones on the beach; they are some sort of a natural protection against the sea and with thousands and thousands of tourists visiting Étretat throughout the year (and nicking stones as a souvenir), the little town has to haul in new stones in order to keep their feet dry.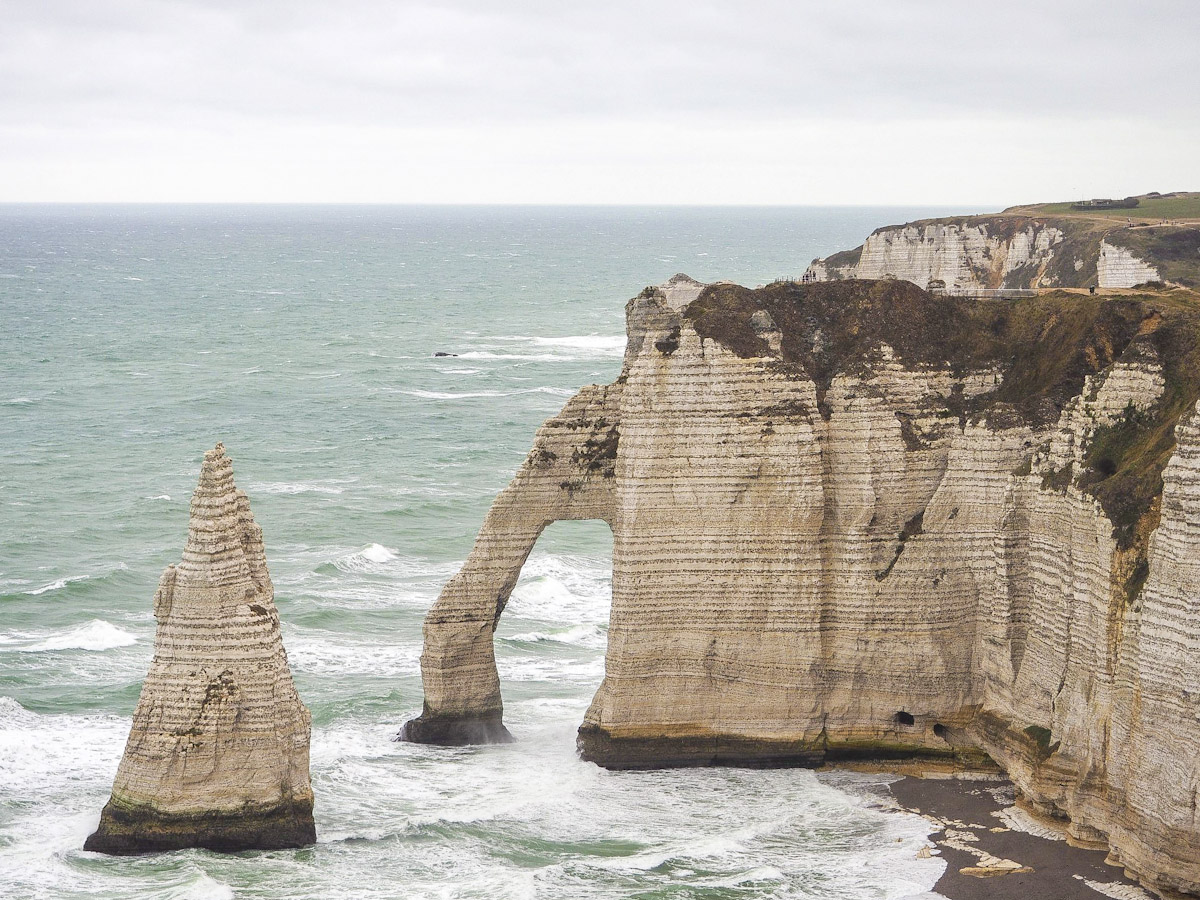 Exploration of the WW2 sites started the following day with a visit to Sainte-Mère-Église, the famous little village being the setting of the first major skirmish on D-Day. They still have a dummy paratrooper hanging on the church tower to honour Private John Steele, the paratrooper whose chute got entangled on the pinnacles of the church tower, leaving him hanging there for hours with German soldiers fighting his comrades below his feet.
They still have a dummy paratrooper hanging on the church tower to honour Private John Steele…
If you visit Sainte-Mère-Église, make sure to step into the church and have a look above the main entrance. You'll find the only stained-glass church window in the world depicting bombers and paratroopers. It's absolutely gorgeous.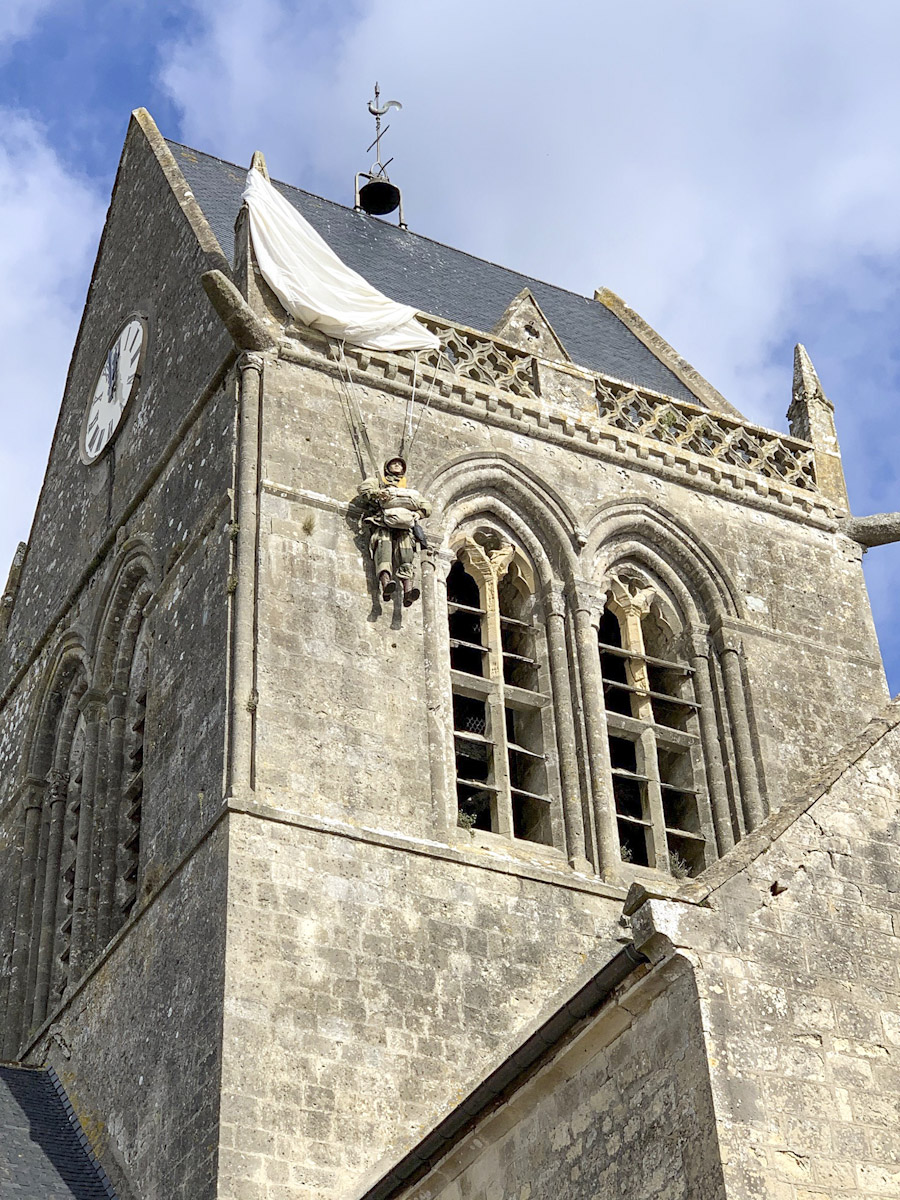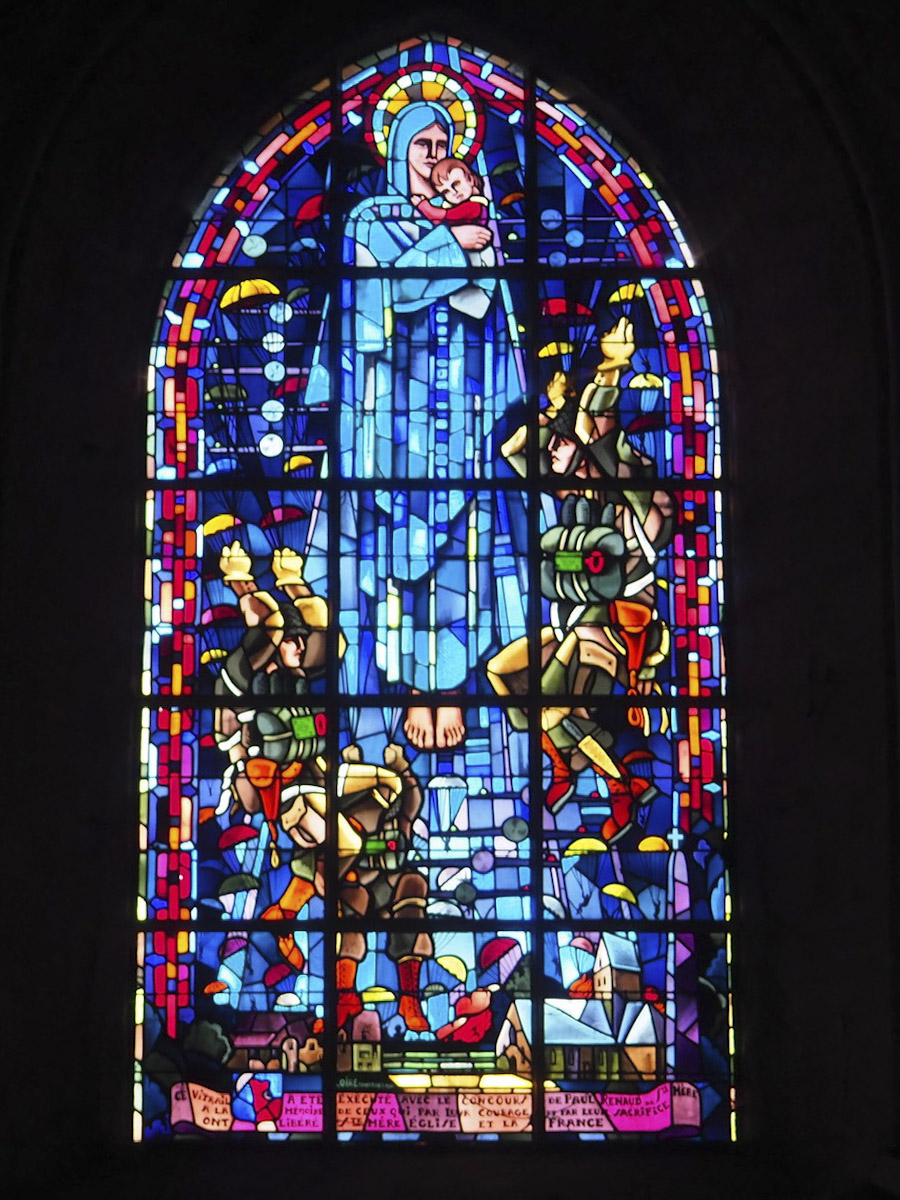 Further, you'll find the Airborne Museum just opposite of the church. There are numerous D-Day Museums in Normandy and, to be honest, if you have seen two or three, you can say you've seen them all. But the Airborne Museum in Sainte-Mère is definitely worth a visit. You'll get an iPad and headphones at the entrance in order to make the visit interactive and thus more engaging for kids or people with a short attention span. Everyone else finds a very good selection of every thinkable WW2 artefact along with an original glider, some tanks, jeeps and even a special hangar with a DC10 plane (that was unfortunately closed for maintenance when we arrived). There's also a dummy DC-10 you'll have to walk through, fully equipped with dummy soldiers simulating the night flight on D-Day. I'm usually not a fan of such simulations but this one truly gave me goosebumps.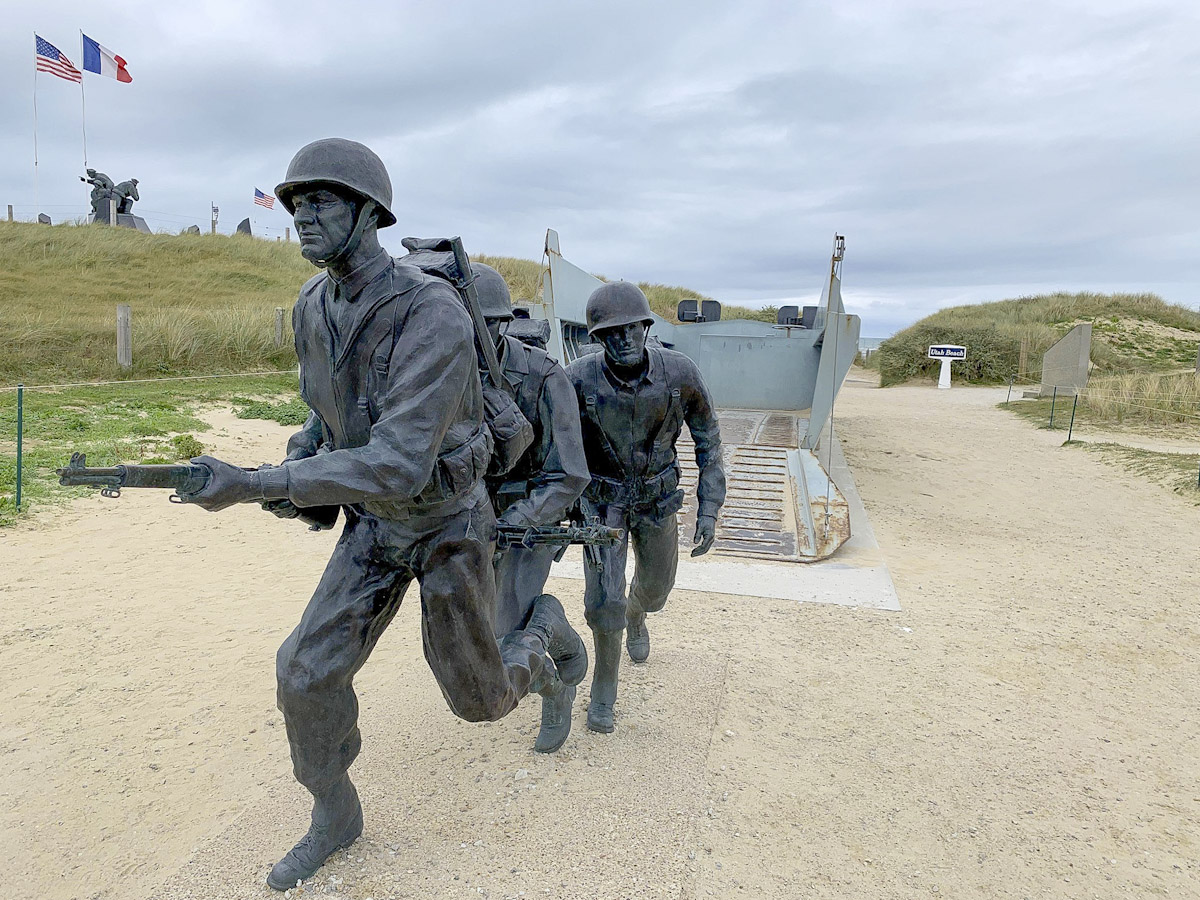 After Sainte-Mère-Église, we went to see Utah Beach. This is the most western of the five landing beaches and was, compared to some other areas, quite rapidly taken with only few casualties. There's another Museum here, the Utah Beach Landing Museum, which we skipped since we had our share of museums for that day. You'll find a few monuments and bunker remains on site and you can have a little stroll on the beach to have a closer look at the oyster farms located here. Oh, by the way, Utah Beach is also the beginning of the Voie de la Liberté, the 1,446 km long route leading trough France, Belgium and Luxembourg retracing the path of the Liberators in WW2. You probably have seen the milestones in Luxembourg. Here you can see the first one marked KM00.
The next day, we visited Pointe du Hoc, a cliff top location heavily fortified by the Nazi regime and taken by allied forces in what could be called a bit of a Gung-Ho mission. There's been some heavy bombing involved, as you can see by the craters on site which could easily hide a van. The information panels on site prove there was definitely more than your average pub brawl going on at Pointe du Hoc some 76 years ago.
American Military Cemeteries are very tidy and beautiful places, but this one located just above the clear blue sea is truly outstanding. I felt a mix of awe and sadness.
Later that day, we went to Arromanches-les Bains, close to Bayeux. This little village was home to the famous Mulberry Harbour, a floating artificial port that was crucial to the success of Operation Overlord. You'll find many remains of said floating Mulberry Harbour sitting on the beach as well as the sea which make for quite a strange view and reminds you of what was going on here some decades ago. You should walk up to the Sherman Tank parked a few hundred meters above the Arromanches Museum. Here, you'll find a pretty good photo opportunity if you want a picture of the town, the beach as well as the many harbour remains.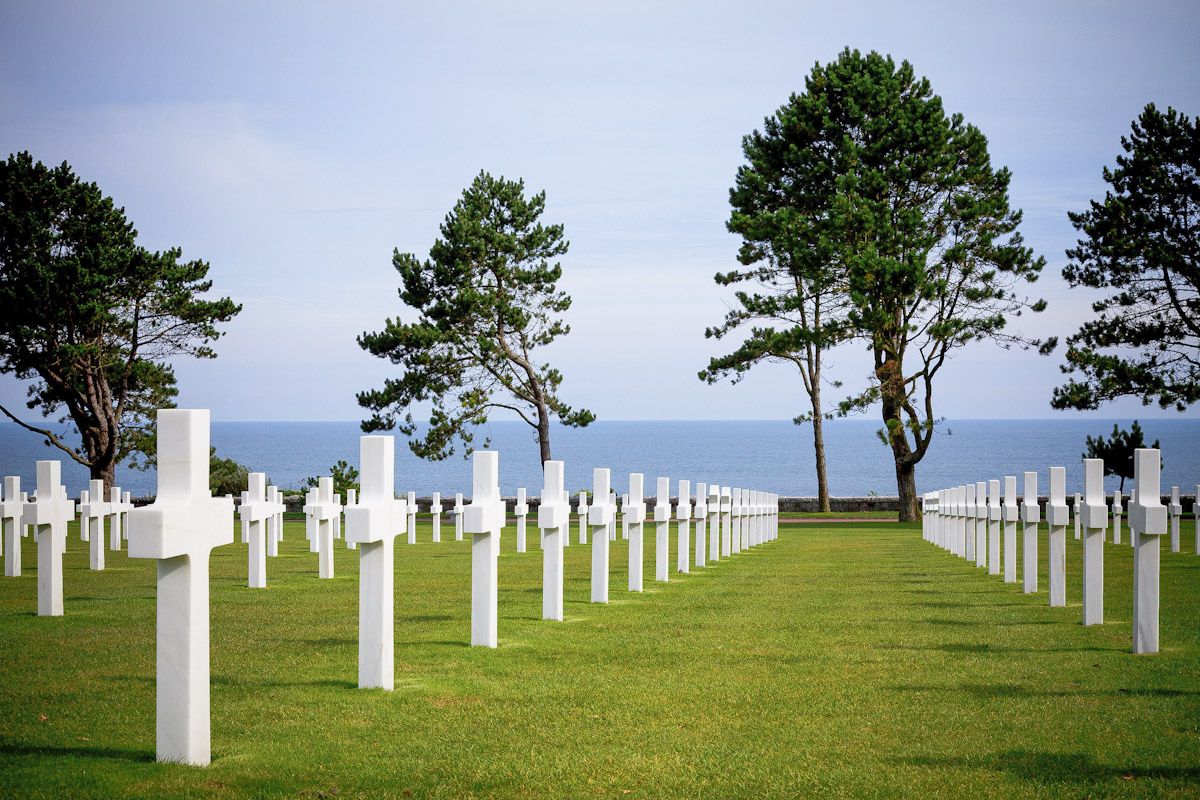 The following day was the day we finally visited Omaha Beach. Now, if you're only in the slightest interested in history, I probably don't have to tell you what was going on here. Let me just tell you; after seeing pictures and reading about this place for years and years, finally standing on that beach is kind of a strange feeling. There's still something hanging over this place, something's in the air. After the beach, I strongly suggest to go visit the American Military Cemetery in Colleville-sur-Mer, just above Omaha Beach. Here you can see the result of the stupidity that was going on a few metres below in 1944. American Military Cemeteries are very tidy, beautiful (if you're allowed to say so) places, but this one located just above the clear blue sea is truly outstanding. I felt a mix of awe and sadness. An astonishing and sad place. Make sure to visit the exhibit at the lower ground of the visitor centre at the entrance of the area. It's worthwhile.
Later that day, we visited the Overlord Museum, another one of the highly-recommendable museums. Overlord museum shows a very impressive (private) collection of Allied as well as German heavy war machinery. Every vehicle is meticulously placed in spot-on reproductions of period correct sceneries. Definitely worth a visit.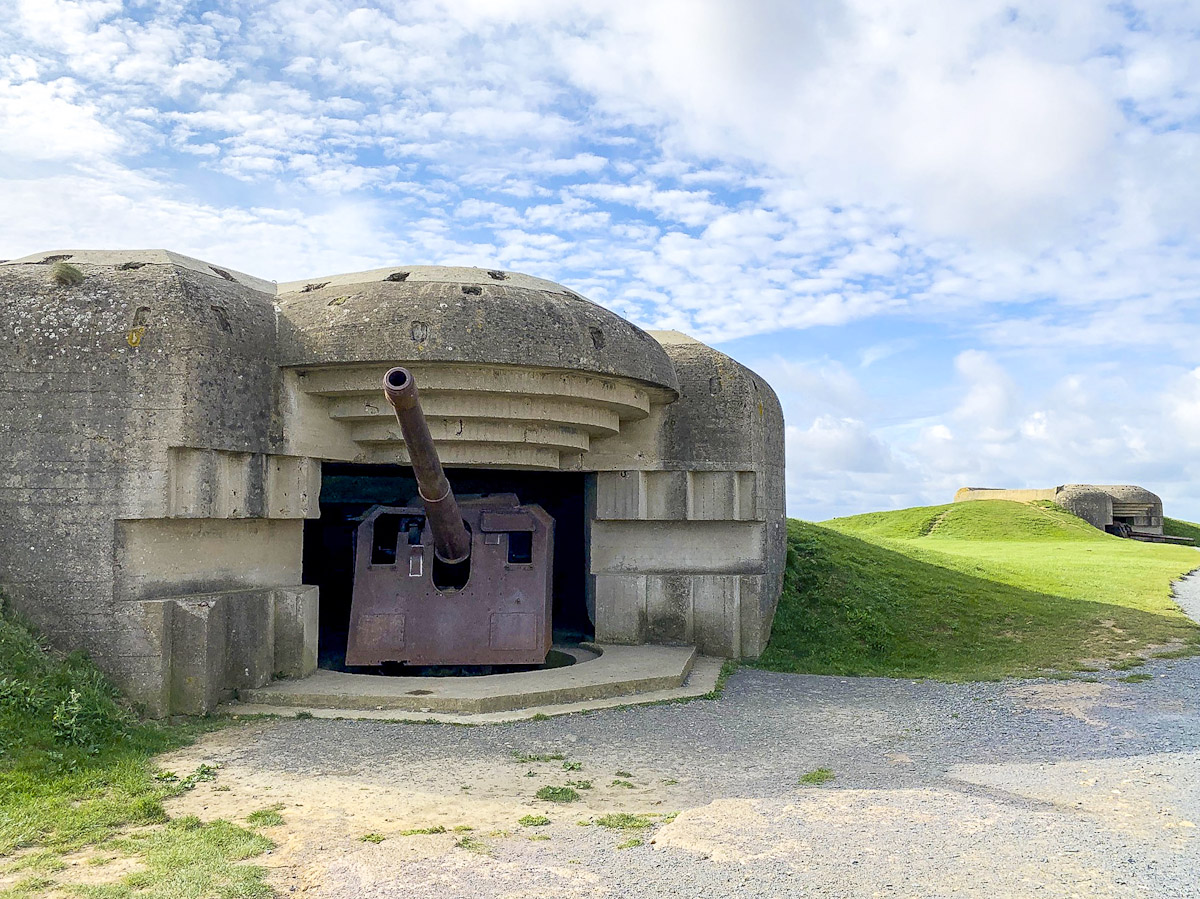 The following day we visited Caen (some blunt shopping after days of historical seriousness) as well as the Batterie de Longues-sur-Mer. Here, you'll find heavily fortified bunkers of Hitler's Atlantic Wall in perfect condition, some of them still harbouring their massive 150mm machine guns.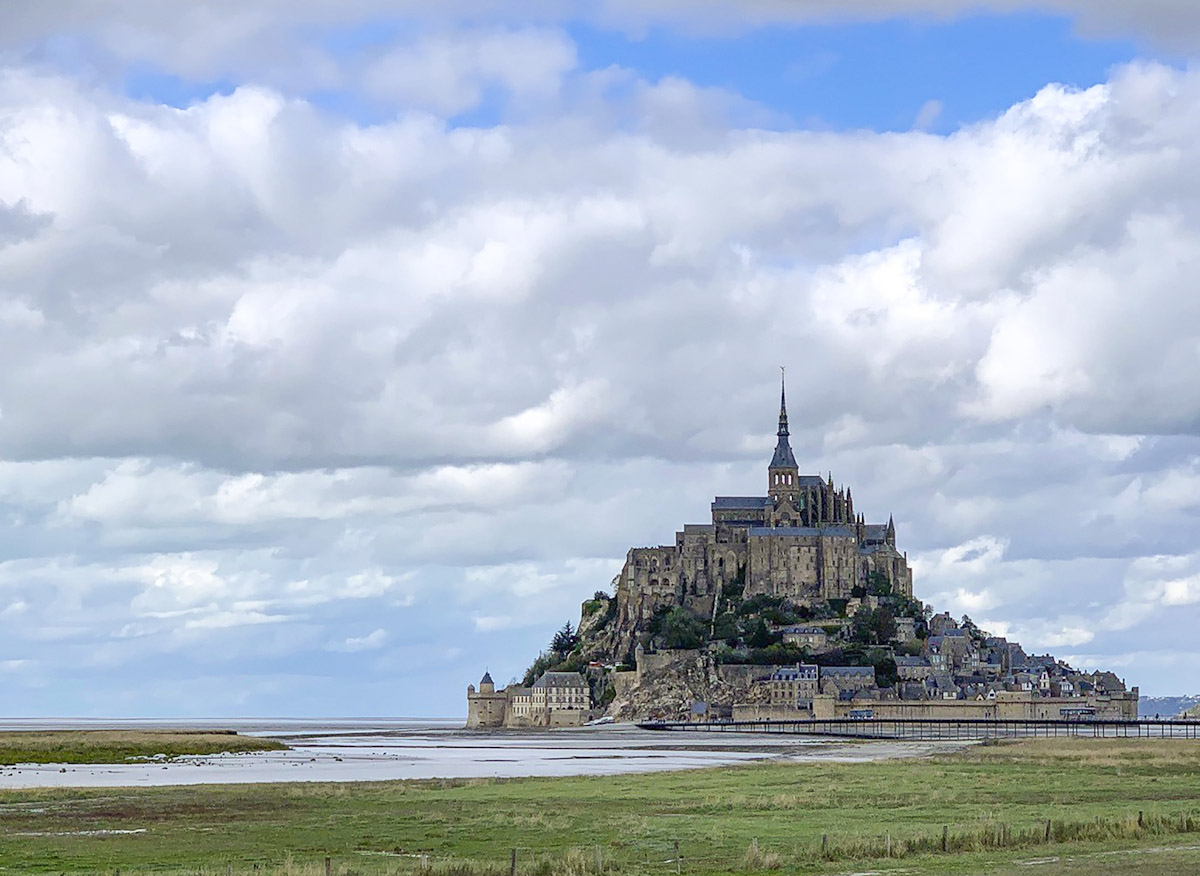 The following day we left our house in Bayeux for the famous Mont St-Michel. This I always wanted to see and since we were at the beginning of October (and bloody Covid made people stay at home), there were only a few visitors on this Unesco World Heritage site. Luckily. The view of the Mont itself is truly breathtaking. The small pathway winding its way up to the monastery (sandwiched between numerous souvenir shops selling cheap china-made souvenirs or bars selling beer at the price of champagne) is truly unique. But I don't want to know how this place looks like in high season, when millions of tourists invade the Mont St-Michel.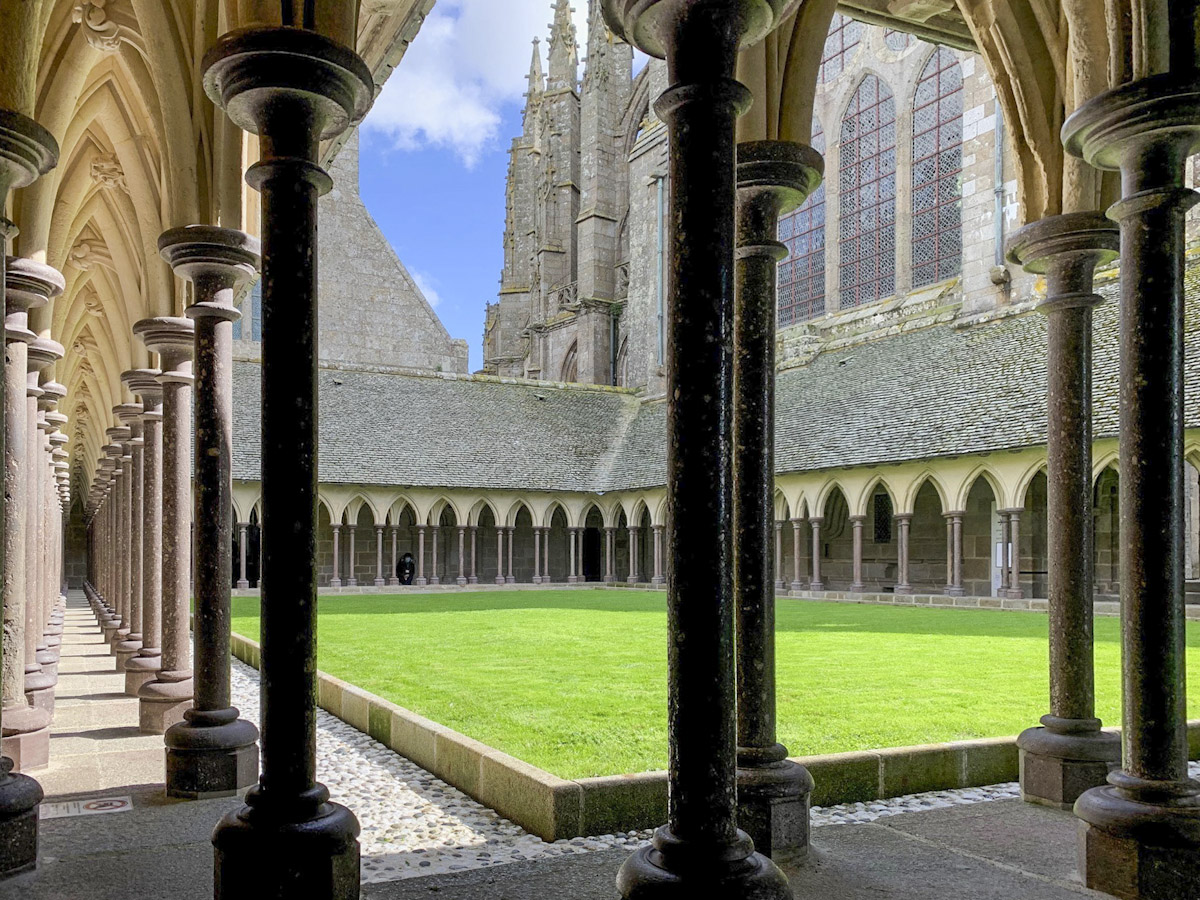 We stayed at a hotel in an enclosed area just before the bridge to the Mont. I explicitly looked for this since I wanted to see Mont St-Michel lit up at night. Since it was only a five-minute walk from our hotel rooms to the bridge I thought this might be a convenience worth paying a little extra for. But to my disappointment, the picture I had in mind from a lit-up Mont St. Michel was not at all what I found after reaching the bridge. I must have seen pictures of a special occasion since the whole mountain with the monastery on the top was well lit in the dark of the night. That night I was there, the bloody thing was so sparsely lit you couldn't even see the shape of it in the dark. Damn! We should have stayed at the hotel bar.
Nevertheless, Mont St-Michel is worth a visit (probably less in high-season) and you should visit the Monastery at the top as well. It's a bit of a climb but you'll instantly feel like one of the Lannisters from Game of Thrones (apparently, I'm not the only one feeling that way; we found a reproduction of The Mountain from GoT's armour in of the many souvenir shops on the Mont).
The last day before our departure, we made a trip to Saint-Malo, some sightseeing and shopping (again). Saint-Malo actually is not in Normandy but in Bretagne, so we've not only been to Normandy this year but also to Bretagne. Great, isn't it? "Where were you on holiday in 2020? We stayed at home since Covid…" "Oh, we've been in Normandy AND we've been to Bretagne…"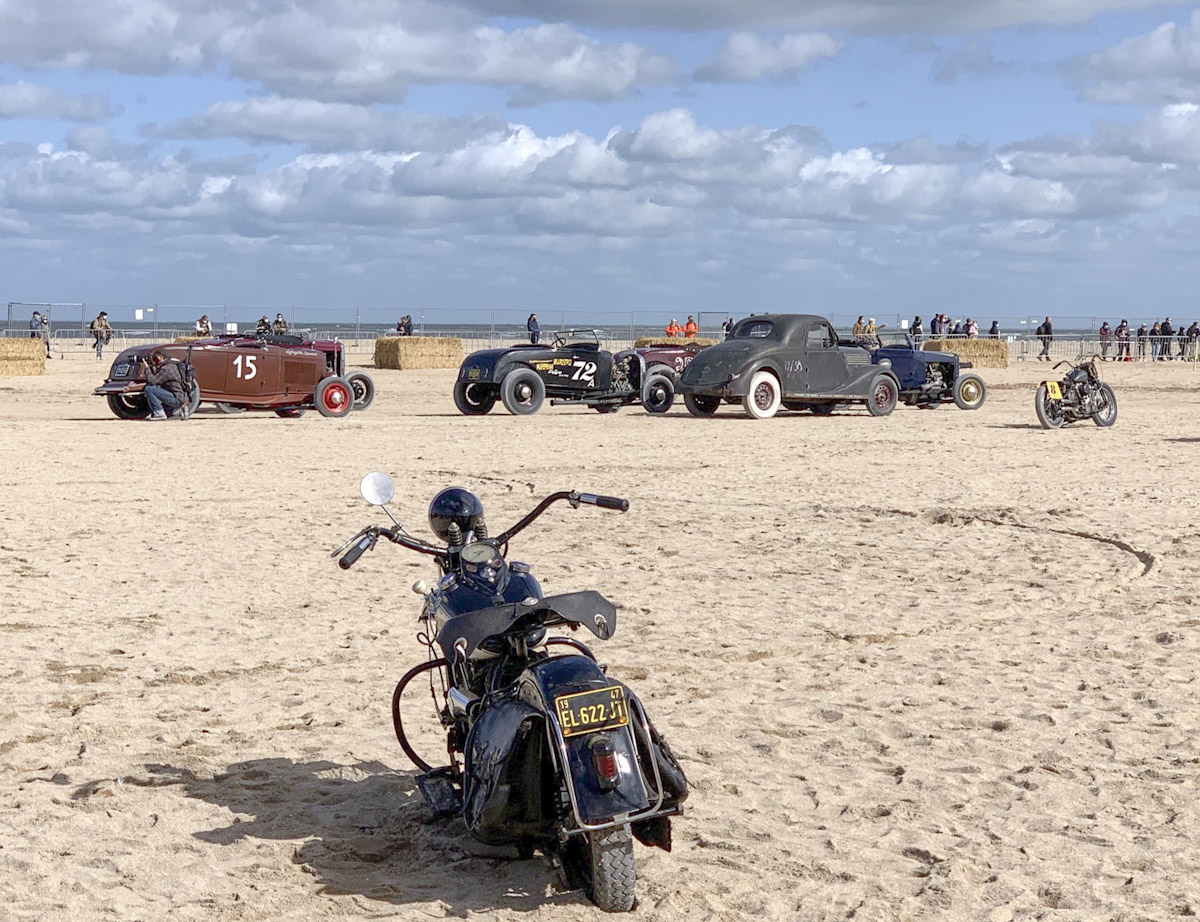 At the beginning, I told you that a bunch of guys racing their pre-war bikes and cars on the beach of Ouistreham in Normandy helped a great deal to finally make me go to Normandy. I'm actually talking about the Normandy Beach Race, which was held for the second time this year and already makes quite some buzz in the scene. If you're into pre-1950 cars and motorcycles, you should do the same as we did and combine this event with a few days in Normandy. Going only for the event might be a bit far but in combination…. But be quick; spectator attendance rose by a tenfold from the first edition to the second; in a few years, it will be too big and it'll probably have lost its casual style.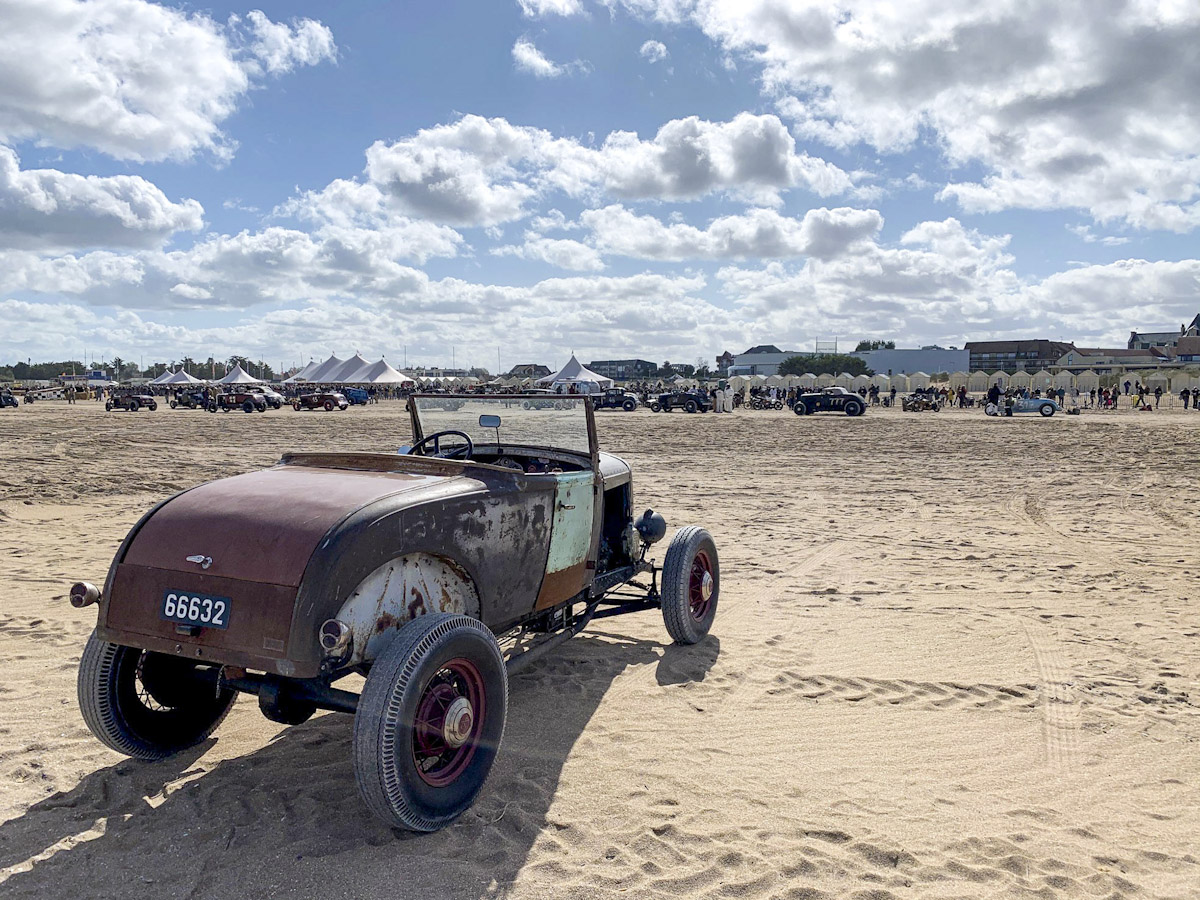 Oh, and one more thing: having visited several French regions in my life, I've always wondered what made people so excited about French cuisine. Most of the time, in other regions of France, I was pretty disappointed by their restaurants. But Normandy made up for all the other disappointments; every single restaurant we visited during that week was a treat.
What's the verdictof my long overdue visit to Normandy?
Well first, with regard to the WW2 related stuff: mankind as a whole is stupid. But women and men can be outstanding, smart, kind and heroic.
Second: the French can cook after all.
Third: the Trou Normand might be one of Normandy's biggest achievements. Yep!