When I arrived at the airport of Accra in Ghana I was arrested for nearly 24 hours. Reason? I did not have a visa in my passport. When preparing this trip I was informed that I could get a visa at the airport upon arrival. The immigration police could not understand how it was possible that I had boarded a plane without a visa to Ghana, the airline had made a bad job. I had managed to enter a country without a visa nor an invitation letter!
I was taken to the airport immigration police where I sat alongside a handcuffed Nigerian. Around us the walls were covered with photographs of runaways. There was a box with handcuffs. It was past midnight when after interrogating me, the police led me into a van and drove to the migration office in the capital. There I was again interrogated. Without food and water, I had to spend the night in a tiny cubicle. They informed me that the following day I would be deported back to Portugal. I woke up early and was driven back to the airport police station.
By this time I had resigned to the idea that I would be sent back to Portugal, I started relaxing and laughing about the situation with the cops. They wanted to know everything about me and soon they were all on youtube watching me playing the piano on my youtube videos. And out of nowhere something good happened! The flight back to Istanbul was full. So instead of having to wait for another flight they decided to make me pay for a fine, stamped my passport and finally let me step on African soil.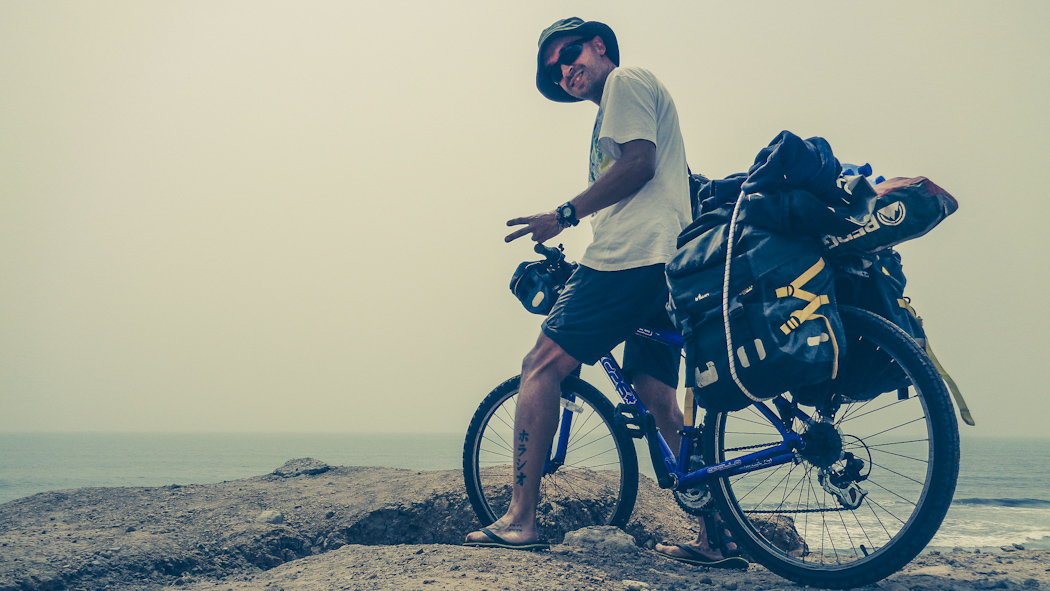 I bought a bicycle, as I had foreseen, and made the necessary preparations to get started. As I had done a very similar trip a few years ago – from Senegal to Guinea-Bissau – I knew it would be better to take with me some food and plenty of water. I admit that the first two days were quite complicated. This delay at the immigration office meant that I would have to ride more each day to compensate, but this turned out difficult with all the weight on the bike under the unbearable heat, the temperature was around 40 degrees.
The road from Ghana to Togo is along the coast. I had to cycle kilometres on end without a single tree for shade. It was all about sand, sea and many fishermen along the beach. My food was getting scarce and I couldn't find any options to buy more food. When I finally found a stall selling food, I ended up not buying anything because of its horrible appearance.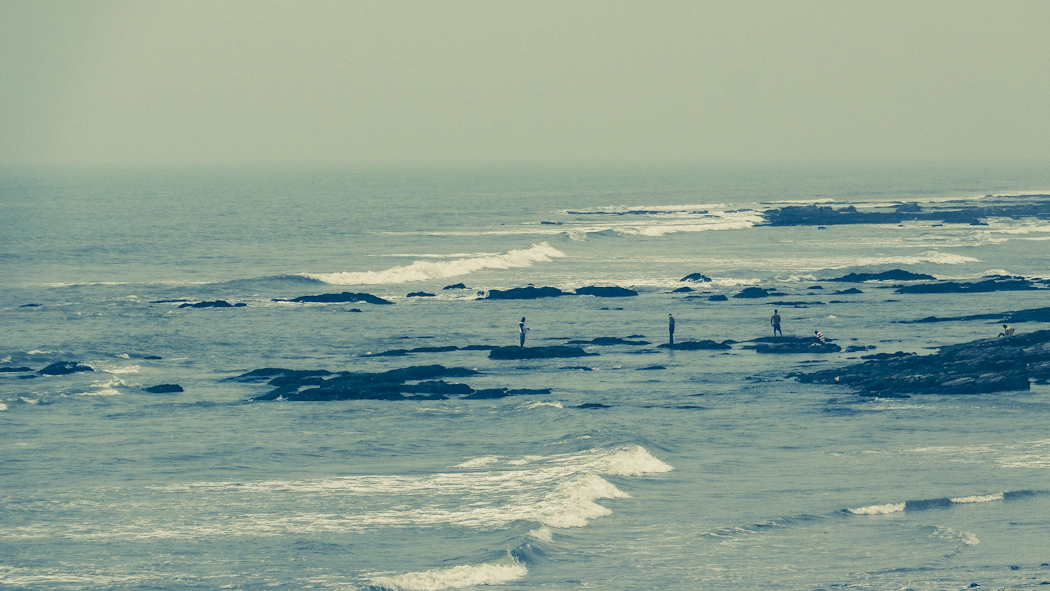 I was pedalling like crazy and began to have some muscle pain. I ended up not enjoying the first two days as I needed to rush to get to Togo as early as possible. It was almost dark night when I arrived at a small village and found a house that rented rooms for 3 euros only. I was completely exhausted, without any forces left and feared that I would pass out from exhaustion.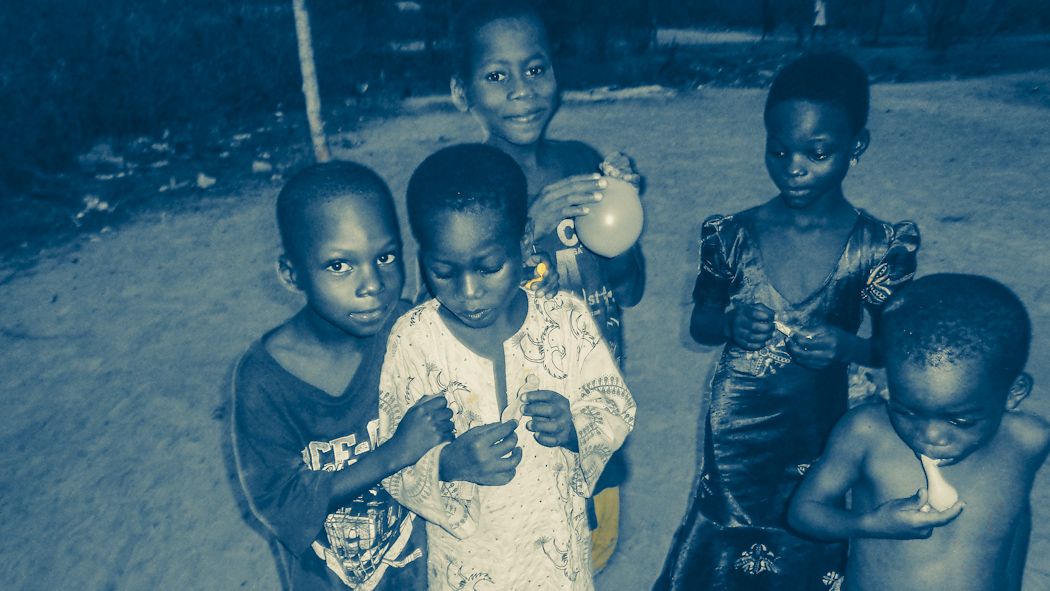 The room was stuffy, airless and had no bathroom. They brought me a bucket of water so I could wash myself. Outside, people were dancing and singing to the sounds of djembes. I really enjoyed this lively celebration, but I was tired and needed a rest and I must admit I never thought this would go on for hours. I went to the room to try to sleep and all that noise bothered me so much. It was past midnight and they kept celebrating. I think this was one of the few times when music bothered me deeply. The next day I woke up at 5 am to catch up.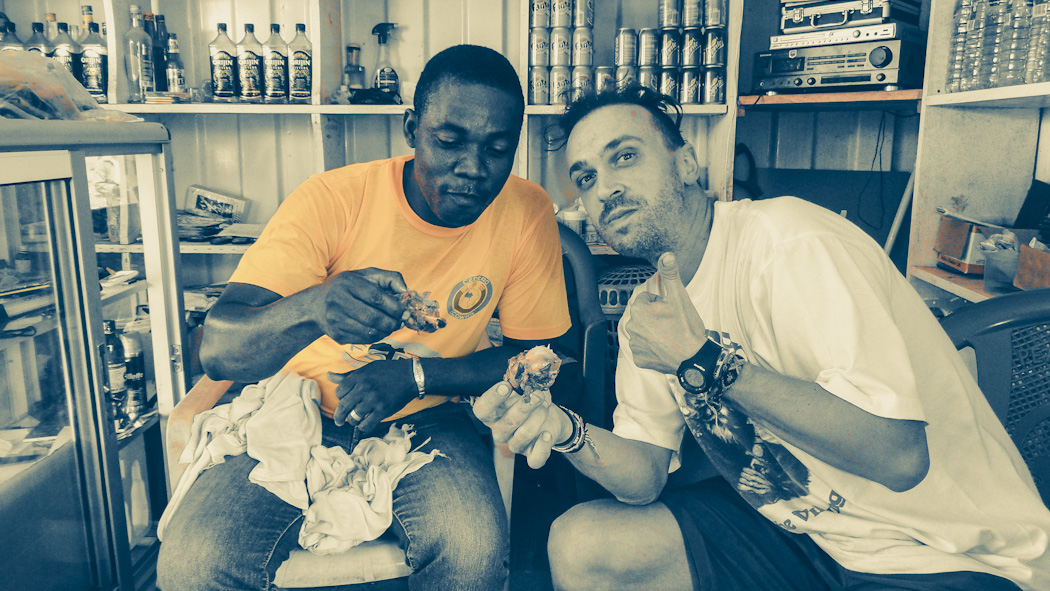 After a few hours pedalling, I stopped in a village to try to have something to eat. I sat under a shade to rest and immediately a girl and a boy came to me and asked me who I was and if I needed something. I asked if I could find something to eat there, but the answer was no. Since there was no place to eat, I was surprised that they asked me what I wanted to eat, to which I replied "chicken". I was even more surprised when one hour later the girl called me again, she had prepared chicken and noodles for me. Her brother invited me to his shop and the food was served. After a minute, the brother informed me that I would have to marry his sister since she cooked for me. I laughed and tried not to give much importance to this marriage ultimate. When I got a chance, I observed her closely. She had a pretty face and a lovely round body but suddenly I noticed her legs and was startled. She had more hair in her legs than I have! I started feeling bothered with their insistence on marriage and after thanking for the food I went outside to smoke a last cigarette before moving on. The girl was enraged and screaming at me because I was smoking! And we were not even married yet, this marriage was doomed to be a disaster! 🙂
I understood later that in Ghana smoking is not welcome. I had to go on riding and so I thanked them once more and said farewell. I am always affected by the curiosity of the people in these parts of the globe. It is a good feeling to be surrounded by smiling faces who wonder who you are and what the hell we are doing there in their village riding a bicycle…
Photos © Rui Daniel da Silva