We don't get tired of saying that cyclists are our heroes!
Whenever we struggle with a difficult situation, God sends a cyclist to show us how much more difficult things could get. How many times were we swearing about the strong winds in Patagonia, only to see super-cyclists coming in the opposite direction, hardly able to advance, but approaching us with smiles on their faces…
Today, on the World Bicycle Day, we would like to pay homage to all the cyclists we know. You are all brave and perseverant! We take our hats off to you!
We have met some cyclists on the road, with whom we were lucky to travel with for a few days, or whom we would meet at intervals of time, sometimes even in different countries. Here are a few of these heroes, new friends, whom we hope to meet soon again, somewhere around the globe!
1. Birgit and Søren Borg – World Bike Travellers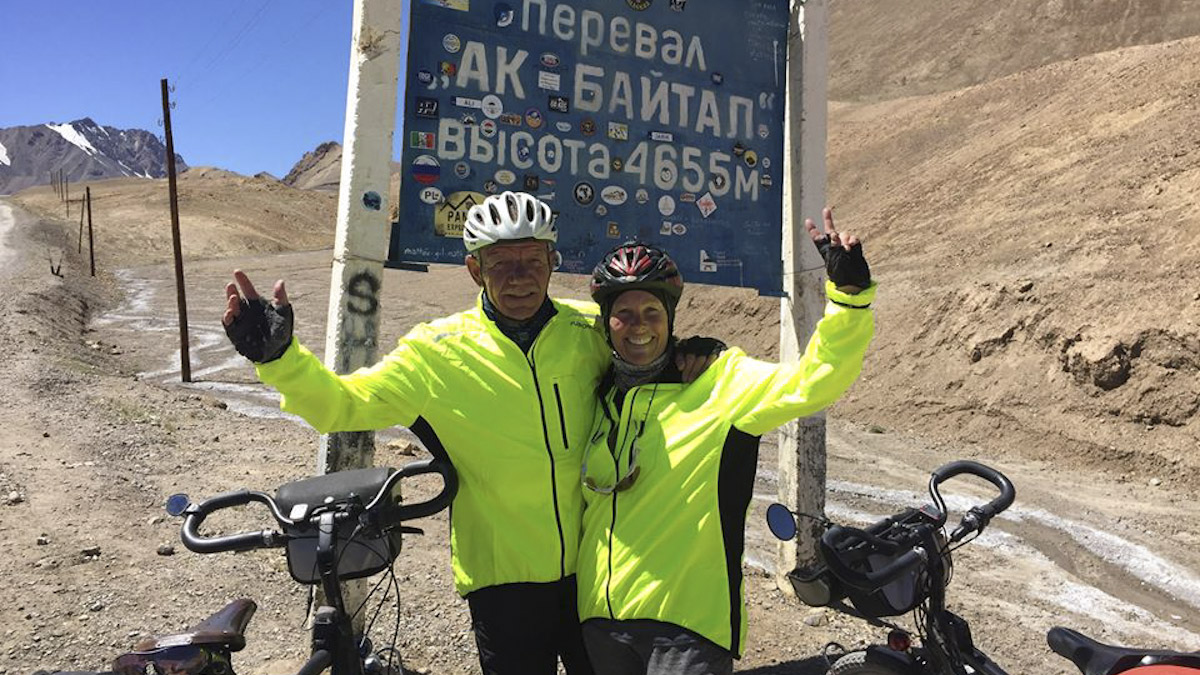 Birgit and Søren are travelling around the world on their bicycles. It all started as a 'short' bicycle trip from Denmark to Portugal. After reaching Portugal, their plan would be to continue their trip while backpacking around the world. But once they made it to Portugal, they rode a bit more until Gibraltar. And when in Gibraltar, they thought they could actually continue with the bicycle around the world…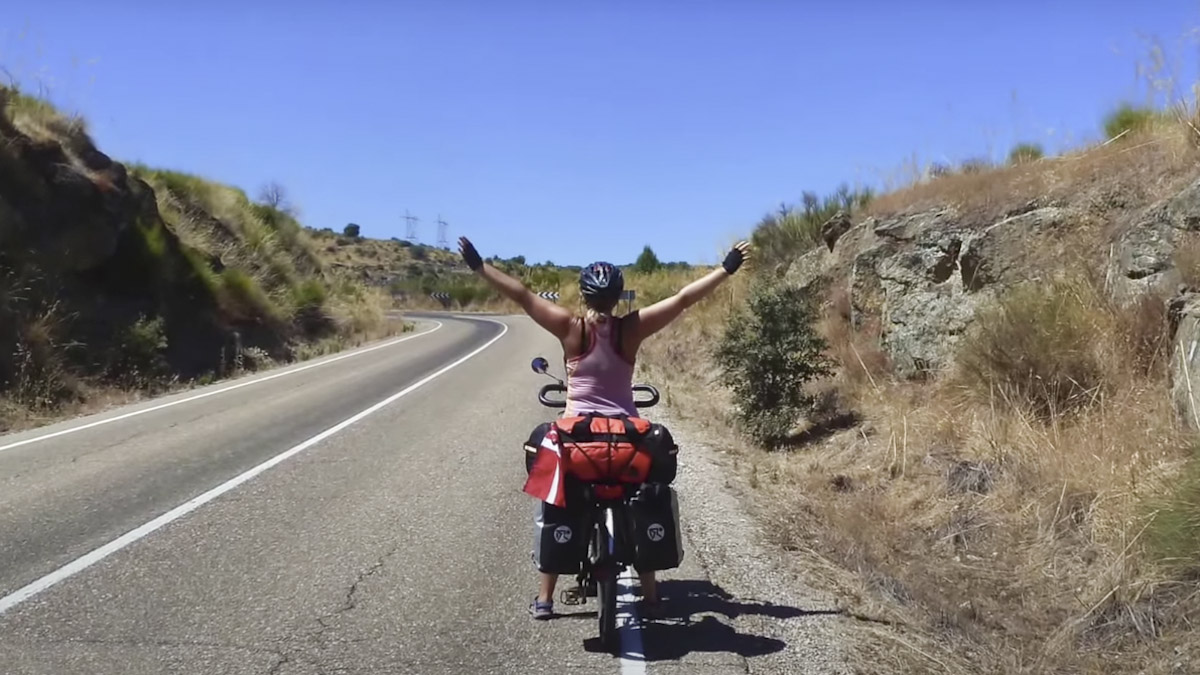 They plan to be travelling for at least seven years. We have first met Birgit and Søren in the Douro valley. They were on their bikes and we were with our motorbike. We joined them on a green park with a view over the river in Régua, and spent a memorial night of wild camping together! Later on, we met again in Lisbon, and would meet a third time in Portugal, in the Algarve. This was back in 2016. Since then, the four of us have been on the road, always checking where the other two are, but we still haven't managed to cross our paths again, they are still some countries ahead of us…
They have returned home now (in Denmark), but we know they have plans to be back on the road as soon as the pandemic allows us to be travelling again. We hope we get to meet each other again very soon!
Follow them on: www.worldbiketravellers.dk
2. Chris & Peter Lloyd- Cycling Wall to Wall
We have met Chris and Pete for the first time in Azerbaijan and then again in Uzbekistan. We wanted so much to have met them again in Kyrgyzstan for our small 'spaghetti and red wine' ritual, unfortunately we missed each other for a couple of days. In the meantime they have concluded their trip, whose aim was to cycle from Hadrian's wall (next to where they live) to the Great wall of China.
And that's exactly what they did, with many adventures in between the two walls, including returning home to the UK when they were already in Hungary, when Pete broke a leg. But, Pete wouldn't let that small incident keep him from this great adventure, so a couple of months later, they restarted the journey all over again from the UK.
Their stories are written with so much humour, that we couldn't help but following them on-line, as they were too quick for us to follow them by motorcycle…
"We have dreamed of doing this trip for a long time and last year did a "practice route" when we cycled from Greece to Hallbankgate. We had a thoroughly wonderful time and decided that we were hooked on the freedom and excitement of bicycle touring. We have great bikes and despite a few aches and pains our legs are fairly strong, our combined brains are still able to read a map if it isn't upside down, and so we feel almost qualified to get going.
We are calling our trip The Wall to Wall as we are going to start on Hadrian's Wall which is close to where we live and end somewhere along the Great Wall of China. We hope we can cycle the whole way, although we will have to get a ferry across the Caspian Sea as neither of us are very strong swimmers.
Well, we set out on this journey in January 2017 and were waved off with mountains of good wishes on a frosty morning from Hadrian's Wall. However, things didn't go quite according to plan. Pete slipped on a slippery tile in a health spa in Hungary, broke his femur and had to be carted home. With the help of a metal rod and a couple of bolts the femur started to mend and we set off again in October 2017. This time we went south through France avoiding Hungary by about 500 miles…"
Read their blog on: www.cyclingwalltowall.co.uk
3. Maddi, Iñigo & Larre (their dog) – Bizizkletan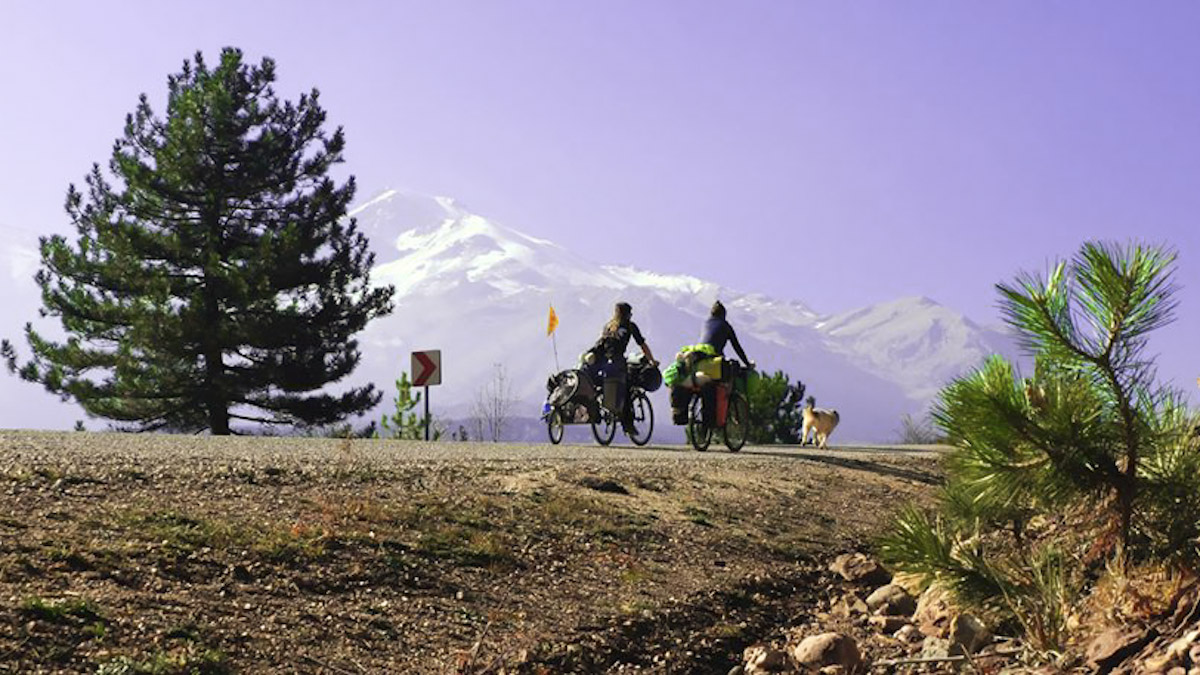 Maddi and Iñigo had plans for a bicycle tour before they met Larre, their dog. A couple of weeks before their trip was meant to start, Larre came across their paths. She had been abandoned in the streets of Nafarroa (Spain) and needed help. The couple did not hesitate in rescue and adopt Larre, and decided she would have to be with them as they made their dream of travelling East come true.
We met them for the first time in the port of Baku, in Azerbaijan. Here, a small group of cyclists and motorbikers got bigger every day as we waited for the ship that would take us to Kazakhstan to depart. We 'only' had to wait for two days, while others had already been waiting at the port for a week. We would only meet again months later, in Kyrgyzstan, when, while driving on a lonely road, we recognised their tent and bicycles. We stopped, and spent the rest of the day and night together, like an old family who had just re-united, so happy we were to meet each other out of nowhere!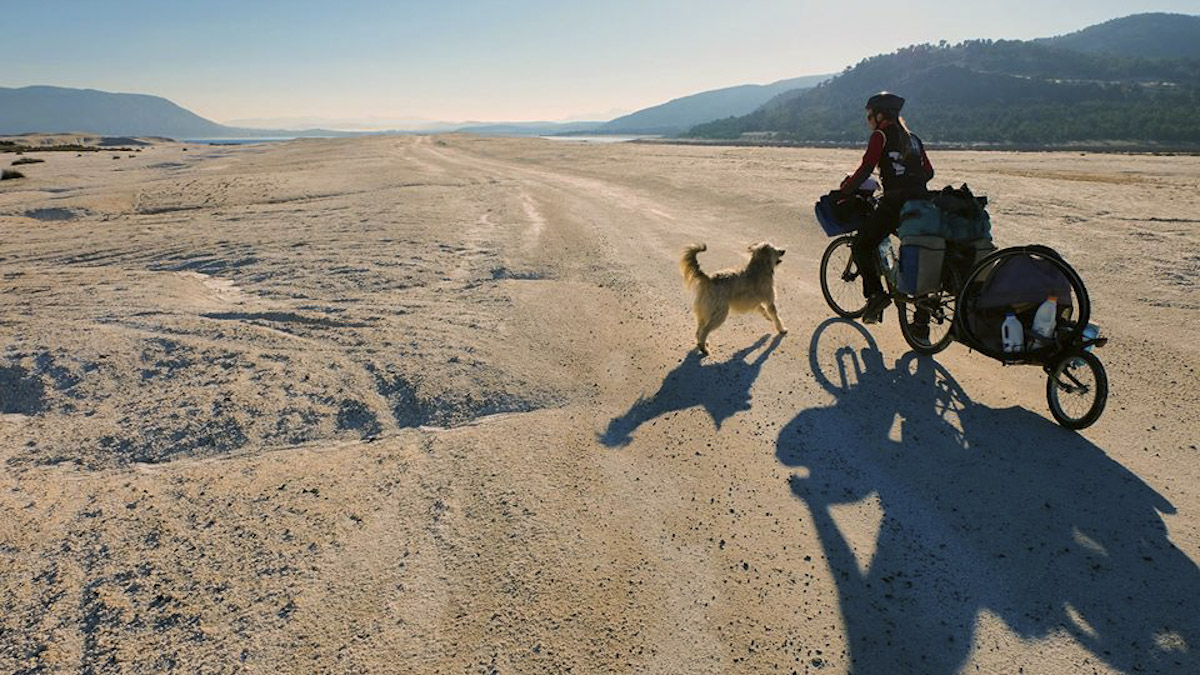 They adapted Iñigo's bicycle with a trolley, so that Larre could sit on it whenever she did not feel like running by their side, or whenever there was too much traffic on the road. It wasn't always obvious to travel with a dog. Some customs' officers insisted that Larre's passport should have a photo – as if they would be able to recognise her by the photo! They were expecting difficulties in Muslim countries, where dogs are seen as impure animals, but were happy to see that people were willing to find a solution so that Larre would always have a roof for the night…
You can follow their adventures on: facebook.com/Bizizkletan
4. Yannis – Yannis' World Cycling Adventure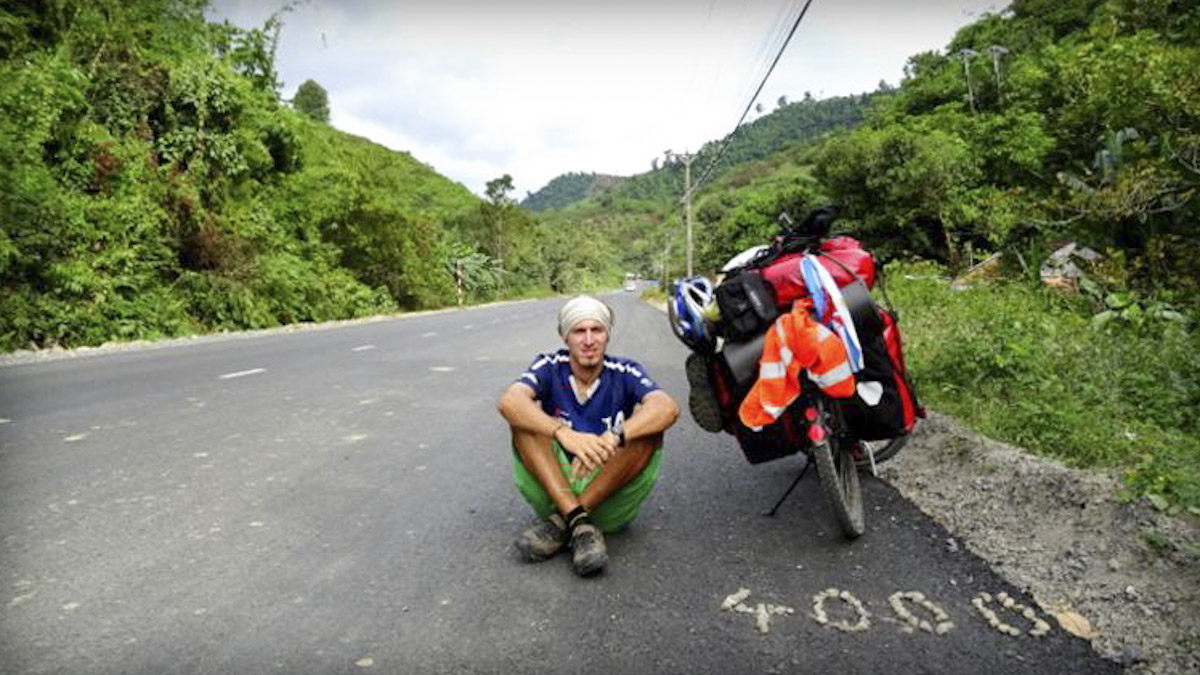 In 2014, Yannis set off from his home in Berbourg, a small village in Luxembourg, for an unsupported cycling journey around the world. His route took him from his hometown through Germany, along the Danube across Austria, Slovenia, Hungary, Serbia, Romania and Bulgaria to Istanbul. His second stage took him through Georgia, Azerbaijan, the north of Iran, to Turkmenistan, Uzbekistan and up into the mountains of Kyrgyzstan. Cycling across China and the Taklamakan Desert, his journey continued in Laos, Vietnam, Cambodia, Thailand and Malaysia. From Singapore, he headed for Australia and both of the New Zealand Islands, the third stage of his journey.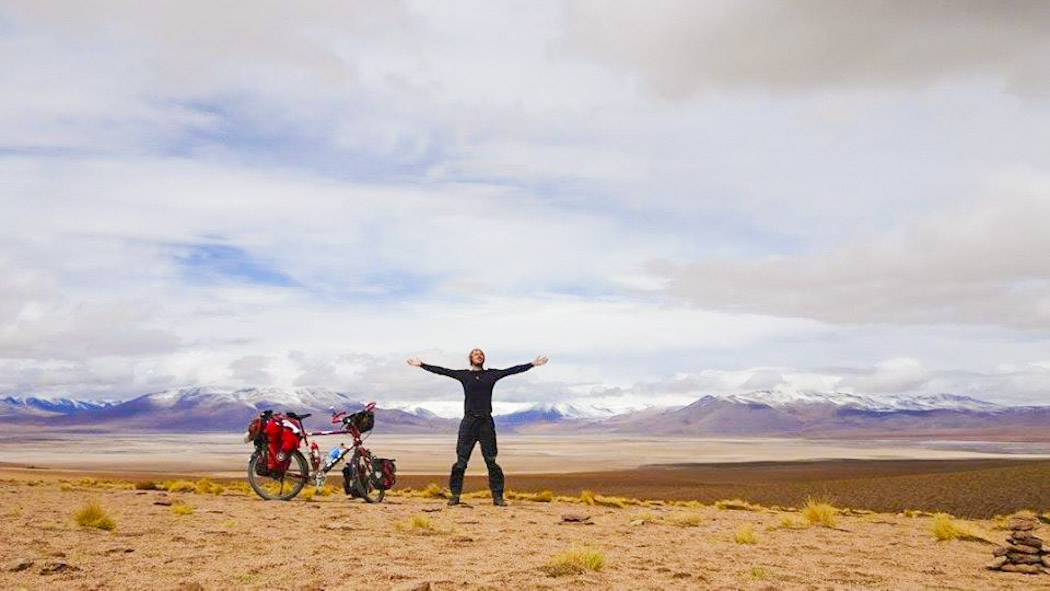 On the fourth leg, he cycled all the Panamericana, from Anchorage all the way down to Ushuaia, the most southern city in the world. From Bahia Blanca, he crossed the Atlantic Ocean to finish his journey by cycling through Spain and France, back to Luxembourg.
We are happy to call Yannis a friend and an inspiration!
You can follow Yannis' adventures on: facebook.com/Yannis' World Cycling Adventure