Below is some useful information about the Caspian Sea Ferry Crossing from Baku to Aktau (Azerbaijan to Kazakhstan) as well as a more detailed summary of the crossing itself, the long waiting time in Baku and the longest customs procedure we have ever experienced, in Kazakhstan.
IMPORTANT INFO:
Prices:
– 80 dollars/person for a 2 bunk bed cabin (with private shower and all meals included)
– 70 dollars/person for a 4 bunk bed cabin (shared WC and all meals included, some cabins do not have a window and in summer the cabins can get very hot)
– 110 dollars for motorbikes
– 300 dollars for cars
– bicycles and dogs go for free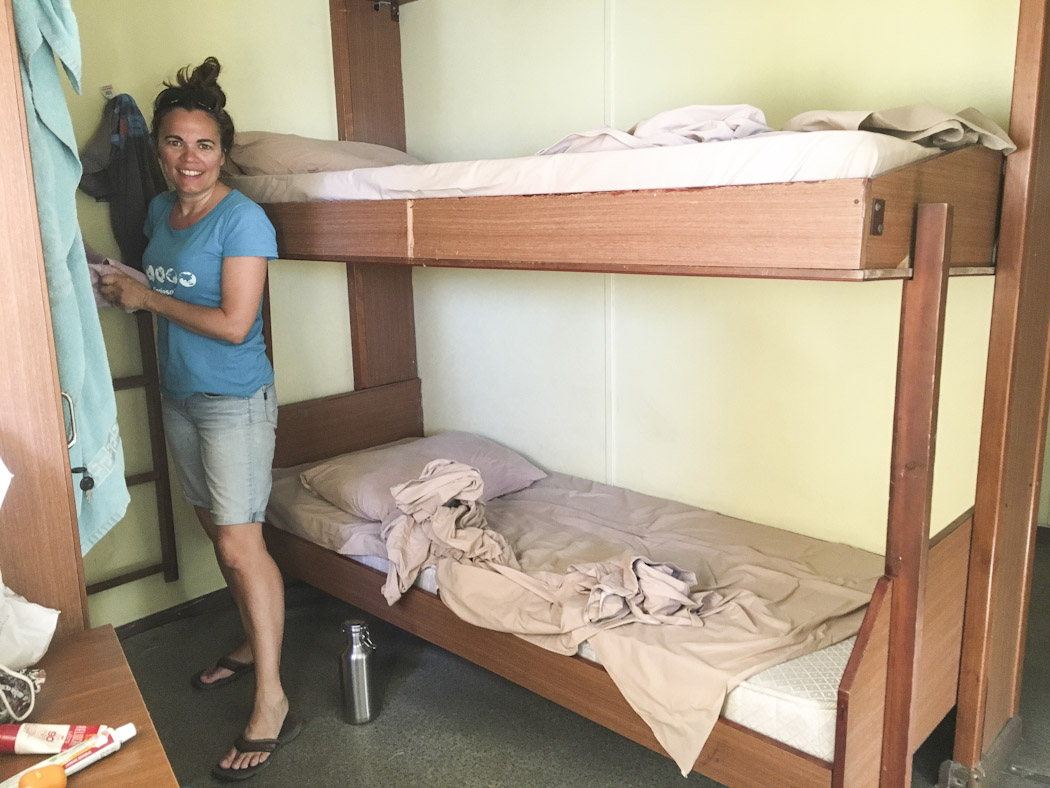 Schedule:
Only God knows when the boats depart. As long as there are good weather conditions for sailing (i.e. the sea is not too rough because of the strong winds that often sweep Baku), and as long as there are enough trucks to fill the cargo – remember, they are the ones giving profit to the cargo company, not the few passengers that show up at the port terminal – you can count on a frequency of every three or four days…
Documentation and official fees:
– Registration – Perhaps officials at the border entry will neglect to inform you that you will have to register with the Immigration office if you stay longer than ten days in Azerbaijan. You can ask at the hotel where you stay to do the registration for you. If you fail to do it, you can be fined at any time of your stay, or, at the latest, you will be fined when you are back at the border to leave the country. It will cost you 200 EUR and a lot of administrative hassle, so make sure you are registered.
– Customs documents – We did not have to pay for entering the country with the motorbike. Make sure you get and keep the document from customs (you will get it at the border entry) because you will need to give it back at the customs when leaving. We failed to present that paper (we are not sure if we lost it or if we were not given it), and we think we got lucky that the official at the border, on our departure day, was a friendly guy who did not make us pay a fine because of that.
– Import tax – when leaving the country we had to pay 6 dollars for the import tax (for one motorbike).
Cargo crossing
– Even though we were told the trip would last 30 hours, it actually only lasted 22. Perhaps it was due to perfect weather conditions (the Caspian sea looked like a giant lake).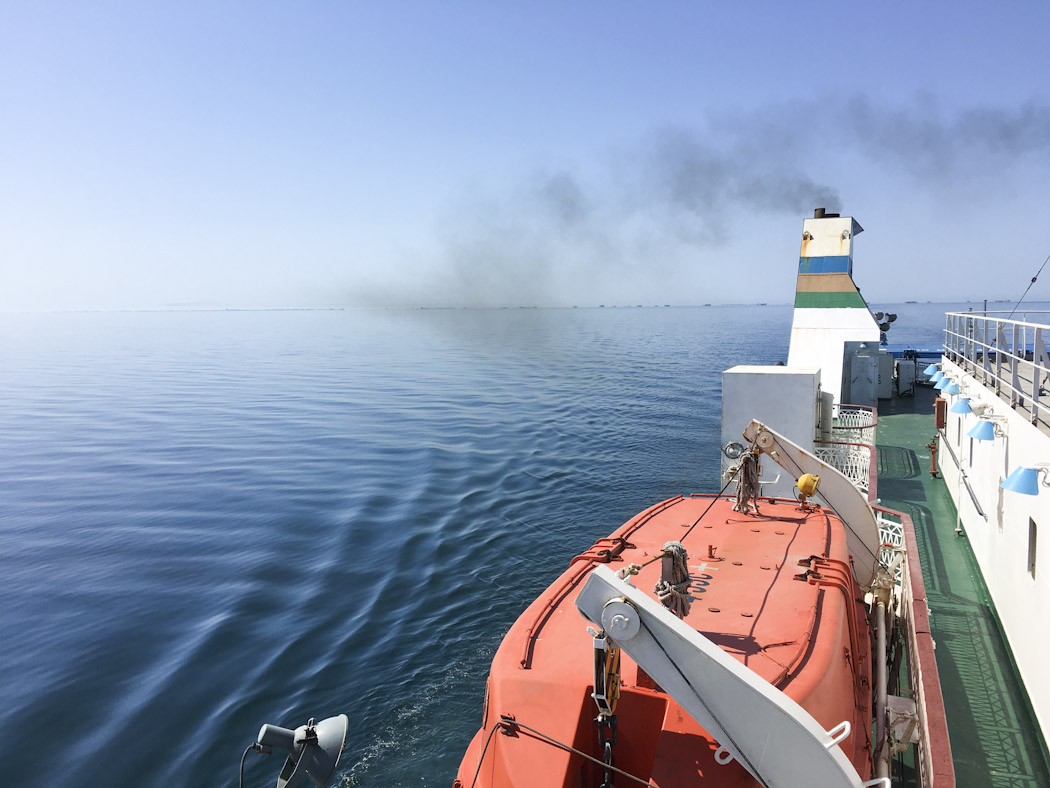 – There is no internet on board, and the TV broadcasts Turkish films without subtitles. Entertainment is on one's own account.
– Some vegetarian fellow travellers asked the chef if there was a vegetarian option and were delighted when the chef answered 'no problem'. While we had a delicious chicken with rice, they had rice; next day we had a succulent dish with chicken and potatoes, they had potatoes. Sadly no dessert!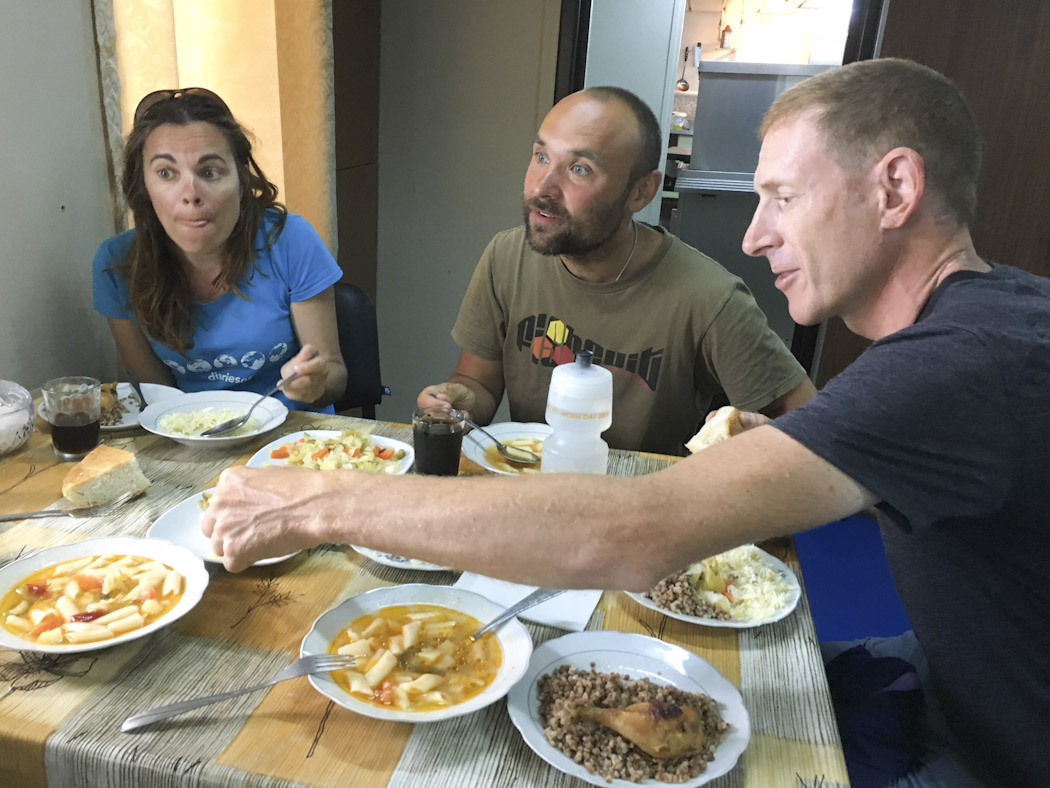 The cargo ship crossing from Baku (Azerbaijan) to Aktau (Kazakhstan)
After a few days of waiting in the hostel, we finally got the green light, we could finally go to the cargo terminal in Alat, as the boat would probably leave that day. That would not be the case, as we found out when we arrived at the port.
We were equipped with the Uzbek visa, which we got at the Uzbek Embassy in Baku (read here). And we were ready to get the ferry to Kazakstan (Aktau), for a few days on the Mangosteen desert before reaching the border (Beyneu) that would take us to Uzbekistan (Karakalpakestan).
Waiting at the Alat Port
A couple of cyclists were already at the port. The two tents set up, let us guess that they had slept the night there and that they foresaw another night at the port. The officer at the ticket office confirmed that there would be no boat that day, but 'maybe tomorrow'. Without any other explanations, we bought our tickets (we were asked 80 dollars per person and 110 dollars for the motorbike). We were not really given a choice. The officer asked if we were a couple and assumed we wanted the 'expensive' two bunk bed cabins. No one told us there were also the 70 dollars cabins for four persons. In the end, we were happy we were offered no option because the two bulk cabin came with a precious window in a cargo boat that doesn't offer air-conditioning. There is a tiny cat at the port, adopted by all the waiting passengers who pass the word to the next ones to come to feed the kitty.
On board the Professor Gul
We set up our tent and eventually we would be 6 tents, all waiting for the boat to Kazakhstan. Information was never volunteered, we had to approach the officials to know if there were any news at all. As soon as they had the green light, we were asked to go to the immigration office. That was all quite quickly and soon we were on board the cargo ship, Professor Gul, where a Sargent-like woman gave instructions in a way that would make many military blush! She commanded, we obeyed. Soon we were all in a line and being directed to our cabins with bedsheets and towels. There is no toilet paper on board. Don't make the mistake of asking Ms Sargent for some, she will make you run with her 'Go away!'
Customs in Aktau (Kazakstan)
Yelling Sargent took us out of bed at 2 in the morning. We were docking in Aktau. So early, we thought. What were we going to do all that time until shops and accommodation would be open! No need to have such worries, the customs officials would keep us busy during eight long hours, making us all nervous with the amount of paper that needed to be filled in and stamped (with different kinds of stamps, square, round ones, bla, bla, bla…). We were not sure if the officials were just incompetent, if they had any intent to deceive us, or if they just tried to tire us for a bribe. We left the port at 11 am.
Without having paid for any bribes, we just paid the official taxes (motorbikes pay 6 dollars for the use of port infrastructures, fair enough), and we decided to buy insurance there, for the minimum of 15 days (15 EUR).
If you found this useful, you may also like the following: