Some of you keep asking how it's possible to survive out of the motorbike's small lugagges for 6 months. While Anabela would say it is not easy, I do not see the smallest issue. It's all a question of perspective! We both agree, however, that it hasn't got much to do with time. You pack for six months the same way you pack for one week, you will just have to do a lot more of washing! 🙂
Most motorbikes can hold three hard boxes at the back and a soft one at the front. It is also possible to add soft ones on top of the hard ones. If you do so, it is important that they are well fixed. We carried a soft roll on top of the hard luggage above the exhauster. Unfortunately the two did not get along well, they were on constant fights, which eventually were won by the exhauster!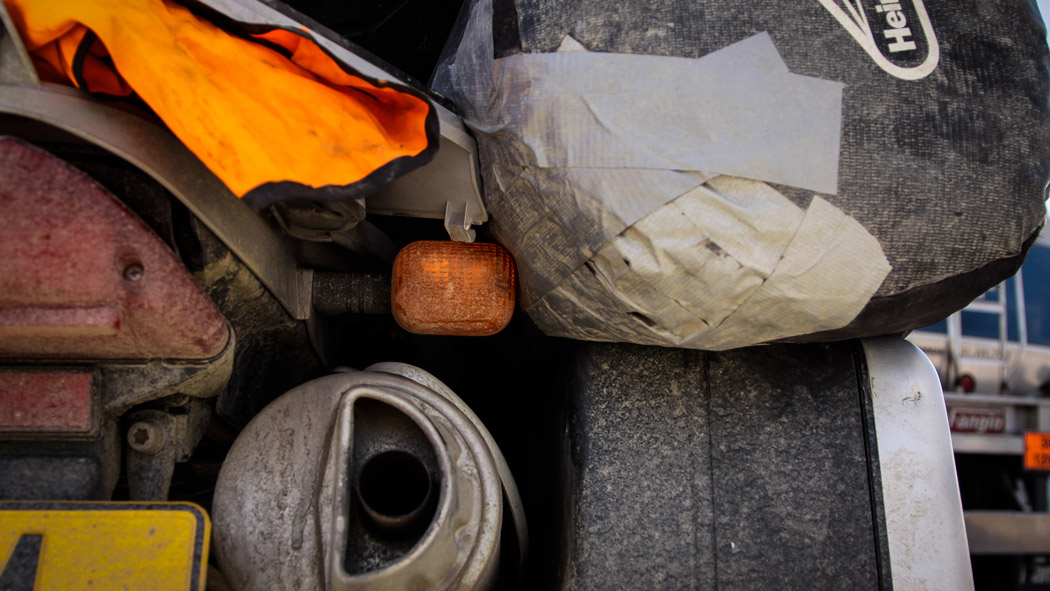 Above: When extra lugagge is added on top of the hard boxes, it is important to fix it well, or else it will happen that the bag will glide over the exhauster. That is how we lost a bag. Here the bag was already heavily injured and duct tape tried to keep it together.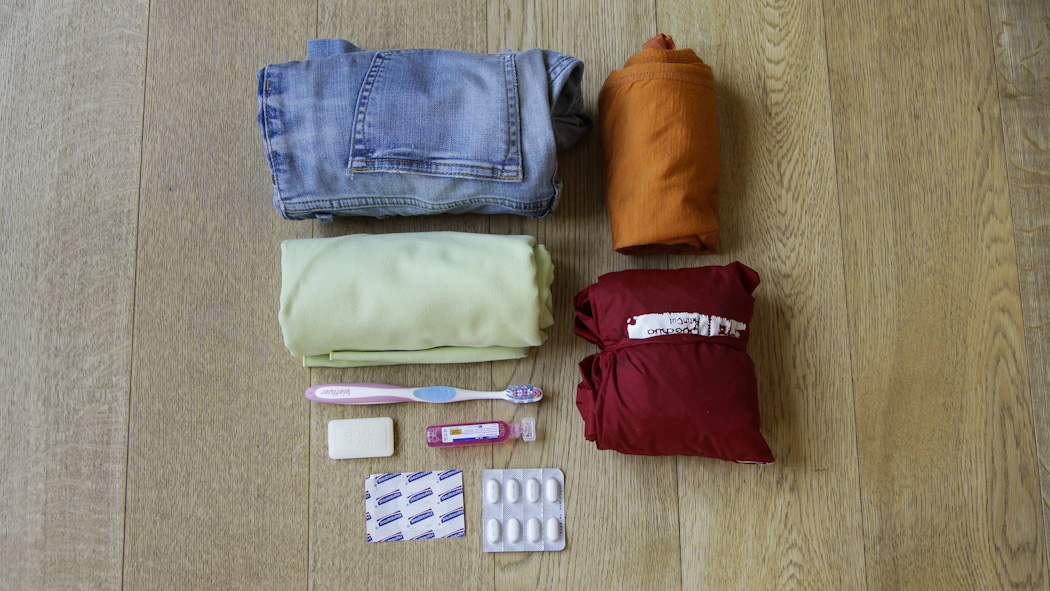 Above: A sample of the material carried in one of our motorbike lugagge boxes. Clothes, hygienic products and medication.
What about seasons? The answer is layers. Even if you are packing your motorbike for summer you will pack something warmer for the coolest evenings, right? You will do the same when packing for six months, and in the coldest weather you may have to put on several layers, perhaps even using all your clothes. It happened to us in Ushuaia. There we had to sleep with all our clothes on and with the motorbike jackets above us, simply because we were carrying summer sleeping bags and temperatures were below zero. It was not a comfortable experience, so on our next long travel we will consider finding the necessary space for warmer sleeping bags.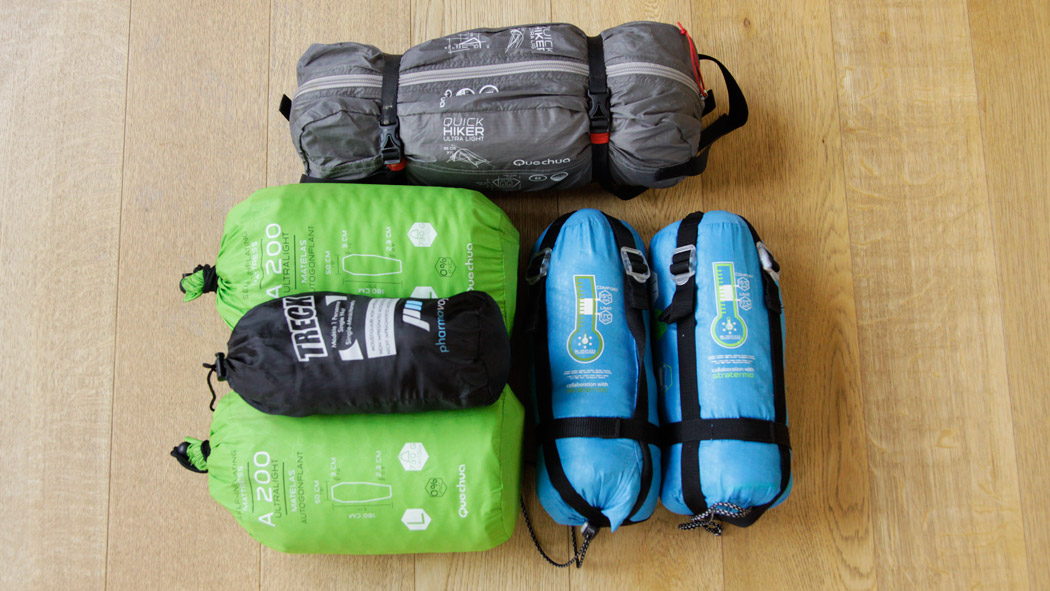 Above: Our tent, two summer sleeping bags (blue), two air mattresses (green) and a mosquito net for use in hostels. All this equipment filled up one of our motorbike lugagge boxes.
We took an ultra light tent that served us very well. Besides being small and light we made sure it was waterproof. It was worth all the money we put into it, as we survived heavy rain without getting anything but the outside of the tent wet. It is also very easy to set up and 10 minutes suffice to have the tent ready to be used.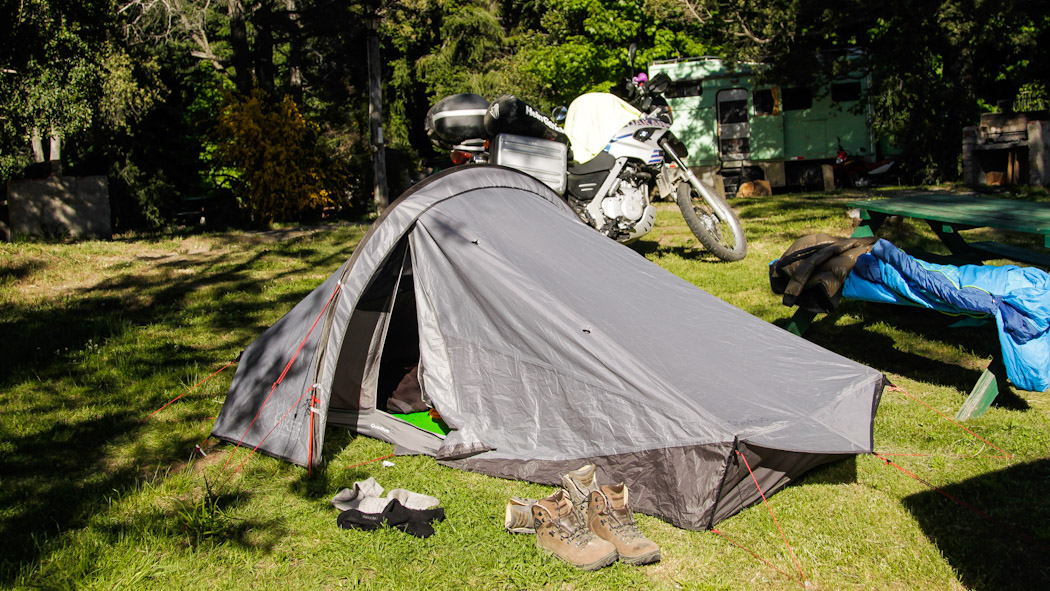 Above: Our ultra light tent also has a small compartment to keep shoes or bags protected from the rain.
Besides clothes and tent, we also carry tools for the motorbike and some spare parts (this is imperative, we have learnt the worst way how important it is to carry an extra chain!). We always carry some small snacks in case we can't find a supermarket or restaurant. We don't go anywhere anymore without a Swiss knife. But the flint, honestly, can stay at home. Toilet paper and a lamp for urgencies. The computer, a book and a diary also have a place in our luggage.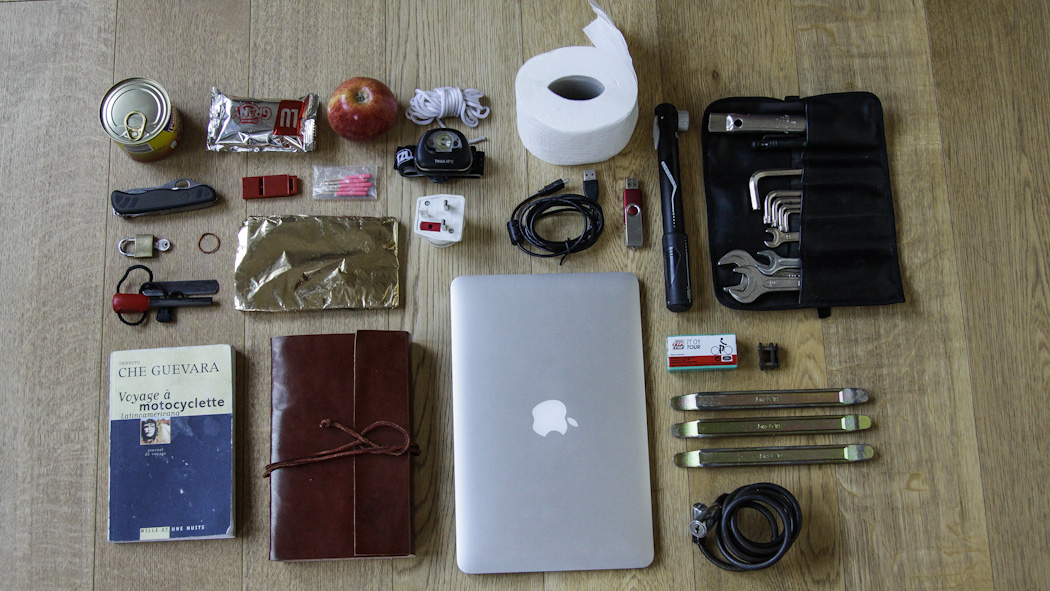 Last but not least, the photography material. We had to compromise and decided to take solely our travel lens (Canon 24-105 mm). Do we regret not having taken all the other lenses? It is difficult to say. On some occasions we wished we had a wide angle. Other times we wished we had a tele lens, but in general we were happy to travel light also as far as lenses are concerned. A guide is not neglectable, even though not having a guide gives you one more excuse to go towards the locals and other travellers. They have the best tips. We intentionally travel without GPS, getting lost is the best way to start a day of travel…