Nobody said it would be easy to reach the remotest hamlets of northeastern Cambodia, but we had never thought it could get that dusty!!! The area of Ratanakiri is called 'the red land' for a reason…
Day 1 – Banlung – Veun Sai – Ban Ke Toch (59 kilometres)
We left Banlung, the capital of the Ratanakiri Province, in the morning. After a day of riding our motorbike through dirt roads (38 kilometres later), we reached Veun Sai, a small Chinese village. Here, at the pagoda, we met a very friendly monk who offered us drinks while we had a friendly chat.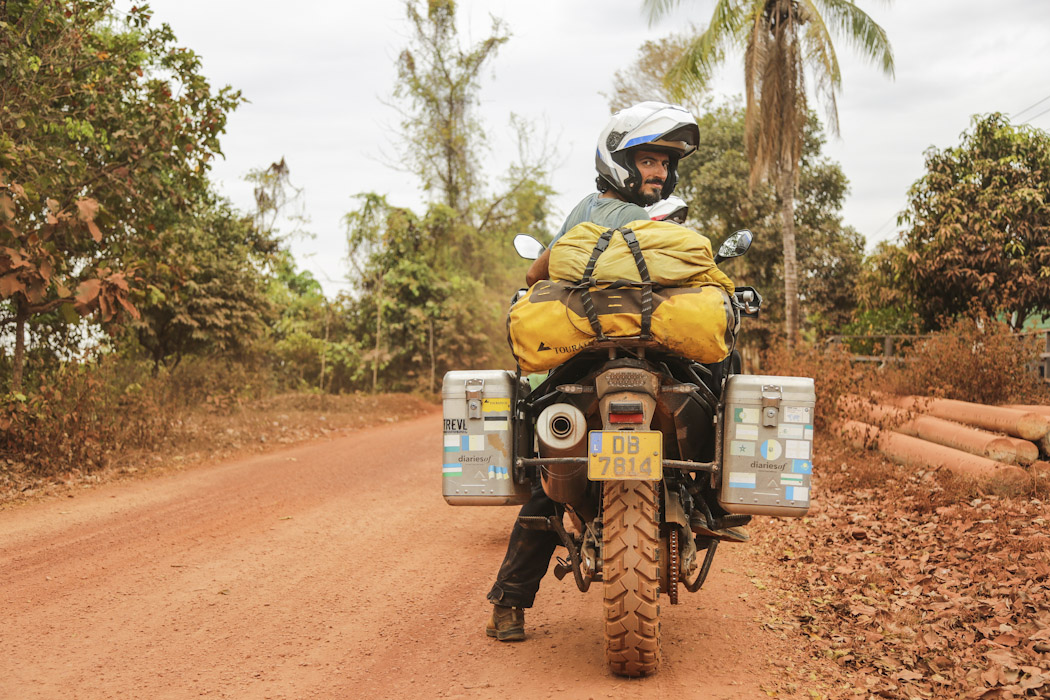 Afterwards, we continued to the river bank where we had our first river crossing by ferry. We could hardly believe that the old boat on the river bank was the 'ferry' that would take us to the other margin. Somehow, all went well and we boarded without any incidents.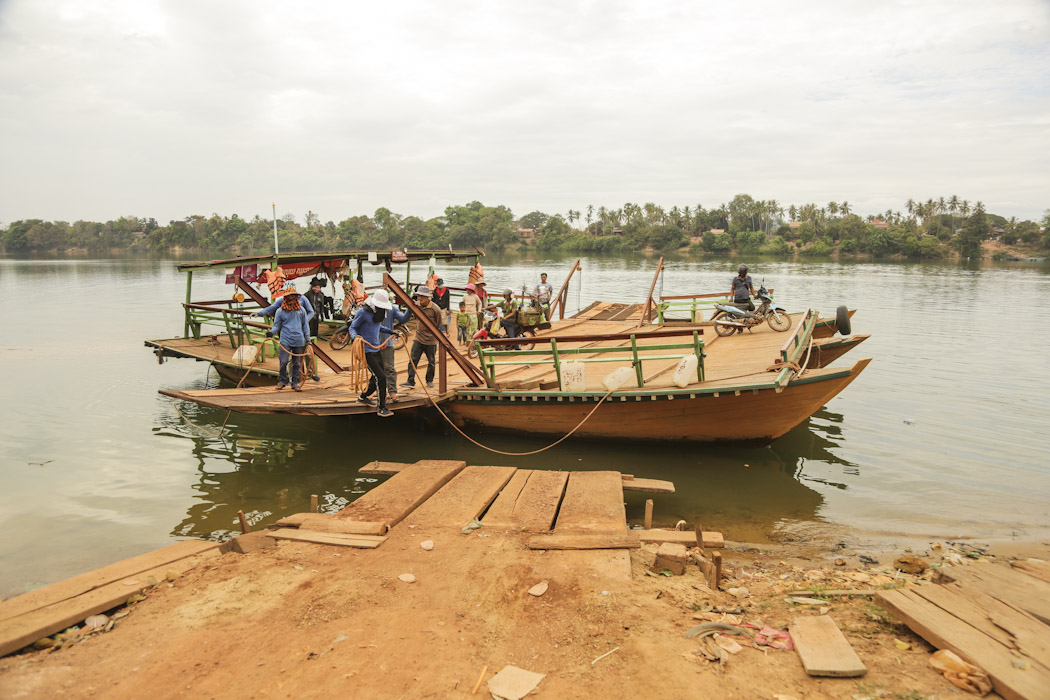 Now on the other side of the river, we headed towards a small Laotian minority village called Ban Ke Toch (21 kilometres). At this tiny hamlet, we were greeted by the primary school teacher, who allowed us to set camp at the school's playground. The kids were still around and stayed with us, curious about our gear! As it turned out, it was also Meak Bochea, one of the most important celebrations in Buddhism, and so the village partied until the wee hours.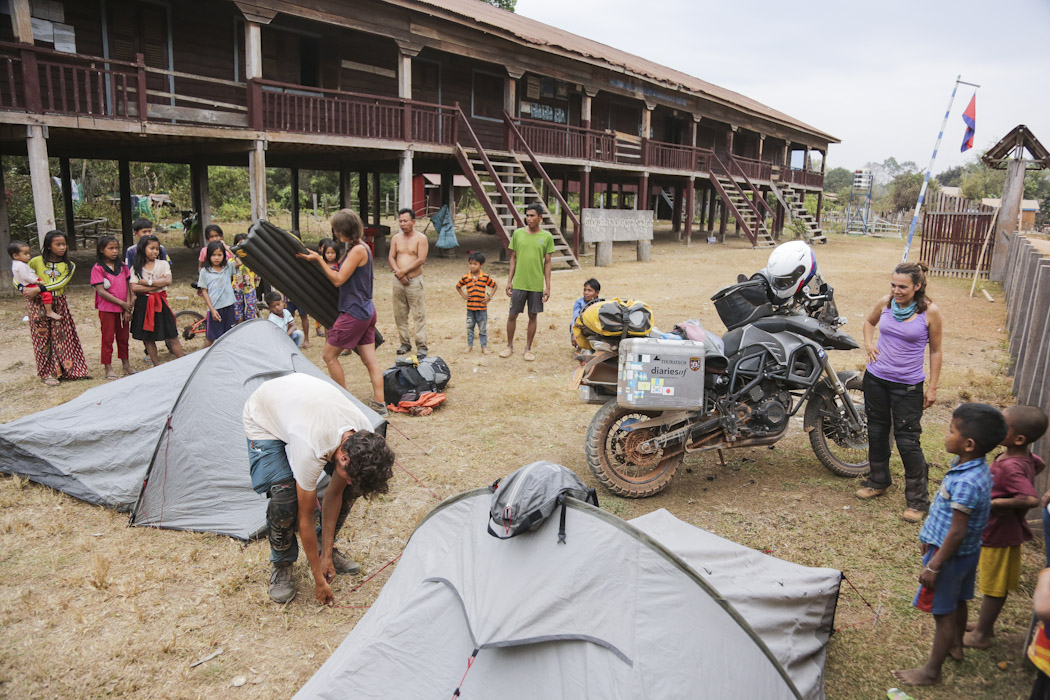 Day 2 – Ban Ke Toch – Samong – Siem Pang (40 kilometres)
Day two would bring with it the most difficult part of the road. Even though there were only 40 kilometres to ride, the teacher had told us it would take three hours to Siem Pang… i.e., if we are fast and lucky! It would not take us three hours! We needed SEVEN HOURS to cover that distance!!! Shortly after we left Ban Ke Toch, the red soil became yellow sand! And, as if sand wasn't complicated enough, the 'road' turned into an obstacle track with potholes in the less sandy parts!!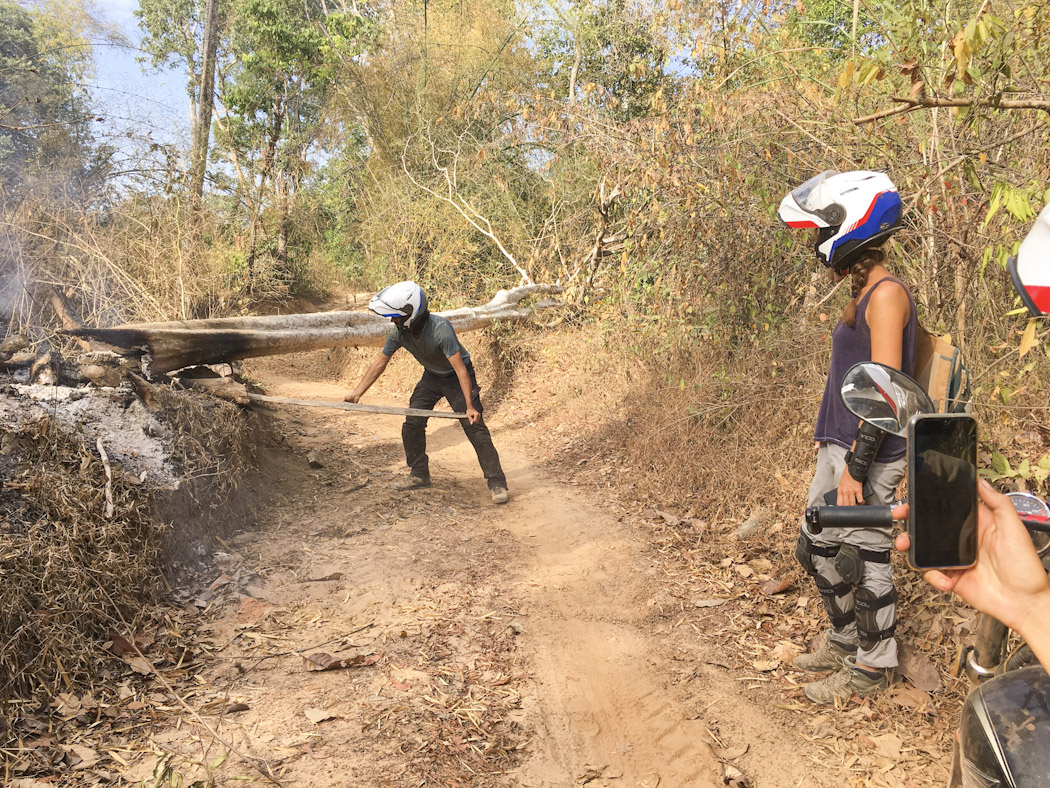 At a point, a fallen tree on fire was blocking the road, so we needed to remove it, which wasn't an easy task. Later on, we ran out of water and still had a few kilometres to go… When after 23 kilometres we reached the hamlet of Samong, we thought we could buy water, but unfortunately, the village was so small that there was no groceries shop or any other place where to buy something to drink! We just paid a toll to cross a wooden improvised bridge and continued to ride.
We still had to ride another 14 kilometres before the last ferry of the journey, the one that would take us to Siem Pang. The cherry on top of the cake happened five kilometres before our destination, when an ice-cream seller (driving a scooter!) showed up from the dust and disappeared into the dust, after selling us the most succulent coconut ice-cream… Seriously! This was no Fata Morgana, we have the proof!!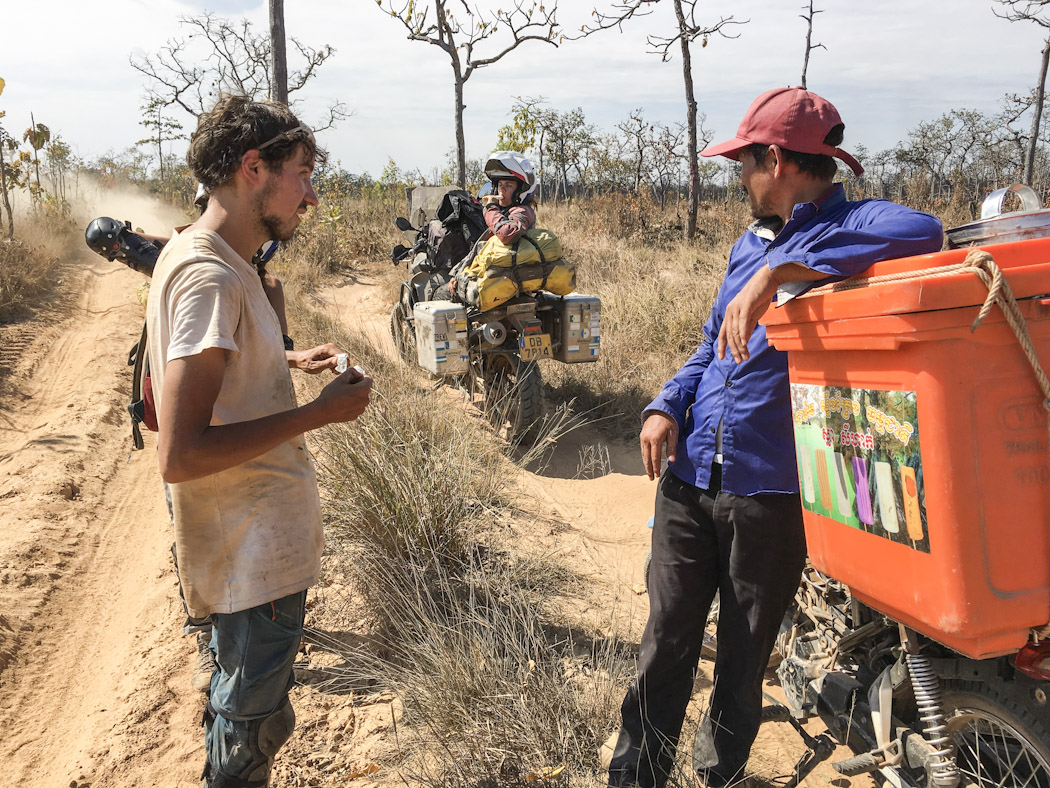 Watch above, the small video about this dirt road for a better idea of the difficulties and state of the road.