What to pack on a long-distance cycling trip? This is the one thing that kept banging in my head before leaving for South America. And after talking to other cyclists, I've noticed this seems to have been the main concern of many. Believe me, most things won't seem that important anymore, as soon lay your feet on your pedals (meaning: if someone steals your things it's won't be the end of the world). However, before you go, it feels good to know what to take with you. So, here's what it is.
Now, a huge disclaimer (!!!): I'm definitely not a person to look at when you want to go with the minimum. I know what's essential, what's not, but I don't minimize. Why? Because a) I'm a blogger and journalist (so I carry a laptop, a microphone, a camera, a mobile phone and two battery packs with me), b) because I love to spend time in cities and c) because I'm vain (meaning that I don't enjoy running around for a month in a capital city, wearing only worn-down clothes…So, I carry jeans, makeup and earrings in my panniers!). The bottom line is: a trip doesn't depend on equipment.
Checklist for long-distance cycling
Here's in pictures and lists, what I carry in all my four panniers. The fifth picture is of my so-called "Horror Bag". It's the thing that weighs way more than anything else and which includes all those small things that I don't know where else to put.
1st Front pannier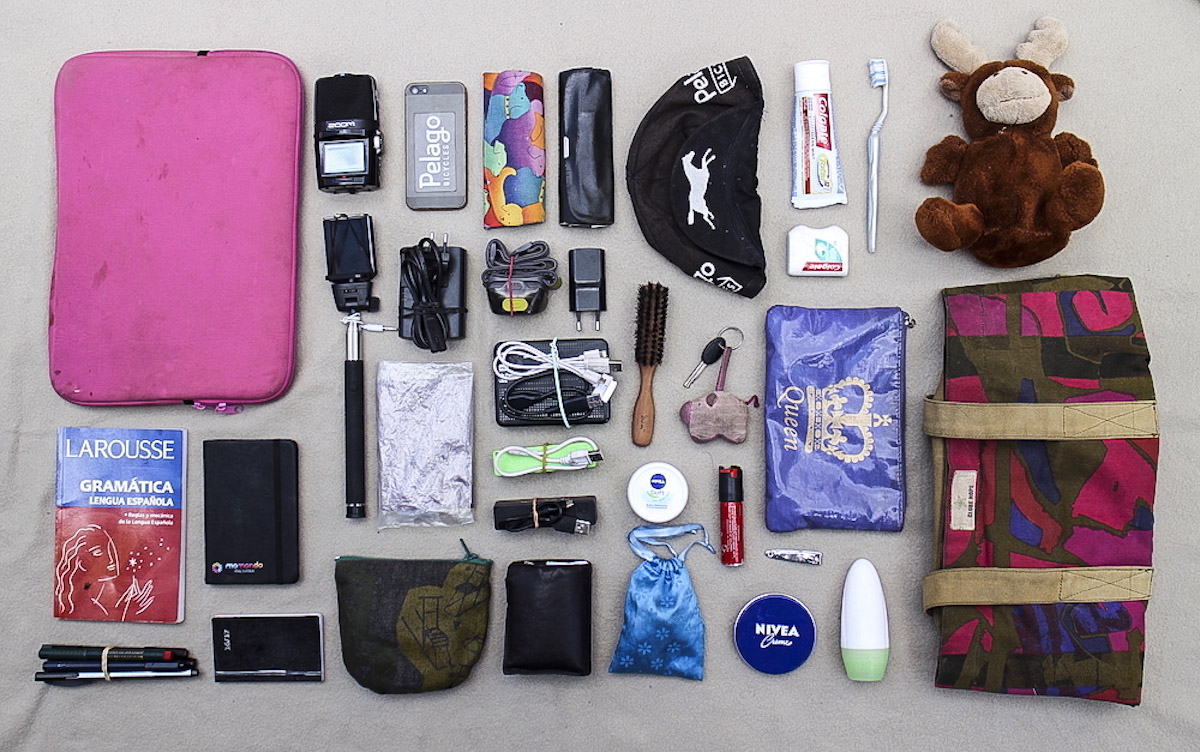 Laptop (I'm a blogger, so…)
Laptop charger
Spanish grammar book (thanks, Eli!)
Pens (loads of them! I love writing)
Notebook (thanks, Momondo!)
Calendar (totally unnecessary, but I love to plan things visually)
Zoom H2N sound recorder for interviews
"Selfie stick" (this is my monopod…thanks, TripAdvisor!)
Mobile phone (for maps.me, photos, communication…)
Glasses
Sunglasses (thanks, dad!)
Camera charger and battery
(Camera missing from picture because the pic was taken with it)
Passport and other important documents (in a mini grip bag)
Makeup bag (I like to doll up…thanks, Niilo!)
Petzl headlamp (essential!!! thanks, Simo!)
Powerbank x 2 (for phone)
External hard drive (for pictures, videos and backups)
Wallet (I prefer a wallet, but a mini grip-bag will do the trick!)
Cap (to protect from the sun…thanks, Pelago!)
Hair brush
Bicycle key (with a piggie to feel home)
Face cream
Menstrual cup (recommended to all females!!! thanks, Lunette!)
Pepper spray (makes me feel safer)
Toothpaste
Toothbrush
Floss (trying to avoid toothaches on the road)
A bag for the three previous (thanks, Nora!)
Makeup remover
Deodorant (for special occasions)
"Junior" – my teddy Moose (thanks, Marietta!)
A bag for all of the above and for when not cycling (thanks, Globe Hope!)
2nd Front pannier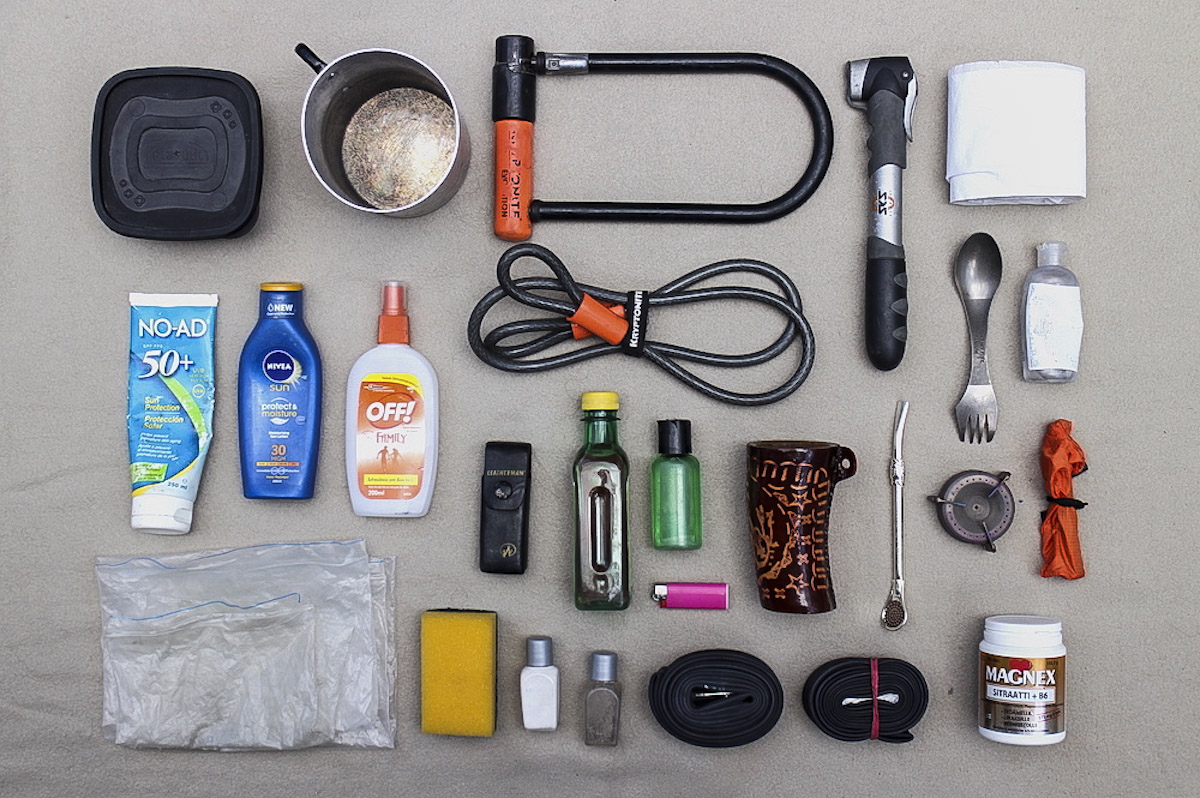 A plastic case for food (thanks, Maria!)
A kettle for cooking
Sun cream 50 (extreme days…thanks, Omar and Silvia!)
Sun cream 30 (normal days)
Mosquito repellent
Minigrip bags x 15 (my panniers are not water resistant anymore…)
U-lock (I know it's exaggerated. I hardly ever use this…thanks, mom!)
Cable lock (yep, see comment above)
Leatherman (thanks, dad!)
Sponge for dishes
Liquid for dishes
Salt
Pepper
Alcohol stove (super light and you can get alcohol everywhere)
Alcohol for stove
Windshield for stove (essential in Patagonia)
Magnesium tablets (definitely recommended)
Hand sanitizer (water will do)
Bicycle pump
Inner tubes x 2 (at least one is good, just in case the one you're using totally explodes)
Lighter
Guampa = tereré cup (thanks, Sanchez men!)
Bombilla (a straw-like thing to accompany the previous)
Toilet paper
Spork (spoon fork knife…thanks, Helsingin Urheiluhieronta!)
1st Rear pannier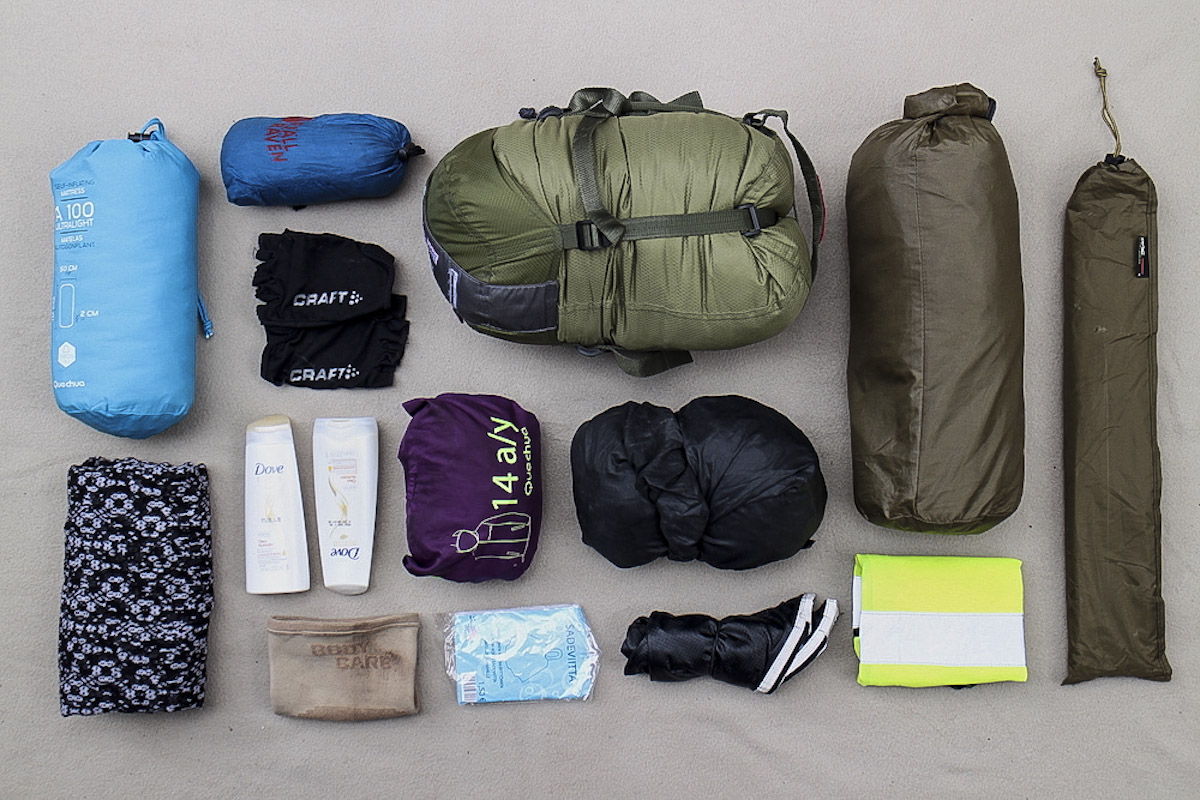 Inflatable sleeping mattress (super short to save space)
Towel (=thin scarf to use for other purposes as well)
Sleeping bag liner (perfect when cold)
Cycling gloves (thanks, mom!)
Shampoo and conditioner (yes, I love to carry both…not necessary)
Knee brace (for uphills and head winds)
Sleeping bag
Raincoat
Rain cloak (thanks, mom!)
An old tent cover (which I use to cover by bike some nights)
Rain covers for shoes (totally broken by now, but the best thing ever)
Tent
Tent sticks
Safety vest (thanks, Finnish Broadcasting Company Yle!)
2nd Rear pannier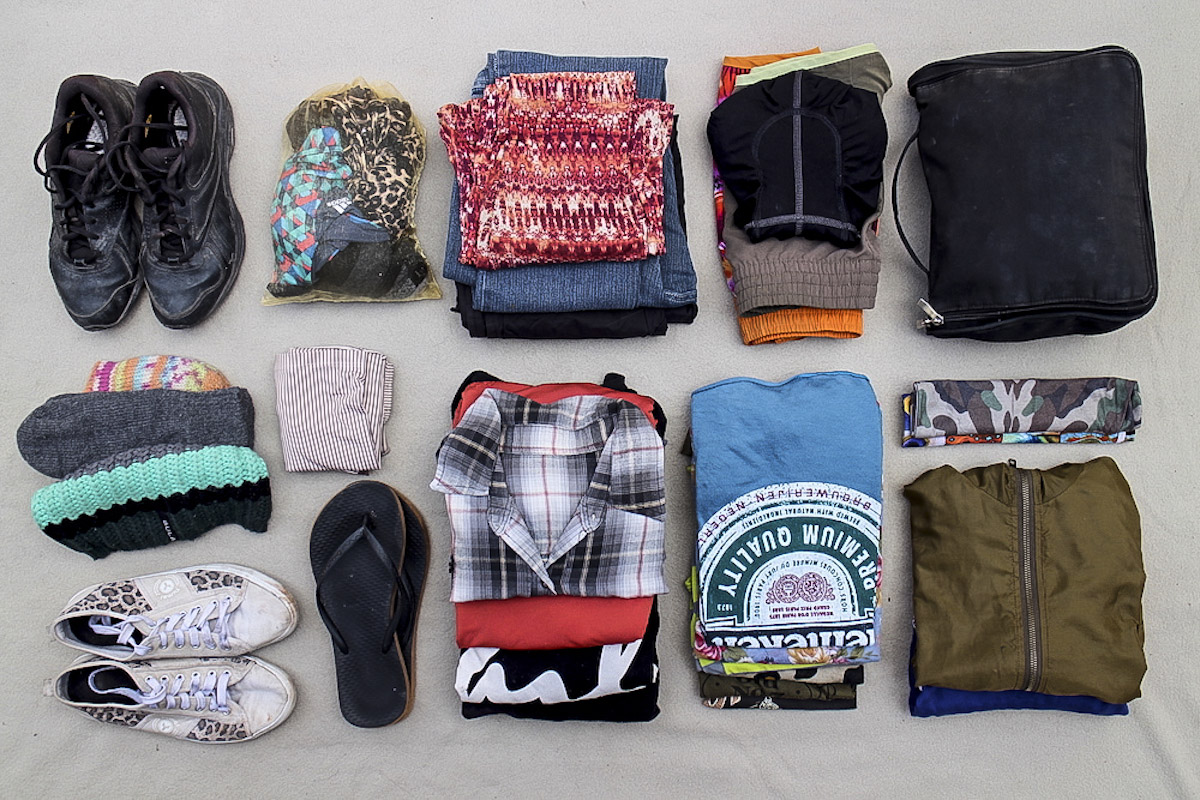 Shoes for pedaling (thanks, mom!)
Wool socks (thanks, Nora!)
Wool mittens
Wool beanie
Shoes for free time (=non-cycling)
Underwear and bikini (thanks, Merri!)
Nightgown (thanks, Nora!)
Flip flops (thanks, Ana!)
Jeans (thanks, César!)
Water-resistant trousers (well, they used to be)
Leggins (thanks, St. Malandra!)
Bicycle pants (thanks, mom!)
Shorts x 2 (one pair too many)
Long sleeved college shirt (thanks, Outi!)
Fleece shirt (thanks, César!)
Long-sleeved sports shirt
Blouse (thanks, trash cans of Buenos Aires!)
Sleeveless shirts and t-shirts (way more than enough)
Buff scarfs x 2 (thanks, Tuulikki and Helsingin Urheiluhieronta!)
Dress (for dolling up)
Thin jacket (thanks, Globe Hope!)
Horror bag (interior in next picture)
Would you like to know what Sissi carries in her horror bag? Check her complete article and many more of her travel stories on her website