Travelling in the Trans-Siberian train has been on our wish list for a very long time. We had this romantic idea of a long train journey, where the most remarkable stories of romance and intrigue could happen. We imagined trains with luxurious carriages, whose cabins were made of wood, quilted in velvet and with exquisite, old-style furniture… We had built this idea while reading Agatha Christy's Murder on the Orient Express. Of course, the Orient Express (that connects Paris to Istanbul) is not the Trans-Siberian, but since they started running on more or less the same time (beginning of the 20th century), we guessed they looked similar.
Nowadays, it is still possible to experience such an old-styled train. All you need to do is buy a (very expensive) ticket with one of the private trains that run the Trans-Siberian rail trail (such as the Tsar's Gold, the Imperial Russia or the Golden Eagle). If you cannot afford the trip with the private trains, you can take the regular ones, but forget about luxury and steam locomotives. Our experience was with a regular public train, and we found many good things in the experience…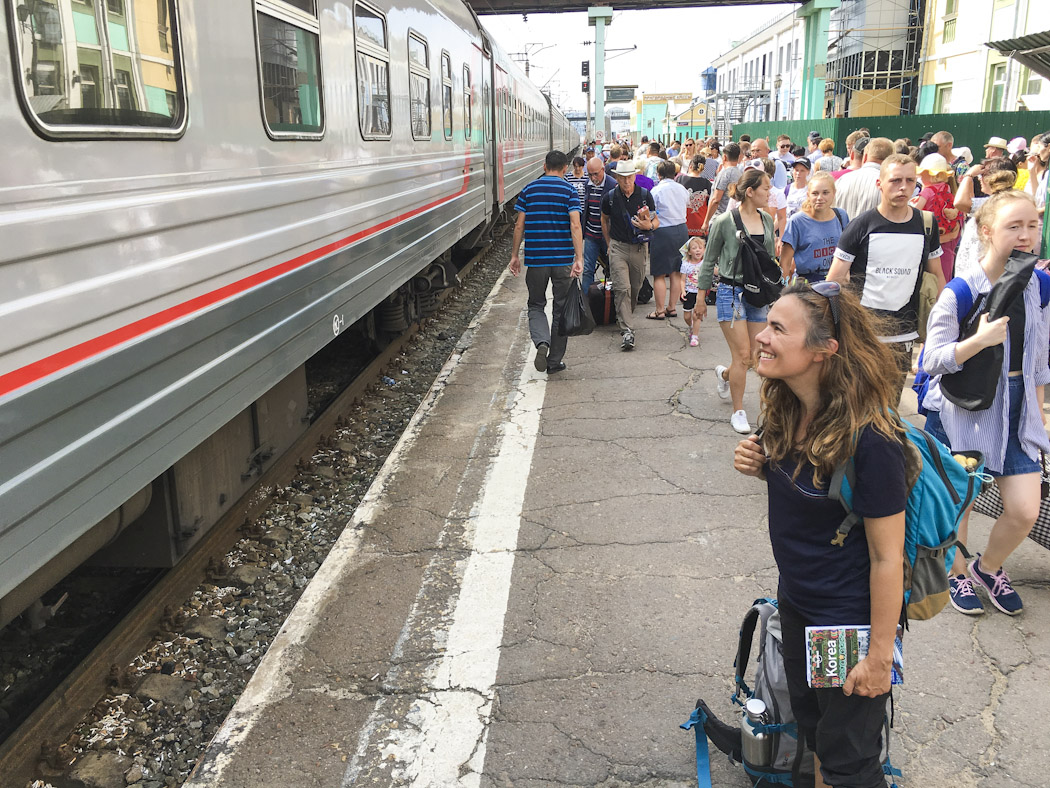 Why Taking the Trans-Siberian Train
The Trans-Siberian is the longest train journey in the world, which means that you can ride for almost 10,000 kilometres on the same train, without having to change to another train, not even once. The Trans-Siberian train connects Moscow to Vladivostok, a distance of 9,289 kilometres, in six days and four hours. If your plan is to never quit the train, you can buy a Moscow-Vladivostok ticket and in less than seven days you arrive at your final destination. But why would you do that? There are a few reasons why you should do this, some more reasonable than others. Reason number one is that you would like to tick it out of your wish list. In this case, be prepared to be stared at by locals, who see no reason why anyone would embark on such a tiring and somehow tiresome trip for such a foolish reason. The other two reasons are more pragmatic: either you are afraid of flying or, like a few families we met on the train, you cannot afford a plane ticket.
The Different Stops During the Journey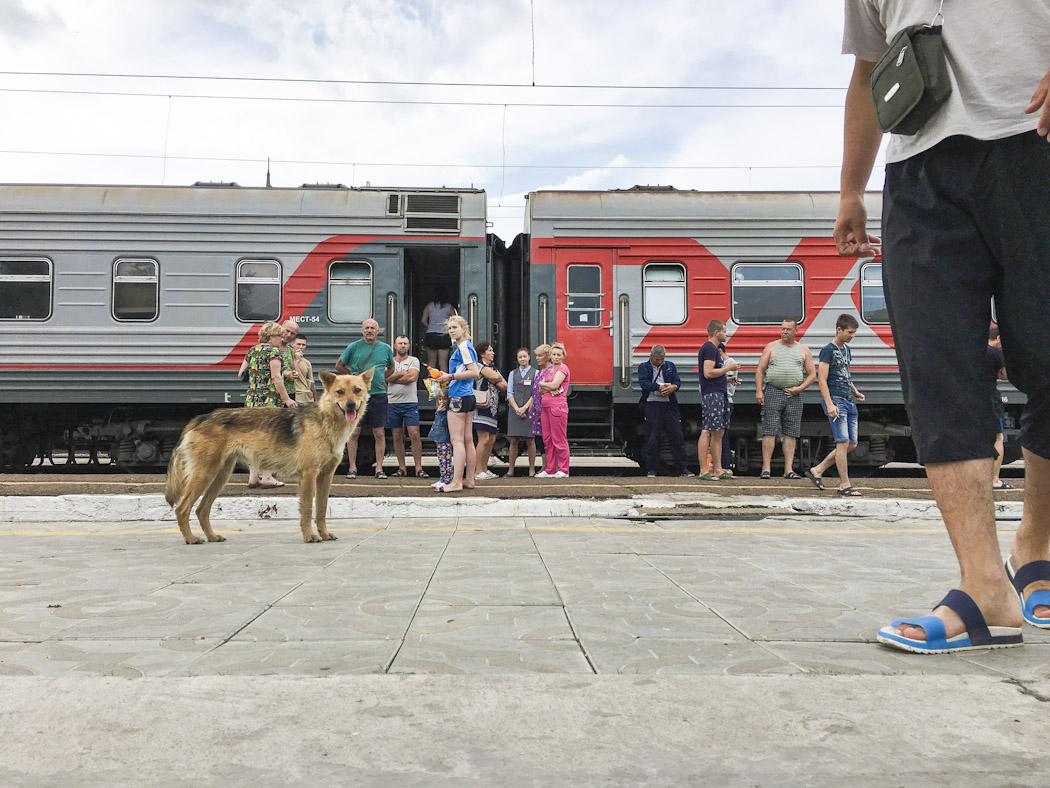 The idea of travelling on the Trans-Siberian train is to have the opportunity to make several stops throughout Siberia. Pick up the cities that you would like to visit and get short-distance tickets. With this option, you will have shorter train trips (though 'short' gets a different meaning in Russia – the biggest country in the world!). Let's say that you are leaving from Moscow and would like to make four stops (Yekaterinburg, Novosibirsk, Irkutsk and Khabarovsk) before you arrive in Vladivostok:
Moscow-Yekaterinburg
Yekaterinburg-Novosibirsk
Novosibirsk-Irkutsk
Irkutsk-Khabarovsk
Khabarovsk-Vladivostok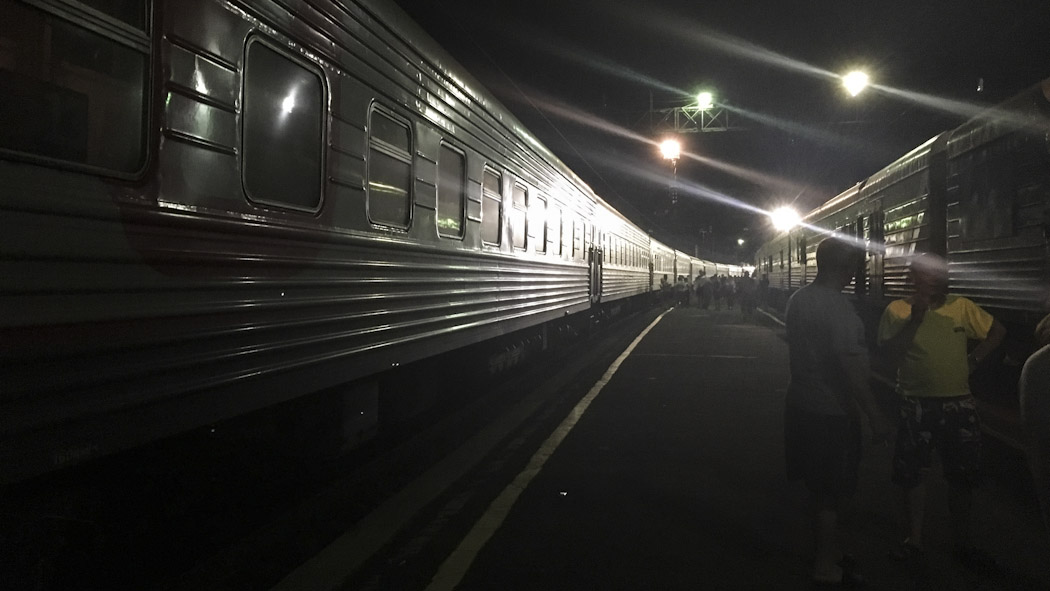 You can purchase the different tickets (in this case five different tickets) in Moscow, but remember that if you buy your tickets beforehand, you will have to choose the precise dates of your tickets and need to stick to them.
Our advice is to buy your tickets along your route (the trains run daily), so you can decide how many days you want to stay in each city during the trip. This plan won't work if you want to travel in the high season (July and August), in which case, it is advisable to plan and buy your tickets beforehand, as some legs of the journey tend to sell out. We bought our tickets two days before departure in July and did not manage to get places together (we were allocated places in different carriages, so although we spent the days together, at night Jorge had to move to his carriage).
The Trans-Siberian with a Motorbike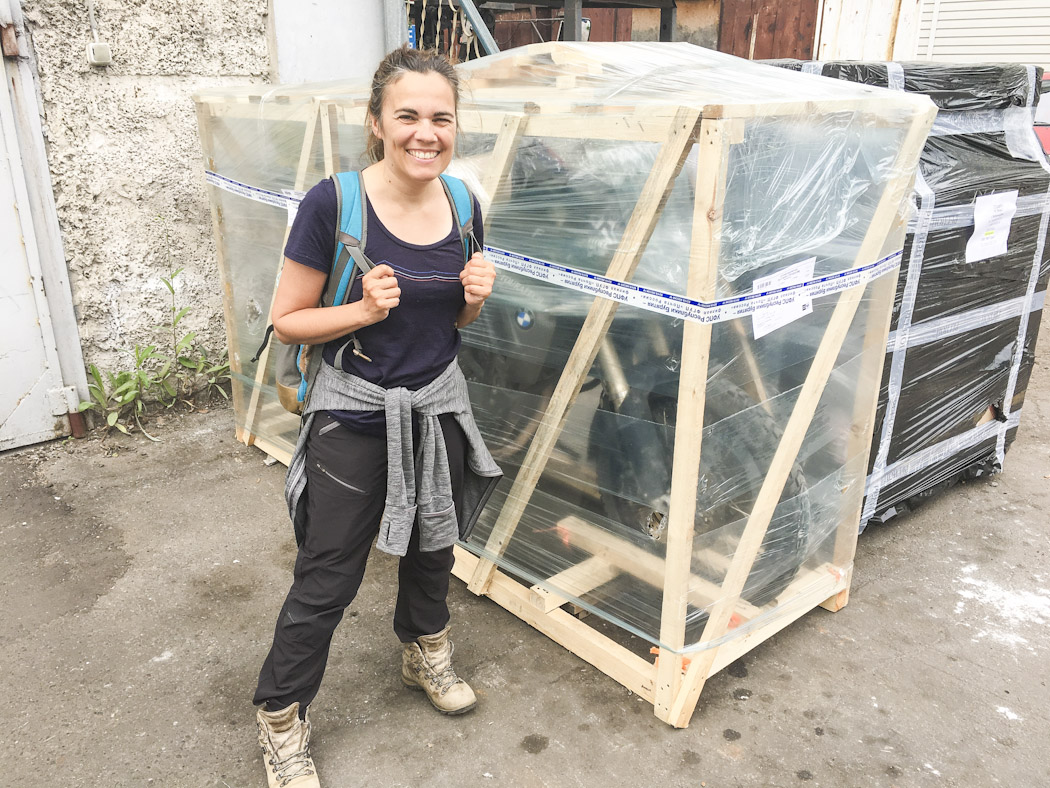 Now, wouldn't it be great if you could have your own transport to visit the different cities along the route, but especially to make some longer detours, while you are not travelling on the train? It would be great, but, unless you have plenty of time, it won't work. Why? Because the motorbike will not be transported on the same train as you will, as a passenger. The motorbike will be transported on a cargo train, which takes longer than passenger trains. So, unless you have one or two extra days to wait for your bike on each stop that you make, this idea is not an option.
Can I board my motorbike in Vladivostok and get it in Moscow? Or the other way around?
Yes, you can. And that is probably the most comfortable thing to do if you want to enjoy the Trans-Siberian train and rejoin your bike at the end of your trip. All you need to do is contact a freight company, tell them on which date you intend to arrive in Moscow, so that they know on which date they should board your bike to Moscow. Our feeling is that Russians don't complicate, they will do what they can to make things work well for everyone.
Our experience: Ulan-Ude to Khabarovsk with a motorbike
We decided to board the Trans-Siberian for a 'short' leg of 3,476 kilometres (54 hours), for a few different reasons. First, because we had a transit visa of ten days to go from Kyakhta (at the Mongolian border) to Vladivostok (roughly 3,900 km). The distance is feasible, but we had already a few thousand kilometres on our backs, more one month of driving a lot of off-road in Mongolia and we had to be fit for another two months in Japan, so a rest would be welcome. The other reason was obvious, we cherished the opportunity to take a ride on the mythic Trans-Siberian train. We travelled a part of that distance with the Trans-Siberian (from Ulan-Ude to Khabarovsk). For that, we contacted a freight company, and they explained that the motorbike would be boxed and transported in a cargo train (no RORO here (roll on roll off)), and that it would take the train four days to arrive in Khabarovsk. The price for the motorbike (transport+freight service) was 15,000 Russian roubles (approx. 210 EUR). One day later, we took the passenger train, on economy class (3rd class) and each of us paid 5,600 roubles (approx. 80 EUR), for a ticket that included two nights (perhaps three) in the train.
Before you Border the Trans-Siberian Train
Before bordering the train, you should find out where to buy your ticket, and then decide on which class you want to travel. Below we also give you some ideas of what you should carry in your luggage to come on-board.
Buy your ticket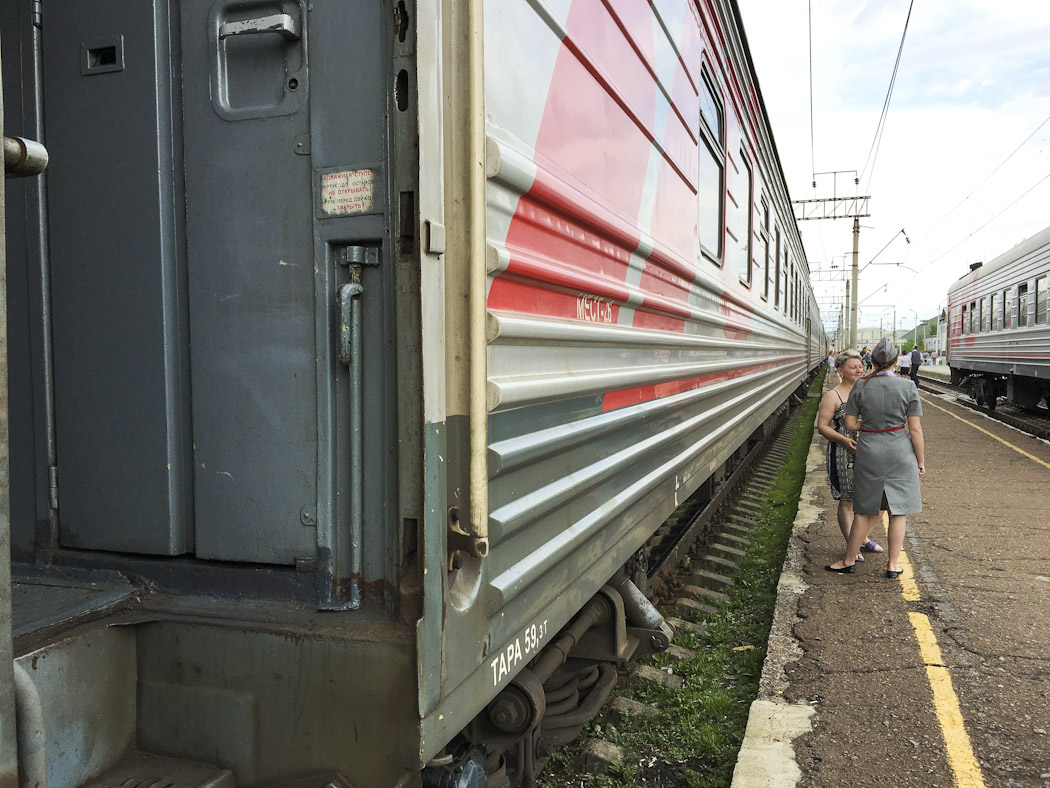 The ticket or tickets (if you intend to have several stops) are available on Russian railway stations. But in case you want to organise the trip before you leave home, you can also purchase them online, on the Russian trains website. These are some of the most popular tickets:
Moscow to Vladimir
Vladimir to Yekaterinburg
Yekaterinburg to Novosibirsk
Novosibirsk to Irkutsk
Irkutsk to Chita
Chita to Khabarovsk
Khabarovsk to Vladivostok
Choose your Class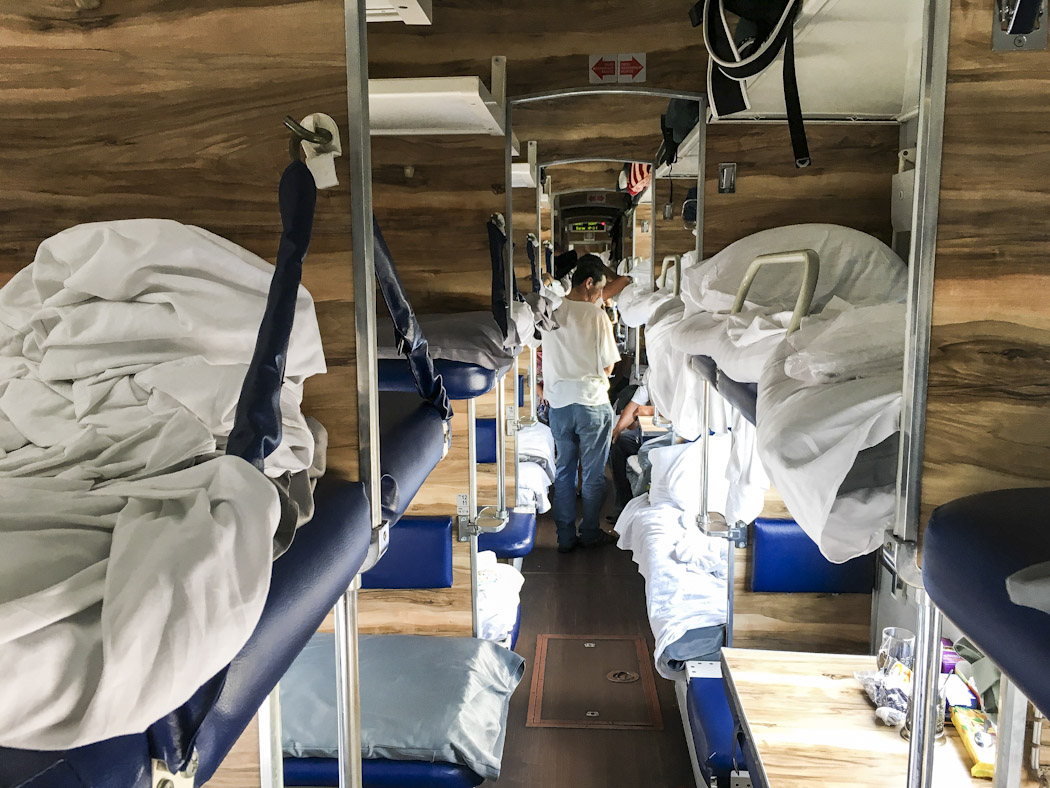 There are three different classes in the train. A first-class ticket gives you access to a closed cabin that fits two. If you are a couple this is a perfect combination, which also gives you free access to the showers. As there are only 8 cabins of two persons in this carriage, it is doubtful that there will ever be a queue for the toilet. The second-class is also in a closed cabin, but for four persons. There are also 8 cabins per carriage, so 32 persons per carriage. Third-class, the so called platzmarka (and our choice), is an open berth-carriage (and there are around 50 berths per wagon). Sometimes it can get crowded, noisy, stale and stuffy…
Food and Water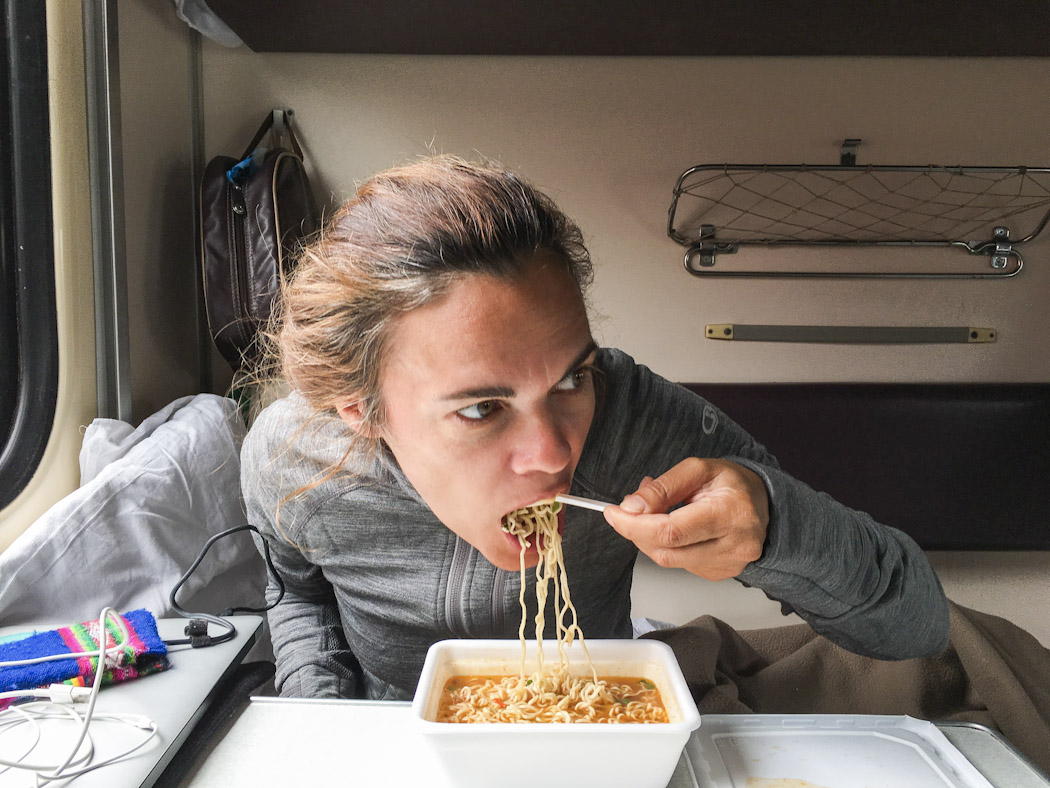 While we were waiting at the station we saw many passengers arriving with bags full of food. There is a restaurant-wagon on the train, so we assumed that food was either bad or expensive on the train. As we had some time left, we went to the supermarket and stocked on fruits, snacks and some instant noodles. Once on the train, we realised that the restaurant is not overly expensive (less than 10 EUR per person), though portions are very small and not really worth the price. There is also a lady that walks the carriages every now and then, selling chocolates, chips and some lipioska (bread with a filling of meat or potato), water and soft drinks. The train makes a few stops of half an hour (perhaps one or two per day) and in these cases, you can come to the platform for some fresh air, for a cigar (if you are a smoker) and to buy some food from small stalls.
We found it useful that we had our own tea bottle, one mug, one knife and two spoons. But you can help yourself from glasses and cutlery next to the boiler.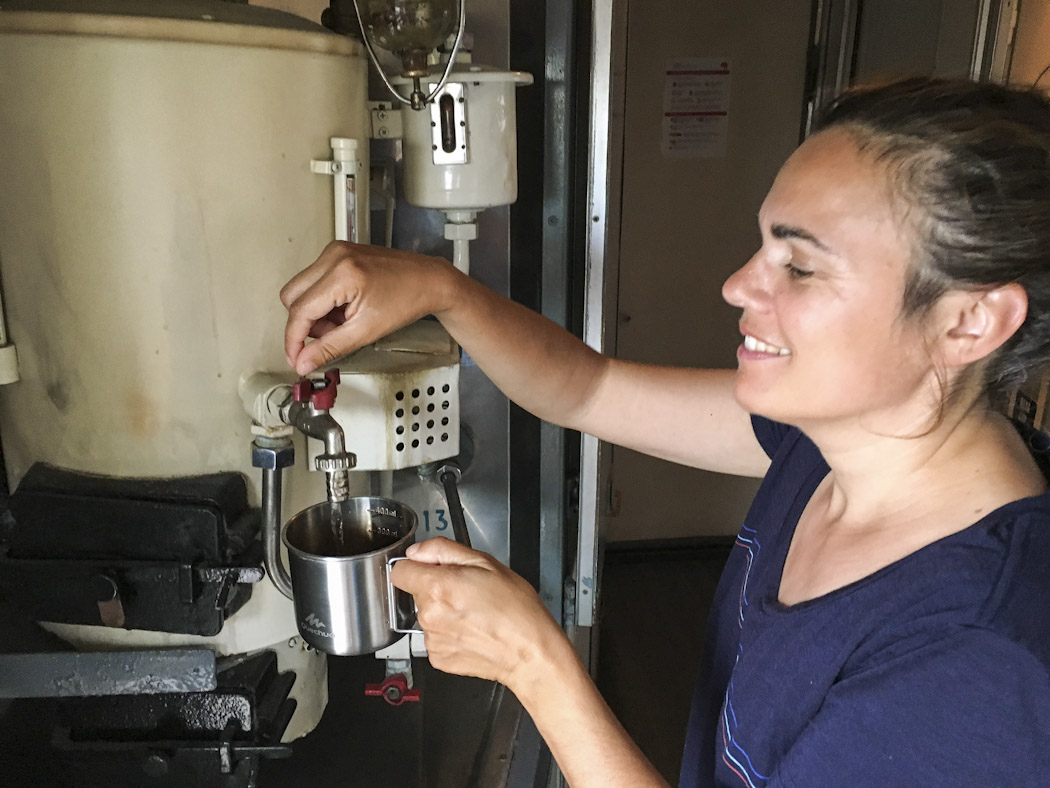 If you like tea, you don't really need to board the train with litres of water. We kept refilling our tea bottle from the boiler in our carriage. This is a source of clean, boiled water and we used it all the time we were on the train. Of course, we brought our own tea bags.
Inside the Trans-Siberian train
Once inside the train, we found out that there are a few rules to follow… In this section, we will tell you about those, as well as what you can expect to find once you are on the train, what to do with your time and what to wear.
Logistics / Infrastructure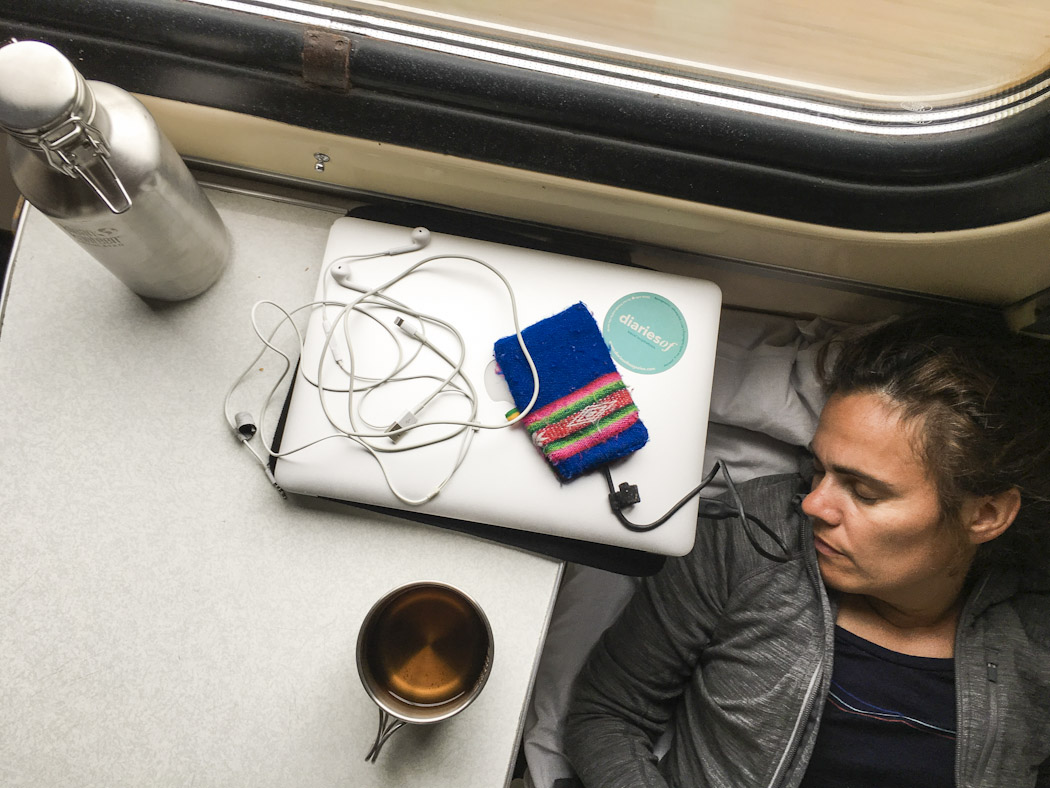 Each carriage has got an officer responsible for the carriage (this officer will be always present, including to keep the order (if needed) or to clean the carriage daily;
Each carriage has got two toilets (one at each end);
Each carriage has its own boiler, from where you can get boiled water (for tea, coffee, and of course, for instant noodles!);
Each passenger receives a kit with bedsheets, a pillowcase and a hand towel (though some passengers did not receive the kit). We don't really know if you can choose to have it or not while buying the ticket, and if you pay more for this, the truth is no one asked us);
Each berth has got a pillow and a blanket;
If you are staying in second and third class, you can pay extra for a shower (150 roubles);
Lights in third class go off around 10 pm;
The temperature in the carriage depends on the taste and mood of the carriage's officer. When walking along the train we noticed different temperatures, some hotter than others, but all rather 'hottish' (from 22 to 24 degrees);
The carriage's officer keeps your ticket and one hour before arriving at your destination, will come and wake you up to inform you there's one hour left before arrival (time to get your things together and remove the bedsheets from the berth; you need to give the kit back to the officer);
Internet: there is no wi-fi on the train, and as we did not have a Russian SIM card, for three days we were disconnected from the world;
Smoking is not allowed inside the train, smokers took the 20-minute stops to get out of the train and smoke;
Drinking is no longer allowed in the wagons, except in the restaurant-wagon, which can, therefore, get quite noisy and happy!
Behaviour Rules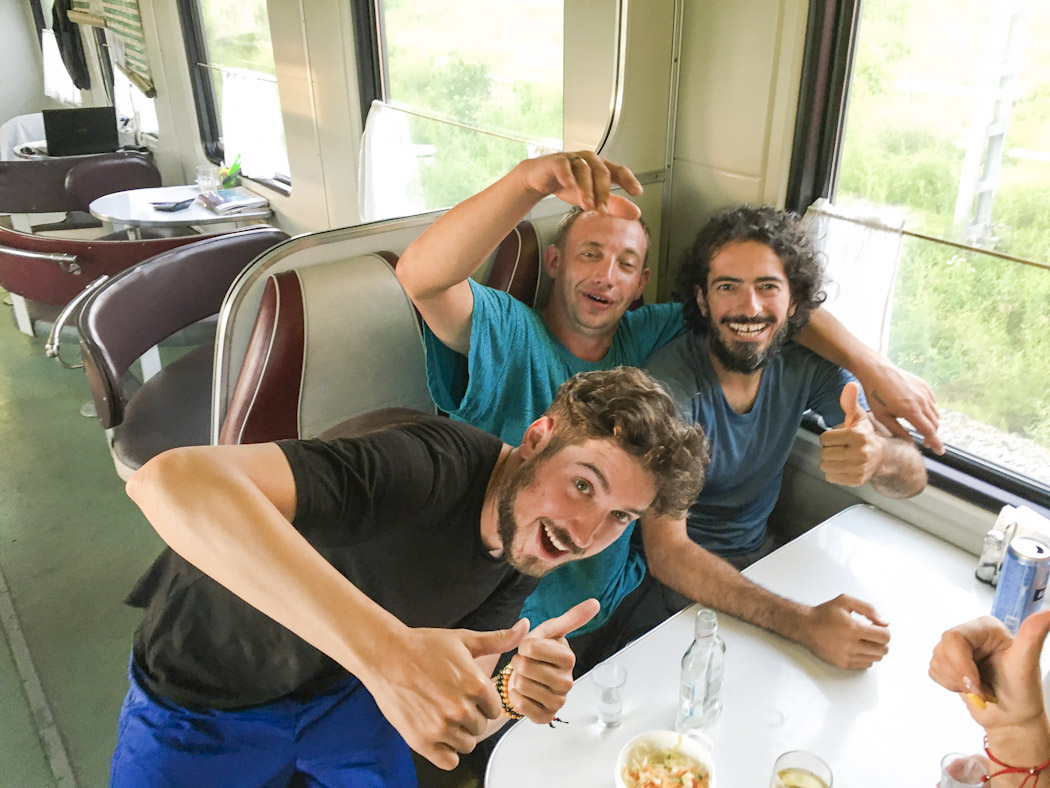 Don't go around thinking you can do hazardous things such as: using another berth, visiting another carriage's toilet or helping yourself from another carriage's boiler! Jorge did just these three things and got in serious confrontation with the officer of carriage 15! Don't let yourself be fooled by the officers' gentle and angelic faces. Despite them being young girls, and with very good looks, they are authentic generals! The first time (and actually, now that I think of it, the only time) that Jorge went to the neighbouring carriage for a pee, he got this 'Isn't there a toilet in your carriage?' He wasn't aware she was the officer of the cabin and answered with a 'no' and left without giving her a chance to scold him. When some hours later he went to the same carriage 15 for boiled water (there seemed to be a problem with our boiler), she looked at him and shouted 'You again? Also no water in your carriage?' And she didn't give Jorge a chance to re-fill the bottle. She followed him out of the carriage, and argued with our officer, who took the bottle out of Jorge's hands and walked all the way to carriage 15 to get us some hot water…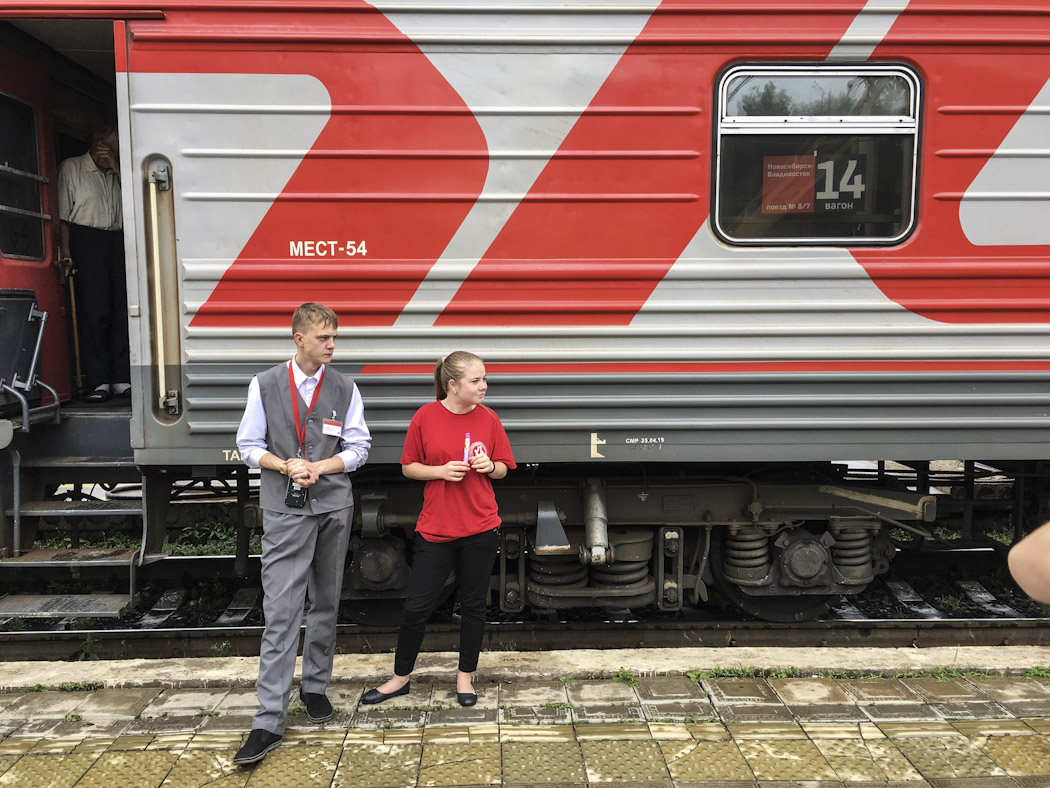 Jamais deux sans trois… and on the second night, when we realised there was a berth available in our carriage, Jorge did not hesitate to walk to carriage 18 to get his bedsheets, so we could sleep more or less together. His companions warned him 'You can go to jail for that' and they laughed. Jorge understood there was some truth in those words that were proffered as a joke. He had to pass the guardians of carriages 18, 17, 16 and the terrible dragon on 15 before he could reach wagon 14. He was lucky that officer 18 had her back turned to the door, officer 17 was a friendly face, to whom he just said 'I will bring the sheets tomorrow morning' and she nodded back. Officer 16 was nowhere to be seen. Then, he was standing outside 15 and tried to conjure a plan. Should he sprint through the carriage? Should he confront her with his intention? Should he politely ask her if she agreed with the idea? He went for what seemed to be the only reasonable option: he went for the sprint! He ran past her pretending not to see her and when he reached the end of the corridor he could still hear her in the far back screaming 'Where the hell do you think you are going with those sheets?' He didn't stop running until he reached our carriage. Then he threw the sheets on the free berth, covered up and screamed 'Let's sleep now!' From the gloom of the carriage, I could still see Sargent 15 inspecting the berths, but we were safe, no way she could recognise Jorge from under the bunker he had built with his blanket…
Clothes/Hygiene/Comfort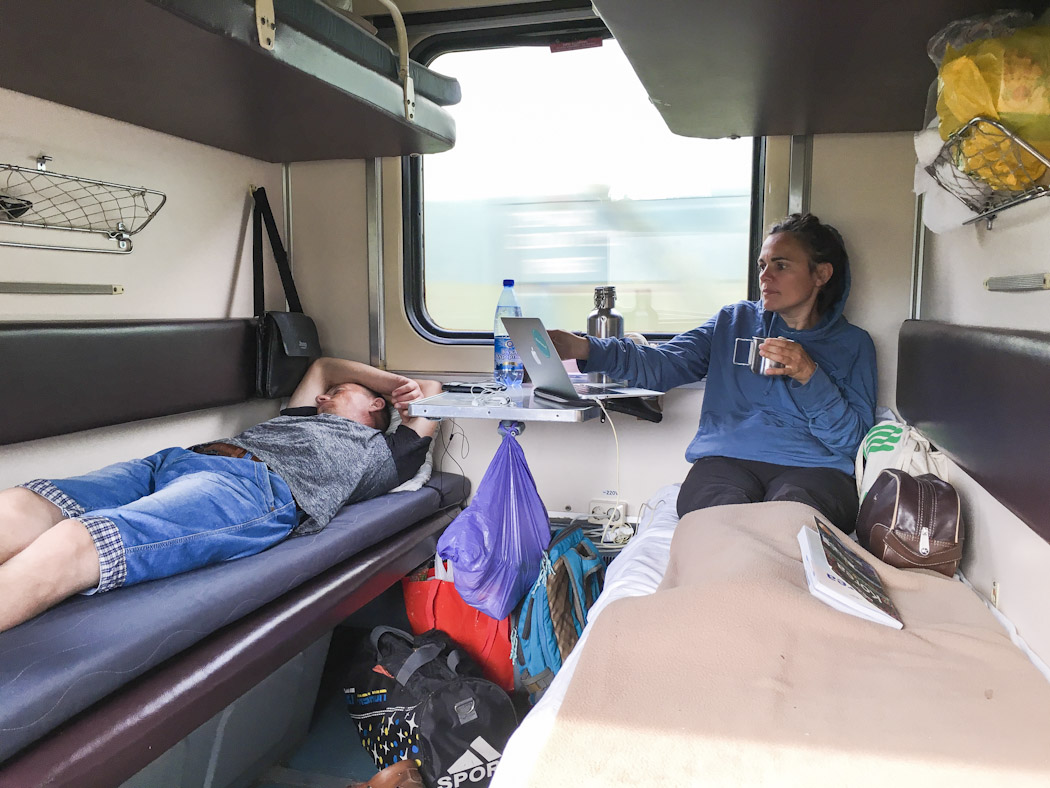 Dress comfortably as you are not going anywhere soon. Once you make your bed with the sheets, you will probably keep it that way for a long as your trip lasts, therefore it is better to wear something that you can also wear for sleep. That is what everybody does really (except those on short journeys). The dressing code in the train is mostly pyjamas or sportswear. Also don't forget to pack slippers, as you don't want to run around with bare feet, and it will be too long to keep your feet inside your shoes. We also found that having wet wipers was the best that we could have for our body hygiene and to keep our hands clean at all times. It also came out handy to clean our table.
Time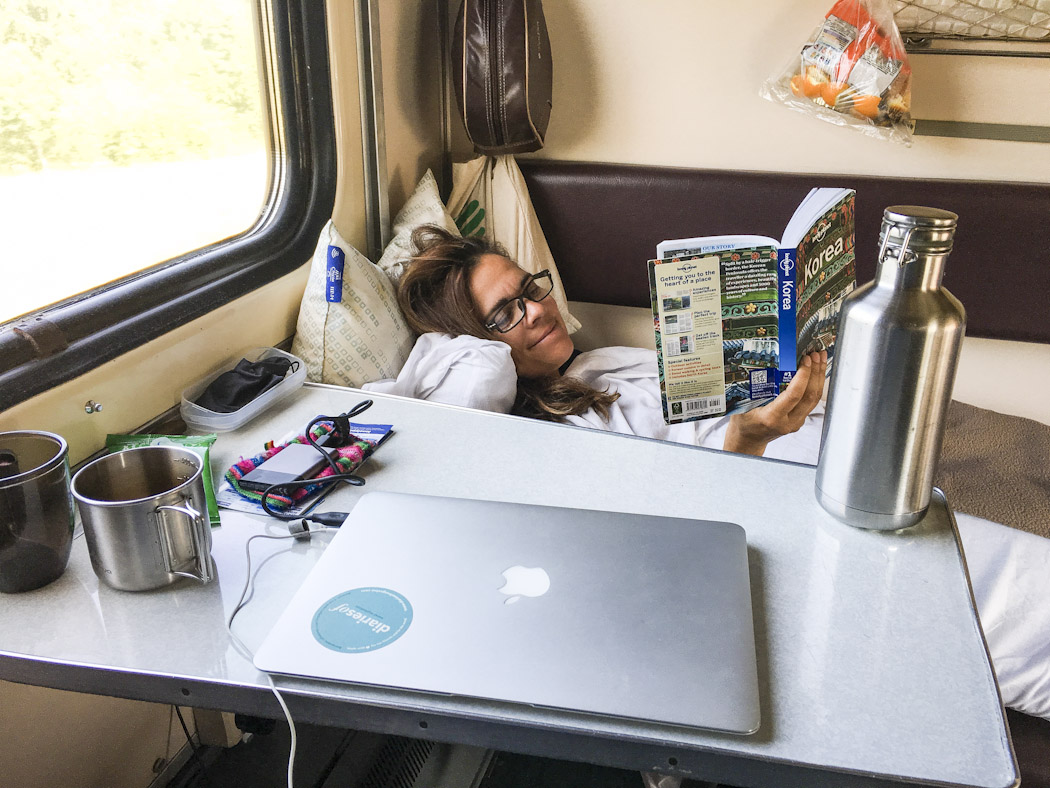 Remember you will have plenty of time. There isn't much to do in the train besides looking out of the window or chatting with your companions. We were lucky that Jorge speaks some Russian and one of our fellow travellers was an English teacher from Uzbekistan, who was eager to know about our countries, so we never got bored. If the fellow travellers next to your berth are not talkative, the dining wagon is probably the best option to meet other people. But it is also a good idea to have a book, a computer or whatever keeps you busy, as there will be a lot of time to kill…
However, if all you need is a rest, then you are in the right place. We felt that the movement of the train rocked us to sleep, and we slept like babies, hardly listening to people coming in or out during night stops.
Would we do it again?
Yes, definitely. Even though third-class is probably not the fanciest way to travel on the Trans-Siberian, we did like the atmosphere and we always slept very well (we got used to being rocked to sleep by the movement of the train). We had expected vodka would be flowing abundantly, but surprisingly we just saw one or the other drunkard. As it was high-season there were many families travelling on the train during their holidays – this could explain the familiar atmosphere, with many children playing around (and sleeping soundly during the night!). Earplugs can be a good idea if you want to sleep during the day or in case you are lucky enough to get a berth next to a crying baby.
Next time, we would definitely try to do this trip during winter, in order to have a completely white landscape outside and a different feel inside. We would also add five or six stops, and make sure we would visit the interesting cities of Siberia. We would also love to experience it with a first-class berth, for a change. Or even better, with a private train which, besides the comfort, organises everything else, such as meals and day tours to the cities where they stop… And hopefully experience the exciting intrigues that can only happen in a luxury train…