With its 1,600 Buddhist temples, 400 Shinto shrines, seventeen UNESCO world heritage sites, a handful of palaces and castles, zen gardens, one mysterious geiko district and so much intact feudal architecture, Kyoto is no city to rush through. Read to know what to see and do in Kyoto…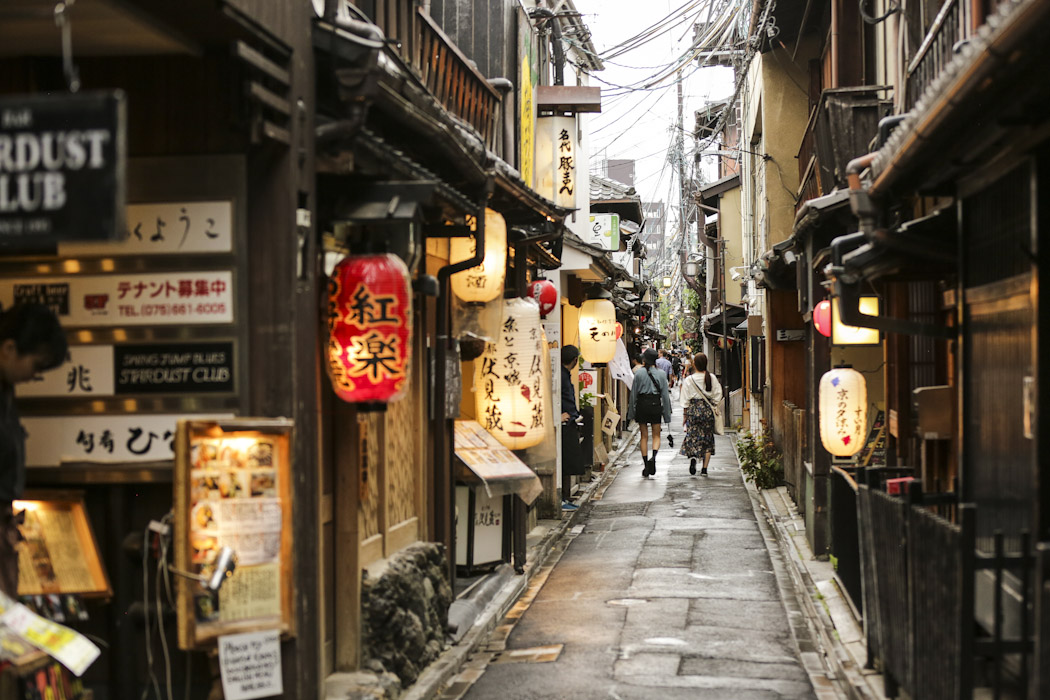 Because it was late in the afternoon when we arrived, we followed Kamogawa River until we arrived at narrow Pontocho Alley, THE place to dine. The wooden facades, with their red lanterns, gave the alley a cosy feel and we immediately fell in love with the city. There is a wide variety of restaurants (from traditional to modern Kyoto cuisine; from inexpensive eateries to places reserved to invitation-only guests).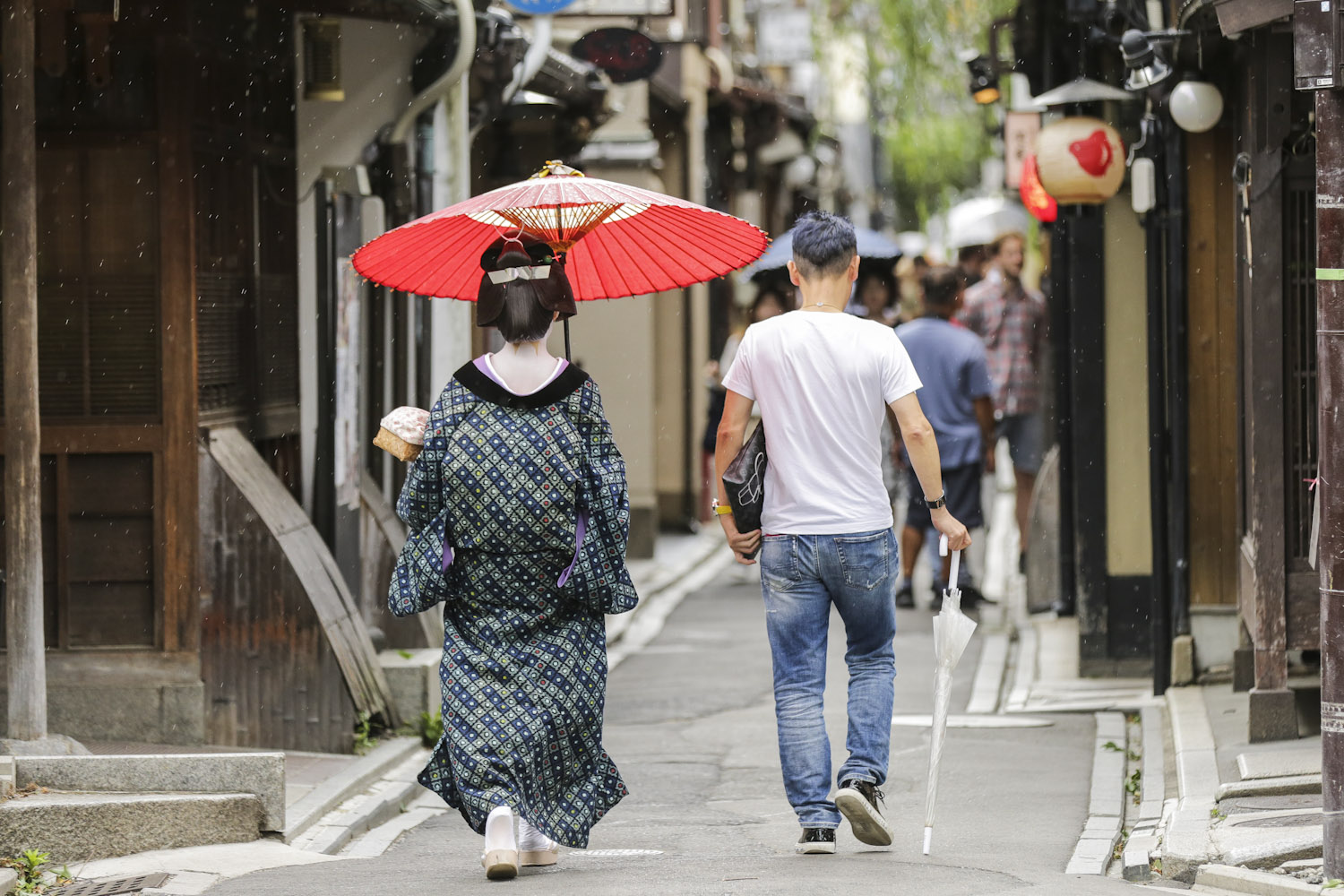 A stroll in the evening may come with that extra bonus of running into a geiko on her way to her 'secret' rendez-vous in one of the intimate restaurants, with terraces, over the river. On our first evening, our patience was rewarded when we got to walk behind one, until she vanished under a noren (the Japanese curtains at the entrance of shops or restaurants).
A stroll in the evening may come with that extra bonus of running into a geiko on her way to her 'secret' rendez-vous in one of the intimate restaurants, with terraces, over the river.
It was a delicious hot summer night. We took a seat by the riverbed and slurped a mochi ice cream while watching young couples passing by, and girls dressed in blossoming yukatas. It was so quiet, Kyoto didn't feel like a city. At that moment, we gave up on our intention of seeing all the memorable landmarks of Kyoto and decided to visit only a small selection, so as to be in harmony with the slower rhythm of the city.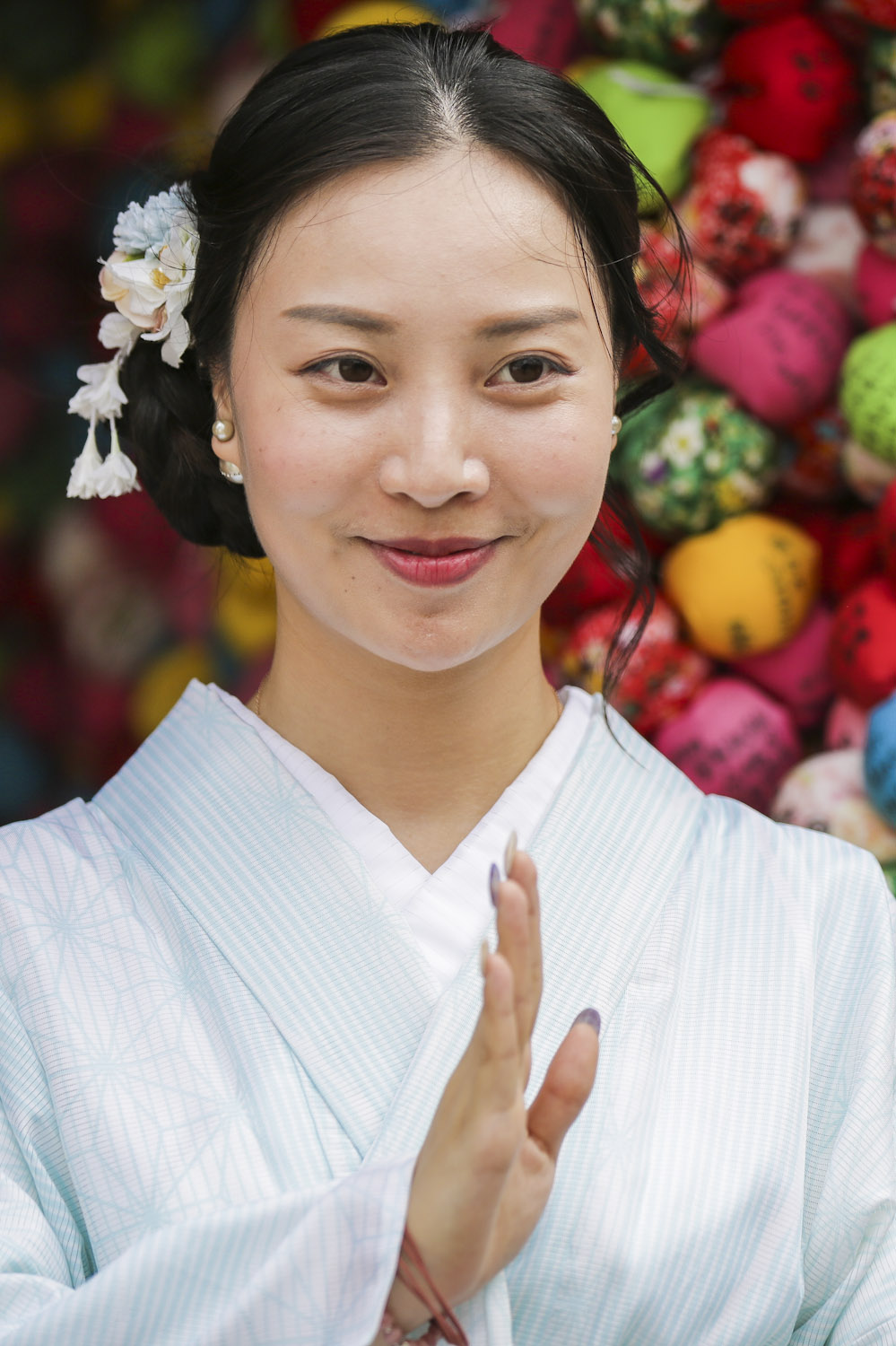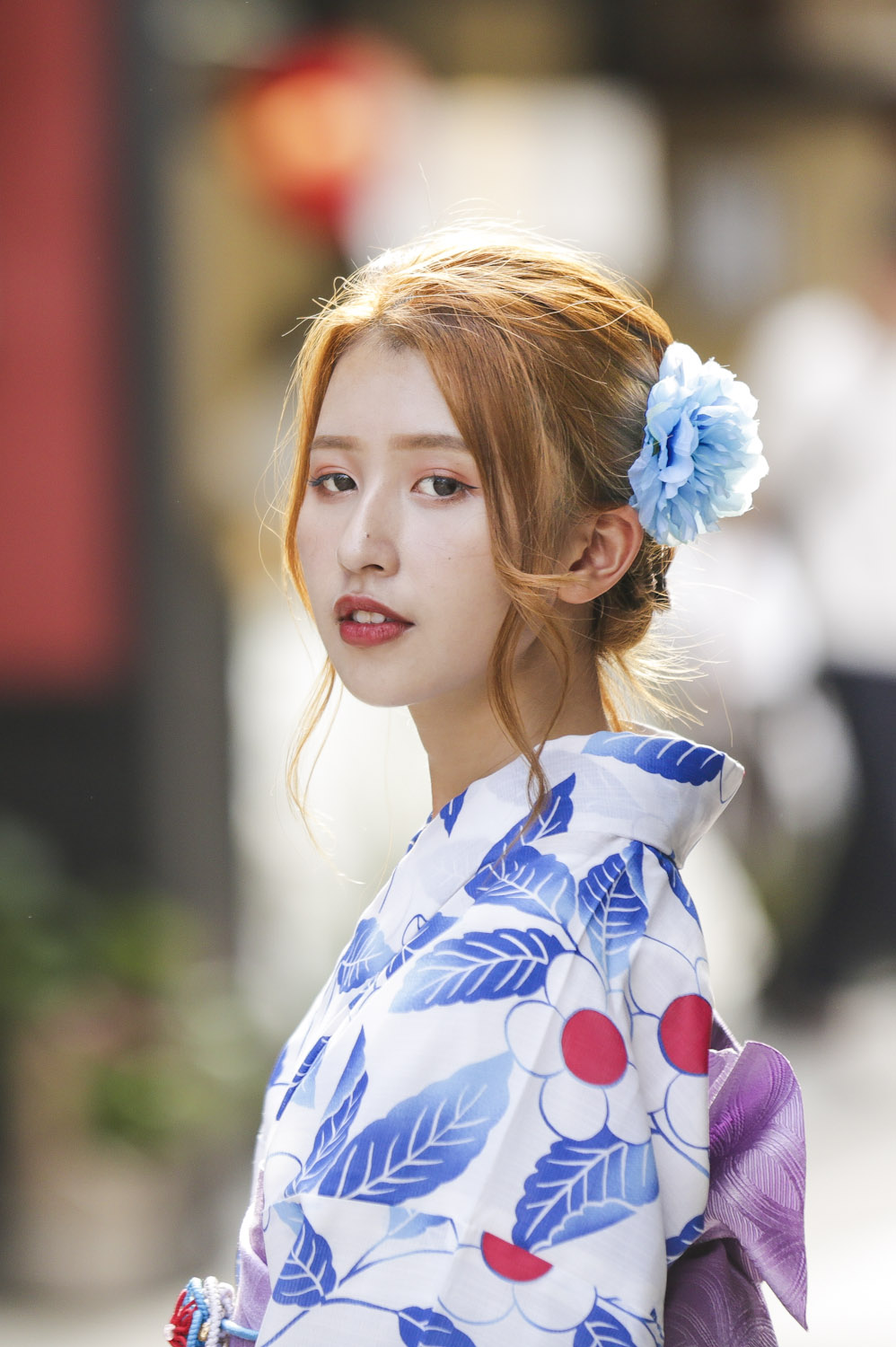 The next day, after having ramen for breakfast and picking our favourite green tea from one of the many dispenser machines, we headed to Kinkakuji, Kyoto's golden pavilion. By now, we had learnt that crowds were better avoided in the early morning. This time, we had to be patient, not because of the crowds but because of the sun. The top floors, which are covered in golden leaves, are at their best when the sun shines.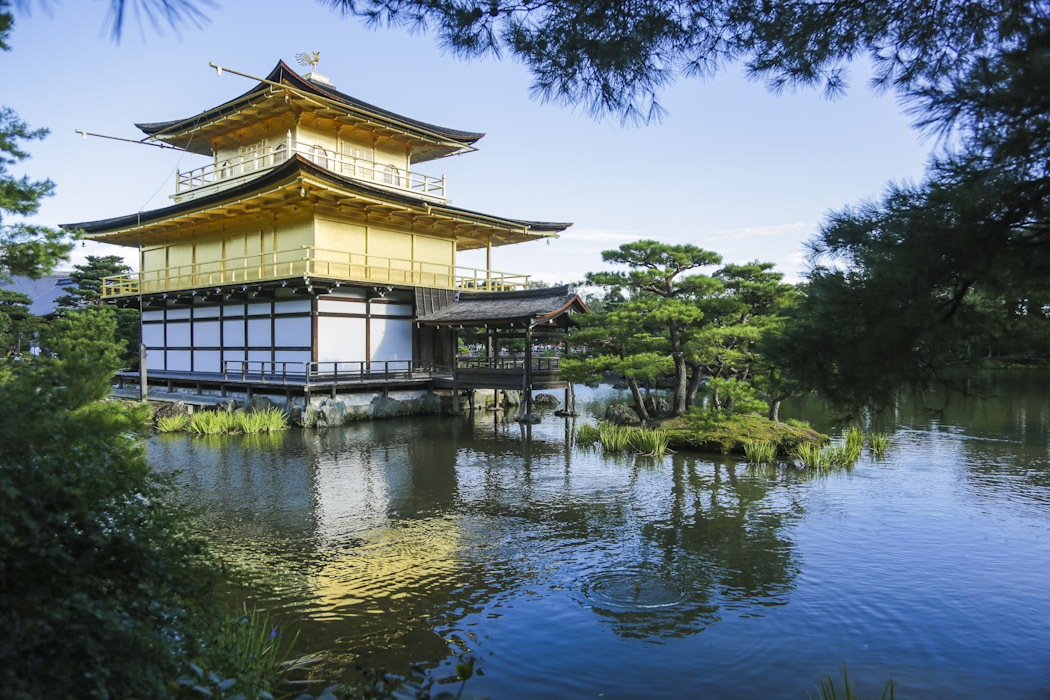 As there were many clouds that day, we just had to sit and wait for our moment, which arrived a little later. From here, we walked to Nishiki Market. Located in another narrow but quite long street, with hundreds of shops selling mostly food, it is another good option for eating out. Known as 'Kyoto's kitchen', we went from stall to stall, enjoying all the specialities with our eyes. There were so many things we had never seen before (such as, sparrow on as skewer), until we chose to feast on grilled baby octopus and picked a sweet red-bean dessert for our sweet tooth.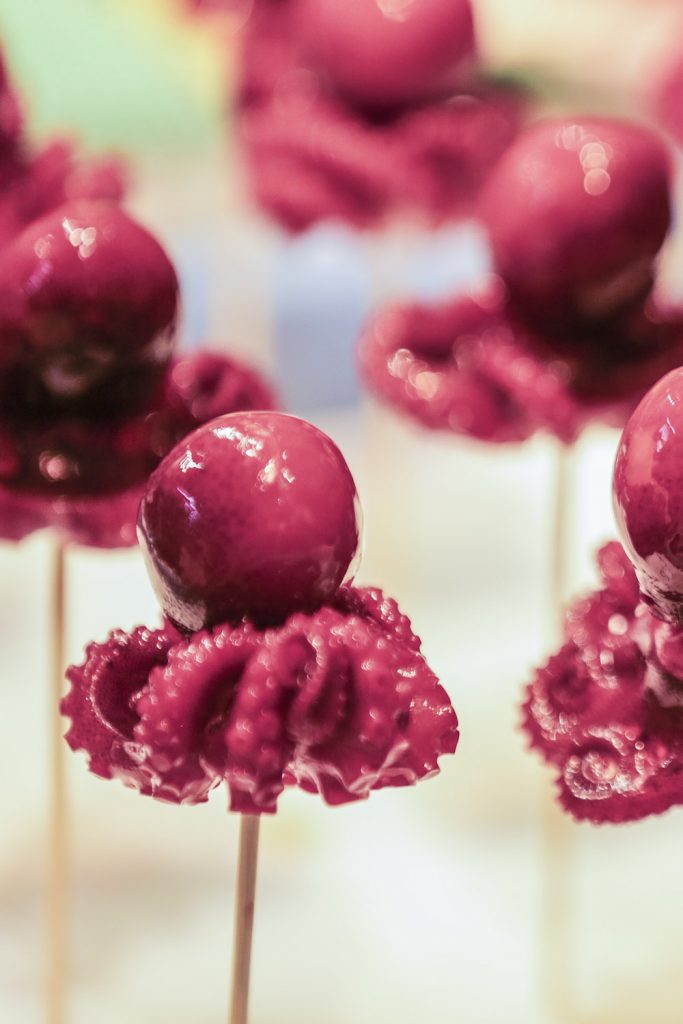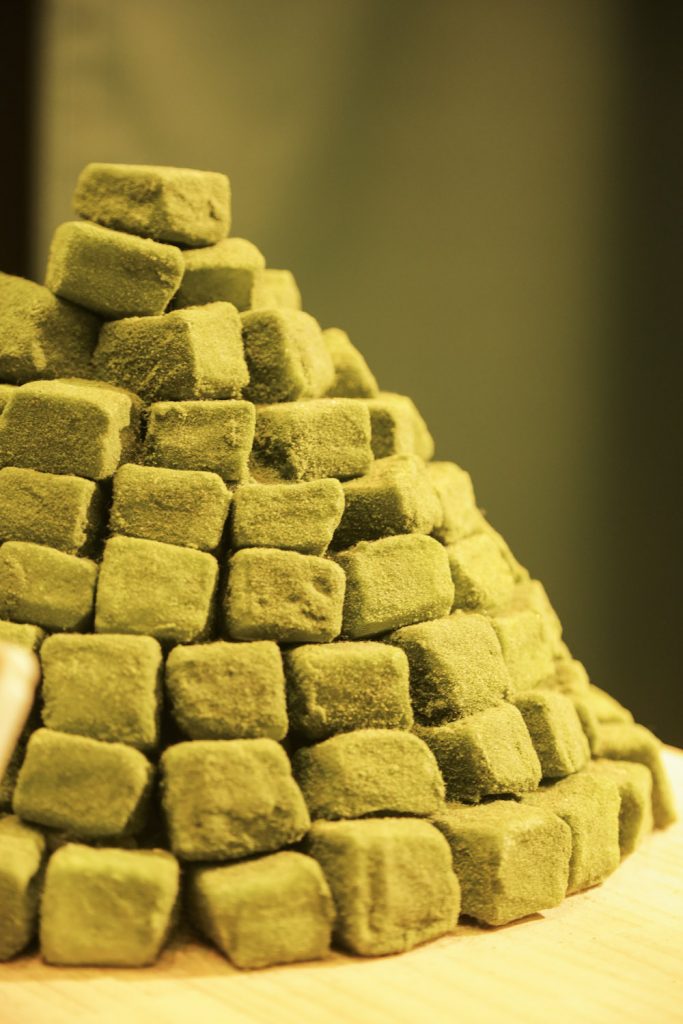 Before we started our religious tour, we wanted to understand the difference between temples and shrines which, until that day had remained a blurry topic for us. First, we headed to Kiyomizu-dera Temple, with the basic knowledge that if it is a temple it is Buddhist and if it is a shrine it is Shinto. But what are the differences between the two religions? Which one is the most popular in Japan?
Shinto is Japan's indigenous and polytheistic religion which worships nature
In short, Shinto is Japan's indigenous and polytheistic religion, which worships nature. Buddhism, was imported from China and is a religion in which Buddha, its founder, teaches how everyone can reach enlightenment. The Japanese have a very unique and interesting attitude towards religion. In Japan, religions co-exist peacefully and people visit all temples and shrines regardless of their own beliefs.
We walked the lovely Matsubara Dori, a popular shopping destination, which took us to a UNESCO world heritage temple complex: the Kiyomizu-dera. It is located on top of a beautiful hill and offers spectacular views over remote Mount Fuji (on clear days). At the entrance we watched worshippers arriving by the dozen, all paying their respects in similar ways. Some burnt incense while fanning the smoke towards themselves, others threw coins into the offering box and then said a short prayer while bowing three times.
We by-passed these rituals and went straight inside the temple, after first removing our shoes. We sat quietly on the ground, relishing the silence and the many Buddha icons inside. In the background, the faint chant of monks reached our ears, almost indistinctly. A young Japanese man, whom we had met outside, Kao, came to us again and asked whether we were Buddhists.
We almost felt like infidels and wondered if we were not supposed to be there.
To our surprise, he told us that he wasn't a Buddhist, either, which came as a bit of a surprise because we had seen him go through all the rituals. "Well, we Japanese have a very open attitude towards religion. We visit Buddhist temples and pray, but we also visit Shinto shrines and pray there too. I am no more Buddhist than I am Shintoist, really. We Japanese are very pragmatic towards religion. We visit Buddhist temples for funerals, Shinto shrines for miyamairis (a ritual similar to baptism) and churches for weddings." After this revelation, we understood why we had seen shrines side by side with Buddhist temples and pagodas, not only in this complex, but in many others.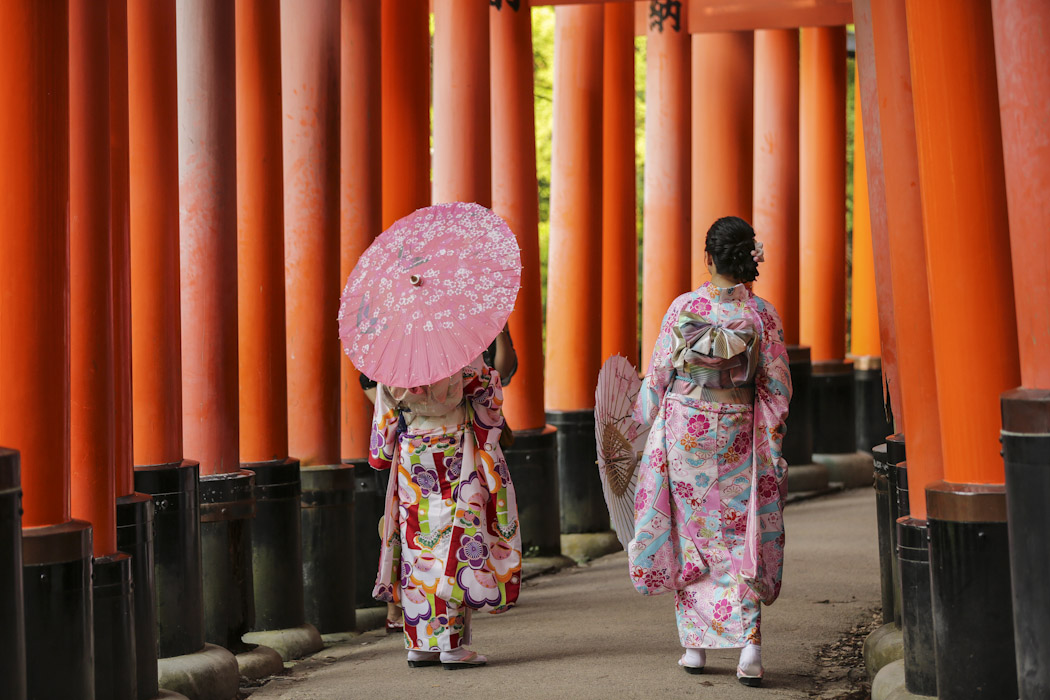 The next day found us at one of the most beautiful shrines in Kyoto. The Fushimi Inari shrine is best known for the ten-thousand vermilion torii gates that lead to its many shrines, along a path into the forest and up Mount Inari. When we arrived there, in the north of Kyoto, we were a bit disappointed by the number of people. As we entered through the main torii gate, we felt so pressed against each other for the first metres that we almost turned around to leave. But because the toriis were so beautiful, we pushed our way through the masses. The entire 'torii path' is about four kilometres long and is walkable in one to two hours. Good for us, was that most people don't walk the entire trail. After the first kilometre you start getting more room to breathe; in the second kilometre you are not queueing any longer and in the last two kilometres, you start to feel that you are alone on the torii way and you can enjoy many photo opportunities.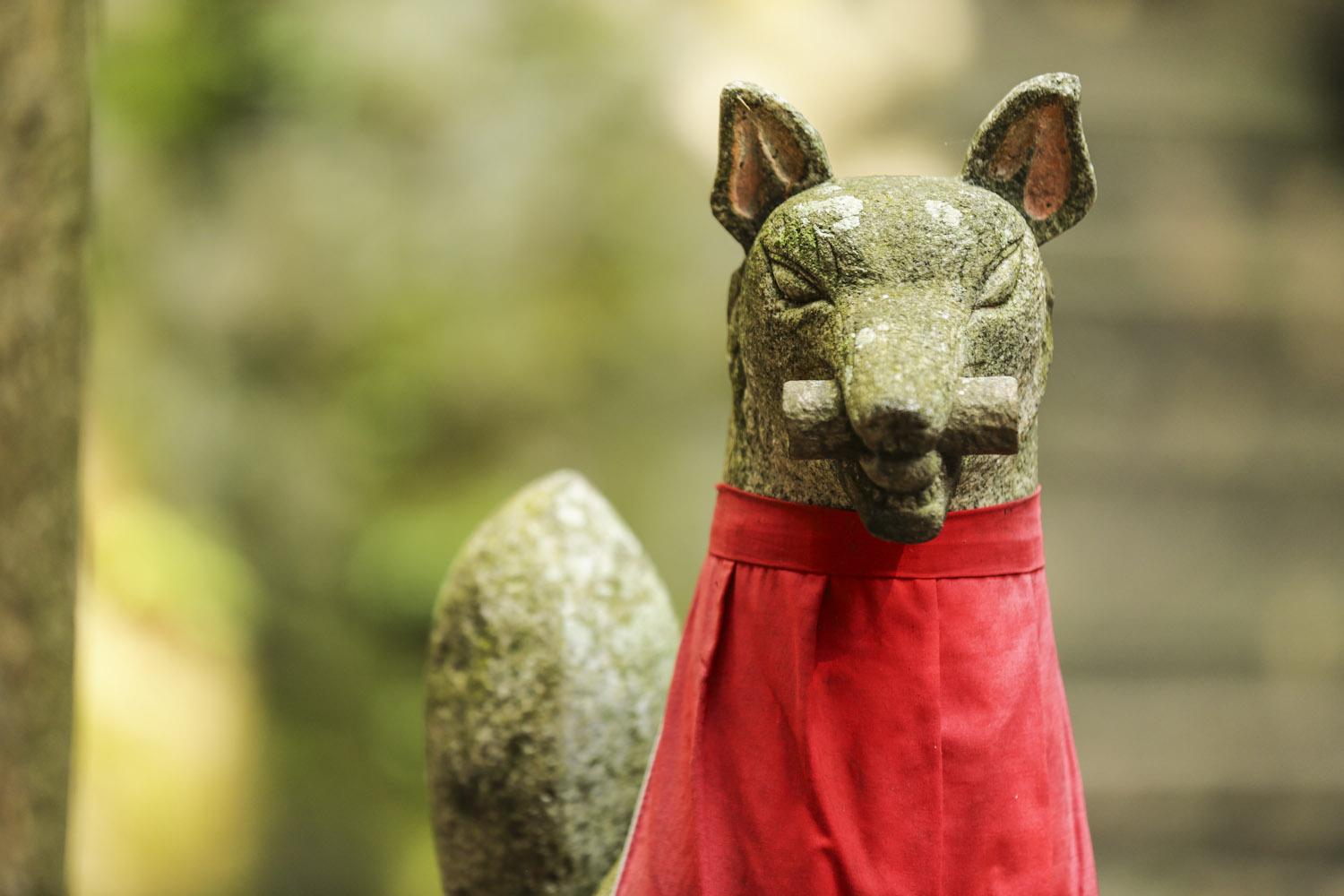 There are many colourful shrines along the way. In many of them we saw lots of statues of foxes, which are considered Inari's (the Shinto god of rice) messengers. We stepped in a few of the shrines, and followed the ritual of ablution, by rinsing both our hands, starting with the left one, using the wooden ladles to be found at the purification fountains near the shrines' entrance. At the time of our visit (August), it was so hot that we used all the purification fountains as a means of getting some refreshment and I think we were not the only ones enjoying the free 'showers'. You can recognise that you are in a shrine when worshippers clap their hands, before bowing, while praying.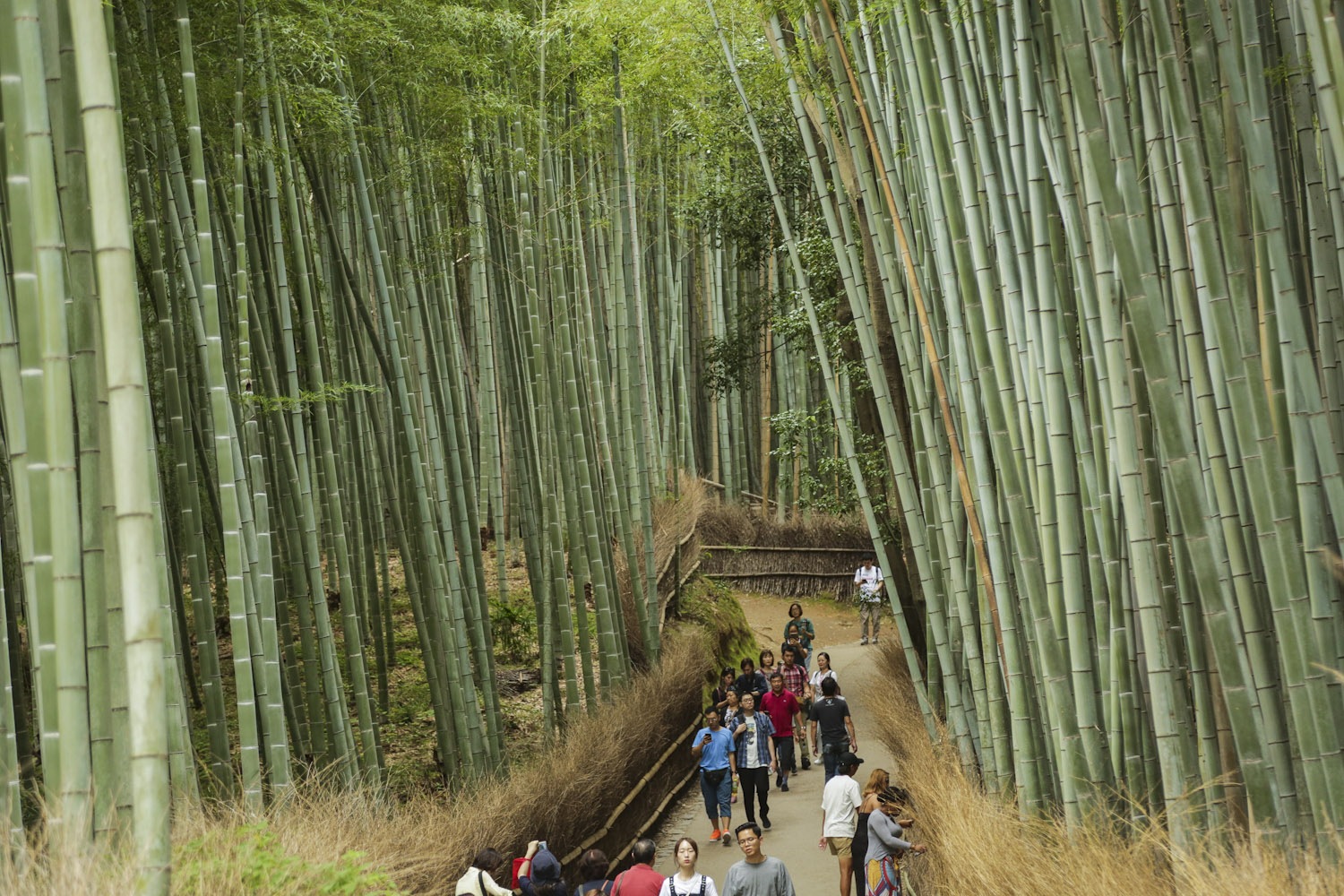 The next day we headed to the Arashiyama bamboo grove. Though it is not a forest you might get lost in, the place is worth a visit, nevertheless. Especially if you haven't been to a bamboo forest before. Besides the vivid green of the tall stalks, you can get lucky and spot one of the many newly-wed couples, who search this photogenic grove for their photo shoots. They come here not only because of the beautiful background but also because bamboo is a symbol of fertility and prosperity.
We got lucky and found a couple who were having a Shinto wedding and were both wearing Shinto traditional wedding attire. They had exchanged their vows before a Shinto deity in a nearby shrine, and then walked here hoping to give their wedding a good start amid the bamboo plants. This was without a doubt a special place, and we were even more convinced of this when we were on our way out and we saw a Japanese man kneeling down and proposing to his girlfriend. Well, certainly not just bamboo but love also was in the air.
After so much emotion, we were happy that we were going to have the chance to immerse ourselves in one of the most popular traditions of Japan. We were on our way to meet a tea ceremony master for some tea…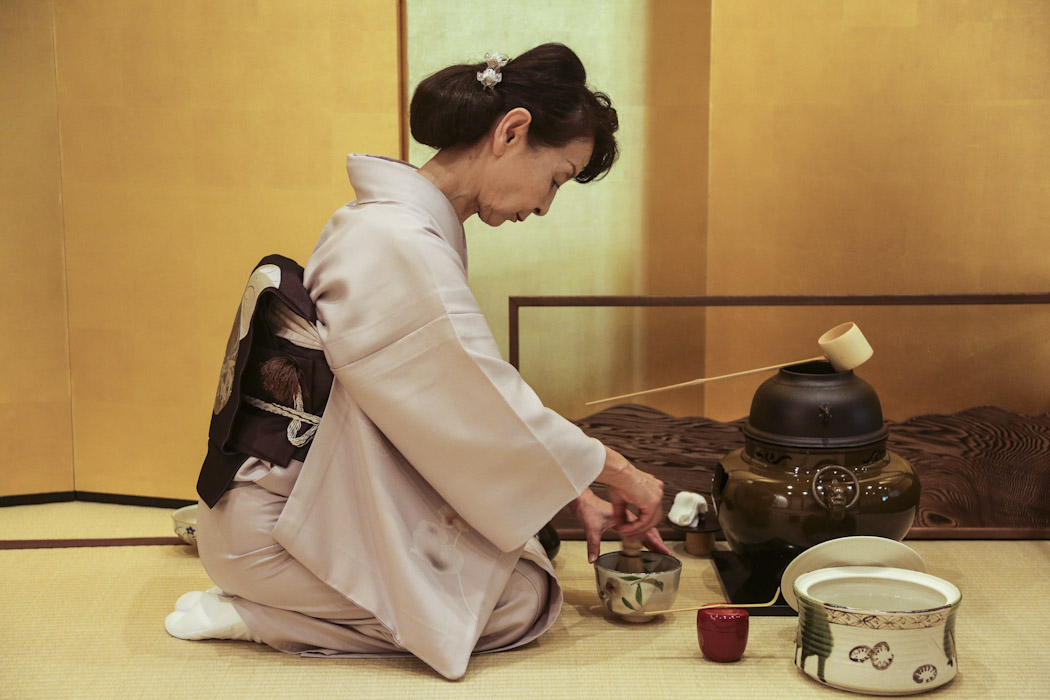 Don't just go to any 'tea ceremony'. There are many 'fast food' tea ceremonies that will bring you nothing more than watching someone prepare tea for you. Choose a teahouse with a long-time tradition, where the women have done it for many years and where English is spoken, so that you can truly be introduced to the fascinating world of the tea ceremonies.Another way to learn about tea is to try a tea-tasting. We did that in Kyoto and got to taste different types of tea and what the Japanese usually eat to accompany those teas. It was during the tea tasting that we learned that the strong colour of the matcha powder is natural and that the tea gets that colour because of the lack of fermentation.
This slender architecture translates as 'eel bed' because houses are long and thin like an eel.
Whether you choose a tea ceremony or a tea tasting, make sure you do it inside a traditional Kyoto townhouse (a kyomachiya). We were struck by the number of natural materials used there: straw tatami mats on the floors, bamboo sliding doors, and screens throughout the long and narrow interior. Its architecture is also unique. The houses are very long but narrow, because prices were related to the width (not the length or square metre). As houses also served as the business place of the family that inhabited there, the wider the shop window, the most expensive the house.  There's a particular name for this slender architecture, it translates as 'eel bed' because it is long and thin like an eel. In the middle of the house, there would usually be room for a inner yard, a place with trees and plants for better connection with nature.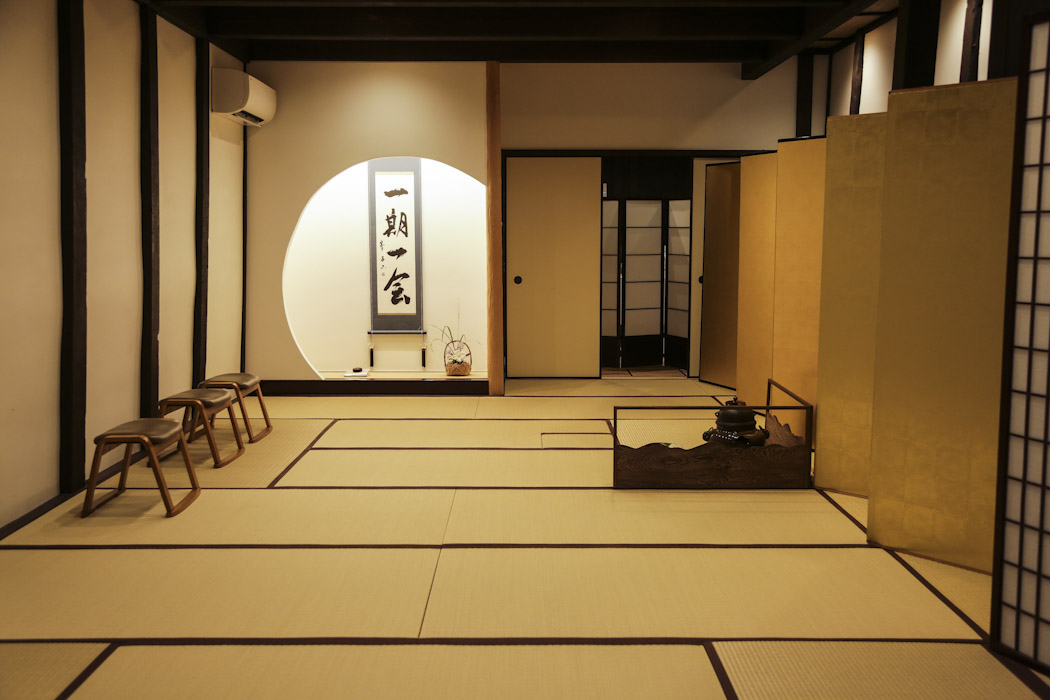 If you ever have enough of traditional houses (which we doubt!), you should head to Kyoto's train station, a modern building, and one of the country's largest buildings. Inside, besides three levels of railway, you will also find a shopping mall, a hotel, a movie theater, a food department with many restaurants, and several local government facilities.
Just next to the station is the beautiful Higashi-Honganji Temple, another beautiful Buddhist temple in Kyoto. This one is particular because of it old wooden architecture but also because it had a very big but quiet praying hall, which we used to have a break and to have a peaceful moment with all the others who come here to pray.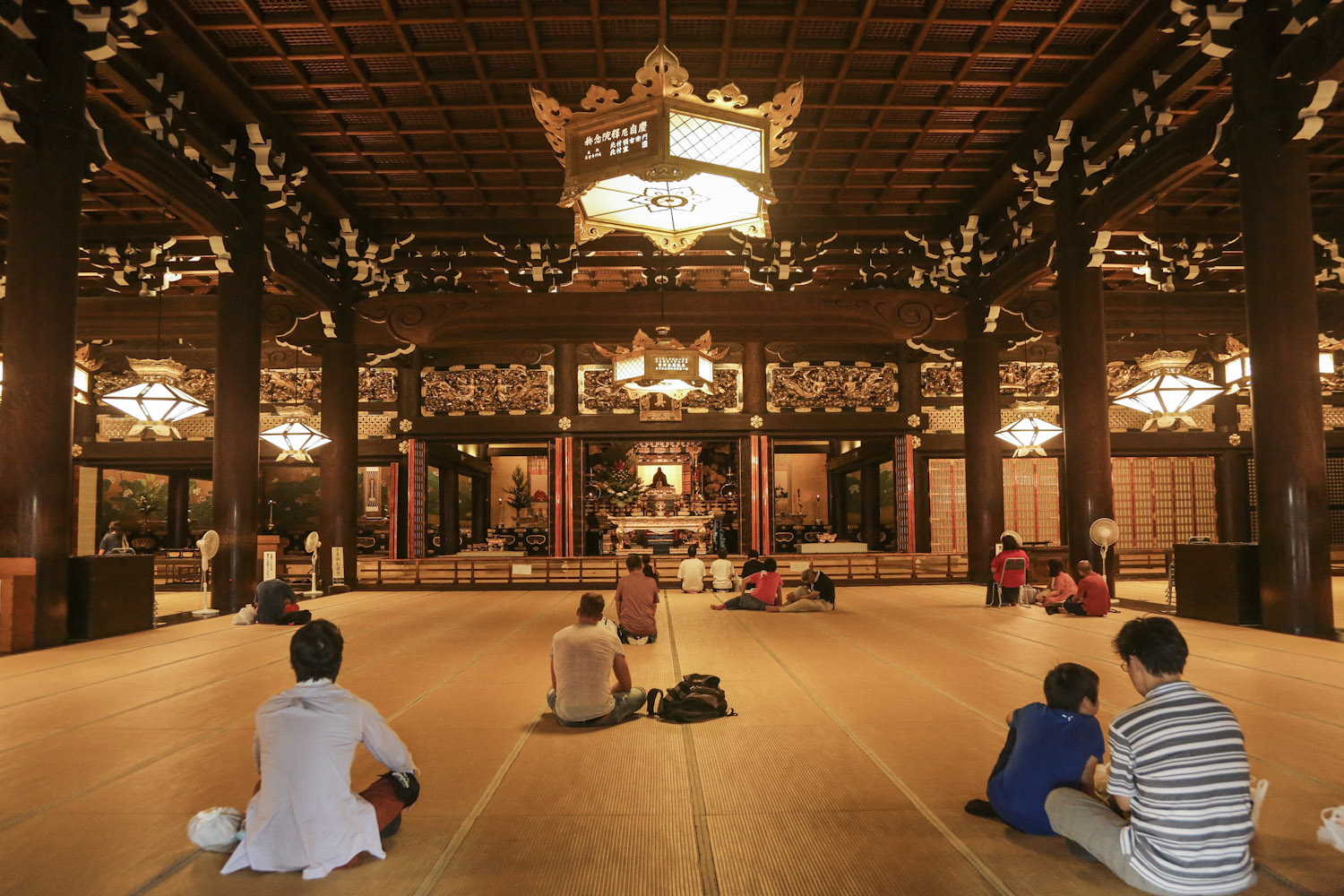 When the night fell, we were happy that we had a beautiful place to sleep. Spending the night in a ryokan is one of the most rewarding experiences of Japan. It is about being treated as special guests and sleeping in traditional houses that always have cosy typical Japanese rooms… Sleep well!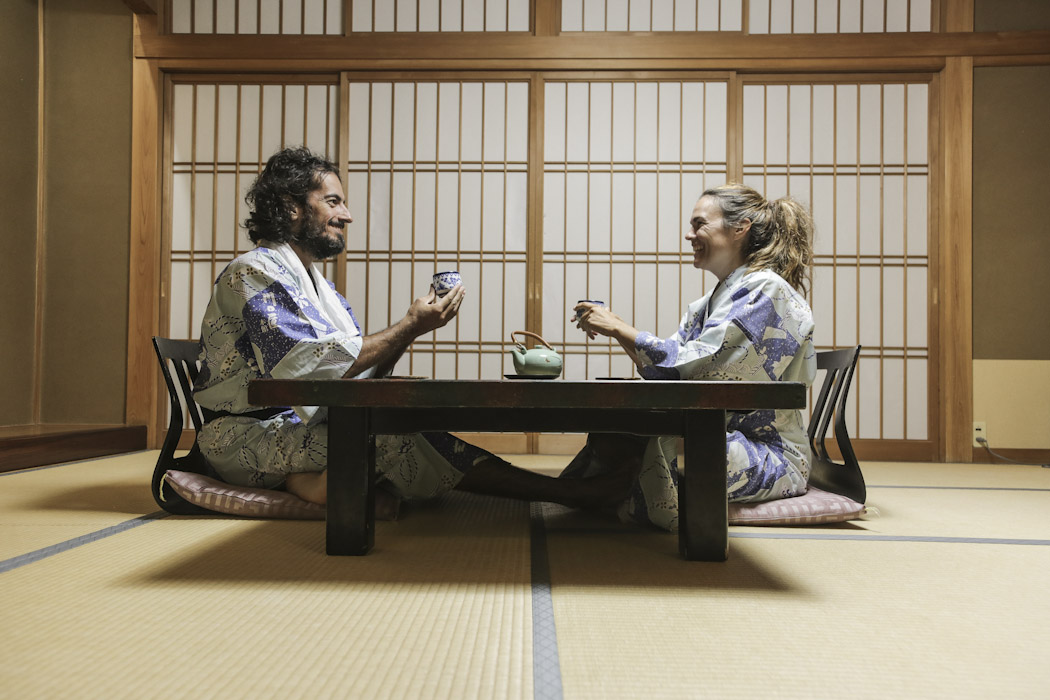 Pin For Later
Click one of the images to save it on your Pinterest