Finding the least expensive flight tickets can be a challenging task and is certainly time-consuming. Here are a few tips about what to do to find those bargains
1. Use sites that list all available flights for the requested destination
We used to find our flights through Opodo, Expedia, Kayak or Skyscanner. These sites are for air companies what Booking.com is for hotels. They not only list available flights for the required destination, they also negotiate (?) with the air companies in order to be able to offer better rates. We don't know exactly how they do it but they get better rates than, for example, the site of the air company itself!
Nowadays, however, there are so MANY such sites that it is now becoming a burden to check them all to know who got the best deal. We were therefore happy to find out about Jetcost.
Jetcost is not just another site checking air companies' prices. Jetcost compares the results of many sites that are checking the air companies. Once you choose the destination and the dates, the site starts comparing existing fares on other sites and will list all offers from the cheapest to the most expensive.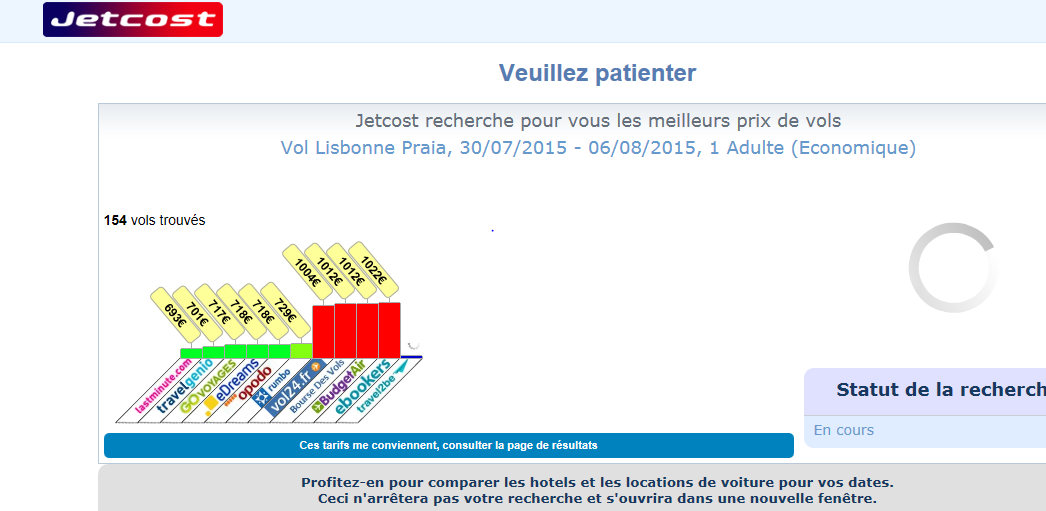 After a first search it will list the found flights with details of flight companies, scales and schedules. Jetcost compares fares as found in sites such as:
lastminute / opodo / govoyages / travelgenio/ edreams / budgetair / vol24 / rumbo / travel2be / ebookers
2. Get a notification when the prices drop
Some sites, such as farecompare, will monitor certain flights for you and will notify you when the prices drop. You will have to sign in for notifications.
3. Be flexible with the dates of flying
Remember that business people need to fly in specific dates at specific schedules, and that is  why they pay high airfares, for the inflexibility that work inflicts. Families with children are also limited to flying during school holidays. Check flight prices before deciding on your dates, and pick the cheapest days.
4. Collect Miles & More
We have been flying for so long and never really paid much attention to our miles. This was obviously wrong, as we know now that it is possible to fly for free once you collect a decent amount of miles. The most important we learnt about this is that it's also possible to collect miles without flying. We got ourselves a miles & more credit card and make sure we use it for each expense. Each euro we spend is converted into miles. And beware, if there are any big expenses that you would normally pay with a bank transfer, make sure you don't. Do not pay huge amounts (such as buying a car!) through a bank transfer. Make sure you go through the hassle of asking your bank to use your credit card for that. It will bring you in many miles that you can convert into free flights.
5. Buy your flights on certain dates
Statistics seem to show that the cheapest airfares are available 85 days before the departure date. We can't attest to it, but we will be attentive 🙂 . The site FLYR can help predict the best fares through statistics. Unfortunately prediction data is not available for all routes.
6. Do you need to save time?
If, however, more than saving money, you are interested in saving yourself a lot of time (and time IS money), you probably want to make sure you get a direct connection, instead of a fly with one or several stops (which usually add many hours to otherwise short flights). For that, the site Flightsfrom is your best option. It shows you all flight possibilities from a specific airport with non-stop flights.
We wish you happy, budget flying!