Chiang Rai, located in northern Thailand, offers a variety of attractions and activities for visitors to enjoy. Here are some of the top things to visit and do in Chiang Rai:
Wat Rong Khun (White Temple)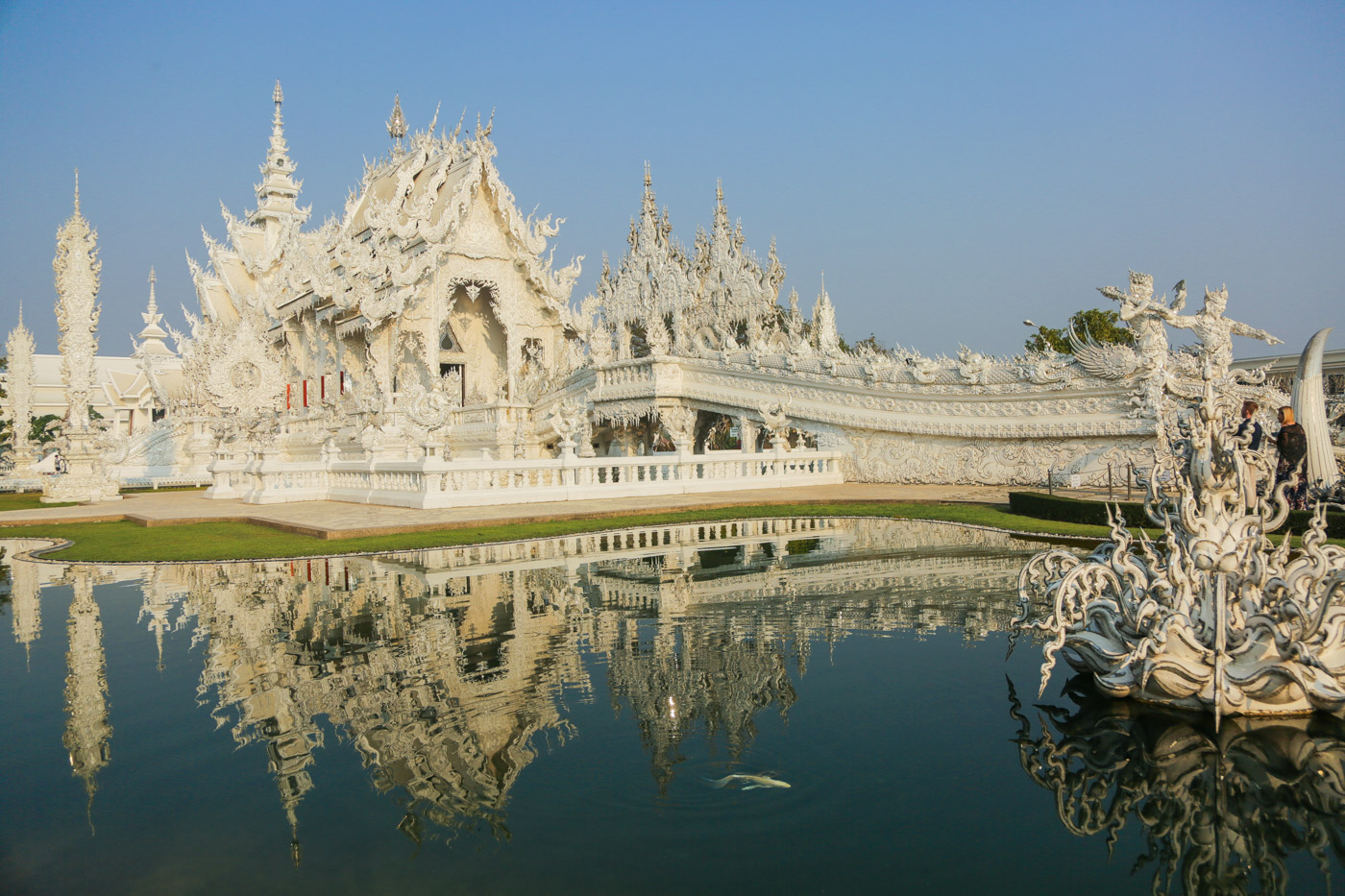 This stunning contemporary temple is a must-visit attraction. The White Temple stands out for its unique and unconventional design. It was conceived by Thai artist Chalermchai Kositpipat, who started its construction in 1997. The temple is predominantly white, symbolizing purity, and is adorned with mirrored glass mosaics that sparkle in the sunlight.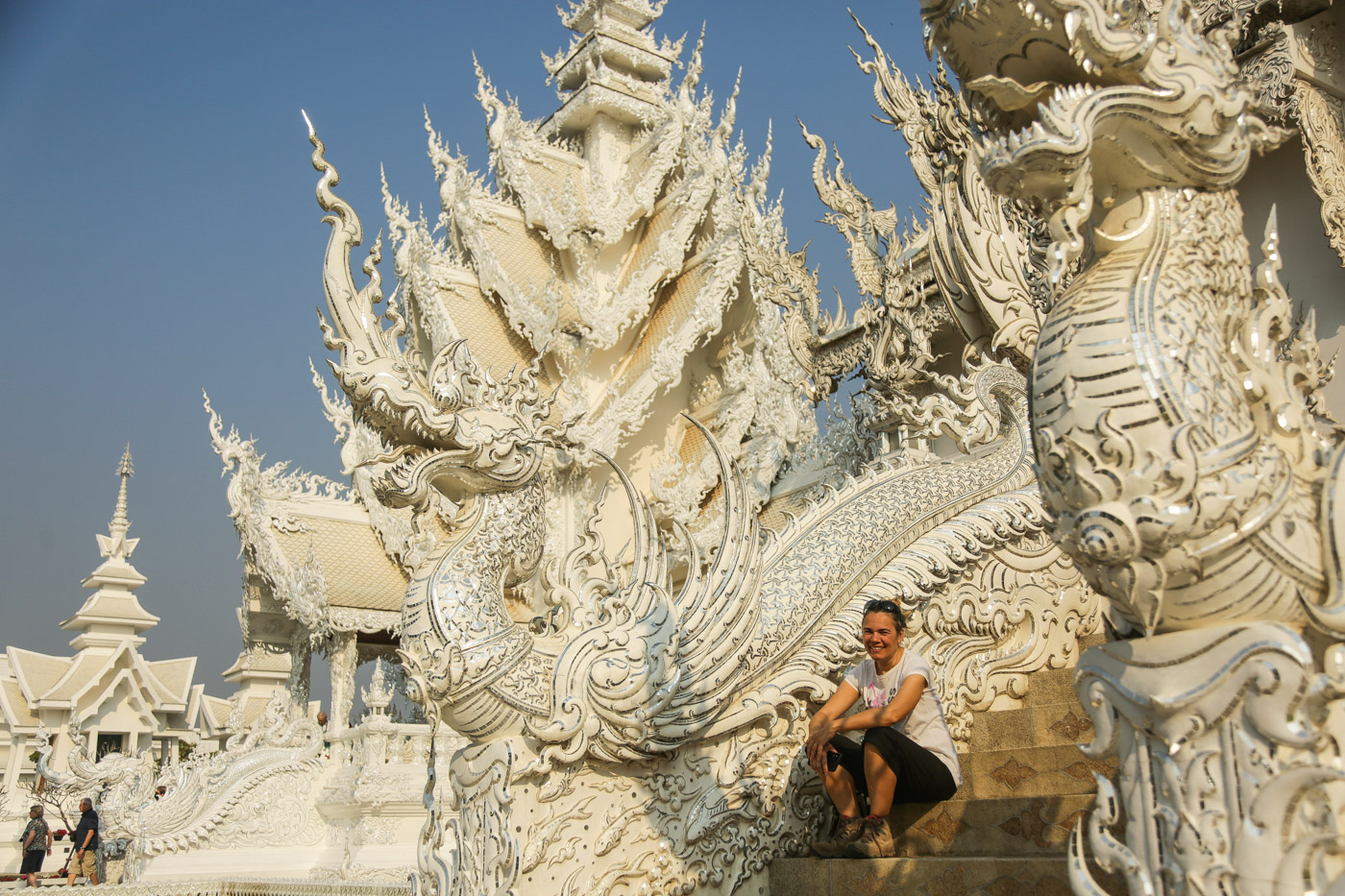 The temple's design incorporates elements from traditional Buddhist and Hindu iconography, as well as contemporary references. It symbolizes the path to enlightenment and the escape from suffering. The bridge leading to the main temple represents the cycle of rebirth, while the hands emerging from the ground symbolize unrestrained desire.
The main building of the White Temple is called the Ubosot. It is ornately decorated both inside and outside. The interior features intricate murals that combine traditional Buddhist art with contemporary pop culture references, including images of superheroes, movie characters, and even spaceships.
Wat Huay Pla Kang: Goddess of Mercy Chiang Rai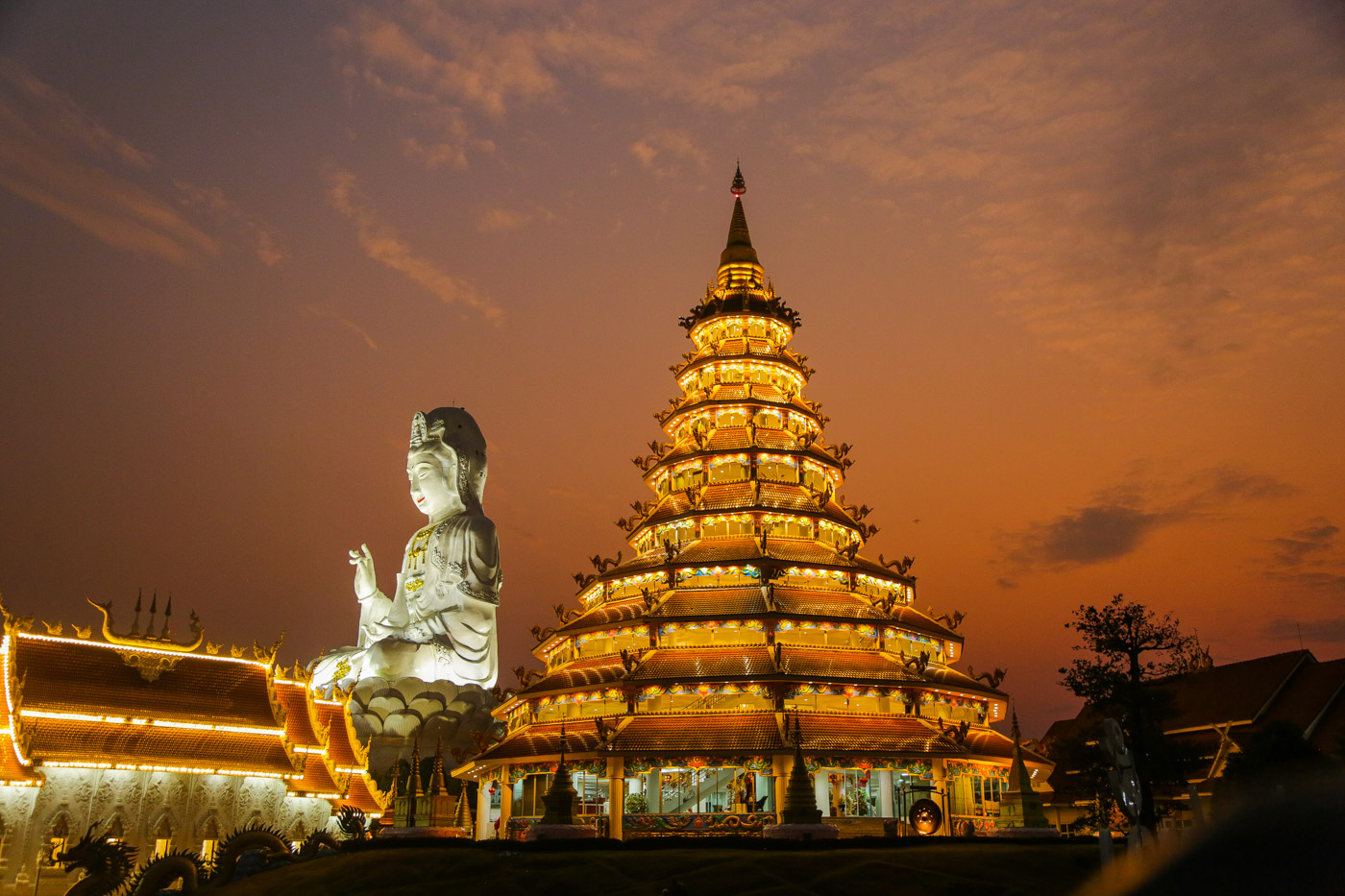 Wat Huay Pla Kang is located about 8 kilometers southwest of Chiang Rai city center, near the intersection of Highways 1 and 8. The temple stands out for its impressive and towering statue of Guan Yin, the Goddess of Mercy, which is the main highlight of the complex. The statue is 9 stories high, with a height of approximately 25 meters (82 feet). Each floor of the statue represents a different aspect of Buddhist teachings.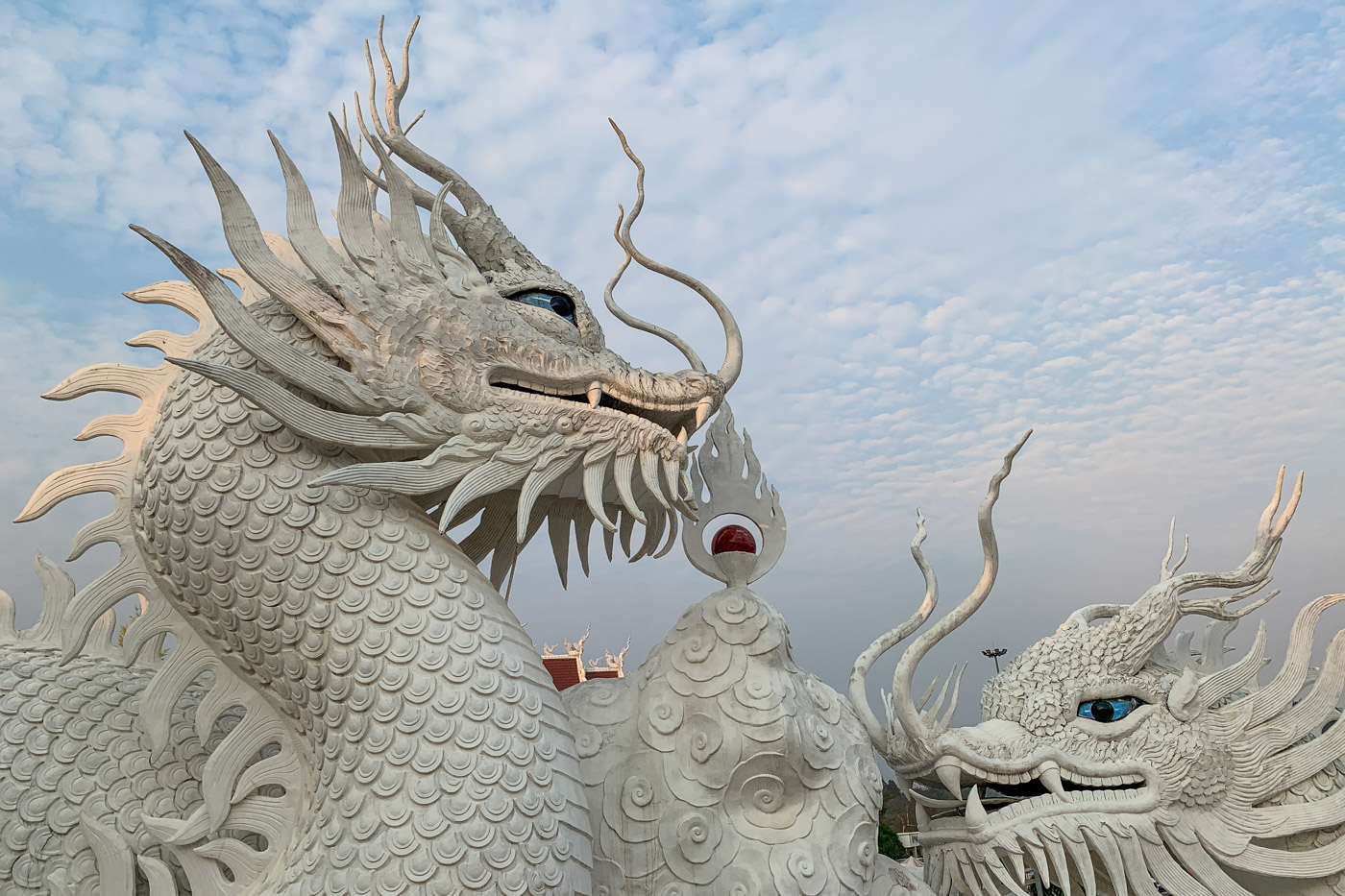 The colossal white statue of Guan Yin can be seen from a distance and is surrounded by smaller statues and intricate dragon sculptures. Visitors can climb to different levels of the statue via an elevator, with observation decks offering panoramic views of the surrounding area. In addition to the Guan Yin statue, the temple grounds feature a pagoda and numerous shrines dedicated to various Buddhist deities and figures. These areas provide spaces for worship, meditation, and offering prayers.
Blue Temple (Wat Rong Suea Ten)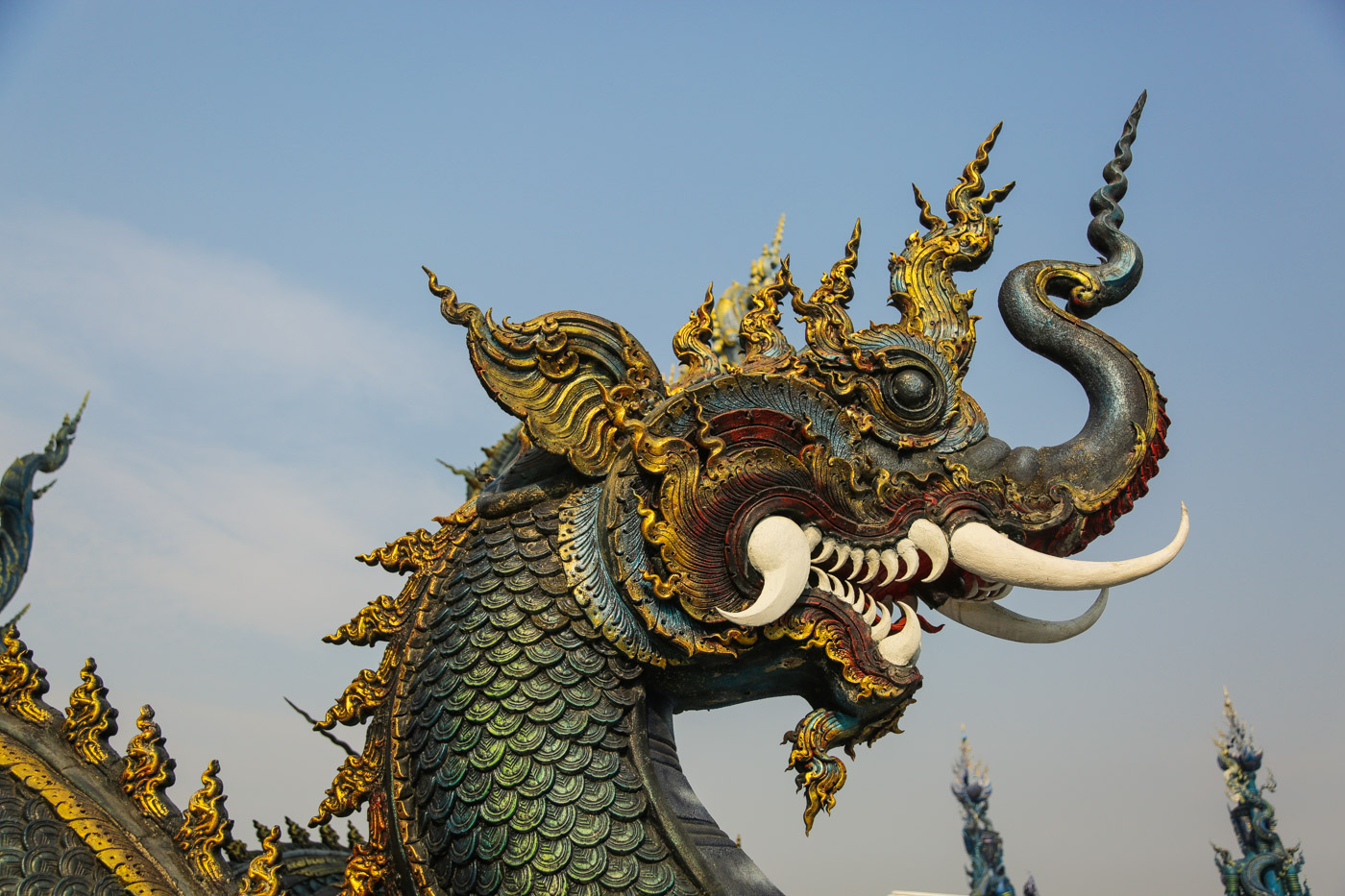 The Blue Temple is situated approximately 12 kilometers south of Chiang Rai city center, making it easily accessible from the city by car or taxi. The temple's distinct feature is its stunning blue color scheme, which sets it apart from other traditional temples.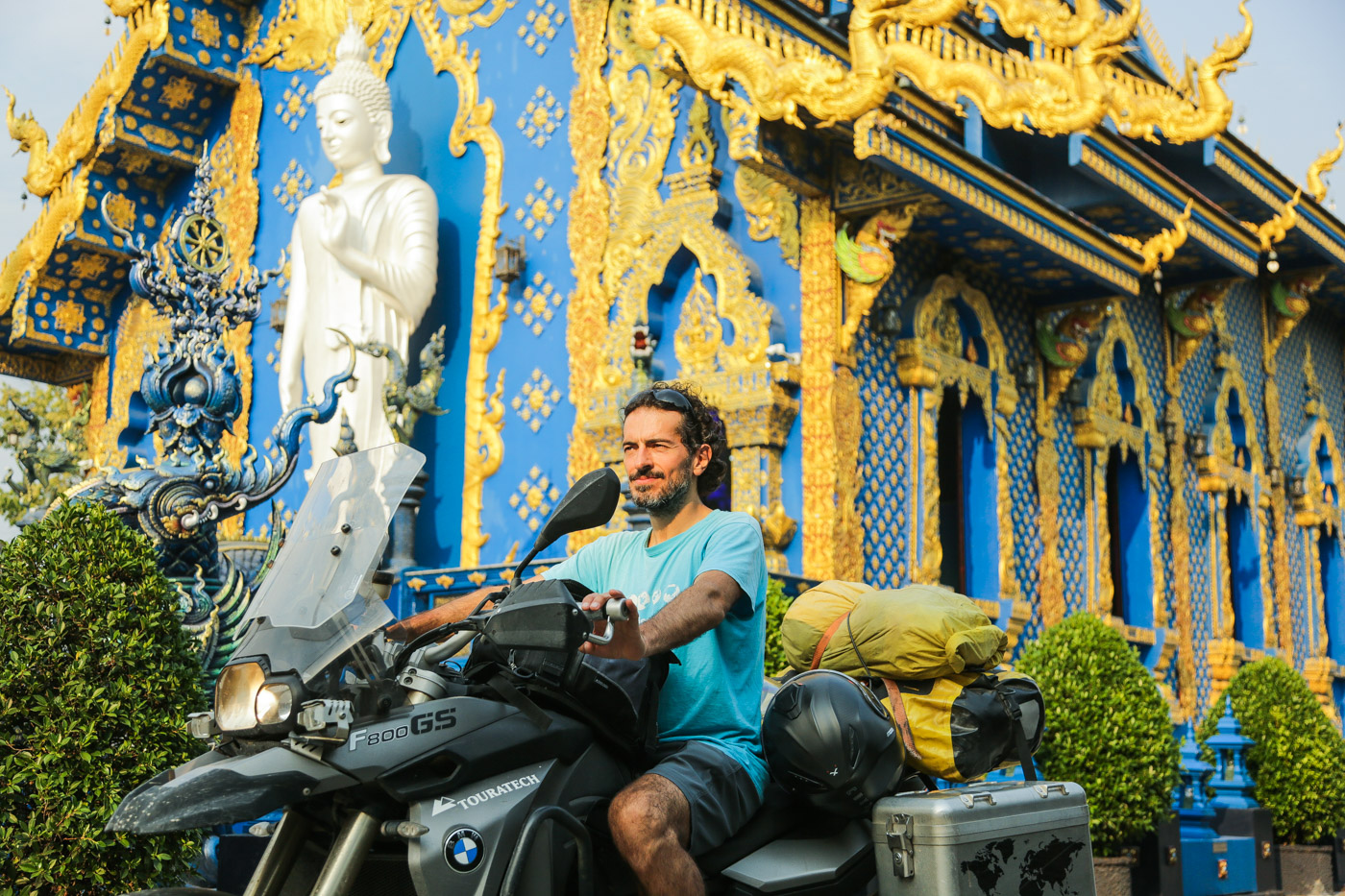 The vibrant blue hues symbolize the purity and serenity of the Buddha. The intricate details and ornate decorations on the exterior and interior make it a visually captivating attraction.
Chiang Rai Night Bazaar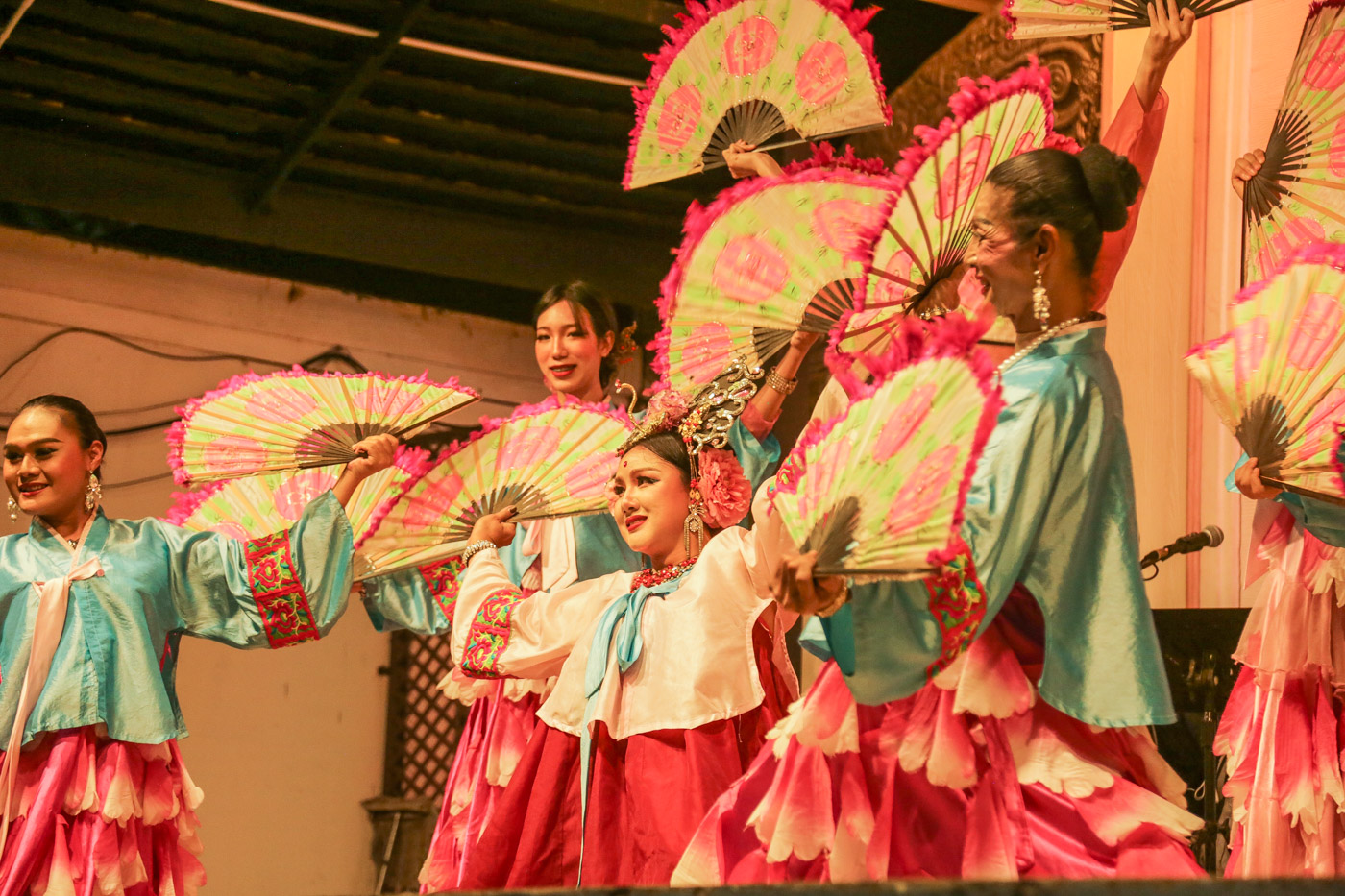 Explore the bustling night market where you can find local handicrafts, clothing, food, and souvenirs. It's a great place to experience the local culture and try delicious street food. But, it is also a place for night shows. At the time of our visit a group of lady boys was having a gracious show of dance and music.
Singha Park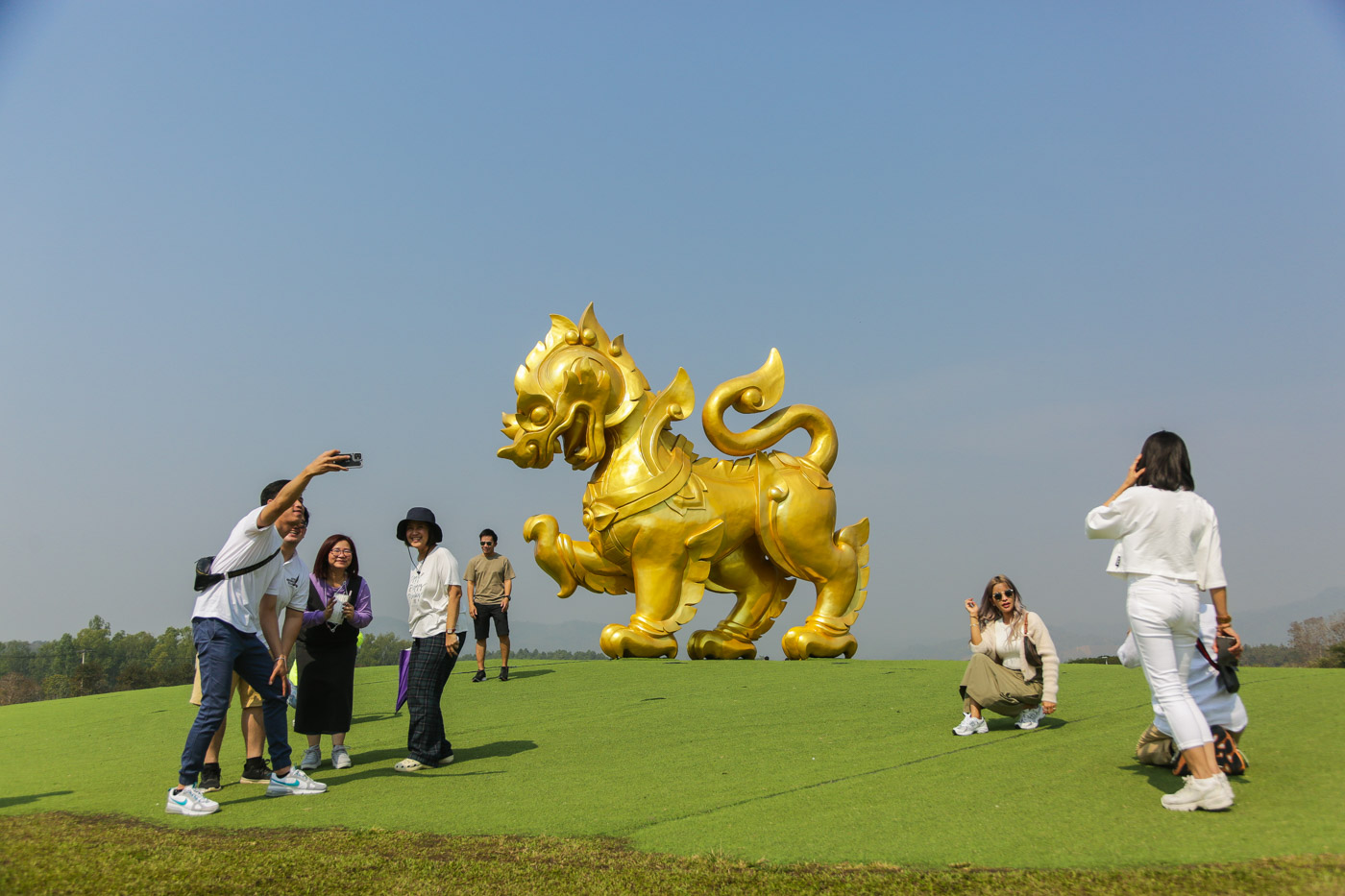 Singha Park is known for its picturesque landscape and vast greenery. The park spans over 9,000 acres and offers stunning views of rolling hills, tea plantations, and flower fields. The well-manicured gardens and expansive vistas make it a popular spot for nature lovers and photographers.
It's possible to rent bicycles or join guided cycling tours to explore the park's scenic trails and discover its natural beauty at one's own pace. Additionally, adventure enthusiasts can experience the thrill of zip-lining through the park's lush surroundings.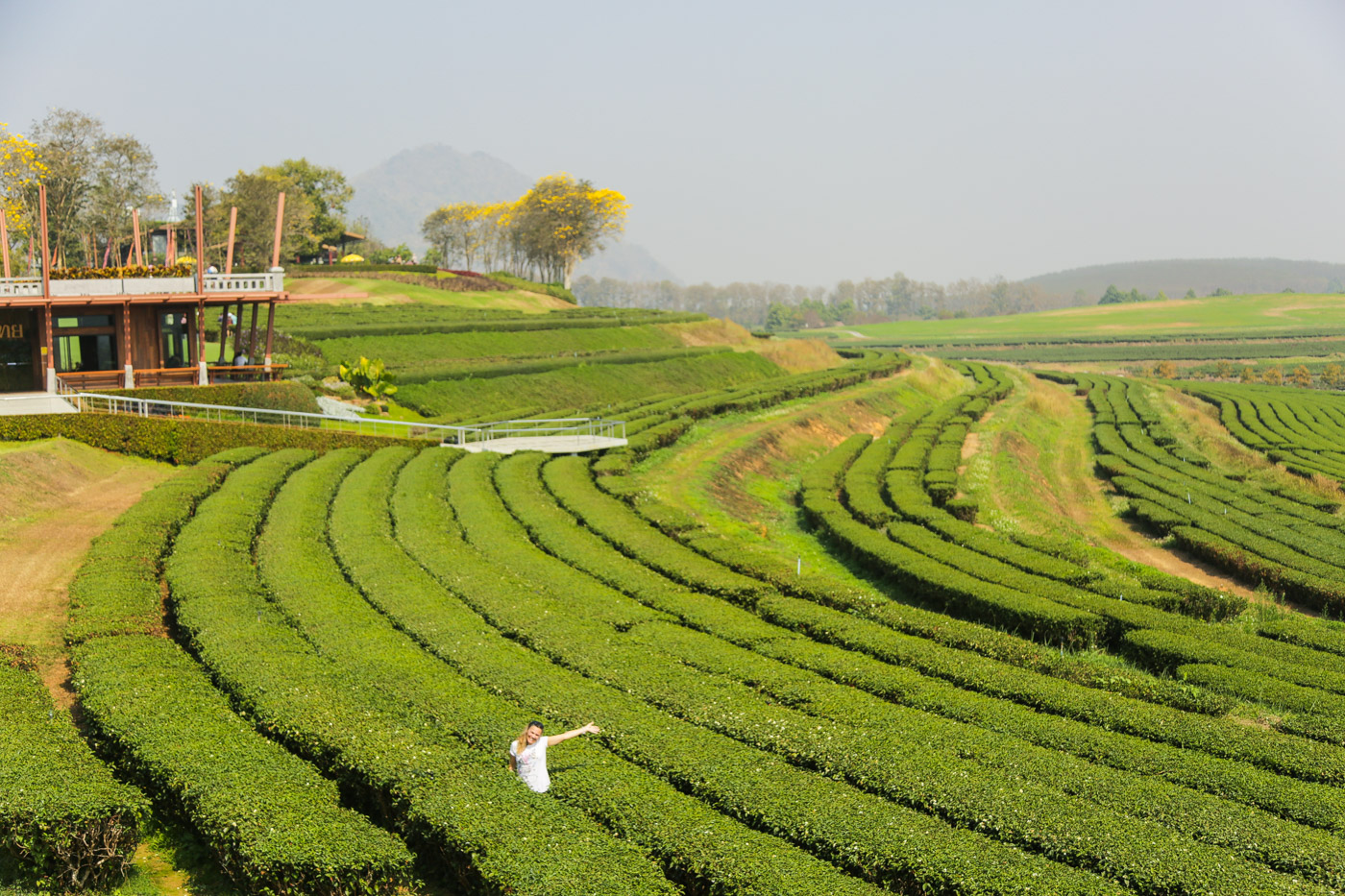 Singha Park is renowned for its tea plantations, particularly its oolong and green tea varieties. You can witness the tea cultivation process, learn about tea production techniques, and even participate in tea tasting sessions. The park's tea-themed attractions provide insights into the rich tea culture of the region.
Chiang Rai Clock Tower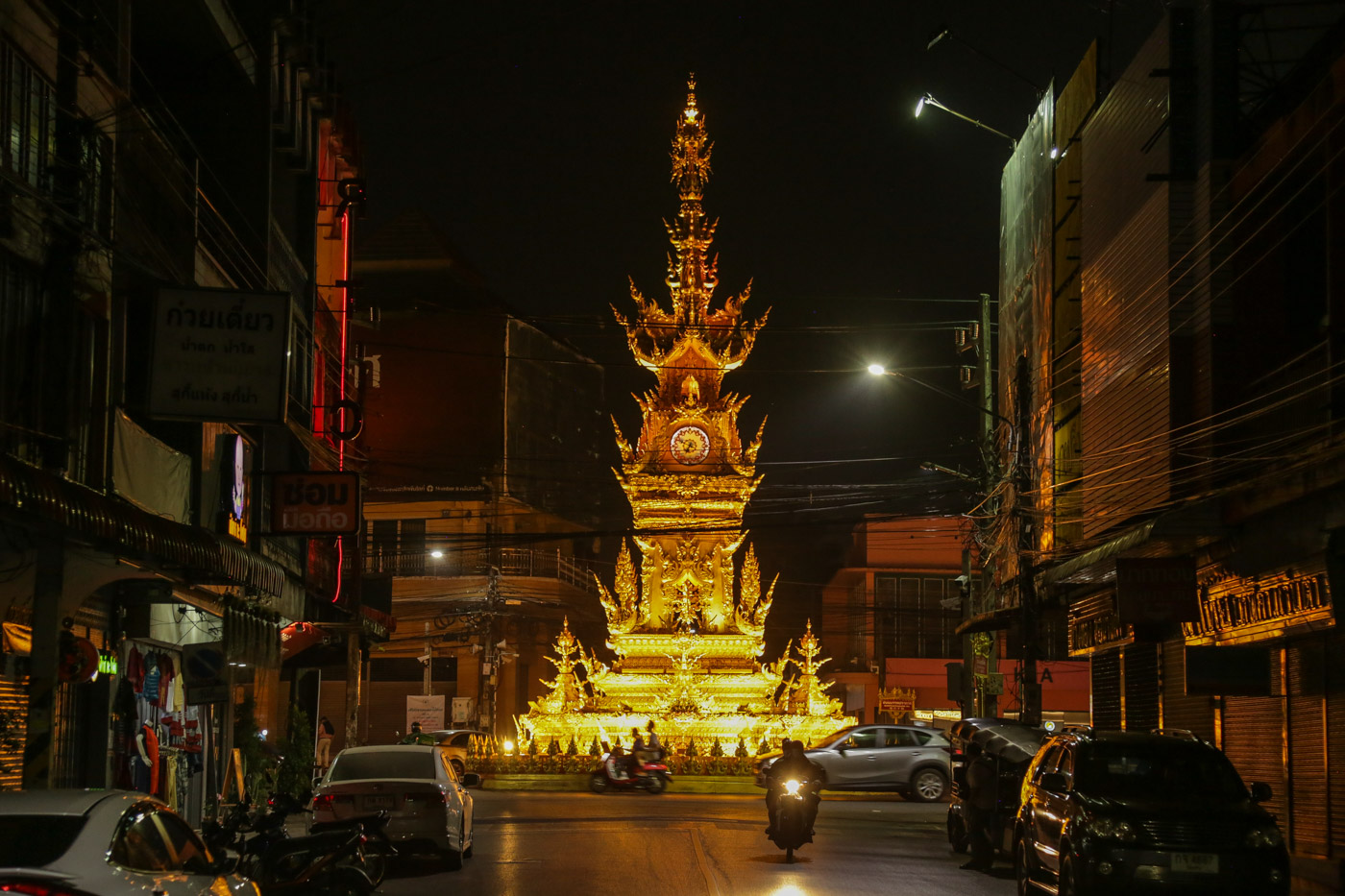 It's located in the city centre at the intersection of Thanon Jet Yot and Thanon Baanpa Pragarn, the clock tower stands tall and gleams with intricate details and vibrant colors, especially when illuminated at night. Designed by renowned Thai artist Chalermchai Kositpipat (the same architect to the White Temple), the tower features a blend of traditional Thai and contemporary architectural styles. The golden embellishments and intricate carvings reflect the rich cultural heritage of the region. The Chiang Rai Clock Tower serves not only as a functional timepiece but also as a symbol of the city's identity and a gathering point for locals and tourists alike. Its unique design and captivating presence make it a must-see attraction when exploring Chiang Rai.
Flower Festival

The Flower Festival in Chiang Rai is an enchanting celebration that showcases the region's natural beauty and floral abundance. Held annually, typically in December or January, the festival attracts visitors from near and far. The streets and parks of Chiang Rai come alive with a riot of colours as elaborate floral displays, including vibrant blooms, intricate flower sculptures, and artistic arrangements, take center stage. The festival features parades, cultural performances, and competitions, creating a lively and festive atmosphere. It's an opportunity to immerse oneself in the fragrant scents, stunning visuals, and artistic creativity that define Chiang Rai's floral heritage. The Flower Festival is a true celebration of nature's splendor, offering a delightful experience for visitors and locals alike.
These are just a few highlights of what Chiang Rai has to offer. The city and its surroundings are full of natural beauty, historical sites, and cultural experiences that make it a captivating destination in Thailand.