This Colouring the World idea started off because Jorge wanted to show his 6 year old nephew the world as we see it. But he also wanted him to be involved. What better way to do this than colouring? Now Nils, his nephew, can colour photos from around the world and learn a thing or two about these places and these different cultures.
We start Colouring the World with a photo we shot in Luang Prabang during the almsgiving ceremony that happens every day throughout Laos. See below for the details.
HOW DOES IT WORK?
Download the free PDF in your preferred language.
Print the PDF. The sheet is a regular A4 ready to be printed.
Read & Learn more about about the picture on the information sheet.
Colour to your liking and enjoy the quiet moment.
Share your result with us on our Facebook Page.
Download the sheets below:
Laos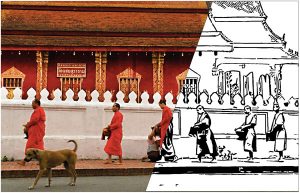 If you or your kids like our Colouring the World sheets, let us know. Tell us which country you would like to colour next so that we upload new colouring drawings.