Many will say that there is little to do in Vientiane. For us, Vientiane's charm comes precisely from being a small capital, that lives at a slow rhythm, so typical of Laos. If distracted, one might fail to grasp that this is Asia. Vientiane is spread along the Mekong River, and life revolves around it – be it in the shape of a night market, or in the end of the day aerobics – reminding us that life can be so peaceful and lively at the same time…
Laos used to be a French colony, therefore there are many superb buildings from the colonial era. All one has to do is stroll its many streets to find examples of the French colonial architecture. Go along the Mekong and you will see several lovely buildings with a French feel and decor.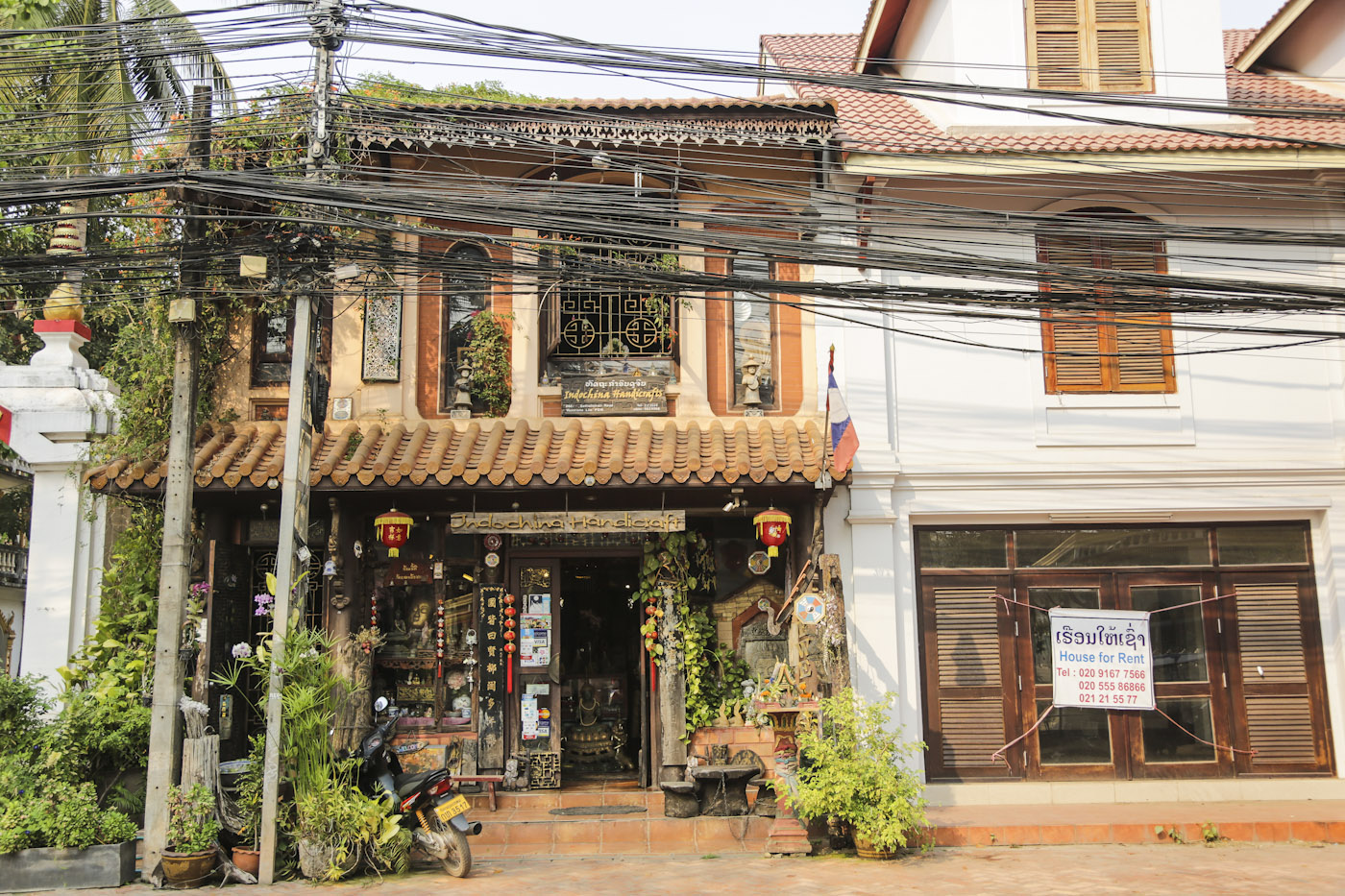 But the country is Buddhist in its soul, and a stay in the city will give you an opportunity to discover a panoply of temples. Some are more exquisite than others, but each has its own charm, so it pays off to enter inside different ones and decide by oneself. Still, there are a few must-visits, and luckly they are never packed with too many people. We give you a hint of the ones not to be missed:
Pha That Luang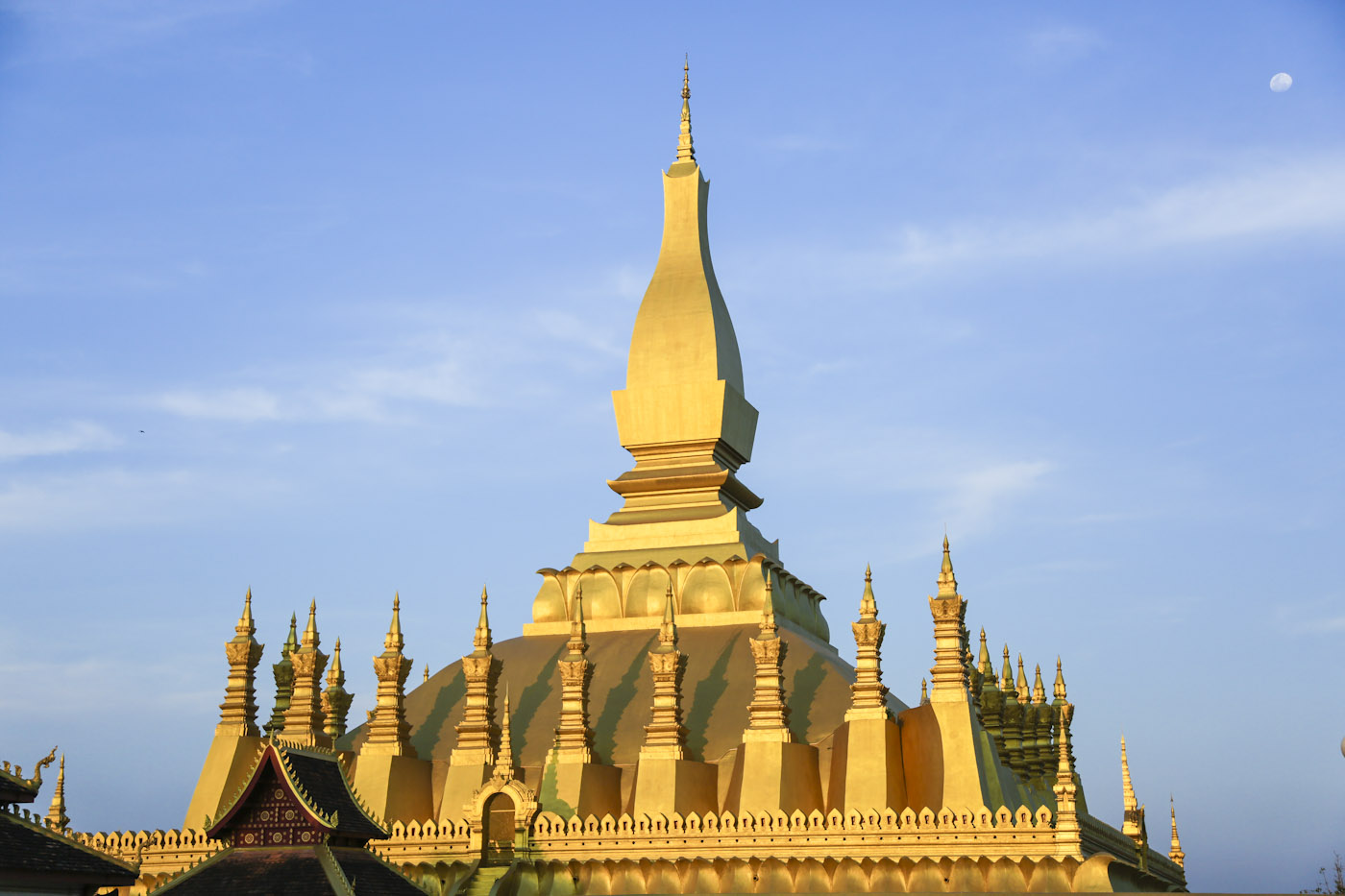 Also known as the Great Stupa or the Golden Stupa, Pha That Luang is Laos' most important Buddhist monument. This is because it is believed that it once enshrined a breast bone from Buddha. During the Boun That Luang festival (in October or November), the stupa attracts thousands of worshippers, who come for the Buddhist ceremonies, and who make processions around That Luang (each worshipper walking three times around the stupa, holding incense) as a way to pay respect to the stupa and to Buddha.
Price: It is open from 8am-4pm daily (but it closes at lunch time) and it costs 5,000 kip per person.
King Setthathirath Statue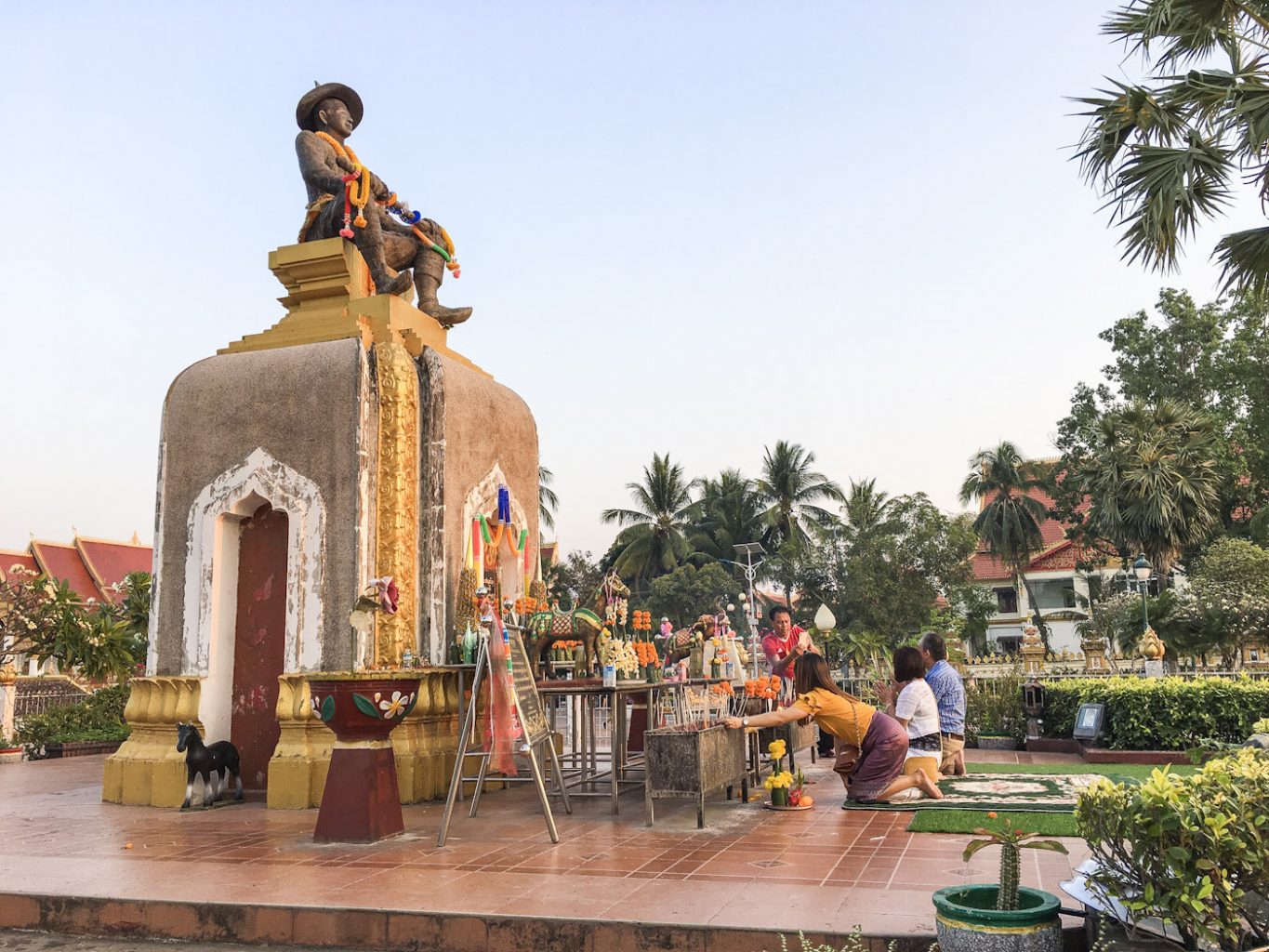 Even though King Setthathirath lived a short life in the sixteenth century, he is considered to be one of the great leaders in Lao history. Member of the aristocratic family that rules the region, he became king of Chaing Mai (in what is now Thailand) and was invited to become King of Laos. During his reign he defended the kingdom against military campaigns led by the Burmese conqueror Bayinnaung. Setthathirath was responsible for the construction of many Buddhist monuments, including the famous Vat Xieng Thong in Luang Prabang and Pha That Luang in Vientiane.
Price: Free entry
The Golden Reclining Buddha

A step away from Pha That Luang and behind the colourful Vat That Khao there is an almost hidden golden statue of a reclining Buddha. Reclining Buddhas are a leitmotif in Buddhist art. Historically, they represent Buddha in his last illness, when he is about to enter the parinirvana. Reclining Buddhas are always lying on their right side. Their heads can be both on a cushion (as here in Vientiane) or on his hand, if he is relying on his elbow.
Price: Free entry
Vat That Khao

Next to the golden Pha That Luang there is the beautiful Vat That Khao, lined with very colourful paintings that depict important scenes from Buddhism, especially the ones related to Buddha's life. Despite the fine paintings and select architectural details, this temple has an almost domestic feel, with many young novices around the premises and even chicken and cats being lazily around the temple.
Price: Free entry
Vat Si Saket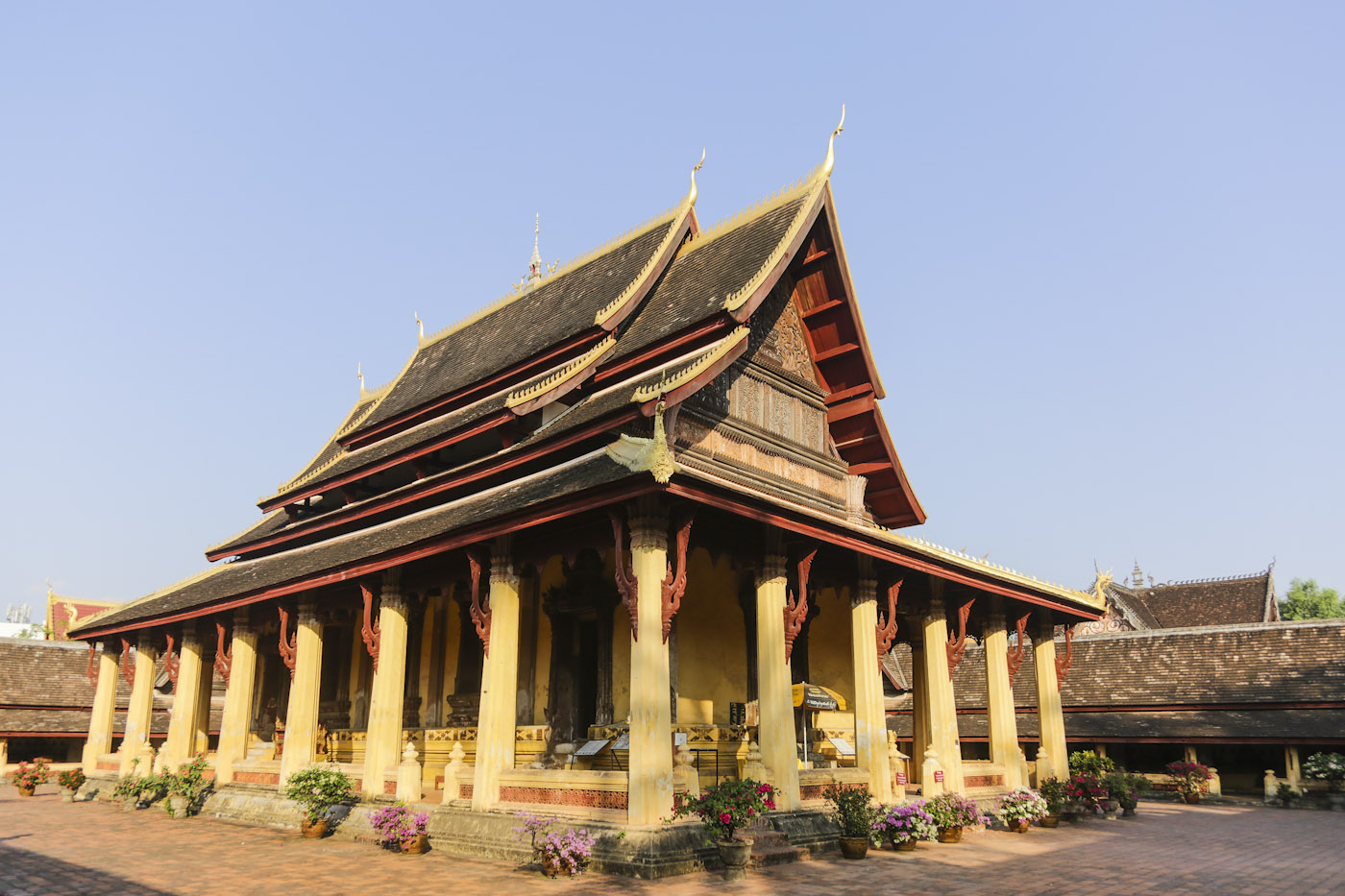 There are several reasons why you should pay a visit to Vat Si Saket. And perhaps the most valid one is that this temple houses over 10,000 images of Buddha. It is also the oldest Buddhist temple in Laos, having survived the destruction that came with the Siamese armies. In 1827 the Siamese burnt the city, but chose this temple as their headquarters, precisely because it had been built in the Siamese architectural style.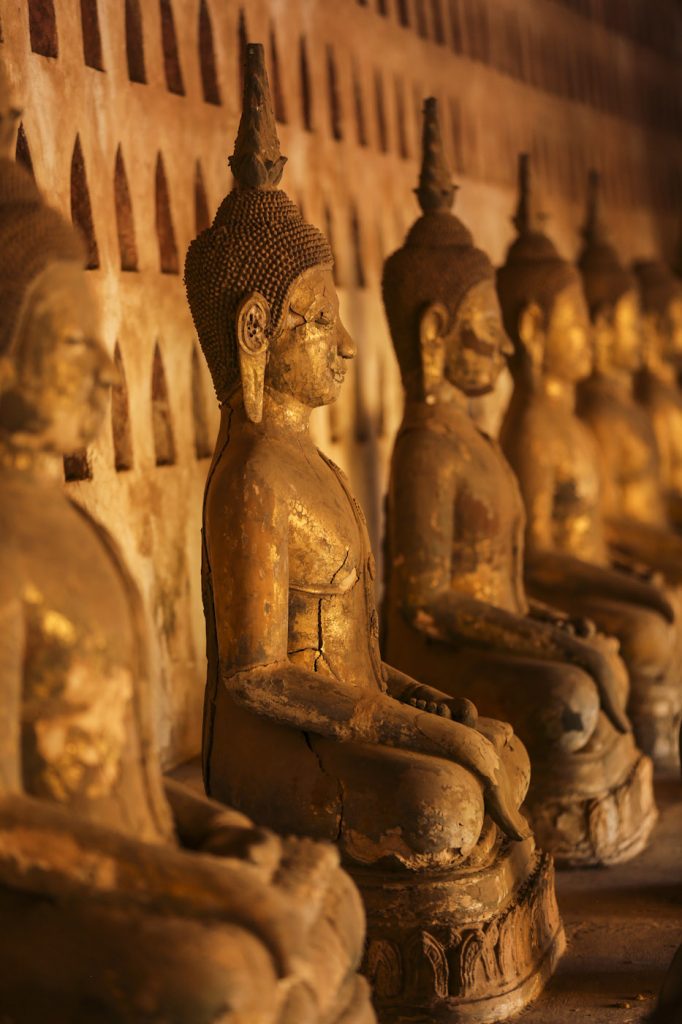 One of the beauties of this temple is its walled cloister built all around the main sim (congregation hall). The cloister has got long rows with niches containing small Buddhas – more than 7,000 in the galleries alone – in front of which larger Buddhas are sitting. The other beautiful aspect of this sim is its interior, beautifully adorned with ancient murals. Don't miss outside, the Hang Hod, a wooden trough in the shape of a Naga serpent. The Hang Hod is used during Laos new year celebrations. The water that flows through the trough is used for a ceremonial cleaning of Buddha images.
Price: 5,000 Kip per person
Haw Phra Kaew
Haw Phra Haew is a former temple, which housed the Emerald Buddha. Today it serves as a museum. The temple was first built at the command of King Setthathirath, when he moved from Luang Prabang to Vientiane. King Setthathirath brought with him from Chiang Mai (Thailand) the Emerald Buddha and kept it here, in this temple, that he used as his own worship temple (there were no resident monks here). When Vientiane was invaded by the Siamese in 1779, they took the Emerald Buddha to Thailand, where it is still today, in Bangkok.
Price: 5,000 Kip per person
Vat Si Muang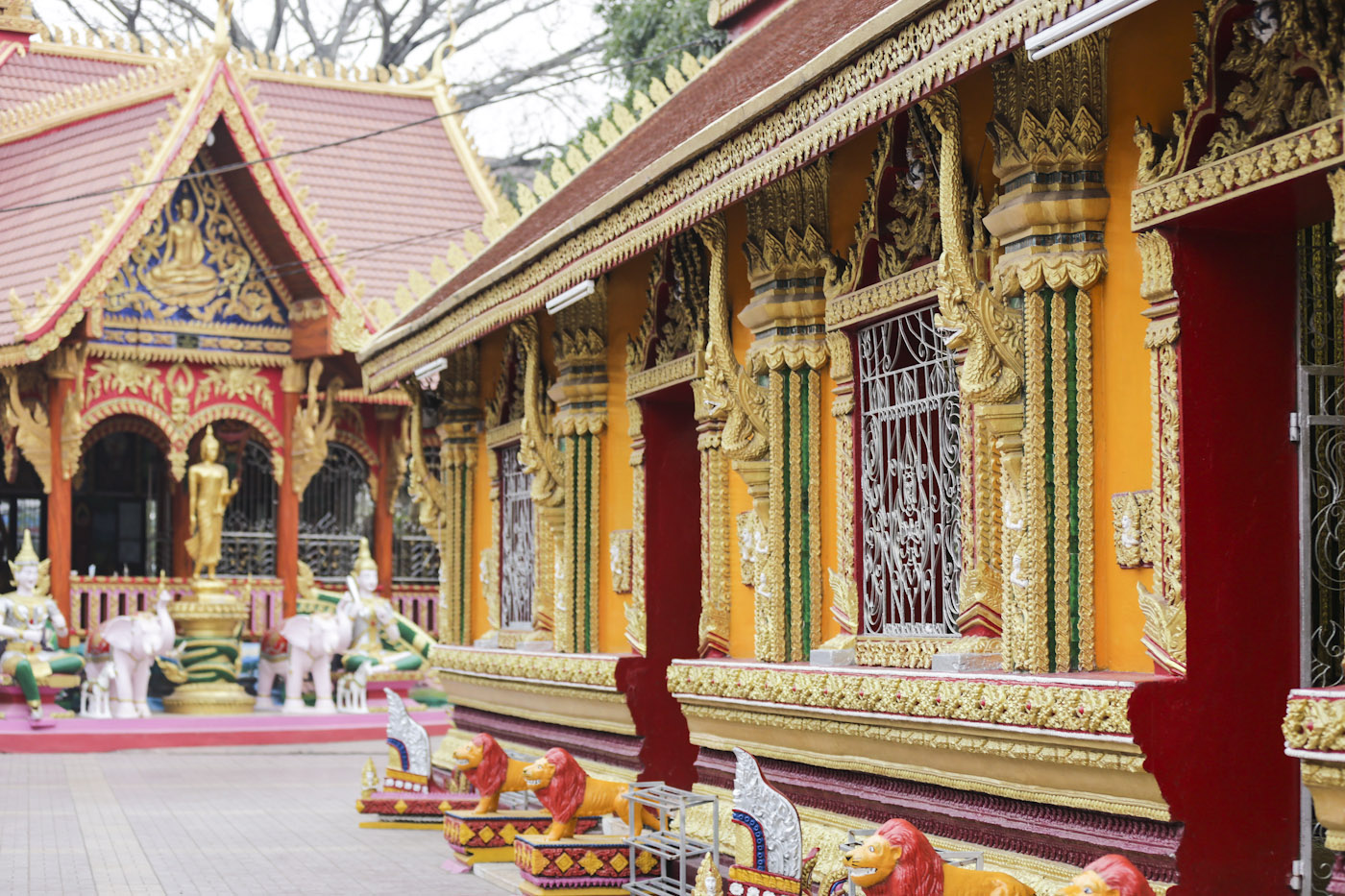 Vat Si Muang is one of the temples that Lao use when they wish to have their cars or motorbikes blessed. At the back of the temple there is a parking lot especially designed for that purpose. Those that come to regular blessing, praying or to make special requests, enter inside the main hall. Here there is a copy of the Emerald Buddha and a half melted statue of a stone Buddha, that survived the destruction of the city in 1828. Many come here also to make their offerings in the shape of fruits, flowers and candles. There is always a lot of movement in this temple.
Price: Free entry
That Dam – Black Stone Stupa & Neighbourhood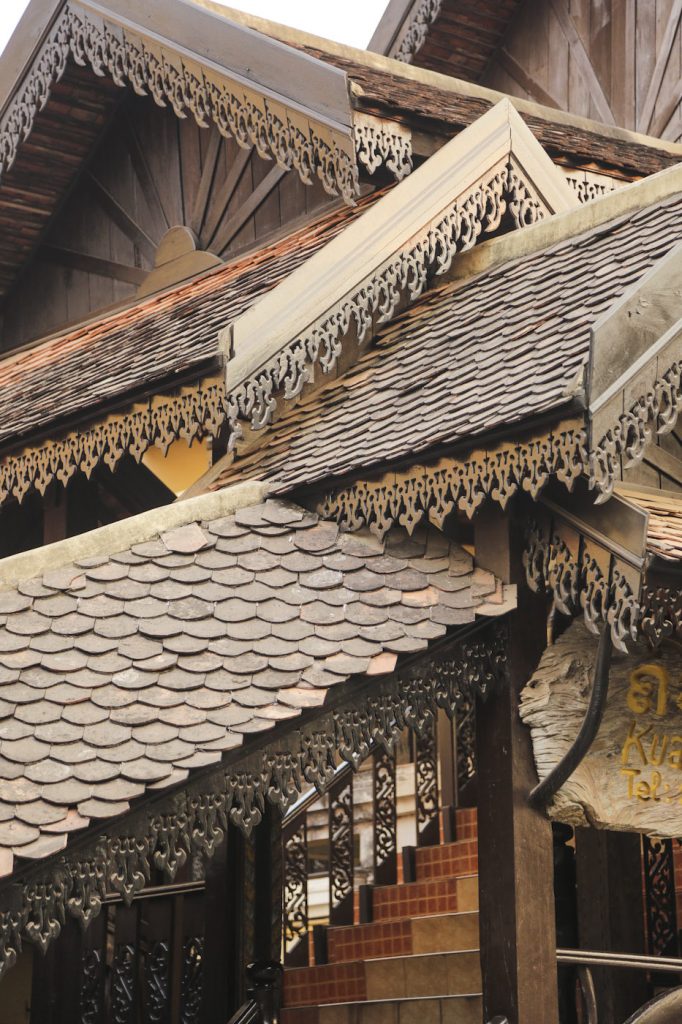 According to local legend, the black stupa is believed to house a mythological Naga serpent which protects the city from its enemies. The same serpent protected the inhabitants of Vientiane during the invasion of the city by the Siamese in 1827. Nowadays, the stupa is one of the landmarks of the city, even if no one can tell when it was built nor for which purpose.
But Vientiane is not only about temples and Buddhist architecture. There is a fair amount of other places worth visiting and activities not to miss. Here is a small list of some of the things we enjoyed experiencing while spending a few days in the capital city.
Patuxai, the Victory Arch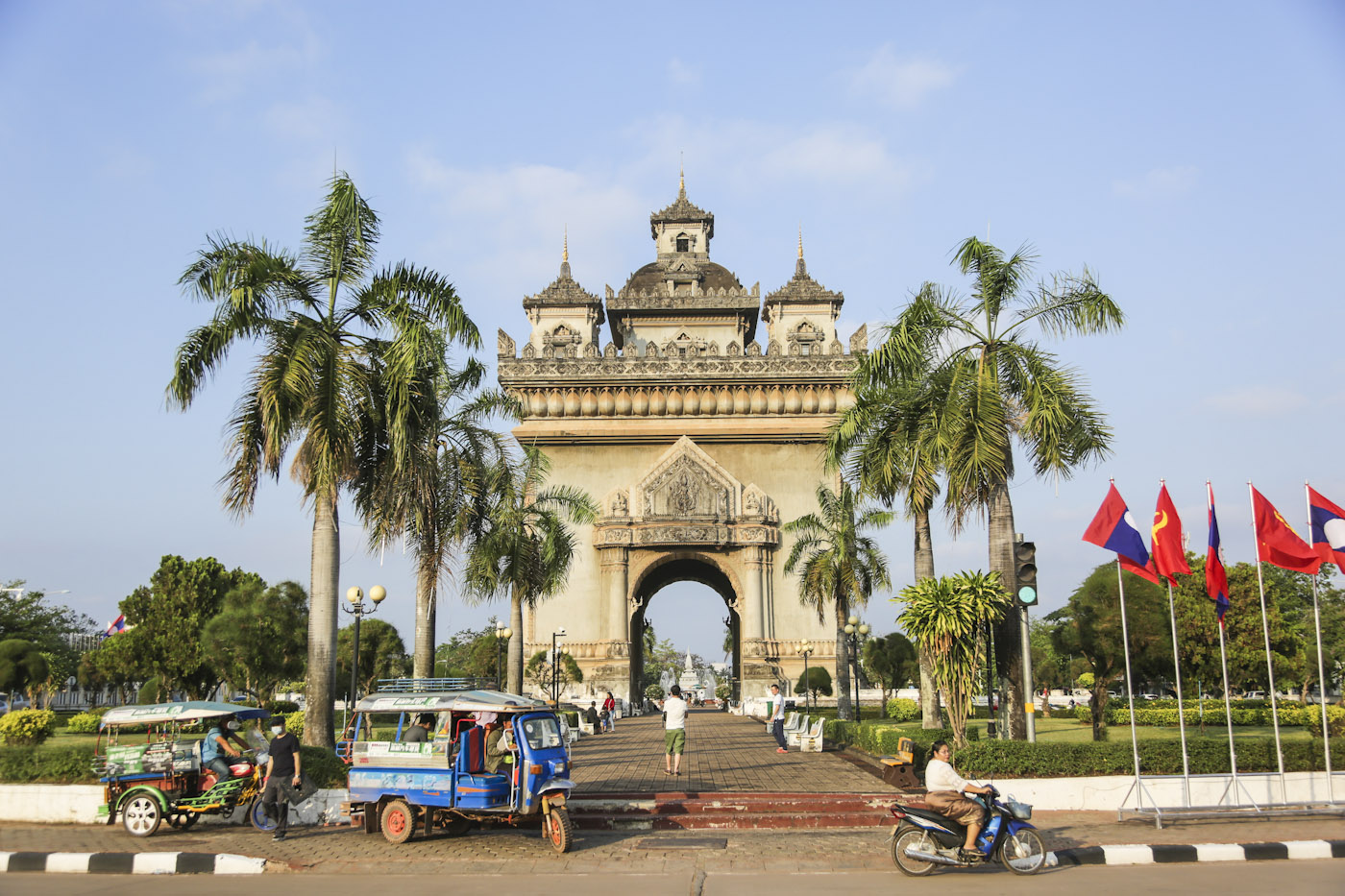 At first sight, the Patuxai monument reminds us of Paris' Arc de Triomphe. But a closer inspection of its upper part reveals typical Lao-style decoration. There are images of the Hindu gods Brahma and Vishnu, as well as mythological creatures such as Kinnara and the three-headed elephant, Erawan. The Patuxai was built in the 1960s as a memorial for those who gave their lives in the wars for independence from France. It is said that the Americans donated money for the government to build an airport, and that instead of an airport, Patuxai was built…
Price: 3,000 Kip per person
The Mekong Promenade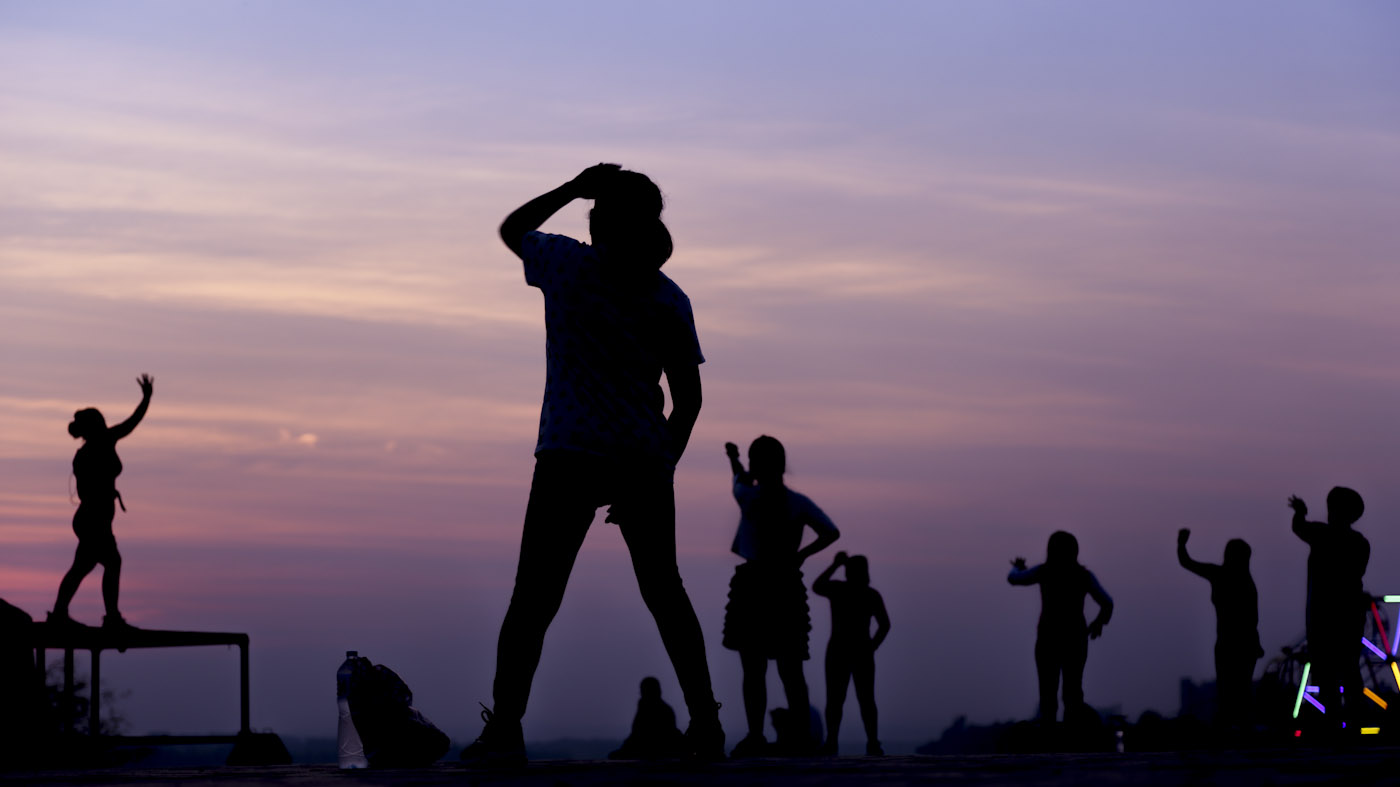 It doesn't matter at what time you head to the Mekong, there will always be movement. But at sunset, the margin starts getting alive, with hundreds of people coming here for all kind of activities. It is the preferred time of the day for the aerobics, but you can also have your nails done or grab something to drink and eat and watch as the sun sets and light changes into all the beautiful colours of a unique crepuscule.
COPE's Visitor Centre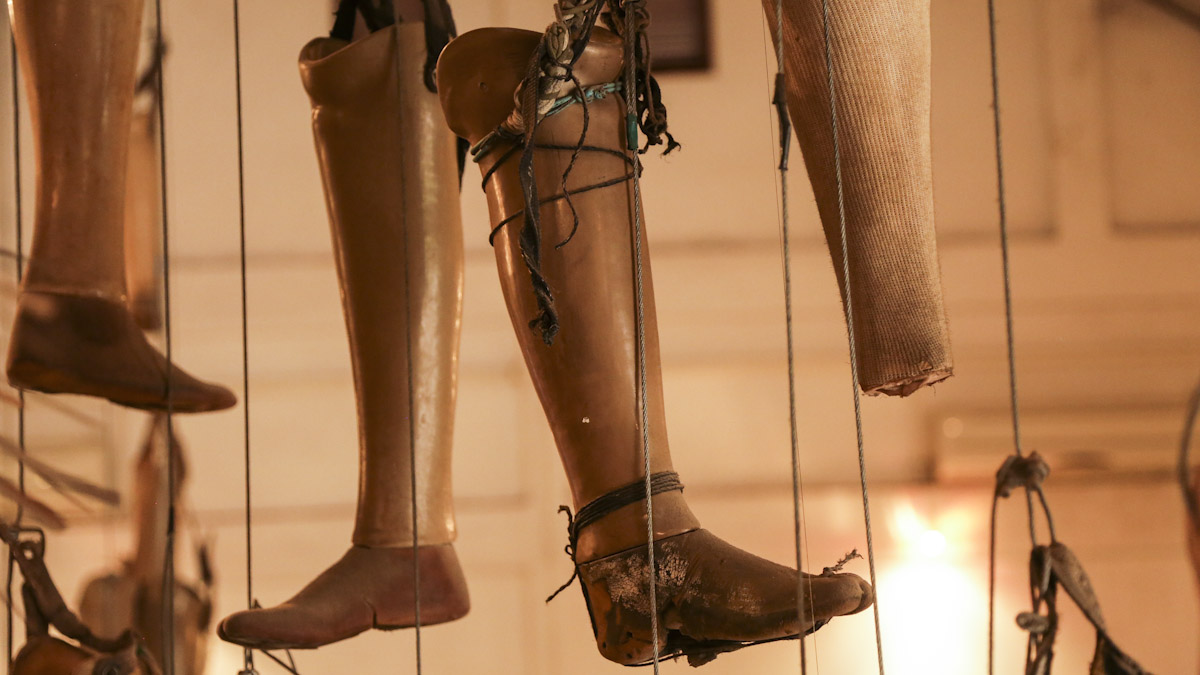 Laos owes the infamous title of being the most bombed country in the world. This happened during the secret war, that took place from 1964 to 1973, when the US tried to annihilate the Ho Chi Minh trail that passed through Laos. More than 580,000 bombing missions were carried out over Laos, an average of one bombing mission every eight minutes, 24 hours a day for nine consecutive years!
Unfortunately, the 80 million bombies that failed to detonate remain on Lao's ground ever since they fell! Another sad statistic shows that 25% of Lao villages are contaminated with UXO. Ever since the war finished, more than 20,000 people have been killed or injured by accidental explosions caused by all the bombies that are still in the ground. It is very difficult to spot the bombies, because they are either in the ground or are covered by vegetation. We're talking about 80 million bombies, the size of tennis balls, in a field larger than 200,000 square metres. Clearance is still being done, and it is estimated that Laos will only be free of UXO in 20 years time.
Price: Donations welcome
Three Lively Night Markets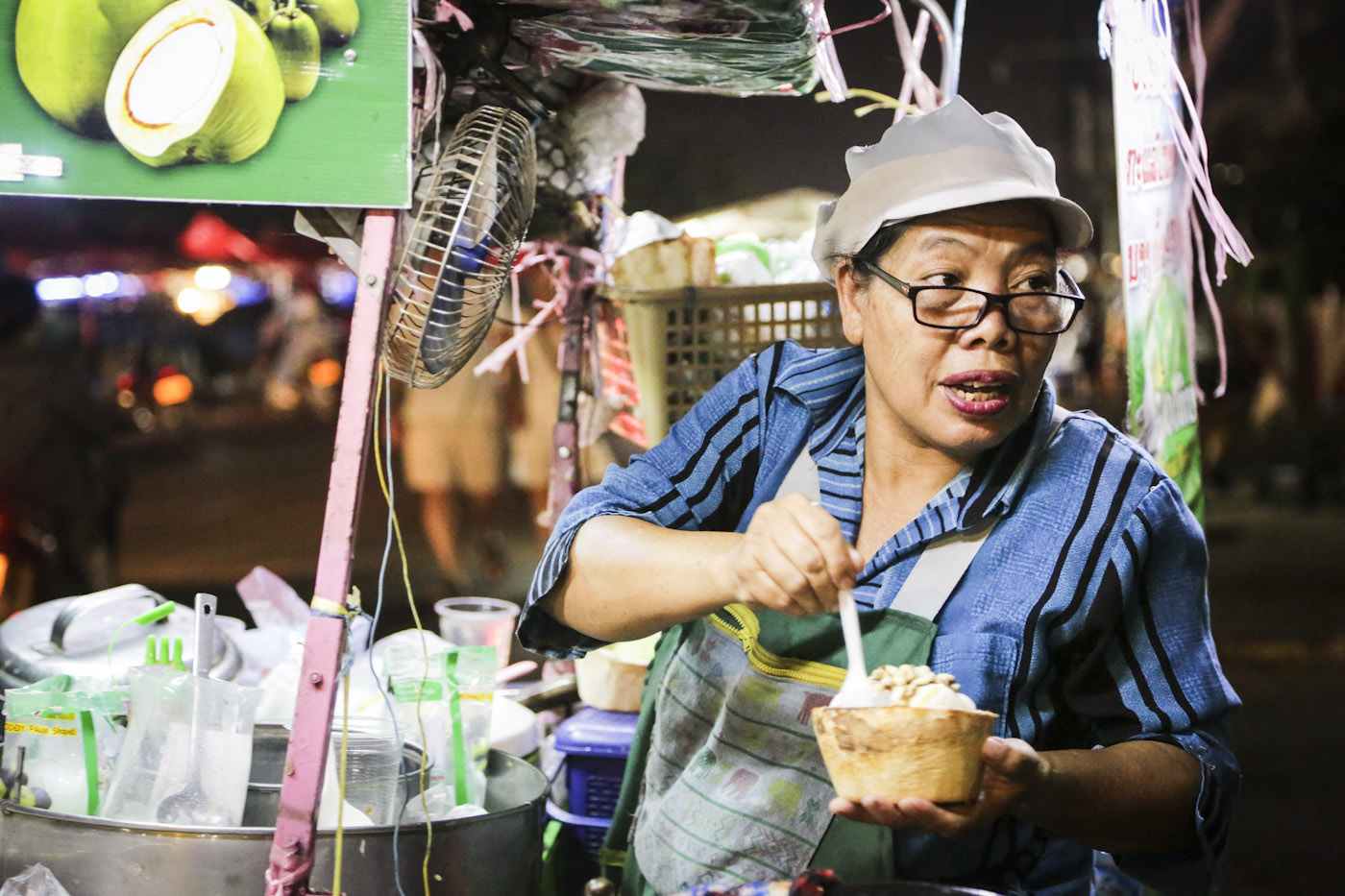 The Vientiane Night Market is the one that lines the Mekong river. Stalls begin to arrive at around 17h00, when temperatures drop down and when the road near the Chao Anouvong park is closed to traffic. The red tents are a trade mark of this market, where you will find clothes, textiles, souvenirs but also electronics. It is not the best market for food, even if there are some food stalls near the street buildings. This market also offers a children's playground next to the Mekong's promenade and aerobics at dawn.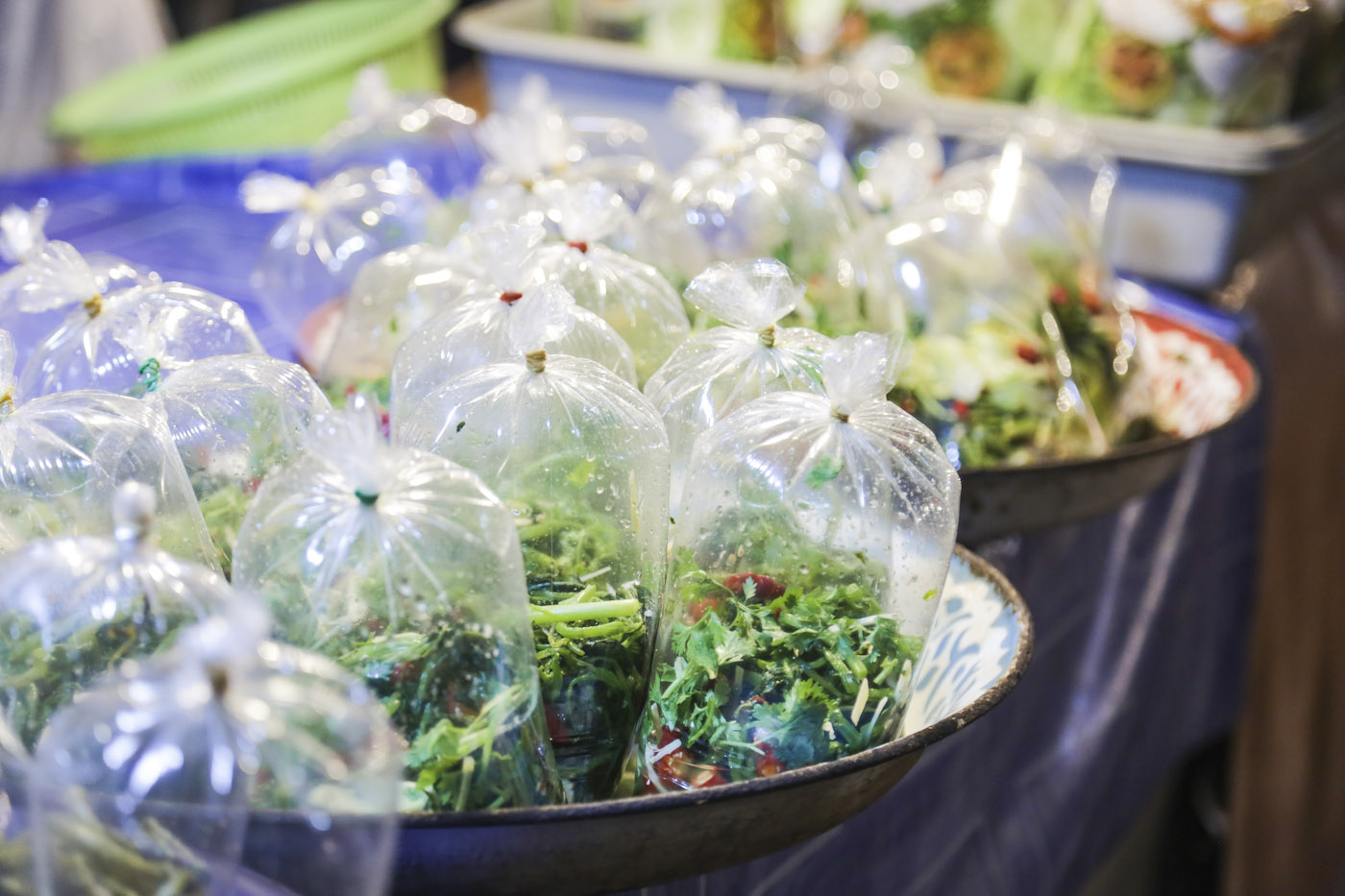 The That Luang Night Market is located next to the That Luang temple, on a tiny walking street. This night market features around 200 stalls, including a lot of fruit, meat and cooked food. It was also here that we found a variety of cooked insects, that actually were delicious. And then there is another food night market, the Phai Nam Night Market, which looks like a drive-in for motorcycles. People pass by and take their food home without having to park the motorbike somewhere else.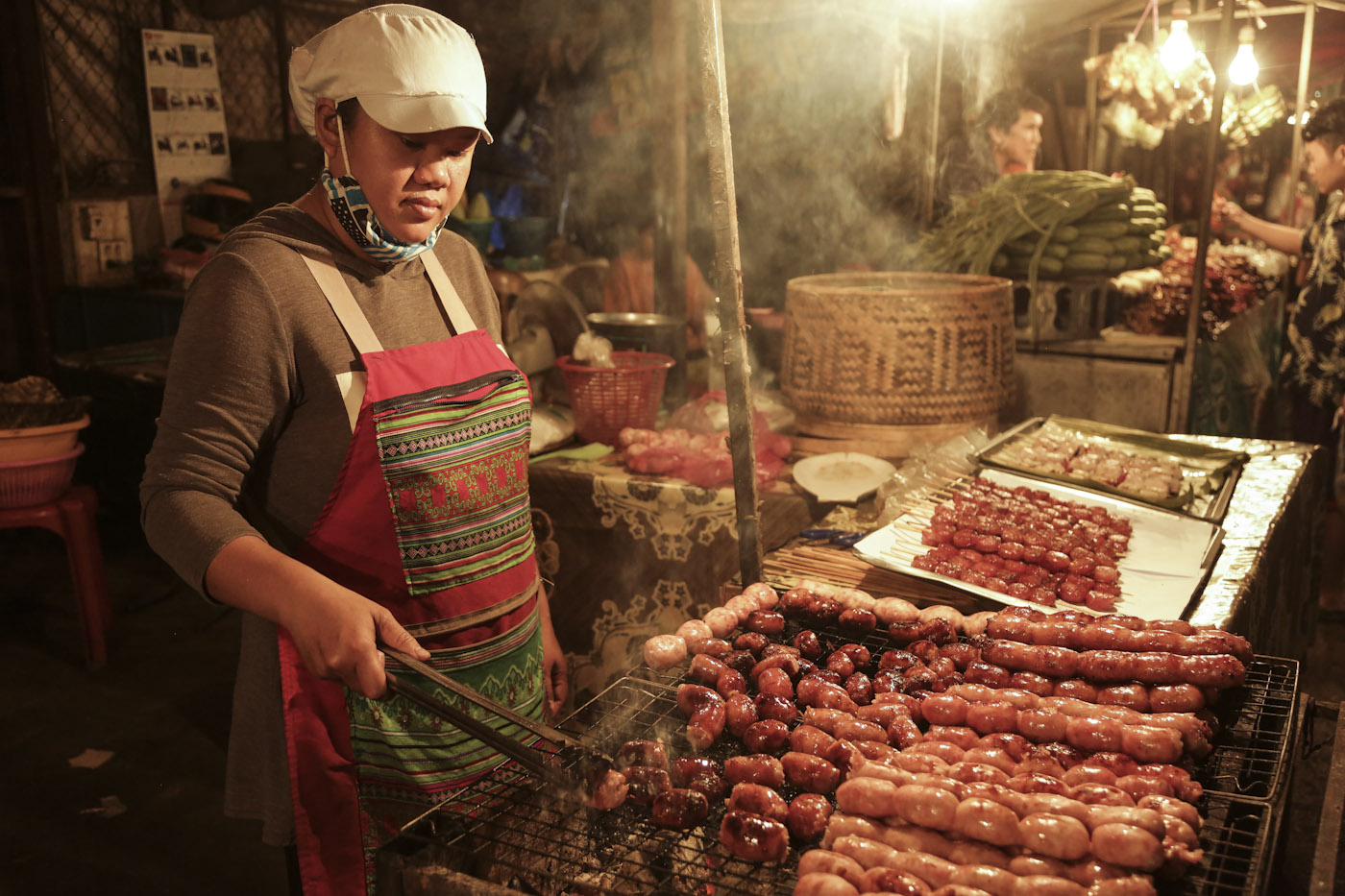 This one is located on a small road called Phai Nam, and locals say it has been there for a couple of hundred years. We found here some of the best Lao sausages. You will find a lot of variety of grilled meats, but also of many other Lao dishes. Unfortunately there are no places to sit, so one really needs to take away.
Sepak Takraw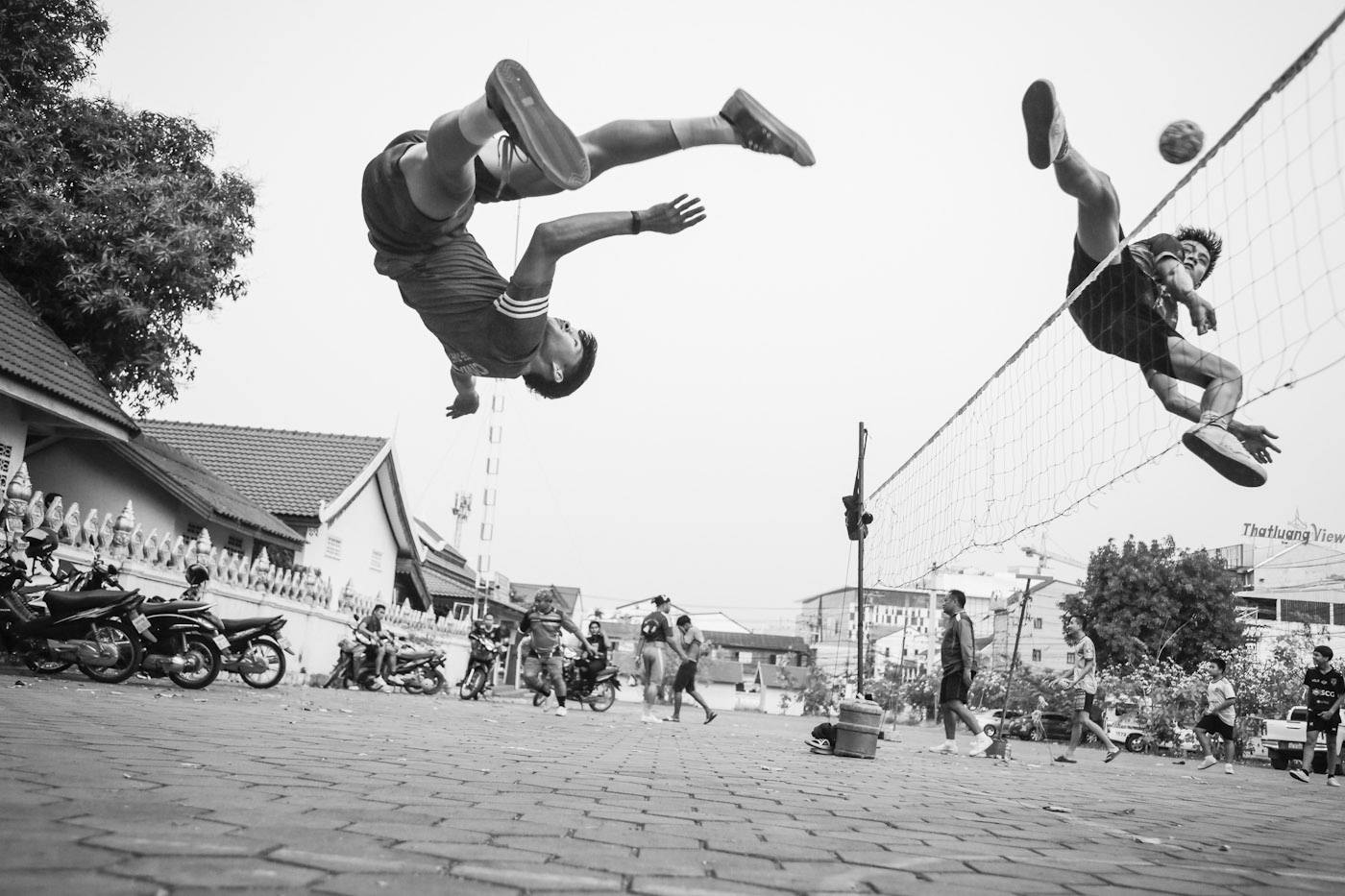 This is probably Laos' most popular sport. It is called Sepak Takraw, in Laos known simply as Kataw. The principle of the game is similar to volleyball, with a high net separating the two teams made of two or three players each. The game itself consists of each team making three passes until they have to pass the rattan ball to the opponents' side. We first saw it played next to the Vat That Khao Temple in Vientiane in the late afternoon hours. We were amazed by the technique and the skill of the young men playing it, making the most amazing jumps, receiving the ball with their feet, while upside down, and we remember thinking to ourselves 'Gosh, they are really good!'. At one point, an older man came to us and whispered: 'Do you know who you are watching? These boys play in the national team of Laos'. This explained their proficiency. How lucky could we get to be able to see them in such an informal gathering! We went back to admire the spectacle a few more times.
Muay Lao
Muay Lao is to Laos, as Muay Thai is to Thailand. Both are traditional unarmed martial arts and national sports. A bit comparable to kickboxing, Muay Lao is a combat in which the two opponent fighters use punches, kicks and elbow and knee strikes. When in Vientiane, try to find out if there will be a combat, as it is an impressive sport and show. It is becoming popular also among women, and Lao has recently got its first female world champion. Dee Sao Lao went to Thailand to participate in the World Pro-Amateur Thai competition and returned home a champion in her category.
Doi Ka Noi Restaurant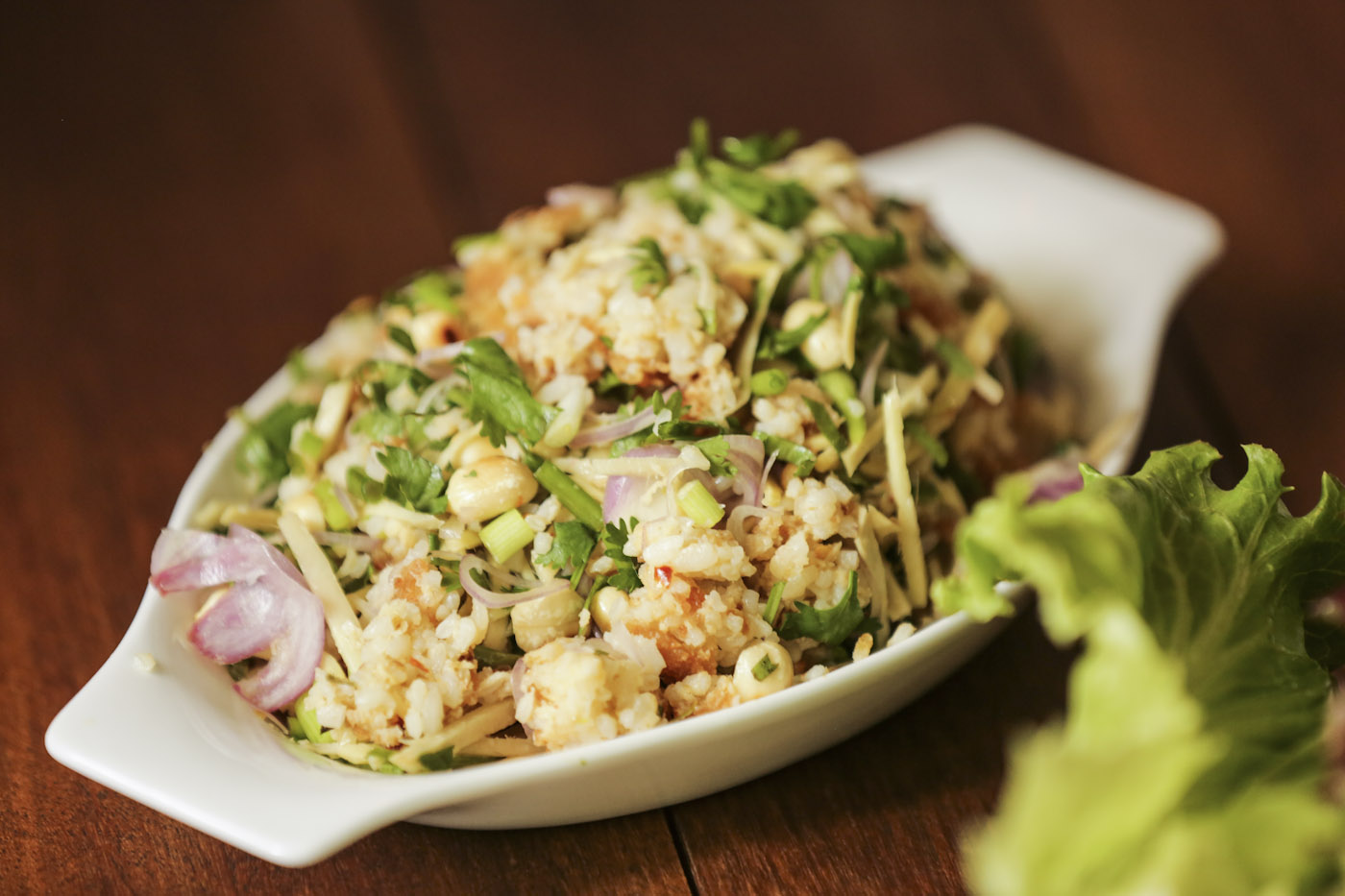 Doi Ka Noi was our best restaurant experience in Vientiane. Noi, the chef, has been cooking ever since she was a child. She learnt how to cook with her grandmother, who taught her a panoply of Lao recipes which had the special characteristic of using forage good. Today, she serves in her restaurant all these dishes, according to the rare forage ingredients that she finds in the morning market…
>> Discover what incredible day tours you can do from Vientiane.
Pin For Later
Click one of the images to save it on your Pinterest