I was already travelling through South East Asia for more than a month with Martine, a friend of mine. Until this day, our impressions about Asia were better than we thought they would be! We had only been to Thailand and Malaysia before "landing" in Singapore.
Singapore! Yes! I had heard and read a lot about Singapore. I was looking forward to visiting this incredible country – well, that's what people usually say about Singapore! And they are right!
Tiny, but lovely. Superficial, but peaceful and homely. For the first time since the beginning of this world trip, we were sitting in a cab and thinking "Wow, it feels like being at home". And it was a wonderful feeling. Singapore is very similar to Europe. For one instant – while being abroad – it was nice to believe that we were in a place which could be our second home.
One of the best moments I had in Singapore was not visiting the city. Even if it was awesome, it was not the best experience I had there. No it wasn't!
I remember that one morning, after having breakfast, we decided to go for a walk through the neighbourhoods known as "Little India" and "Chinatown". It was very nice – lovely architecture, beautiful colours, little streets where we got lost… We were fascinated by Singapore and its neighbourhoods. The city inspired peace, joy and curiosity.
At some point – when we were still lost – I saw a menu on the window of a restaurant. It immediately caught my attention. I'm not going to lie, I was hungry but it wasn't because of that! What caught my attention was the picture which featured "Portuguese Egg Tarts"…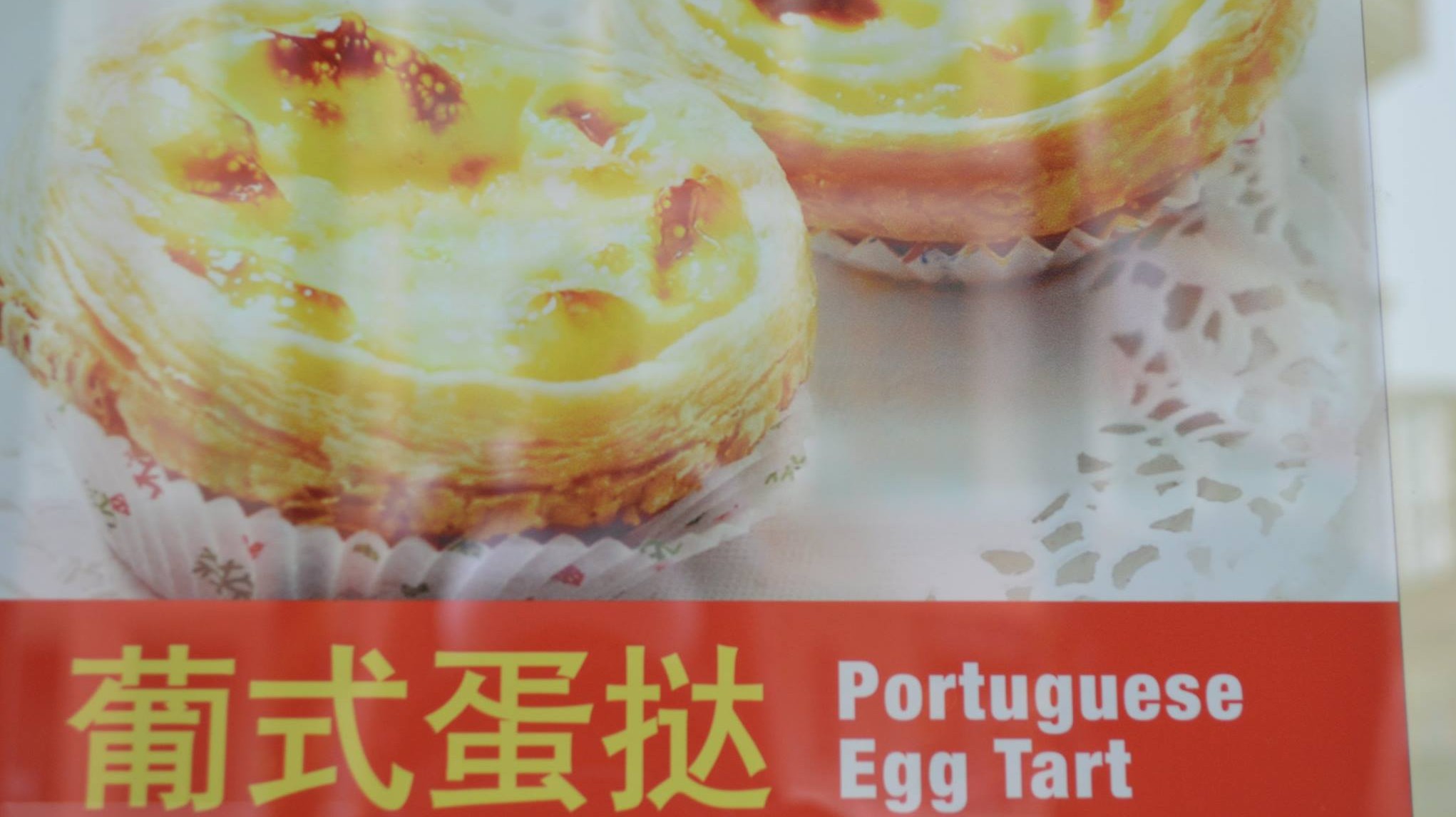 My genes were telling me to capture this moment with a quick photo! I love "Pastéis de Nata" – that's how we call them in Portugal. They are part of my culture, part of my family, part of Portugal, a country that I so much love! How could I not take a picture and send it to my family to tell them that "Portuguese Egg Tarts" exist even in Asia? I was proud!
When I turned around to tell Martine, I saw an old man approaching. First, I thought he would complain because it was perhaps forbidden to take pictures there… But it wasn't that! The seventy-year-old man was the owner of the restaurant. We didn't know what he wanted from us. He didn't speak English but he had a big smile on his face and made a sign with his hands telling us to wait there. A few minutes later, his son came outside to say hello. He was the old man's translator. He explained to us that his father owns the restaurant since 1962 and that he never had the privilege to see a tourist taking a picture of his menu. He was proud and happy!
The old man also wanted his wife to meet us. He went to get her so that we could all take a "family picture" as a souvenir. It was lovely. To say thank you (for what exactly?!) they invited us for lunch. The restaurant was technically closed, but that day, they made an exception for us. The old man wanted us to taste some Singaporean recipes. So we did. It was delicious. They didn't want us to pay. It was offered by the house.
Sadly, they didn't have any Portuguese Egg Tarts for us… but we spent a very sweet moment with locals. They were friendly, kind and were treating us like we were part of their family. Singapore definitely felt like being home. And that all started "just" because a tourist took a picture of "Portuguese Egg Tarts"…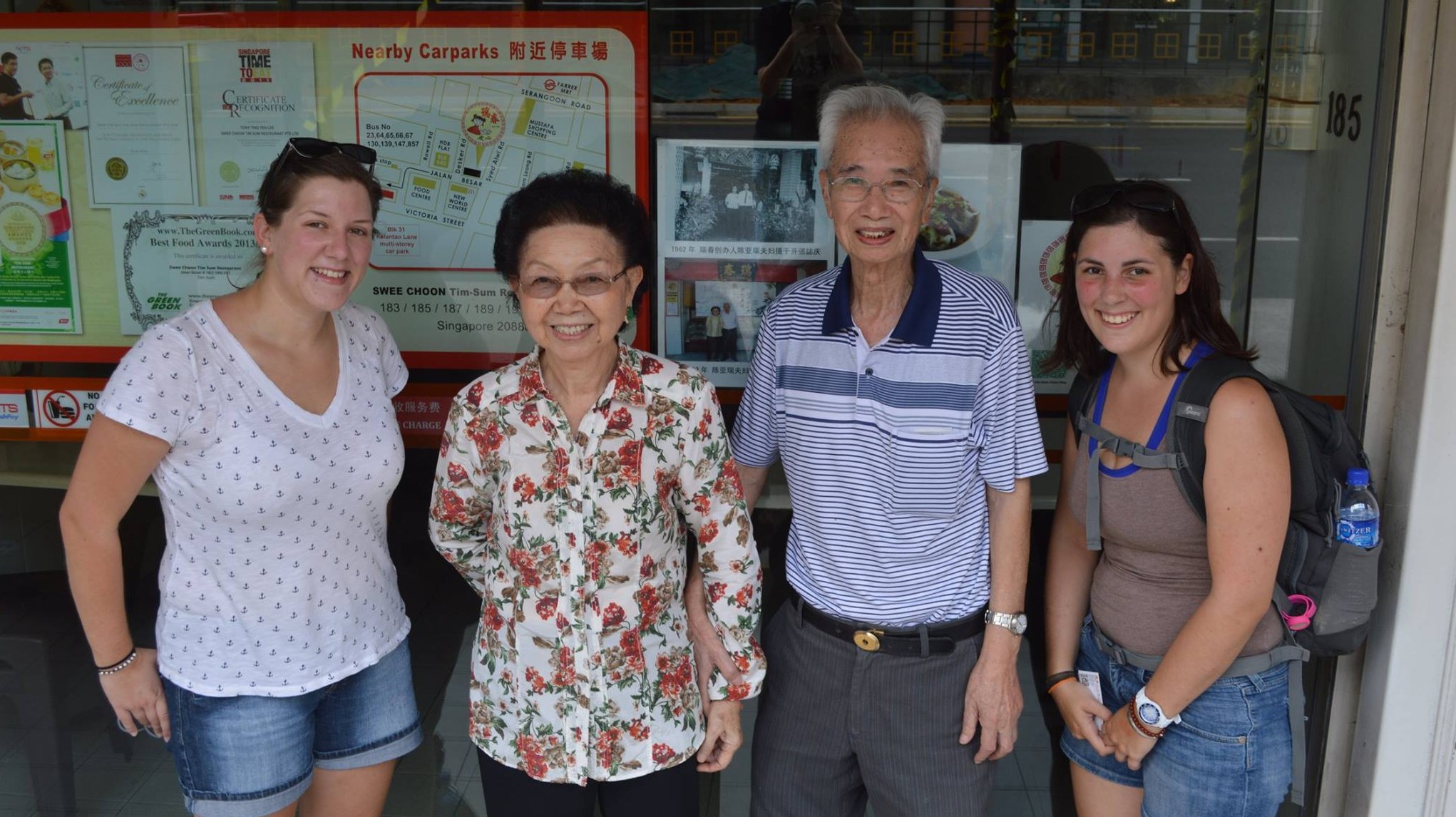 Photos: © Jessica Gaspar