You know you are in Southeast Asia when you find yourself dining out on the pavement, eating from a short-legged plastic table, your knees almost touching your chin, and your food compares to that of a fancy restaurant. You know you are in Laos, when that same food includes sticky rice.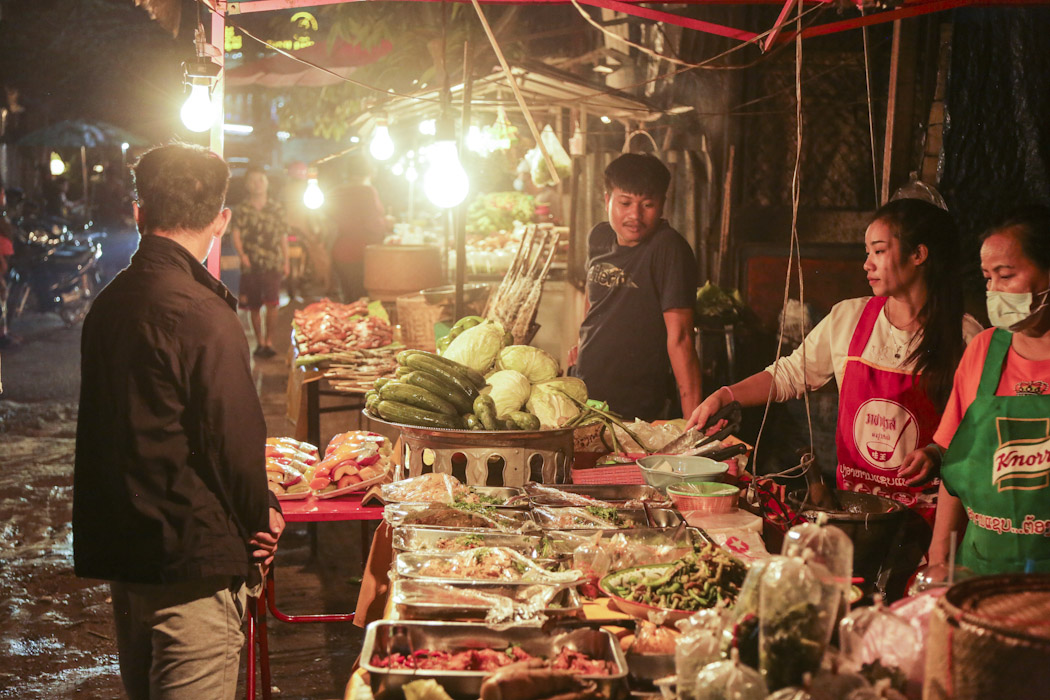 In Southeast Asia, street food is a lifestyle. People eat on the streets, sitting on doll-sized stools on the pavement, not only because it's cheaper but also because it is tastier. Legendary chef Anthony Bourdain pointed that out in many of his shows about Asian cuisine, and he knew about food!
Stroll through a night food market and you'll see how varied street food is in southeast Asia. The offers are as diverse as the number of stalls, ingeniously set out on motorbikes or on hand carts; each vendor selling his own home variation of well-known dishes. We found the best Khao Soi, the typical Lao noodle soup, in the tiniest alley of the night market of Luang Prabang. For the most succulent Sai Oua or Sai Kok Lao sausages we headed to the Vientiane Ban Anou night market. But there is more than hearty noodle soups, and spicy grilled meat on skews at these markets. Just name it and you'll find it: salted barbecue fish, grilled bananas, fried omelettes, spring rolls, dry river weed, grilled eggs (Ping Kai) and, of course, Tam Mak Hoong.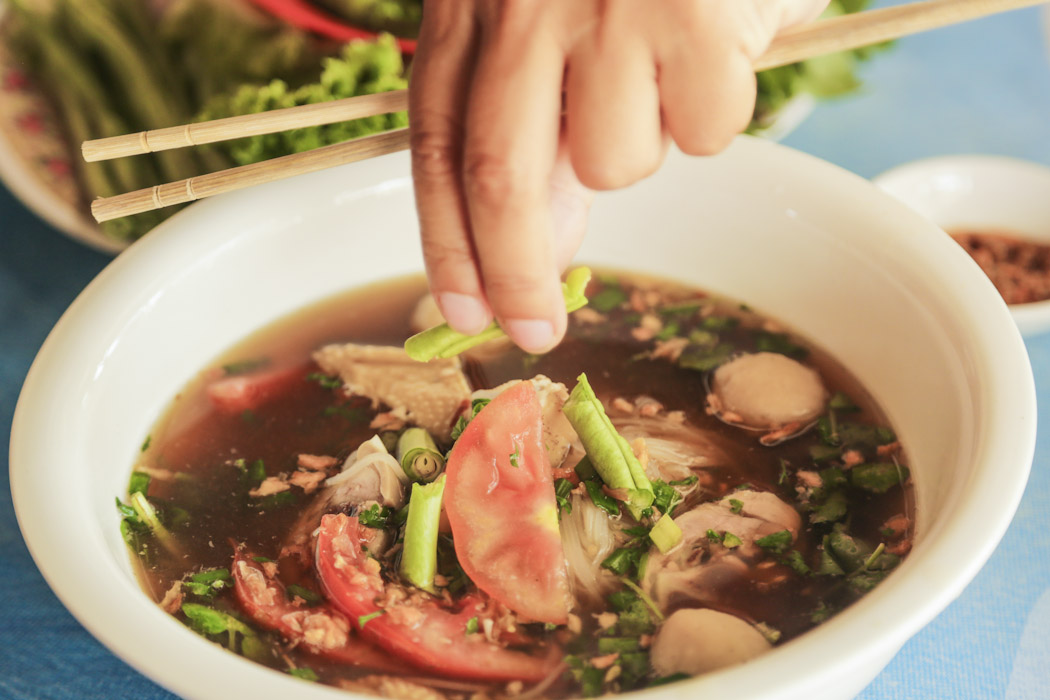 Tam Mak Hoong, the green papaya salad, which you probably associate with Thailand, is actually originally from Laos. The secret to the juiciness of this recipe is to pound the lime juice with the chillies and padek in the mortar before mixing it with the green papaya. Be aware that Lao like their food spicy, so remember to ask for a moderate use of chilli if its flavour is too piquant for you.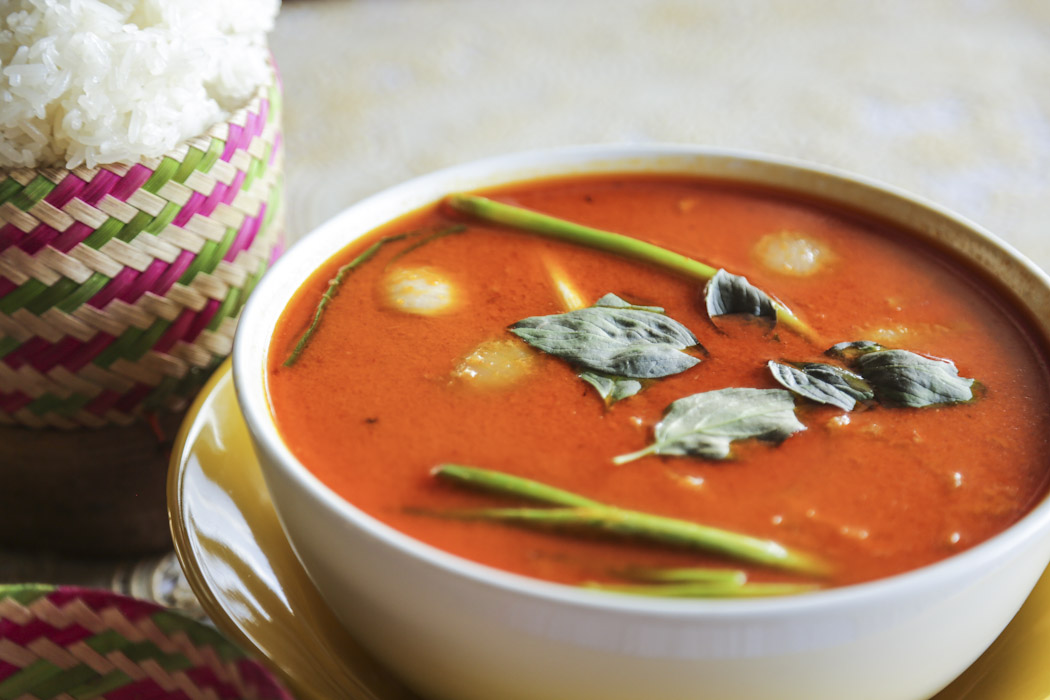 Some stalls made a particular impression on us because of their main ingredient. Lao like dishes made from insects, and you will find a wide section of cooked crickets, spiders, bamboo worms, ants eggs or the famous grilled bee honeycomb with larvae wrapped in banana leaves. Except for the black spiders – they really looked creepy – the rest of the plates actually looked good, reminding us of crustaceans. The taste of these delicacies is enhanced with lemongrass and kaffir lime leaves, and their texture is usually crispy. If we hadn't tried some of these insects, we would probably have freaked out when some days later a dead beetle inadvertently found its way onto our plate. Certain that it did not belong to our ginger-chicken dish, we just picked the animal out and put it on the side of the plate, carrying on with our otherwise tasty meal…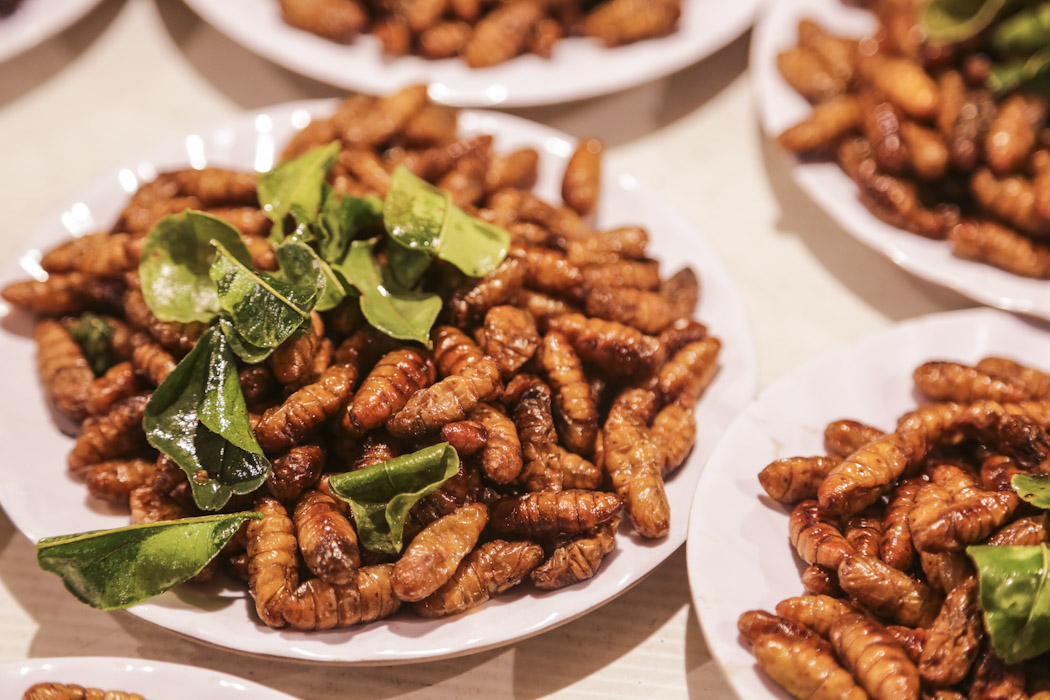 What we loved about Lao food was its citrus fragrances, based on herbs such as lemongrass and kaffir lime leaves, but also fresh coriander and galangal. Many will tell you that the main element of Lao cuisine really is padek, whose fermented stench polarises foreign opinions. All we'll say is that it took us some time to get used to it.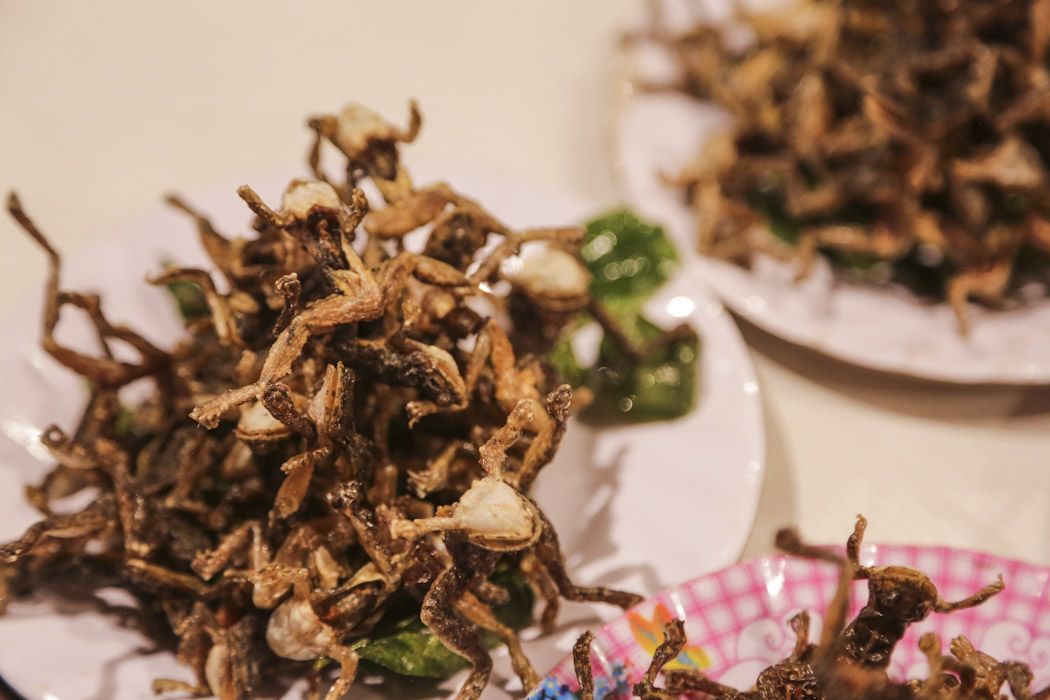 Whether you're having a papaya salad or another dish, you can always pair it with a side of sticky rice. In order to get its sticky texture, the rice is soaked for ten hours and then steamed in a huant (a bamboo basket). You will find it helpful when you want to ease your taste buds from the spiciness of Lao dishes.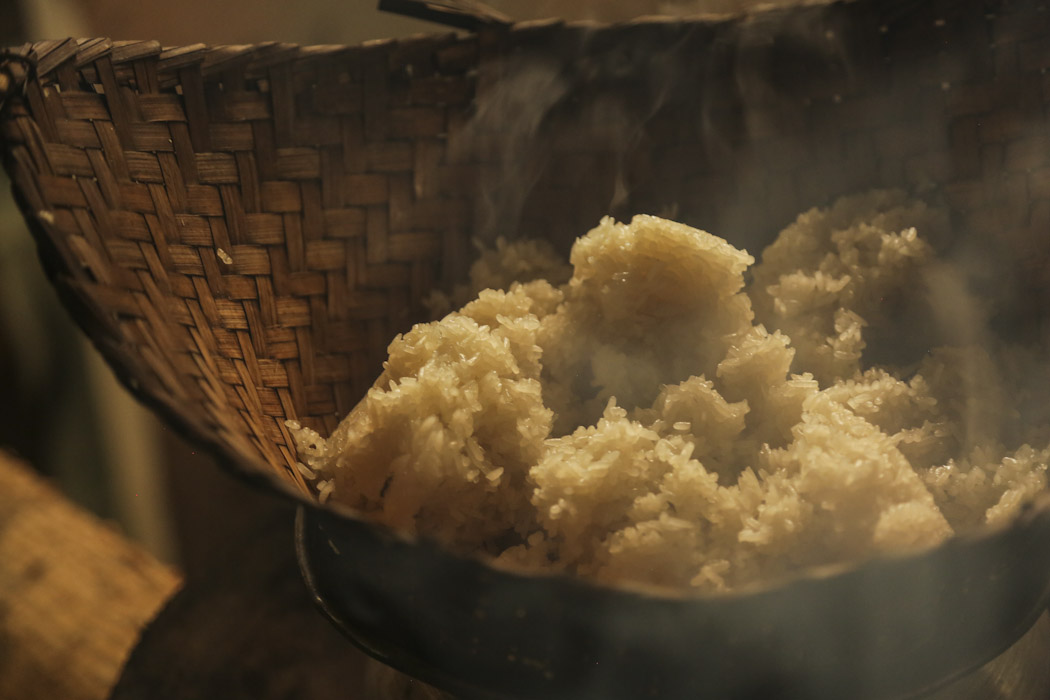 It is also the main ingredient in mango sticky rice (cooked with coconut milk) and in Khao Laam, a sweet snack of coconut milk served inside a bamboo stalk, to eat on the go.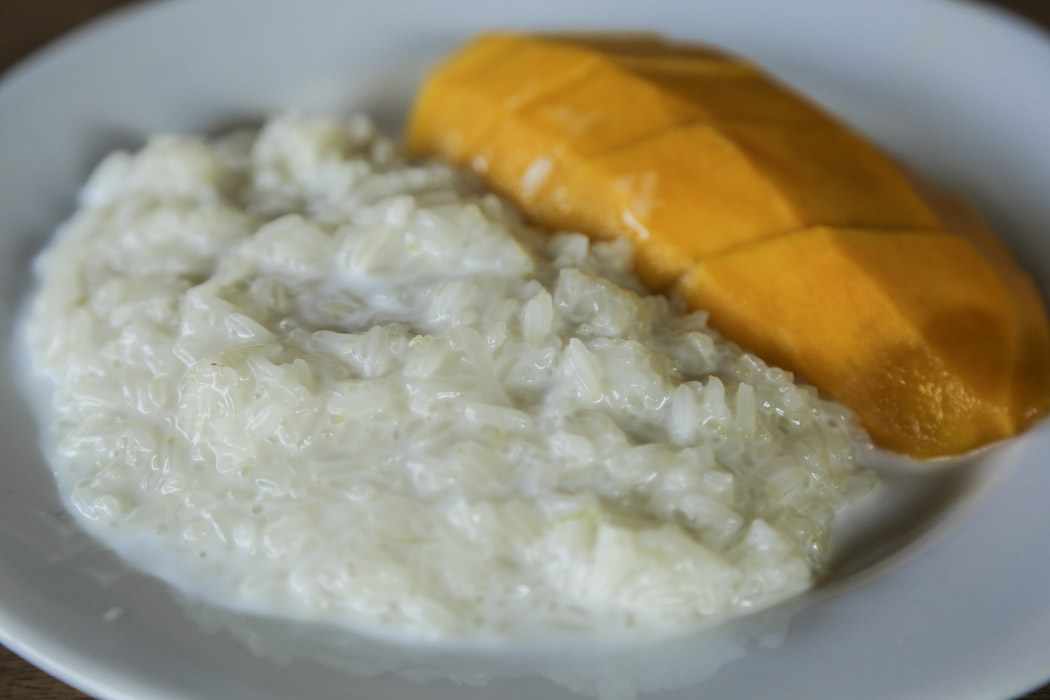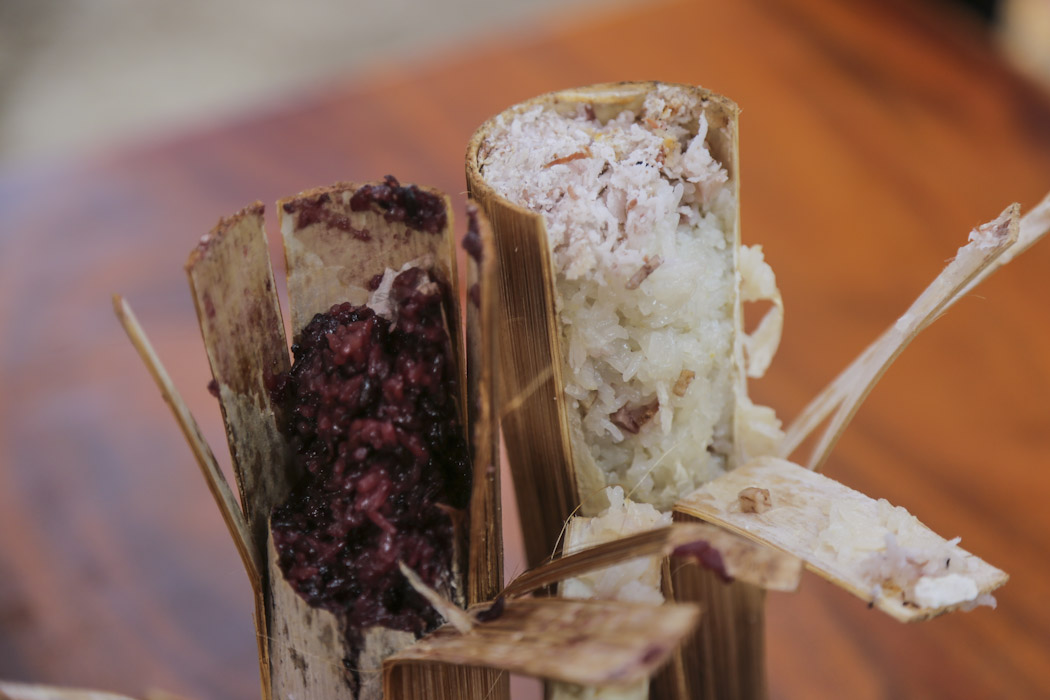 We kept our two favourite Lao dishes till last: Nem Khao and Larb, two plates of rare beauty. Nem Khao is a recipe of fried crispy rice mixed with fermented fish or meat, peanuts, coconut, lime and coriander. Eat it with a wrap of lettuce and a handful of fresh herbs such a mint, coriander and banana flower. Each bite is a blissful experience.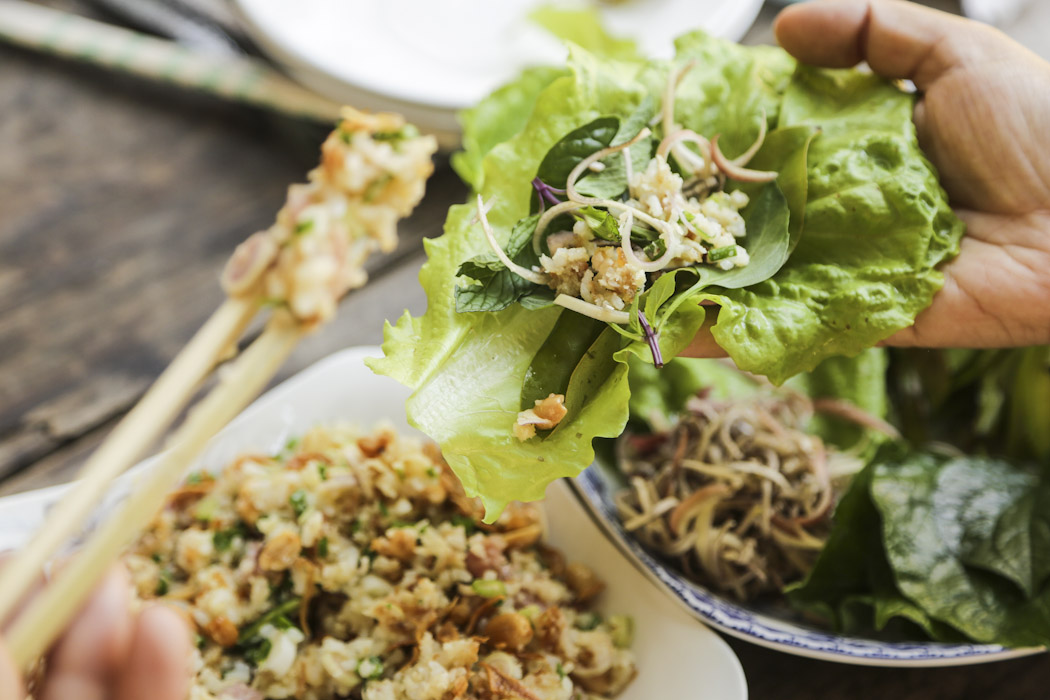 Larb, considered by many as the national dish, consists of minced meat or fish cooked with a garden full of fresh herbs and lime juice. To die for!
It is said that Lao never eat alone. Meals are the preferred occasions for families and friends to come together. Gathering around a table, and sharing the different dishes that come to the table, while chatting or singing karaoke, is a sign of Lao conviviality and kindness.