My first attempt to visit Gibraltar happened a couple of years ago. We were having some days of rest with friends in Southern Spain, in Benalmadena, and decided to go on a day trip to Gibraltar. Before we left the apartment, I, playing Miss-knows-best-than-anyone-else, reminded everyone that we had to have a piece of identity to enter Gibraltar, not in the Schengen area. I will spare you the details that explain why I was the only one not carrying the damn ID with me that day! You can imagine that it was not without sadness that, from the Spanish side, I waved good-bye to the mocking faces of those who did manage to exhibit their cards, the ones which I kindly reminded them to bring, at the border!
Ever since that episode, Gibraltar has become some sort of symbol of the travel chimera to me. The unreachable place that I could only imagine what it would have been like to have visited, if only I had taken my ID with me…
Some weeks ago, Jorge and I decided to travel to Morocco by motorbike. We would drive all the way from Luxembourg, through France and along the Spanish coast until Algeciras where we would get a ferry to Tangier. Gibraltar being merely 20 km away from Algeciras, you can guess how excited I was to finally travel to Gibraltar, the Rock! This time fully equipped with passports! Yeahhh!
It turned out that we were running out of time to reach Morocco, so a change of plans meant that we would not drive to Algeciras and instead would take the ferry from Barcelona to Morocco. Once more I saw the rock from a distance, this time from the ferry, where I got to see the rock from its rear coast, the one facing the African continent. Pretty if far away.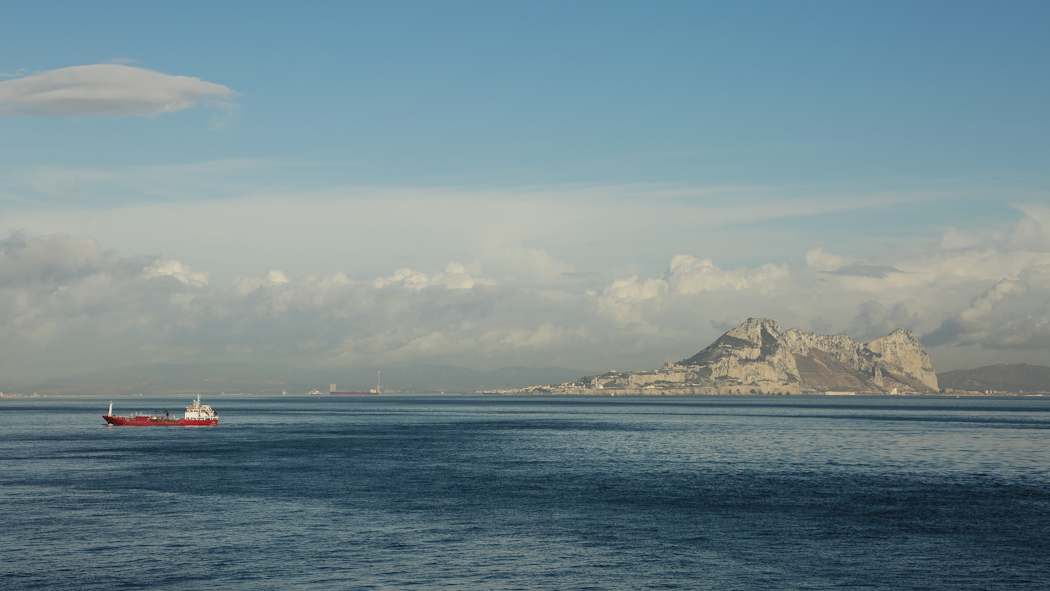 I wasn't terribly sad about this, not now. After all, I had just seen Gibraltar from another beautiful angle. And anyway we would come back from Morocco through Algeciras, with plenty of time to pay a visit to Gibraltar. Or so I thought!
On our return from Morocco we did go through Algeciras, again by ferry and again with lovely views over Gibraltar.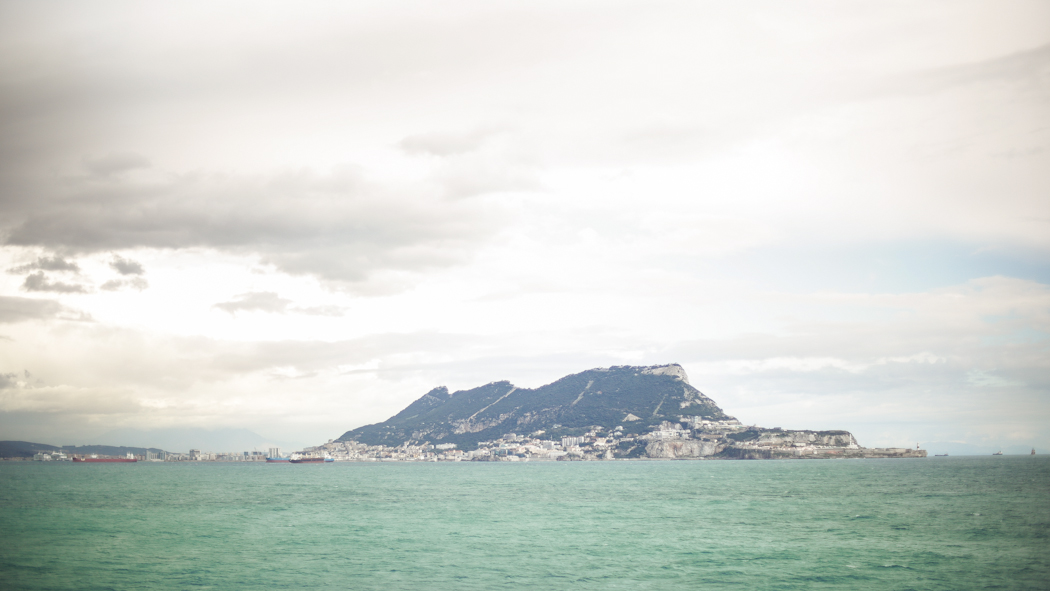 But once we landed, we were welcomed by torrential rains (the same that caused a lot of damage and one casualty in Albufeira, Portugal). One is particularly sensitive to rain when driving a motorbike, so – jamais deux sans trois – it was good sense that this time decided against yet another visit to Gibraltar! I  have meanwhile convinced myself that – what the heck! – the Rock hasn't got much on offer, has it? A couple of annoying monkeys, a narrow street packed with shops (who needs that when one can shop on-line anyway!), some tiring trekking opportunities up its hills… In other words, Gibraltar is not very ripe yet, is it?! So, for the time being we are looking at other grapes that show on our trail…
Seriously, will we ever visit Gibraltar? We don't know, and it is probably better to forget about it for now. As it is, we keep dreaming of a visit to that mysterious rock…