As, in the face of dwindling resources and fraying ecosystems, the days of our current industrial agriculture are numbered, we are witnessing a surge in alternative models of producing, distributing and consuming food. Permanent agriculture, a set of regenerative agricultural practices to re-engage with the natural world, is one of them. With 'permaculture' schools mushrooming around the globe, courses about bio-construction and self-recovering soils reach into the very hinterlands of civilization, literally. I was blessed to volunteer in one of those educational projects in the far-flung mountains of northern Colombia – a stimulating experience that helped me cultivate a veritable passion for sustainable farming and living.
we are witnessing a surge in alternative models of producing, distributing and consuming food.
I first heard of 'Love Grows', the permaculture farm and self-development initiative in the Sierra Nevada de Santa Marta, when I found myself at the peak of my Latin America trip that also coincided with the height of my personal journey. By then, I had been travelling across the region for eight months and through vast parts of Colombia for three months already. The South American country and its people had received, hosted, and nurtured me in a way I had never been before. Accordingly, I hadn't thought that the course of my trip could even become more blissful. And yet, when I made it to that place of harmony and community, set in the foothills of the Colombian Sierra Nevada, I knew I was to continue walking the blessed path.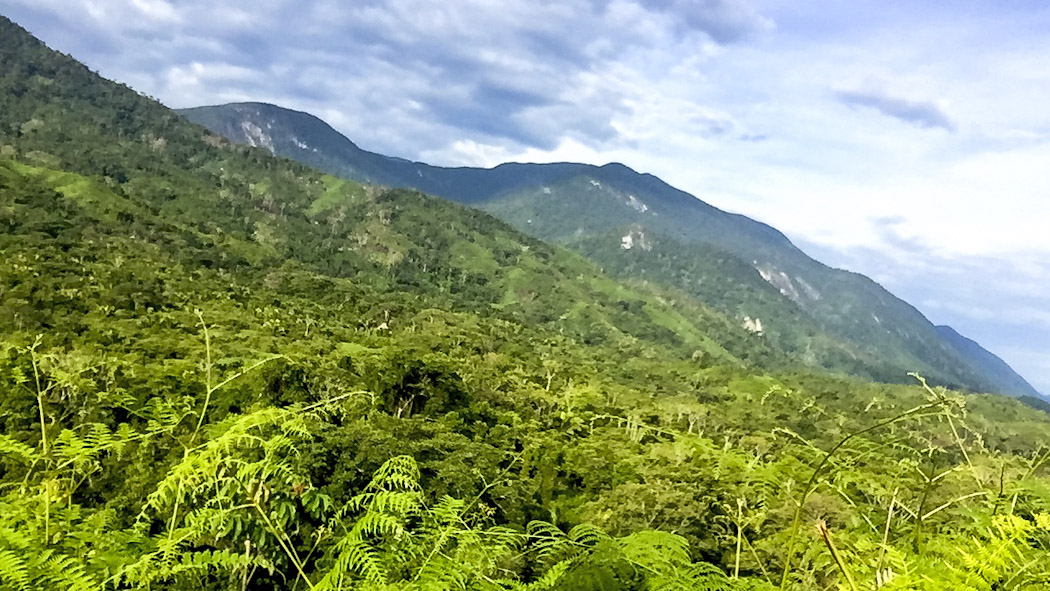 Upon arrival, I found everyone gathered in the outdoor communal area of the farm, volunteers and the hosting family alike. Exhausted from the uphill hike beneath the searing midday sun and stunned by the panorama of unspoiled nature, I somewhat stumbled into the scenery. After the collective meet and greet, Russ, the initiator of the project whom I had reached out to previously via the volunteering exchange platform Workaway, guided me through the place, familiarizing me with the farm's lands and facilities, and with its captivating story.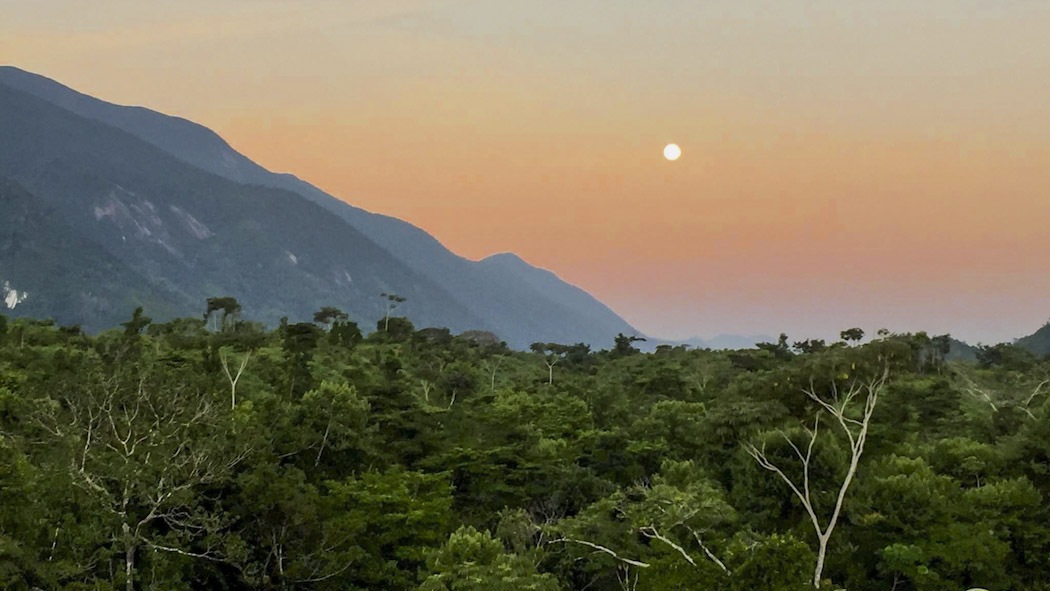 In 2016, after having travelled a few years volunteering around the world themselves, Russ and his wife Sandrine decided to settle down with their young daughter Lily in the mountains of Colombia's north coast. There, amidst the ancient Sierra Nevada that is home to many indigenous groups and an abundance of endemic species of fauna and flora alike, the French-British couple raised their own farm to host events and training in permaculture design and self-development. From its early beginning, Love Grows has been a haven of mutual care, respect, and community, providing accommodation and knowledge for participants, volunteers, and anyone interested in subjects related to sustainability and personal growth.
Russ and Sandrine settled amidst the ancient Sierra Nevada, home to many indigenous groups and an abundance of endemic species of fauna and flora.
Russ and Sandrine, the teachers of their respective fields at the Colombian project, have been cultivating and feeding their passions for many years. Russ' first genuine engagement with permaculture goes back to his experience at a reforestation project in India, where he volunteered and regularly attended courses. Through extensive self-tuition and a participation in a formal Permaculture Design Certificate course, Russ got to solidify his knowledge that, currently, is still expanding by living and working at his own farm. Sandrine, for her part, initially started off her professional career as an artist and designer. Due to personal twists of fate that made her connect to herself more, she eventually got to find her vocation as a life-coach, integrating holistic wisdom from Reiki and other self-reflection techniques. Today, they conceive their project Love Grows as a foundation for both themselves to work from and as a platform to channel their knowledge to other people.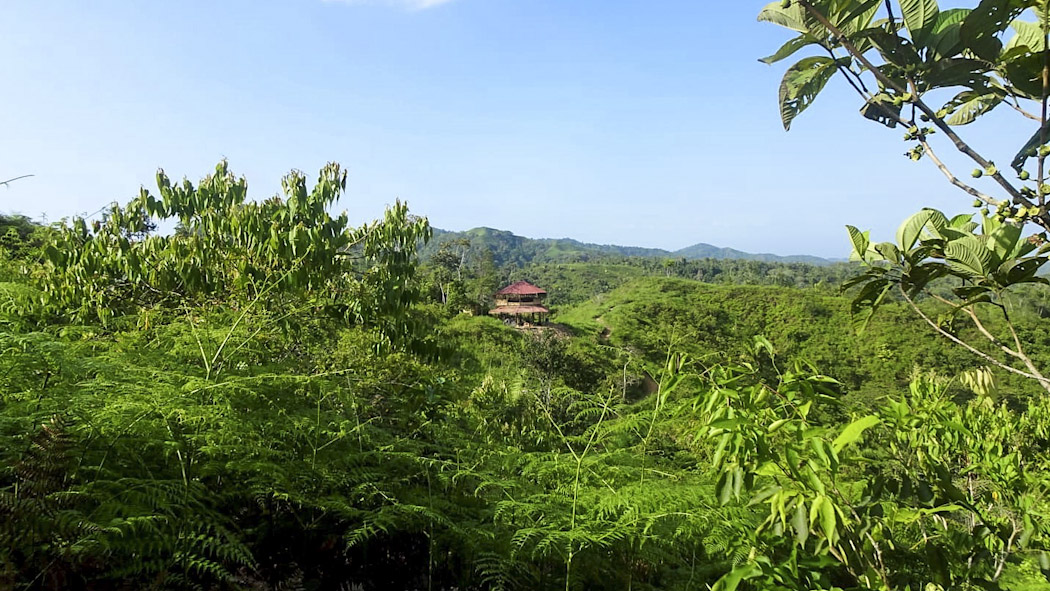 The area, backed by that awe-inspiring mountain range and embedded in a lush, river-crossed valley, truly is intriguing. The farm's vast land is dotted with tropical fruit trees and traversed by free-roaming chicken. It hosts different facilities such as a nursery, an open-air kitchen and chill zone, a sacred structure for ceremonies, the hosting family's house, a hammock dormitory, and a bunch of unfinished huts and domes to accommodate more people. As essential part of Love Grows' sustainable philosophy, the constructions are entirely made of locally gathered, natural or recycled materials. Overall, the place is an ideal environment for a human community to thrive hand in hand with nature, something I got to appreciate myself since the very first day at the farm.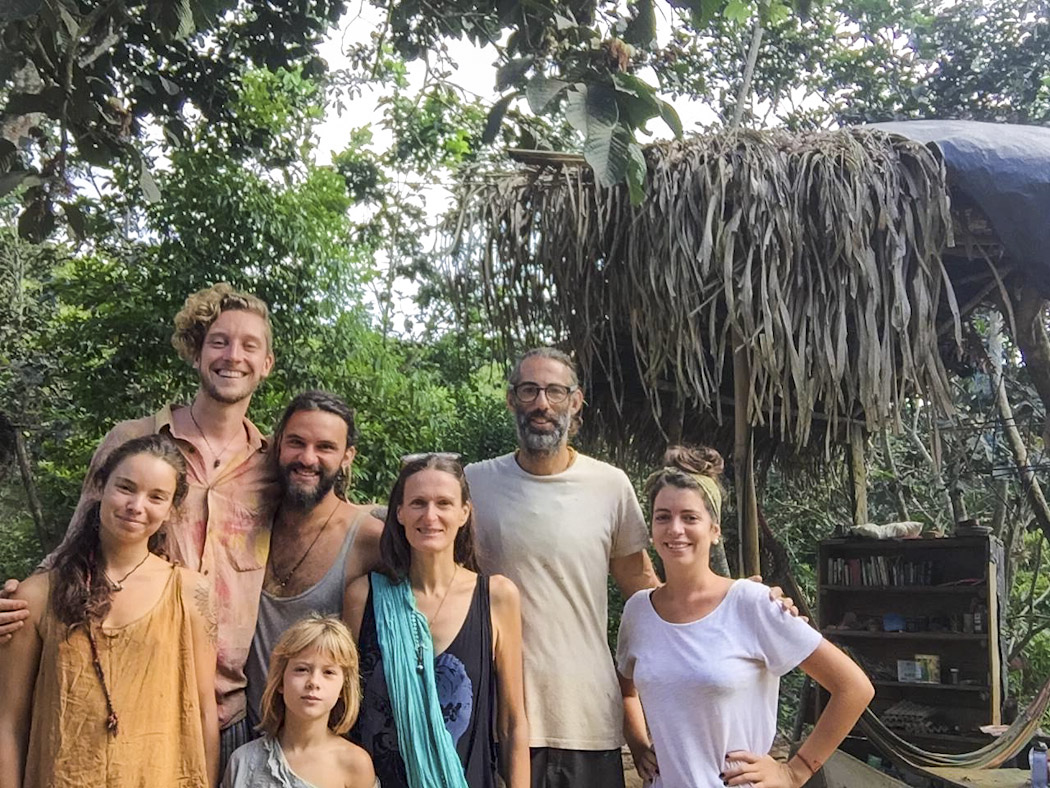 When I started my two weeks-long exchange, there were 16 other volunteers on site, ranging from 18 to 40 years and of mixed cultural yet mostly European backgrounds. The unusually high number of voluntary helpers already indicated that I had come across a rather popular volunteering project. The whole idea of volunteering at Love Grows was for us participants to learn about sustainable living firsthand, while also being offered theoretical introduction courses on permaculture design.
the place is an ideal environment for a human community to thrive hand in hand with nature.
In exchange for three hours of work and for roughly five dollars of financial contribution to cover the farm's expenses on food and gas, per day, the volunteers would receive three daily home-cooked meals and be hosted in the place's many accommodations. The immersive experience in one of the world's culturally and naturally most singular places was included too, of course.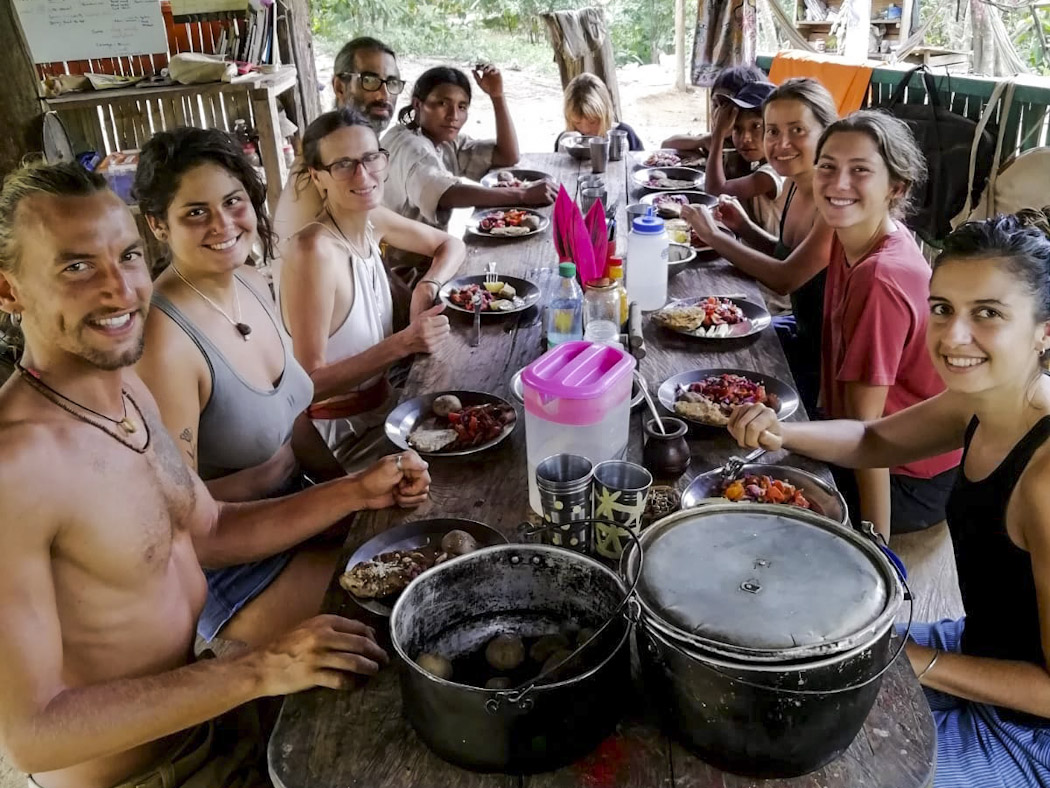 Our days would begin at around 6.30 am with a gentle wake up song performed by the community father Russ, echoing across the farm's sleepy valley. Those early morning moments, just before the foggy veil was to slowly dissolve above the community and the sun to fully illuminate the majestic silhouette of the Sierra Nevada, were filled with an incredible serenity, nourishing my Colombian nostalgia up until today. Everyone then gathered in the outdoor kitchen, where breakfast, an original blend of English porridge and tropical homegrown fruits, was served, which was then followed by a short meeting dividing the daily tasks. For being a professional farm and a home for many people, the daily chores related to the maintenance and cleaning of the area. The more specific tasks, though, that lasted until midday, consisted in assisting Russ with his many projects. As the multi-potential permaculturist was reforesting the land and building the structures to host people and events at the time I arrived, there was plenty of help needed, ranging from sowing seeds, gathering and recycling used materials, digging holes to producing natural clay bricks and setting up the walls.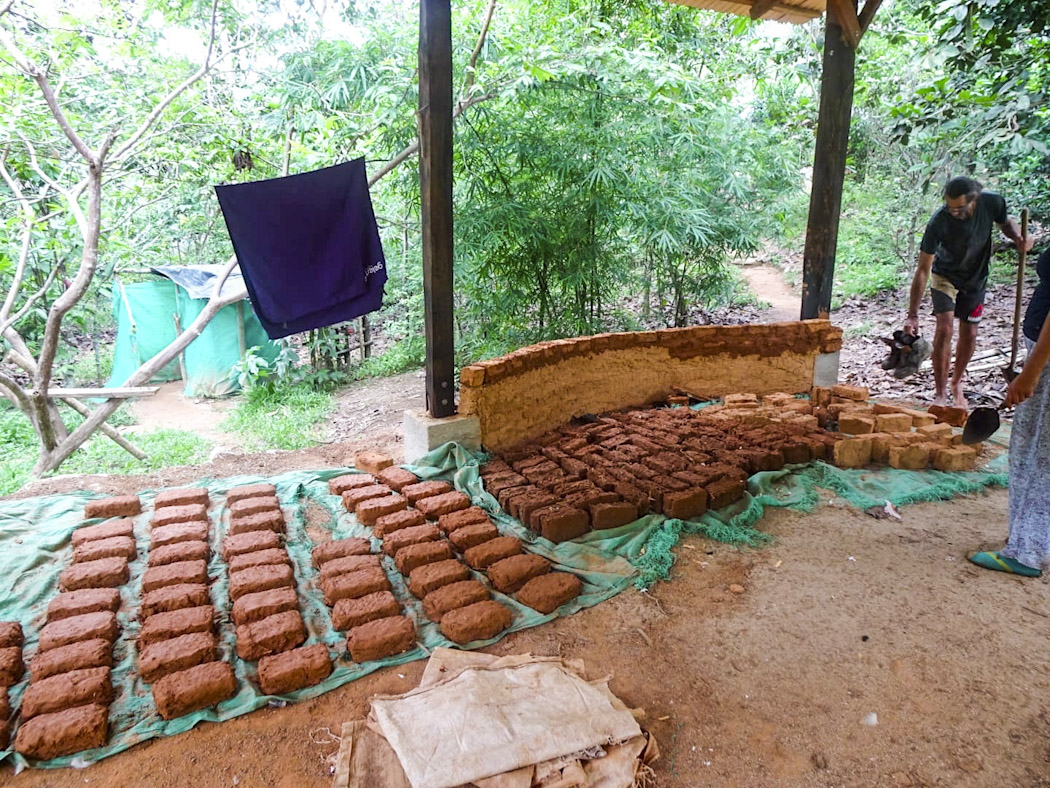 During my stay at the community, I worked almost exclusively on setting up the walls of the dome, a future accommodation for event participants, delicately adding mural layers one after the other with the natural clay-grass-mix. Seeing the walls grow thicker day by day and crumbling to pieces again was both a satisfying and frustrating experience, that reminded me of a myriad of philosophical metaphors for the transience and persistence of life. After everyone had completed their daily tasks, we would find ourselves in the kitchen to share a revitalizing meal that was prepared by volunteers. Occasionally, some kids of the Kogi people, the original inhabitants of the Sierra Nevada and respected neighbours of the farm, accompanied the hosts' daughter Lily to join the multicultural lunch session.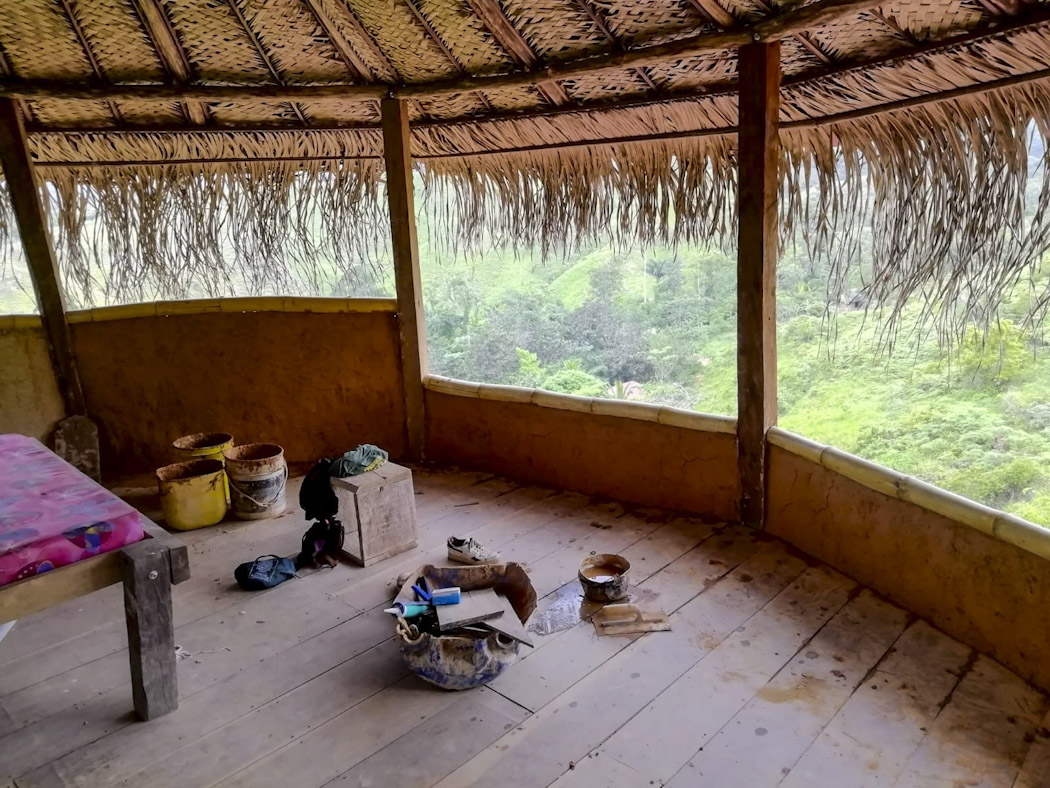 The afternoons were entirely up to one's own plans and desires. Whether resting in the peaceful valley, roaming around the area that lends itself for thrilling hikes, or cooling off in the waters of the small river that runs through the property, there were endless options of recreation and entertainment. Also, and essentially, volunteers were invited every day around 3 pm to attend the introductory permaculture classes. Covering basic permaculture design and theory, Russ would then enthusiastically talk about different topics including sustainable housing, water conservation, soil building, habitat creation and more. As a master in his field who is gifted to inspire people, he literally managed to ignite the spark, making every one of us volunteers with each course become more aware about consumerism-related issues and alternative ways of living.
Russ would enthusiastically talk about different topics, including sustainable housing, water conservation, soil building, habitat creation and more.
The evenings at the Colombian farm were equally rich in learning and enjoyment. The volunteers willed to prepare the dinner for the entire community had to join all of their cooking skills and improvisational talent to thrive in the minimalistic jungle kitchen and to satisfy every one's culinary expectations – a delightful challenge I loved to embrace every evening anew!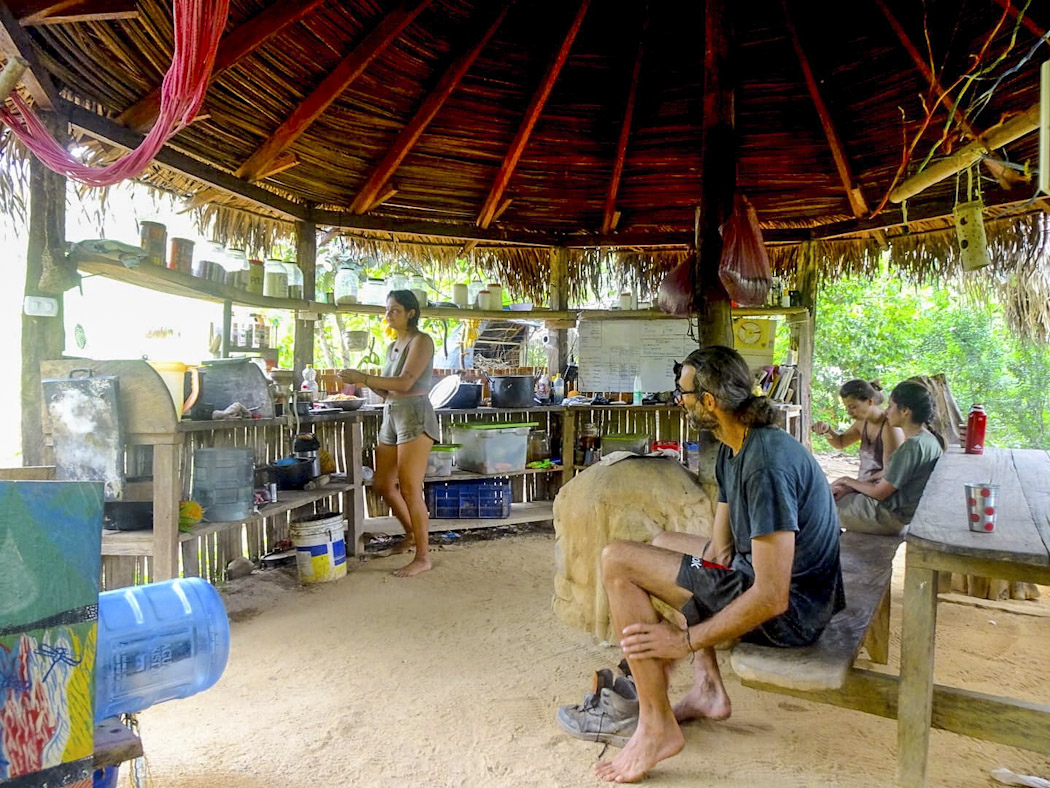 Afterall, giving back to that inspiring community that consisted of a bunch of like-minded strangers was one of my personally most fulfilling sensations at Love Grows. Looking back at the two weeks volunteering in the unspoiled mountains of northern Colombia, I also felt that enormous gratefulness for developing a healthy routine in communion with the hosts, the volunteers, and all-encompassing nature. Ultimately, the knowledge shared and applied at the farm helped me reposition myself. The key promise of permaculture – to improve the conditions on this planet through observation and actions that are aligned to what the natural world teaches us – brings especially hope and meaning into a world that suffers from a human-caused climate catastrophe, with individuals questioning their modes of life increasingly.