We have to admit that food in Kyrgyzstan wasn't love at the first bite. The majority of restaurants were quite simple and offered limited choice of dishes, mainly meat. Bishkek and Osh (and surprisingly Karakol), the two main cities offered more choice and some very good restaurants. We found the food tasty, even if a bit plain (we love spices and aromatic herbs). We also had some upset stomachs throughout our stay.
So, what dishes did we find in Kyrgyzstan?
1. The Dastorkhwon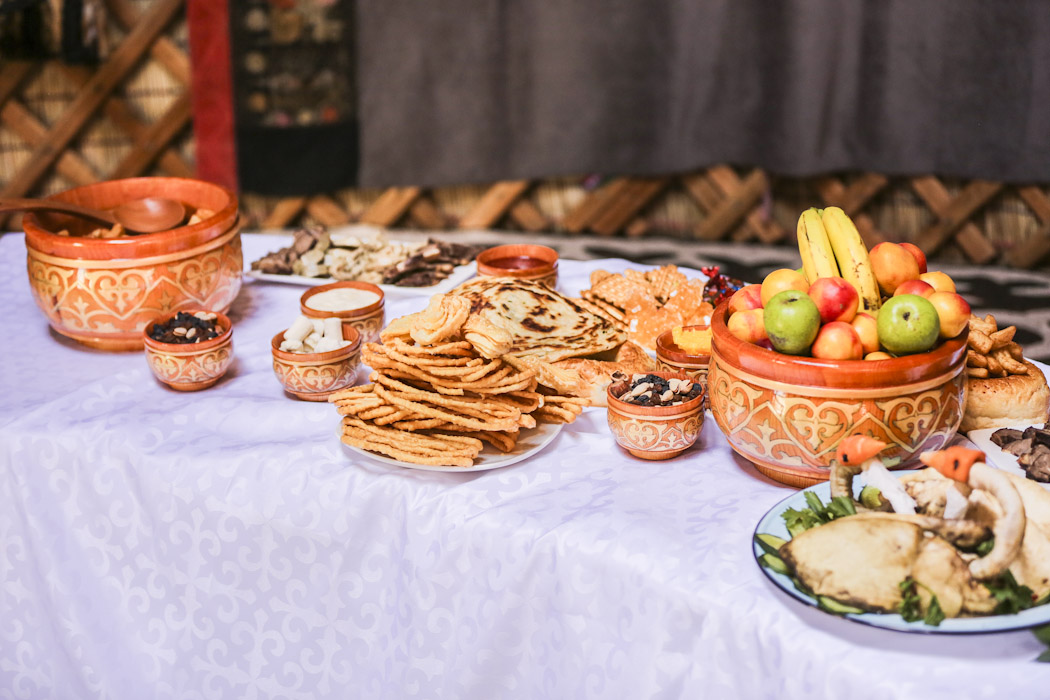 Before we even mention the food, you should know about the dastorkhwon, a white cloth laid on a table. This is what the etiquette demands as a sign of respect for guests. On top of it, tea and food will make a feast for the eyes.
2. Meat for special occasions (a wedding ceremony)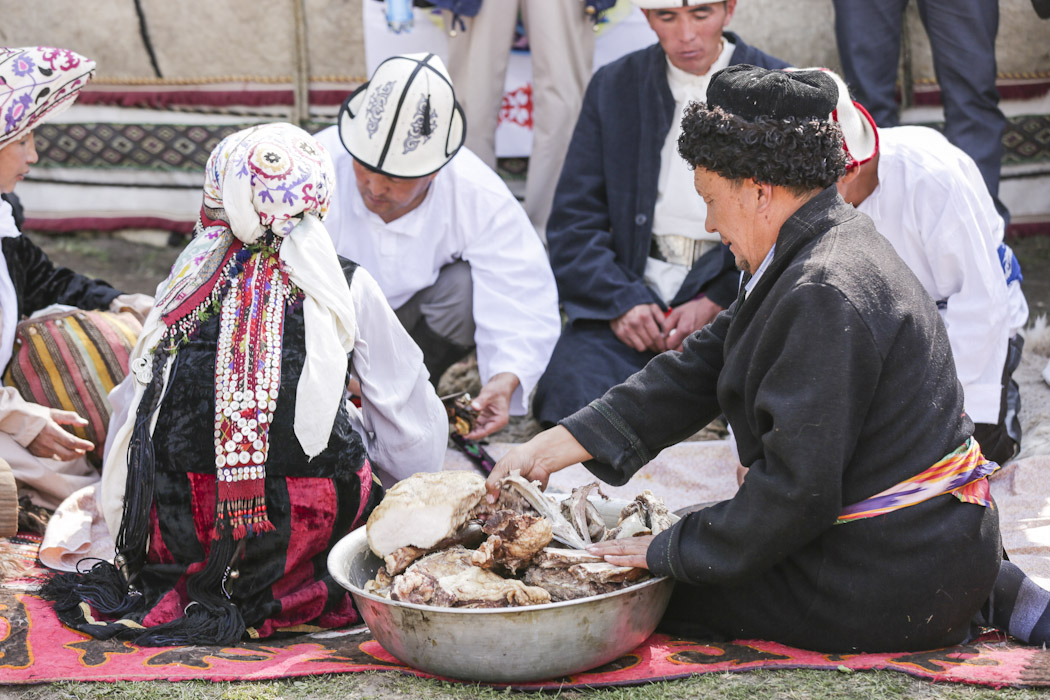 We were lucky to be invited for a traditional wedding ceremony. For the occasion, many guests are invited and food plays an important role, with women spending a good deal of time cooking many typical dishes. Men were in charge of the meat. They killed themselves the sheep and were also responsible for boiling and grilling different parts of the animal.
3. Kumis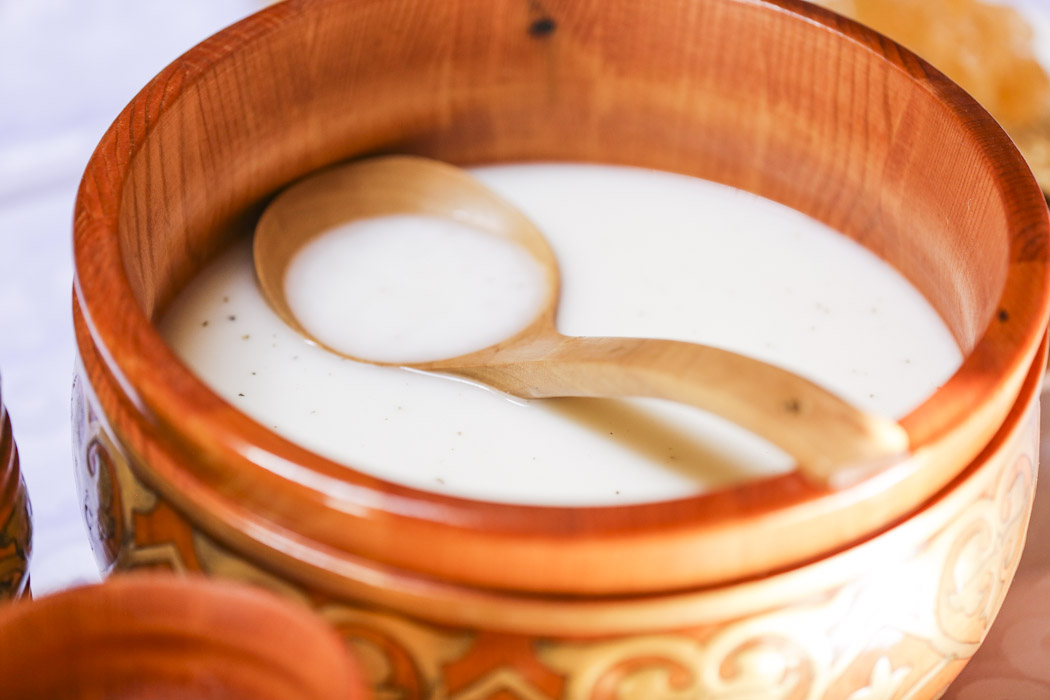 Kumis is the Kyrgyzs' favourite drink. It is found everywhere and everyone will go out of their way to offer you a good cup of fermented mare's milk. It is probably an understatement to say that kumis is an acquired taste. It tastes sour-bitter and has bits of horse-milk fat floating in it. Hold the nostrils and close your eyes for a tolerable experience.
4. Bread
Bread is always present on the table, and includes different kinds of traditionally baked dough, such as katama and lepyoshka. It is often decorated with a drawing made with a stamp on the dough.
5. Manti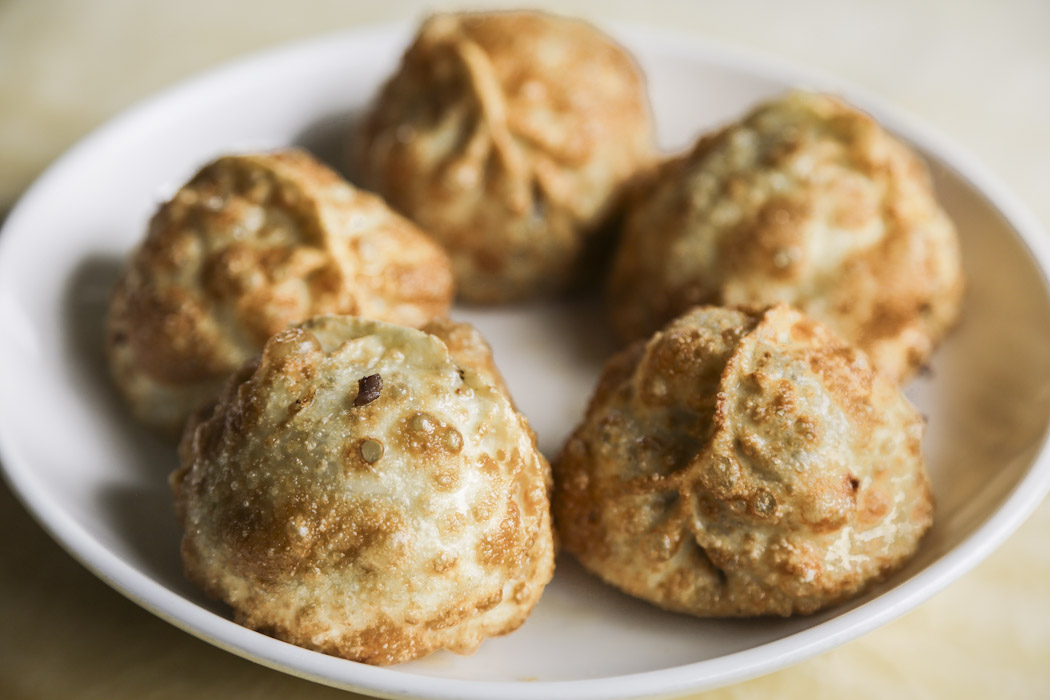 Manti are palm-sized dumpling filled with a lot of onions and mutton (the ones in the streets also have a lot of fat). They are generally boiled, but the fried version is also widely available. This version can, however, get too heavy, considering the generous amount of meat inside…
6. Paloo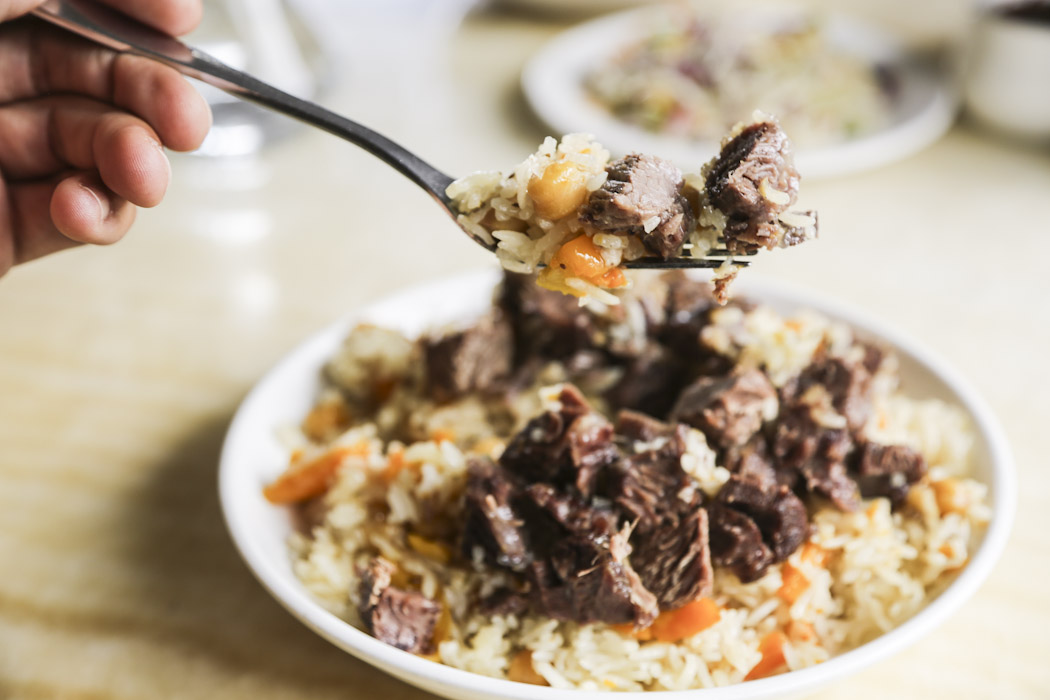 In Kyrgyzstan, the famous Central Asian dish plov is better known as paloo. This is the famous rice dish that is prepared with mutton and a lot of grated carrots and onions. It is often cooked in a large uncovered pan, over an open fire.
7. Shashlik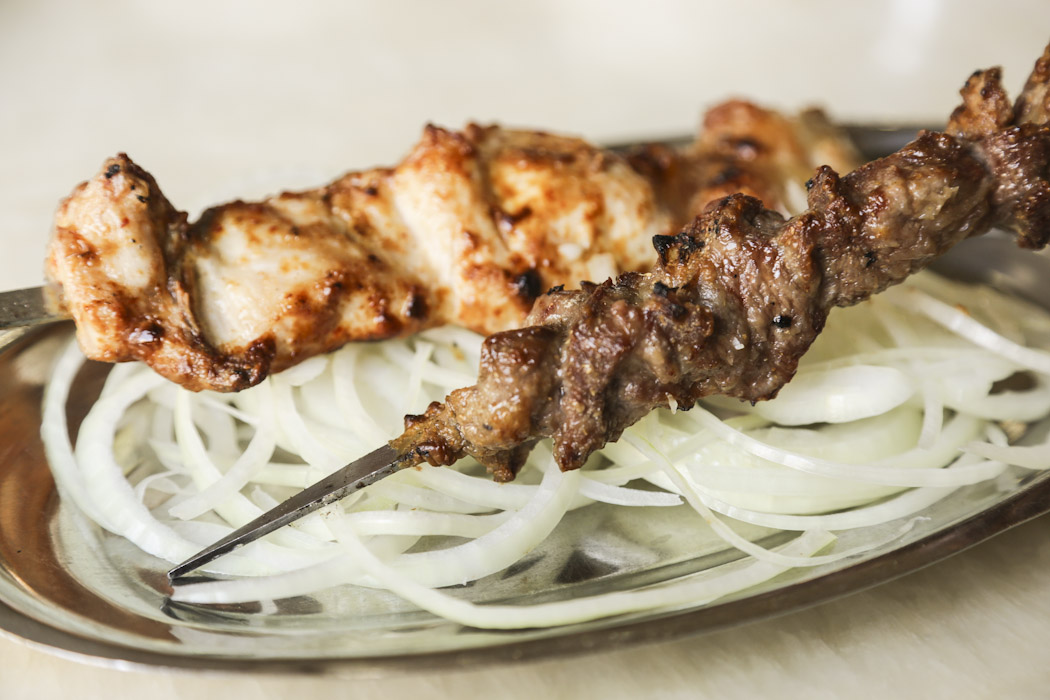 The meat in Kyrgyzstan is of very high quality, you just need to see the animals grazing freely on the pastures. However, townspeople – without access to their own home-raised meat – are beginning to complain that the best meat is being exported to China. Shashlik needs no other seasoning but salt and it is usually served on a bed of raw onion rings.
8. Borsok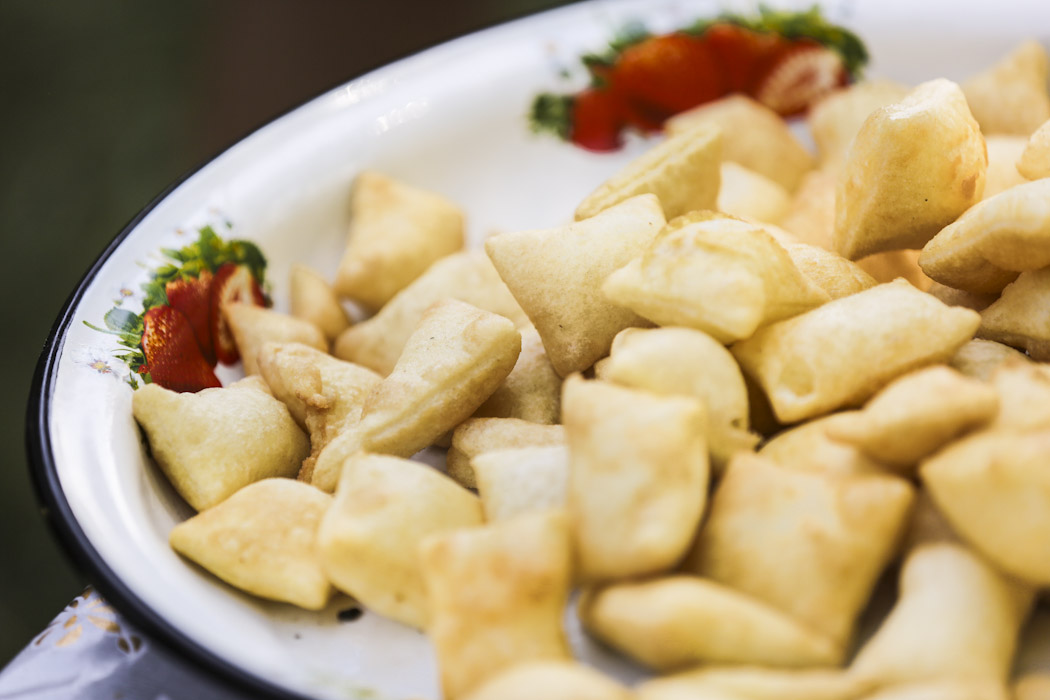 Borsok is a very simple snack that consists of fried dough and usually is served along with the main dish. Or with tea. It is actually served on every occasion.
9. Tea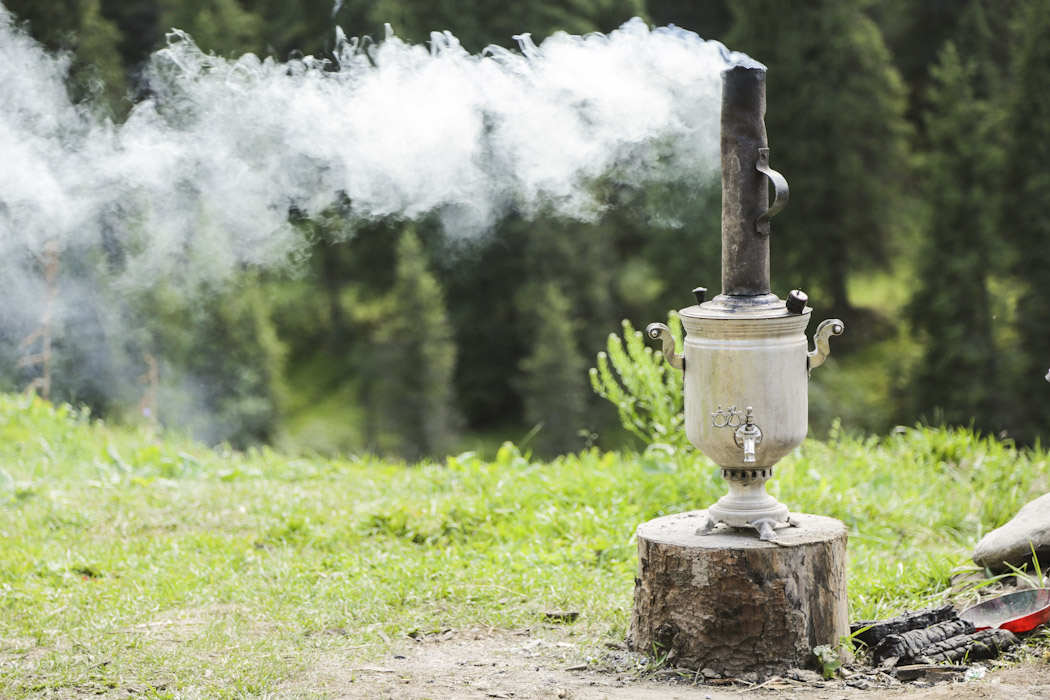 Tea is always present, either with the meal or as a welcoming drink, whenever you arrive at someone's house or yurt. For that reason, there is always a samovar with water boiling, ready to prepare tea. You will be offered tea in a half-filled cup – a sign of courtesy, not of parsimony – your hosts do not want your tea to get cold.
10. Laghman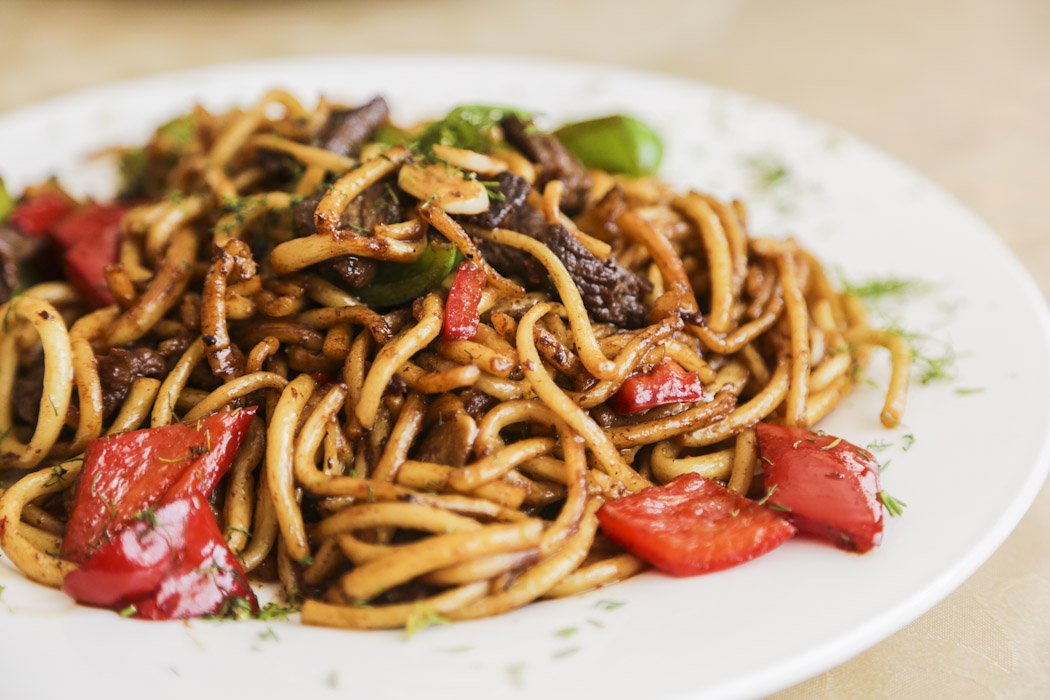 Laghman is the main noodles and meat dish. But the Laghman is cooked with many vegetables (generous amounts of tomatoes, sweet peppers and cabbage). It can be served in a broth, and eaten like a soup, or fried and with added spices. This variety reminds us of its Chinese origins – the Dungans, the ethnic Chinese Muslim group who sought refuge in Kyrgyzstan centuries ago.
If you would like to learn how to cook this dish, check out our article about how to make Laghman at home.
11. Beshbarmak
Beshbarmak literally means 'five fingers', which is an allusion to the traditional way it is eaten, with the hands and from a common bowl. Perhaps for this reason, it is the preferred dish of celebrations, when the family comes together. It is another dish made with noodles and meat.
12. Fried Dough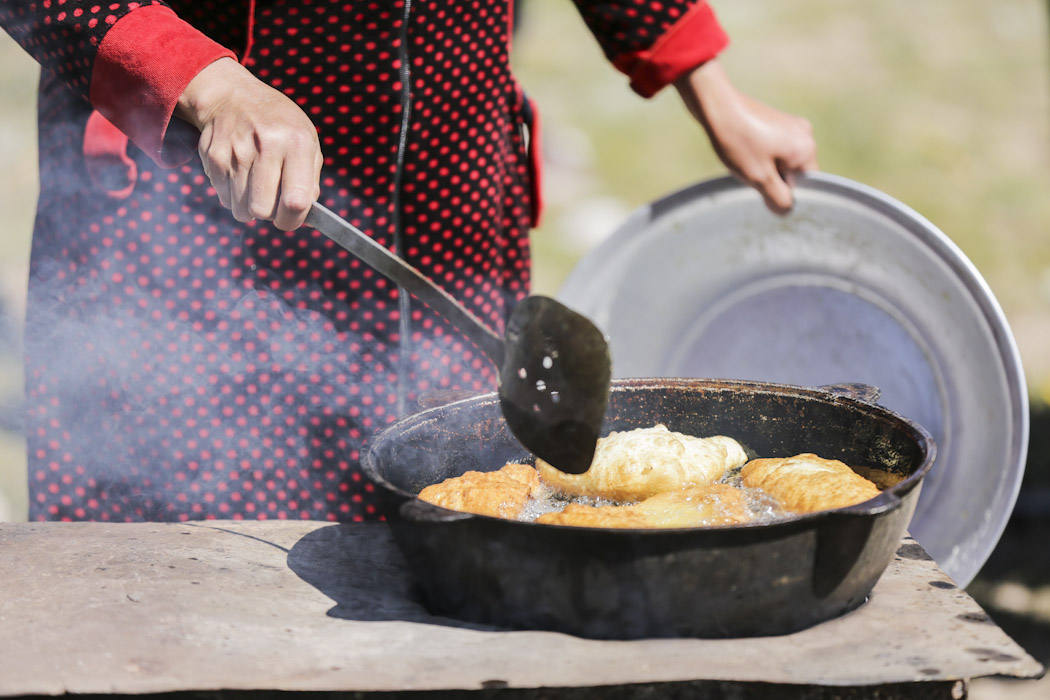 Fried dough exists in several varieties, also with a filling of potato. It is so simply made, that women cooked it outside their yurt, or also in the open during festivals. It is obviously greasy and there isn't much taste to it, but it is definitely filling.
13. Spicy Salad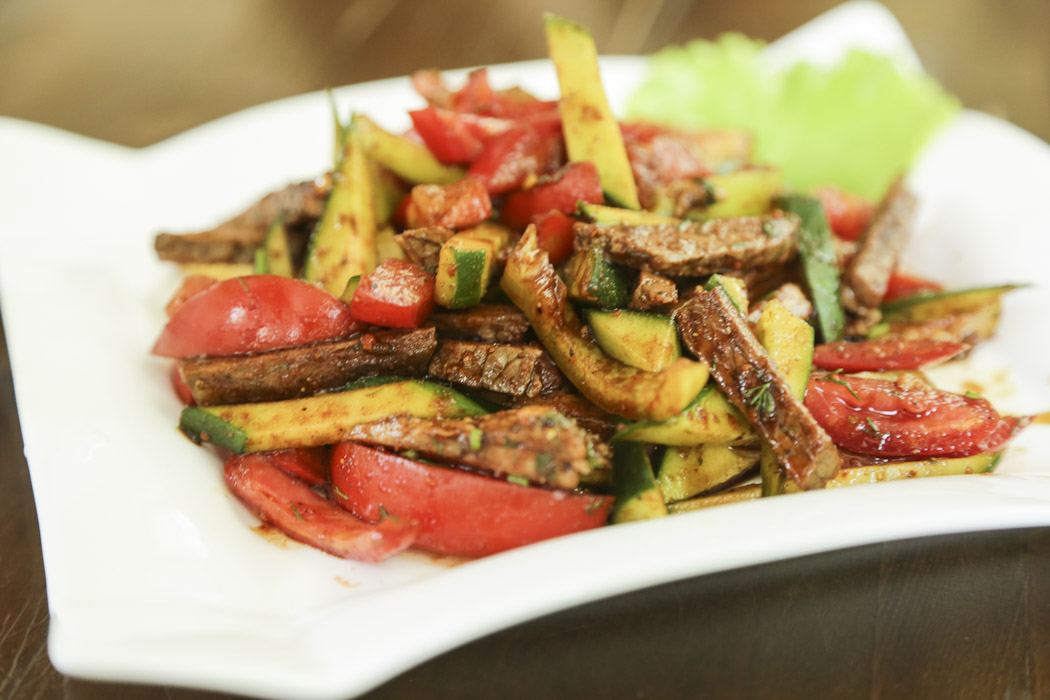 Even when you ask for a salad, the chances are high that there will be meat in it. This was one of our favourite salads, but included, as the waiter told us, 'just a little bit of meat, for taste'. Oh, and when the Kyrgyz say 'spicy', they really mean it! This was so hot, that I was crying when eating it. Delicious, but hot!
14. Korut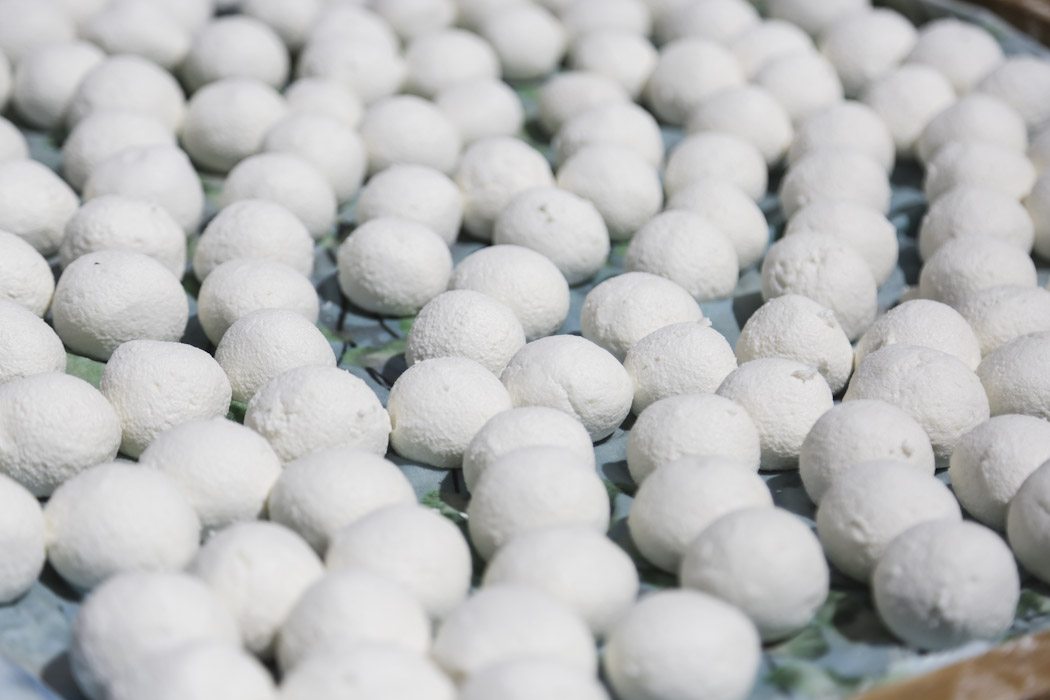 Kyrgyz love korut, and sooner or later you won't be able to avoid them. They are salty snacks and, definitely, an acquired taste! These salty cheese balls have a strong flavour of goat's milk, and can be simple or with added flavours (smoked, with fish or animal oil and with herbs or spices). If you are lucky, you will find one that suits your taste.
NOTE: How will vegetarians survive in Kyrgyzstan?
That is a difficult topic. Even soups are made with meat. If you ask for a vegetarian meal, you may be offered plov without meat, but in that case, you need to be aware that, although you did not get the added meat, your rice has been cooked with it. Occasionally, restaurants do have a vegetarian version of oromo, a dish made of homemade layers of dough, and filled with carrots and onions and then steamed to cook. It was probably one of the most delicious dishes that we had, but it is very rare on menus.
The End of the Meal
The meal ends with the eldest and most respected person saying a thanksgiving prayer to which all at the table make the omin sign, passing both hands over their faces. This is not a ritual exclusively for the intimacy of home, with the family. We see Kyrgyz people doing it in restaurants and also with friends, or with people such as us – strangers they have just met. We found this a very respectful and heart-warming way to finish a meal and leave the table.
Try our Travel Quiz about Kyrgyzstan to find out how well you know the country!