Flores is heaven on earth! Especially if your idea of heaven is a natural eden, where waterfalls and lakes are hidden amongst green lush landscape. These are some of the most beautiful lagoons in Flores Island.
Lagoa Negra and Lagoa Comprida

These two lakes are located next to each other. They are so big that we almost needed a wide angle lens in order to be able to photograph them in their entirety. These were definitely two of the most beautiful lagoons in Flores. They are located along some hiking trails, and are also easily accessed by car, so there is no reason to miss them, except if it is foggy weather in the mountains, as they are located high up in the mountains. Make sure to go there again if you miss them on your first visit. They are two of the set known as the Seven Lagoons of Flores.
Lagoa Negra (Dark Lagoon)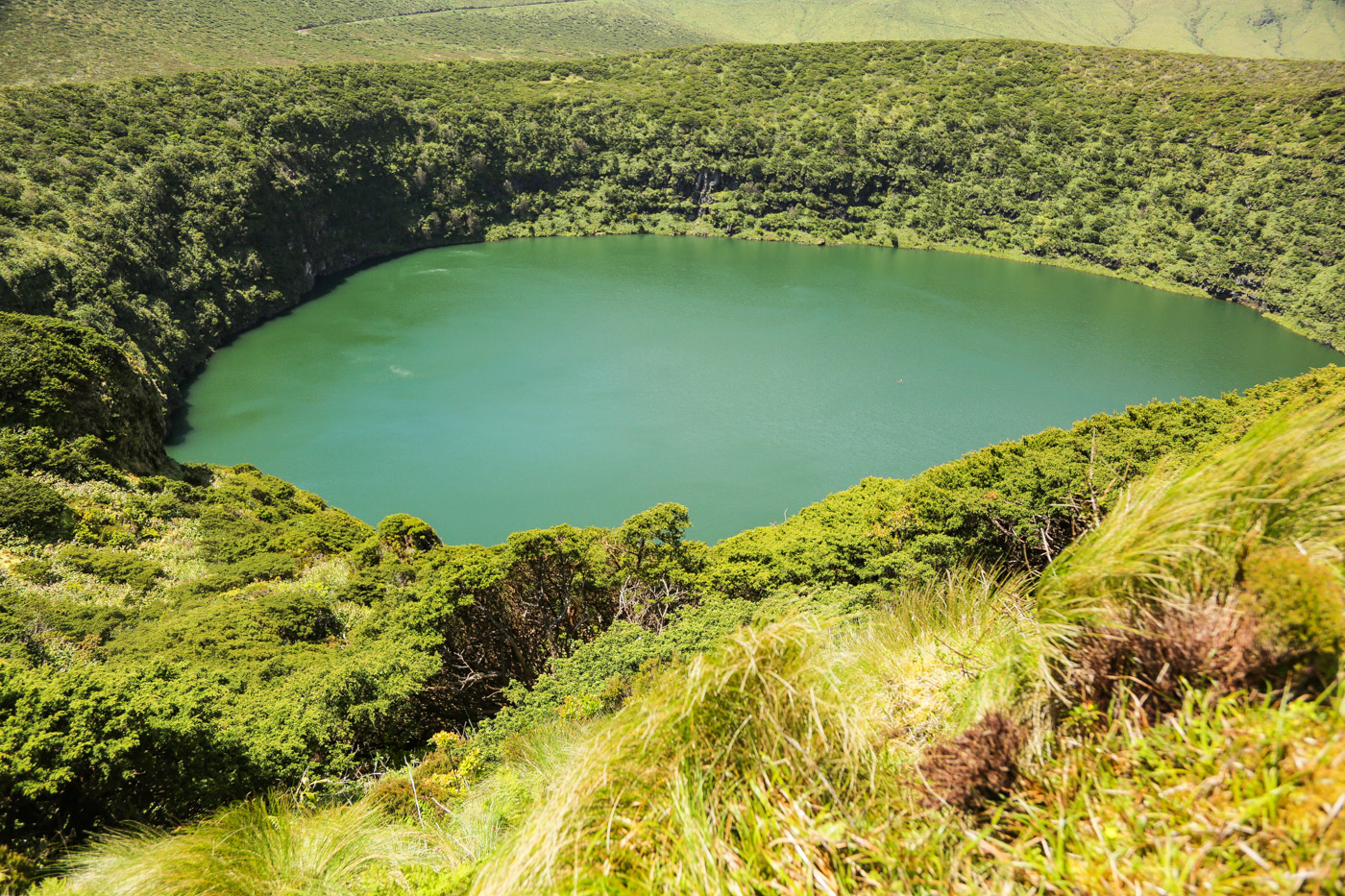 Yes, the Lagoa Negra (dark) is actually the green lagoon. And the one that looks darker is actually the Lagoa Comprida (Long Lagoon). Its name refers to the fact that its waters are dark due to the lagoon's depth, which is 110 metres deep. This lagoon is located in the Natural Reserve of Morro Alto at about 630 metres of altitude.
Lagoa Comprida (Long Lagoon)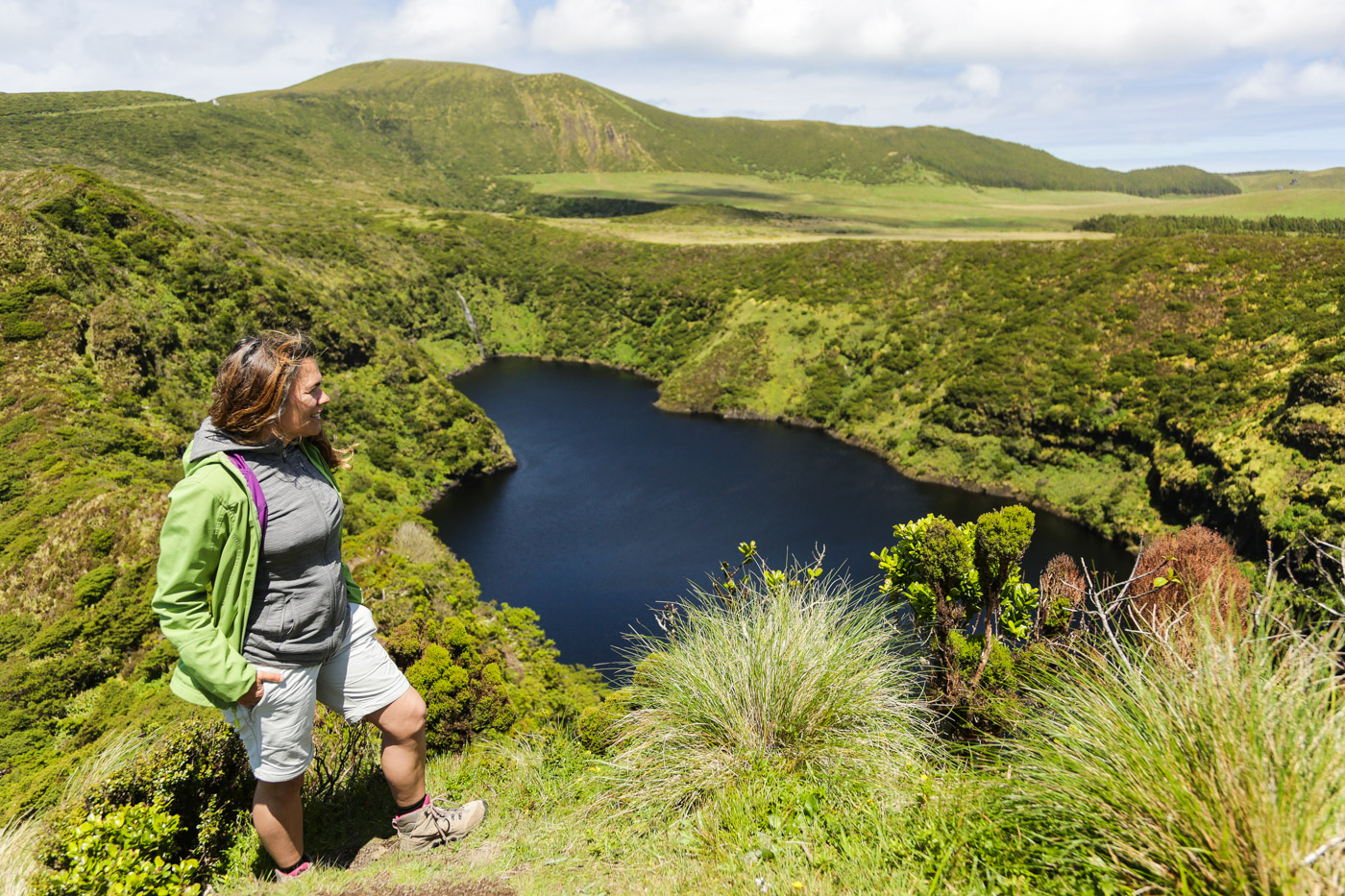 The Lagoa Comprida (Long Lagoon) is so called probably because it is longer than the Lagoa Negra, which is rather roundish. It is another lagoon from the set of the Seven lagoons, which had their origins in seven volcano craters created by volcanic eruptions. There's a small but lovely waterfall that feeds water into the lagoon.
Lagoa Funda and Lagoa Rasa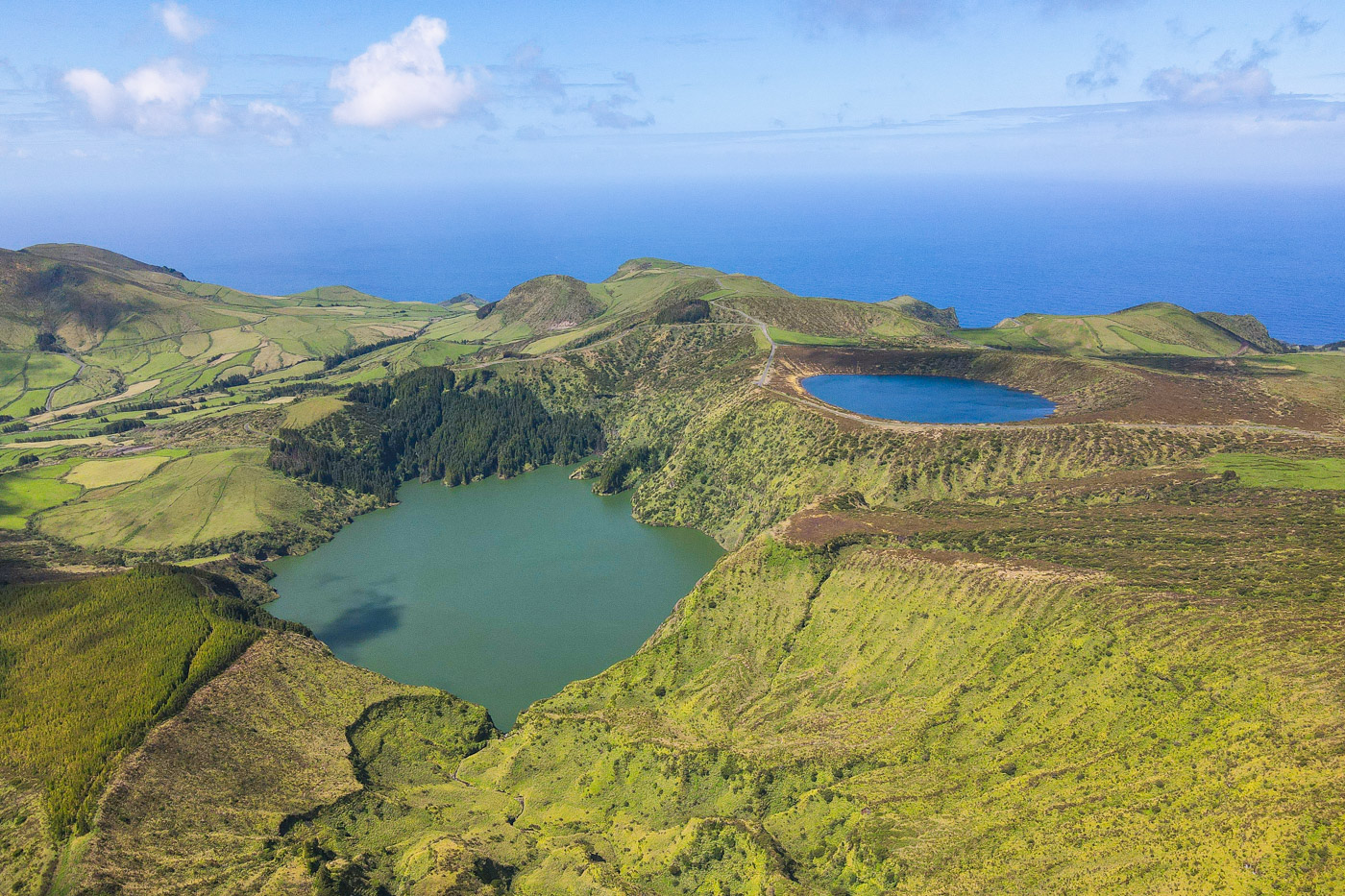 These two lakes have the special feature of being side by side but at different levels. So one doesn't get to see them both if being next to them. In order to see the two lagoons that stand at two different levels, it is better to return to the main road and get a glimpse of them from a distance. Again, both have different colours, with the Lagoa Funda (Deep Lagoon) being the deeper (and greener) one.
Lagoa Funda (Deep Lagoon)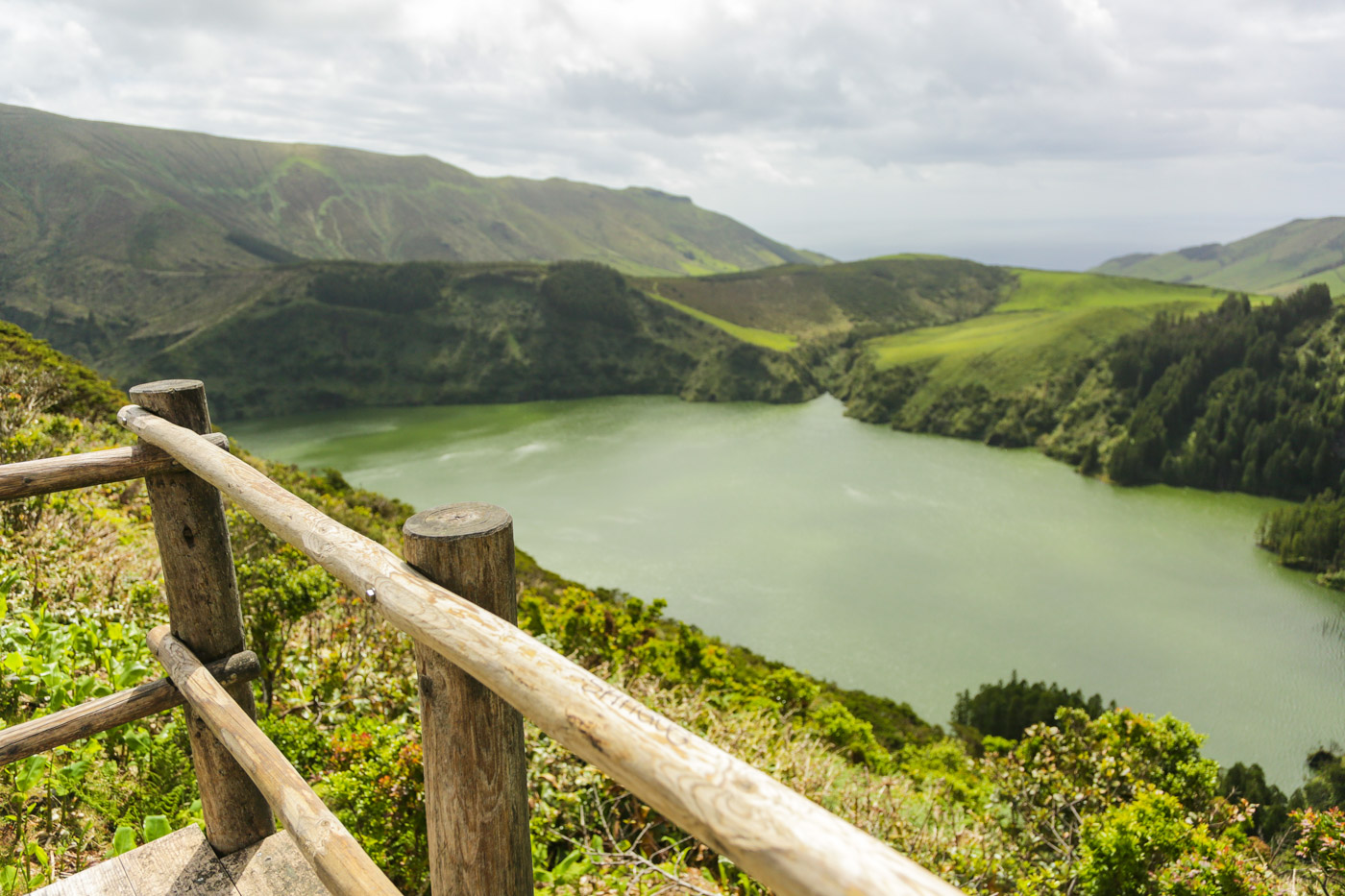 Each lagoon in Flores has at least one viewpoint, and it is worth to just stay there long enough to enjoy these wonderful views. We had to stay a good while next to the Lagoa Funda, because when we arrived there we could hardly see anything because of the fog. In less than twenty minutes the myst dissipated and we could finally enjoy the landscape.
Lagoa Rasa (Shallow Lagoon)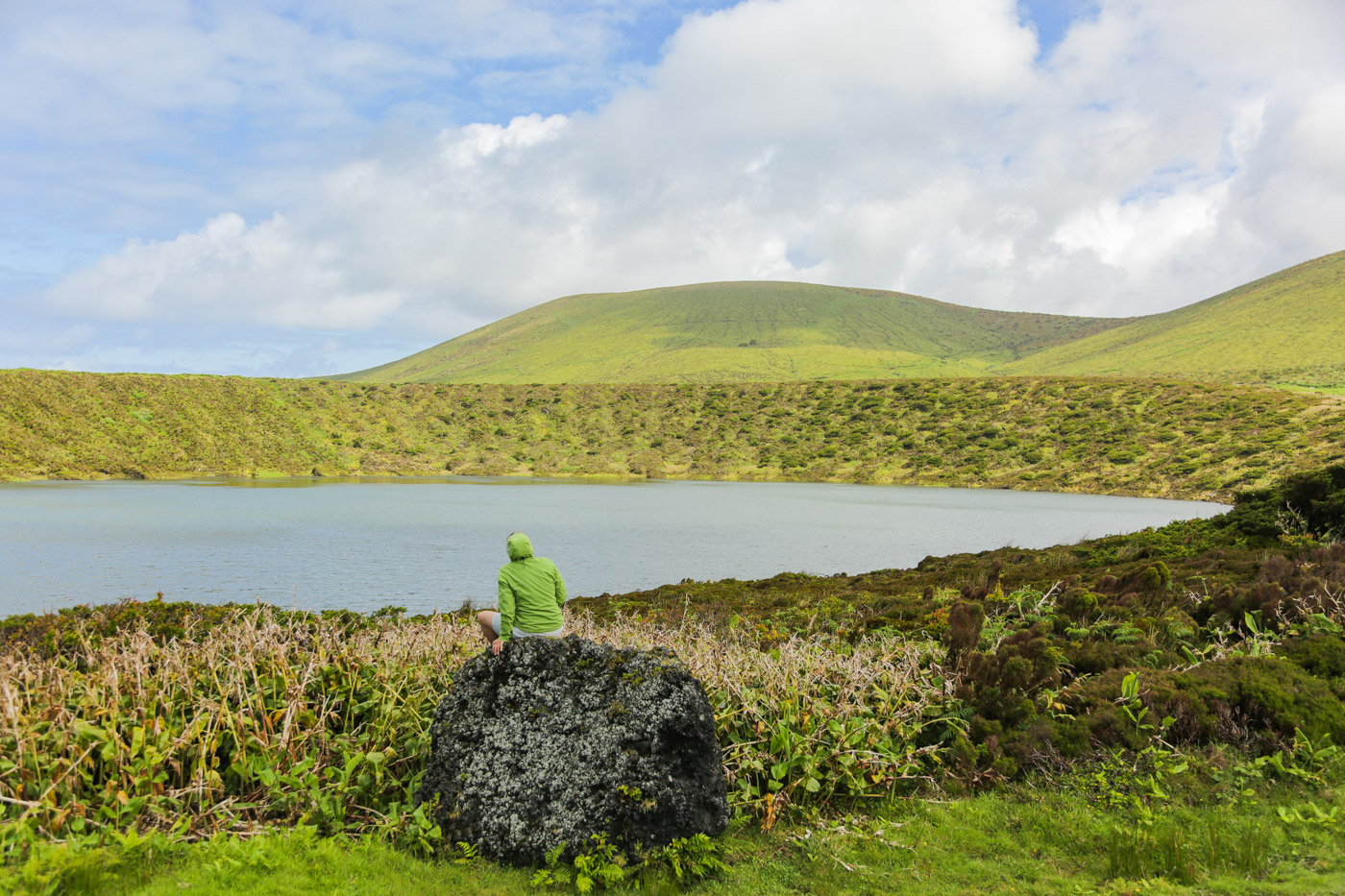 Both the Lagoa Funda and the Lagoa Rasa also belong to the set that forms the Seven Lagoons of Flores. These two are located at around 650 and 500 metres of altitude. The Lagoa Rasa is higher than the Lagoa Rasa by about 150 metres.
Lagoa Branca (White Lagoon)
The Lagoa Branca is surrounded by a ring of tufts, and at the time of our visit did not have much water in its caldera. Nevertheless it remains a beautiful spot and is located not far from the other six lagoons.
Lagoa Seca (Dry Lagoon)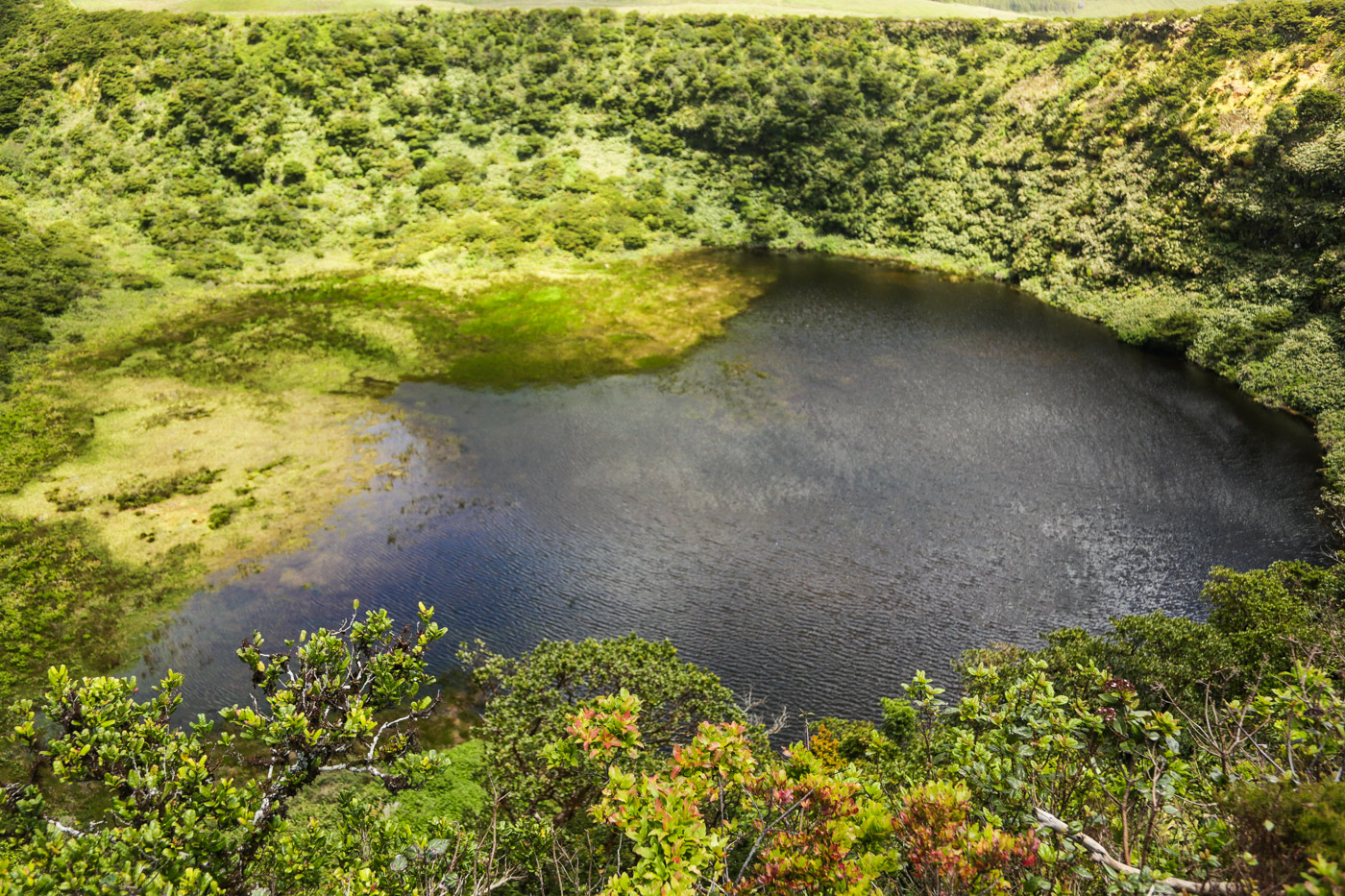 The Lagoa Seca, as the name says, is a dry lagoon, because it can lose all its water, especially in summer. We visited in May and still got to see the lagoon with water. Again, this is located in the crater of an ancient volcanic eruption and is one of the seven lagoons of Flores.
Lagoa da Lomba (Lagoon on the Hill)
Lagoa da Lomba (Lagoon on the hill) is a fifteen metre deep crater lake in the central mountains of Flores. It lies in the area of the Lajes das Flores district below the Pico do Touro. The lake shore is surrounded by many hydrangeas and willows on one of its shores.
Where to stay when you visit Flores Island
– Camping sites: As we said above, the island is well served with camping sites. If you would like to have a closer contact with nature (hike or bike and camp), the island is well prepared for that.
– Local accommodation: There are a few local stays, and as people are beginning to open their homes to tourism, this could well increase in the next couple of years.
– Hotels: There is a small but very nice selection of hotels in the island. Most of the hotels are located in Santa Cruz, Fajã Grande and Lajes.
OUR PICKS:
If you are planning to visit Flores Island in the Azores, you should not miss our articles below:
Going to the other islands in the Azores? Don't miss these articles: