Flores is one of the most beautiful islands in the Azores. If we had to attribute a colour to this island, it would be green, without any hesitation. Green is present not only in its grassland but also on the cliffs. One does't have to be an expert to guess that so much green is due to the presence of water. It rains a lot and there are many water sources in Flores, hence all this lush green colour.
With so much water running down the rugged landscape, it comes without any surprise that Flores has so many waterfalls spread throughout the island. Here are a few of the incredible waterfalls that we saw in Flores and absolutely recommend:
1. Ribeira Grande Waterfall
When you are driving to Fajã Grande, and approaching the Ribeira do Ferreiro Waterfall, the very first drop that you see, standing alone on the wall, is the Ribeira Grande waterfall. We drove past this fall a couple of times, but, if you can choose, visit the waterfall after a day of strong rain, so that the water flow is even stronger. You can approach the waterfall at its bottom or from the top. Both views are impressive.
2. Ribeira da Cruz Waterfall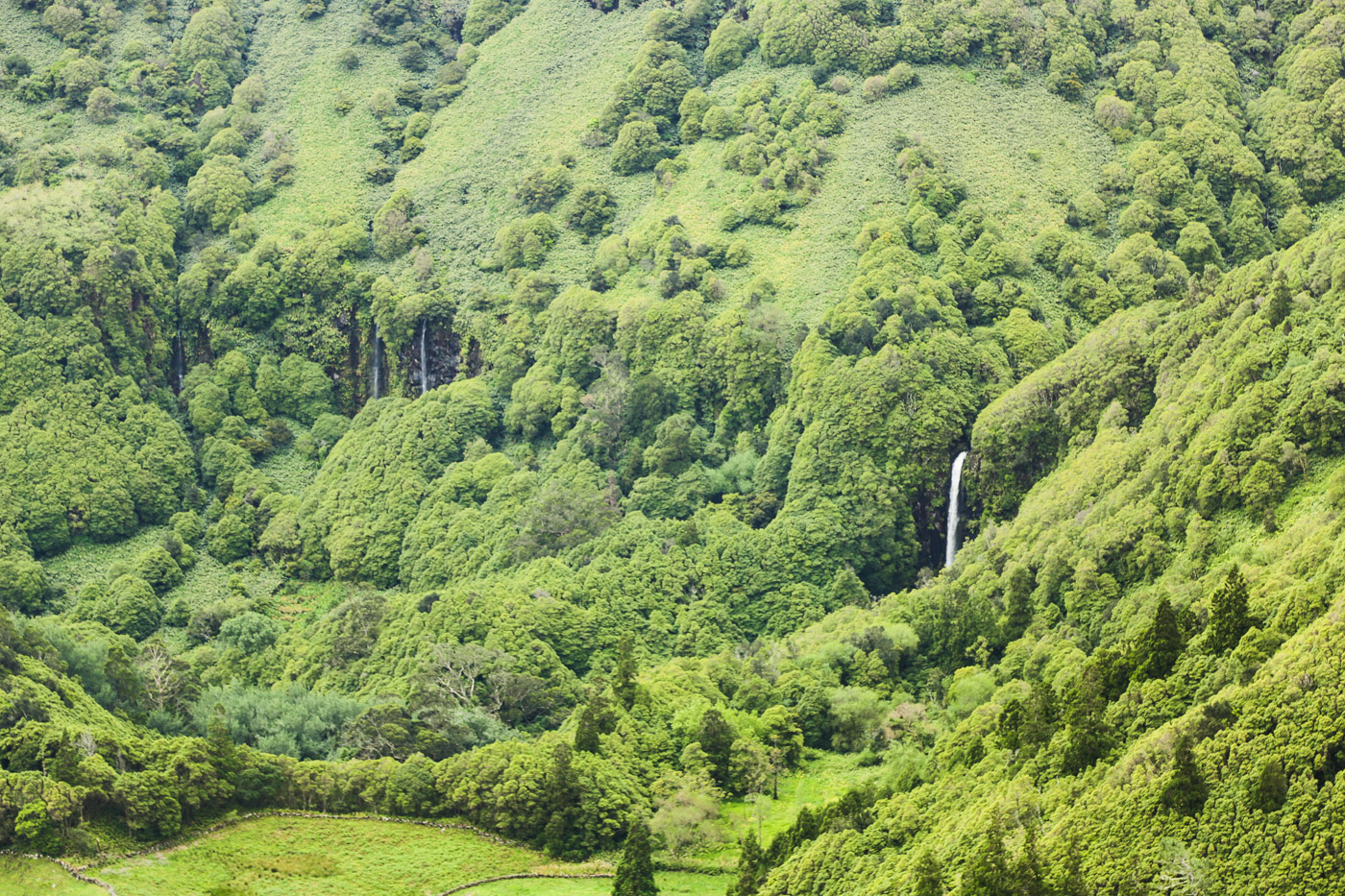 We stopped in a lookout (Miradouro Arcos Ribeira da Cruz), not expecting to see anything else than the sea and a valley, and then suddenly, we are offered the view of this tiny waterfall, dropping into a hidden pond, away from any village, away from us, just surrounded by the lush vegetation of the valley. If this isn't paradise…
3. Ribeira do Ferreiro Waterfall
This waterfall, or set of waterfalls, can easily become your favourite spot in the island. It is located in the parish of Fajã Grande and is only a few kilometres away from the municipality, being quite easily reachable. What makes this place incredible is the green cliff from which the waters of several waterfalls flow out. This vertical wall is totally covered in intense vegetation, that turns this place into a unique natural wonder. This location is part of the Morro Alto Forest Reserve Zone, an environment protected area.
4. Bacalhau Waterfall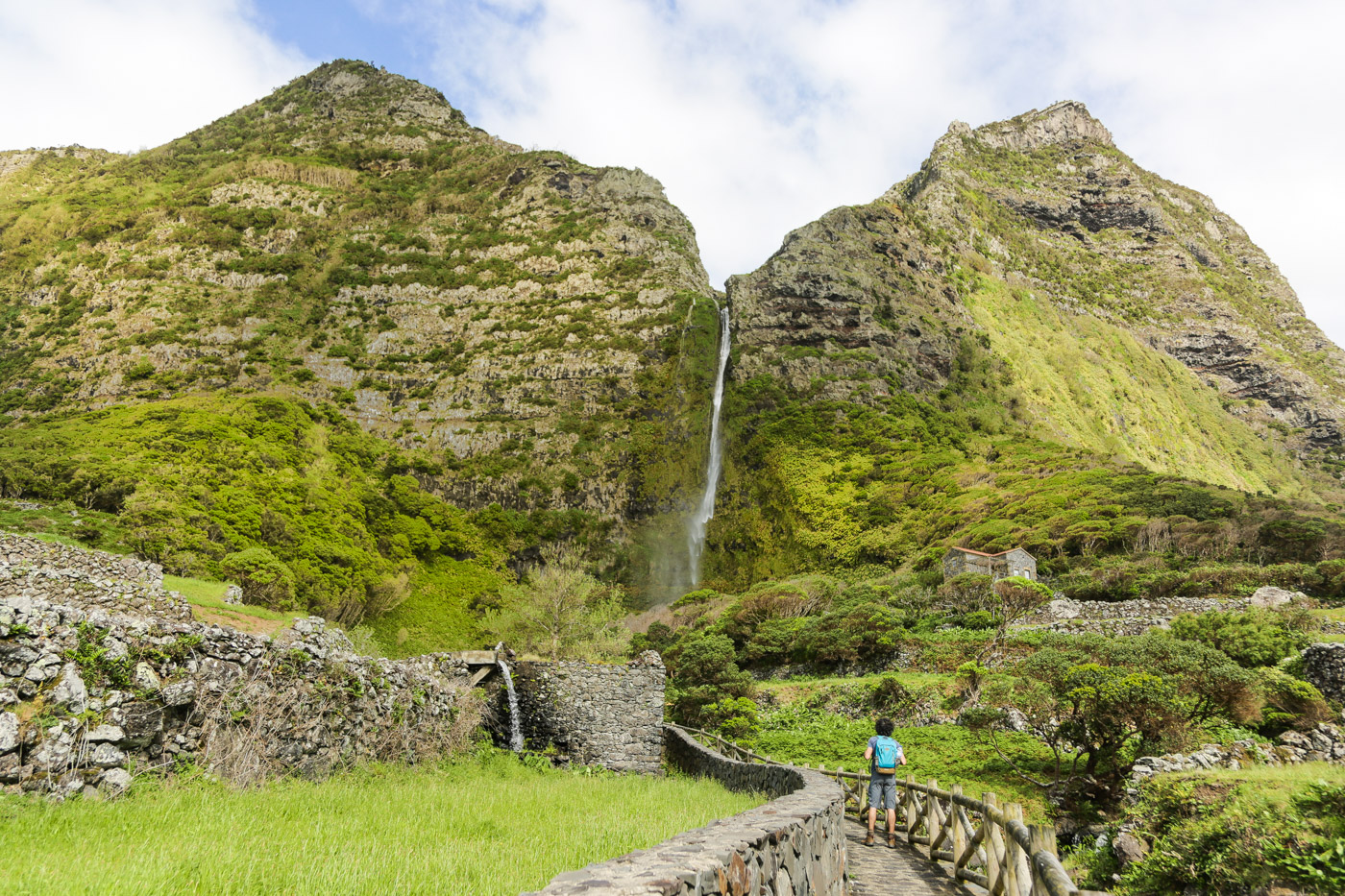 The Poço do Bacalhau is again a combination of an impressive waterfall that drops from a high cliff to create a small lake at its bottom. The ninety-metre drop is not only impressive because of its height, but also because of its location, in the bucolic surroundings of Fajã Grande. The clear and fresh waters of the waterfall create a pool, ideal for a quick swim after the hike.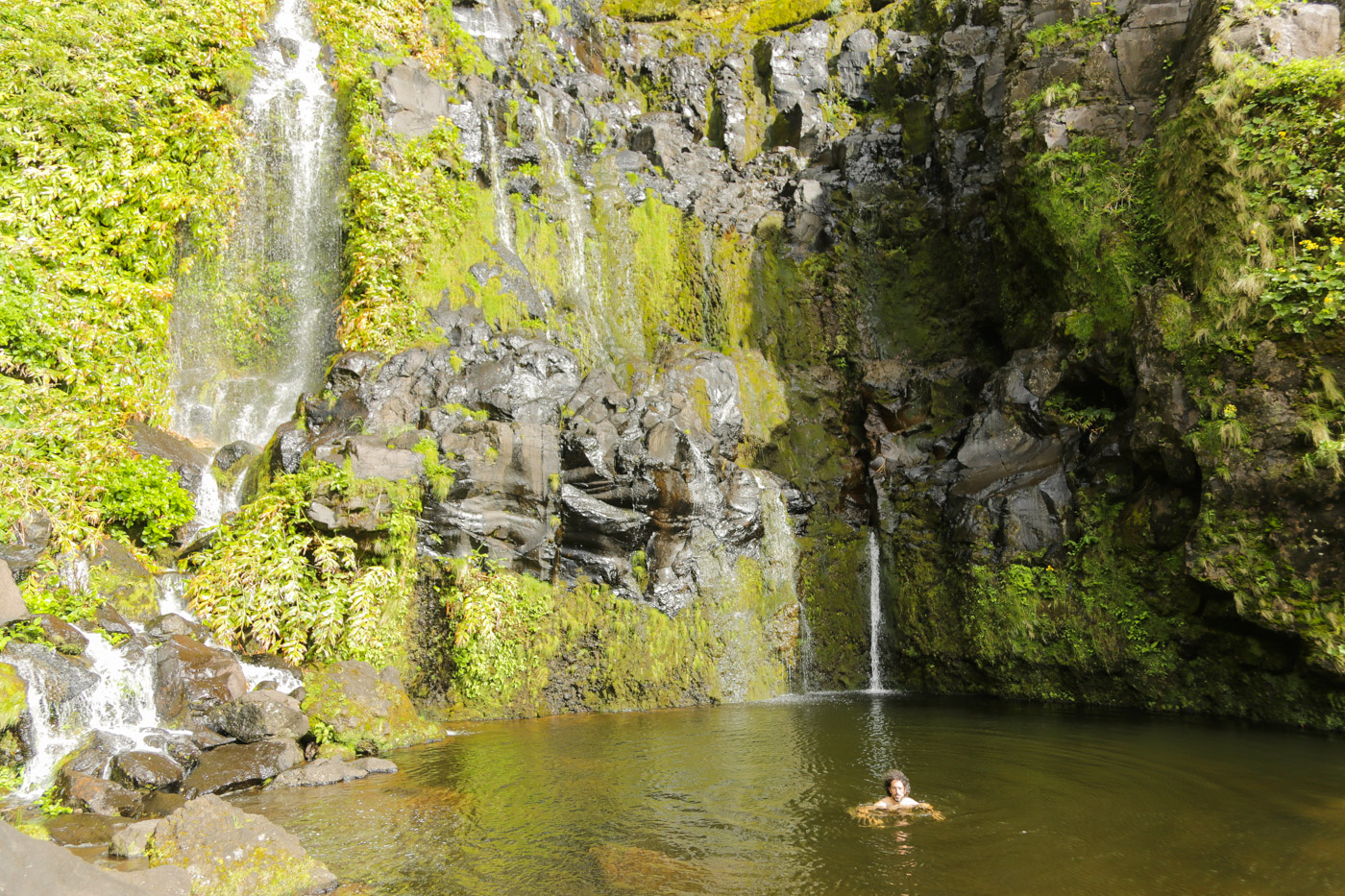 As if the waterfall wasn't enough of an attraction, its drop creates a lovely pond, where one can have a refreshing swim. We did just that, and felt good to have such a cool place after hiking all he way until there. Many people were coming here only for the swim, it is a popular spot in the island.
5. Ribeira do Fundão Waterfall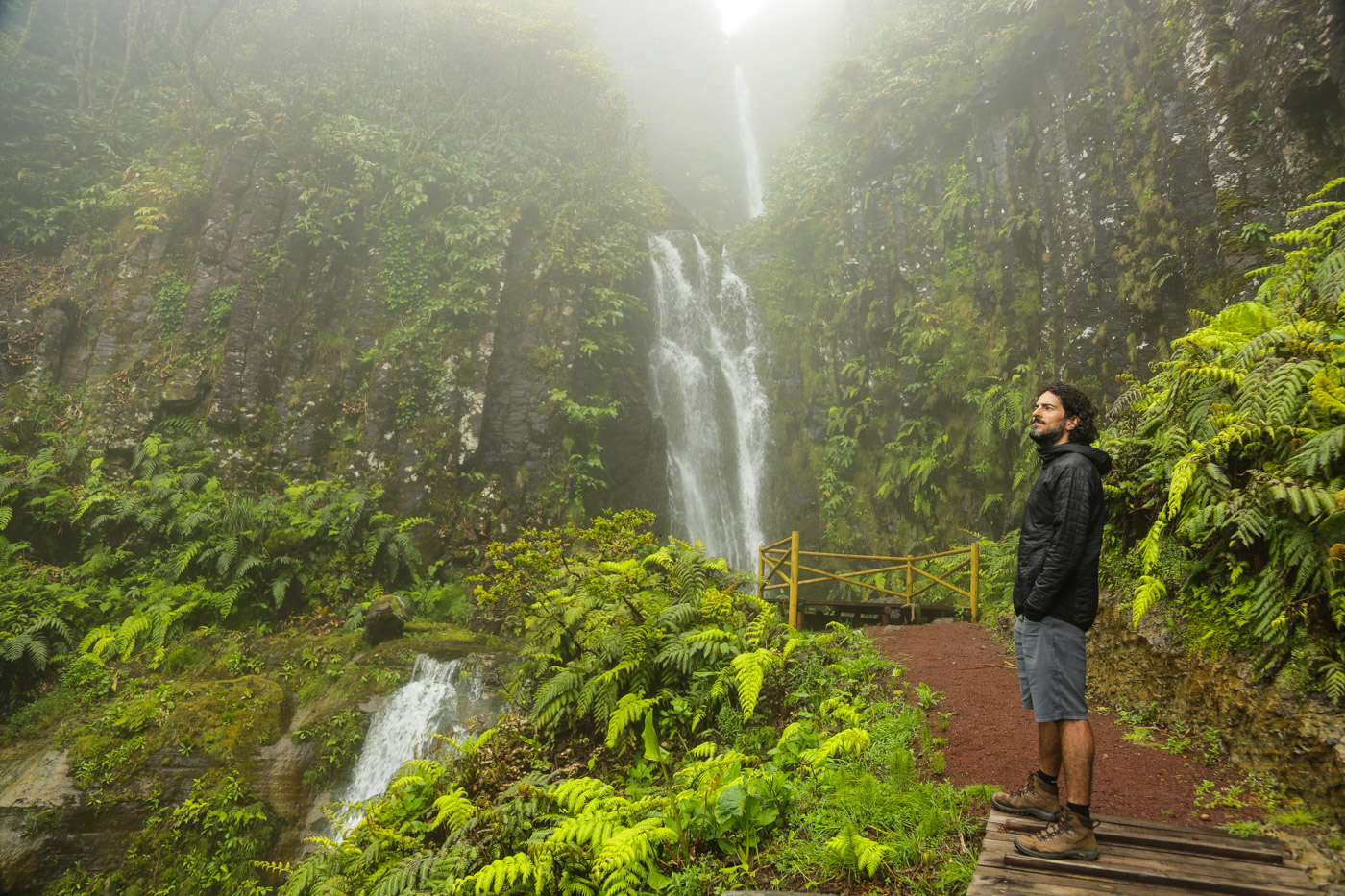 We found this waterfall almost by chance. We were driving along the road that leads to Lajedo, when on a sharp turn we spotted this waterfall. The day was very foggy, and at first we were unsure if we really had seen a waterfall, or if the myst was playing tricks on us. So we had to make a u-turn with the car, to give it a second glimpse. A good think we did it. With the myst and the rain, the atmosphere there was special and we enjoyed the time we spent there.
6. Alagoa Waterfall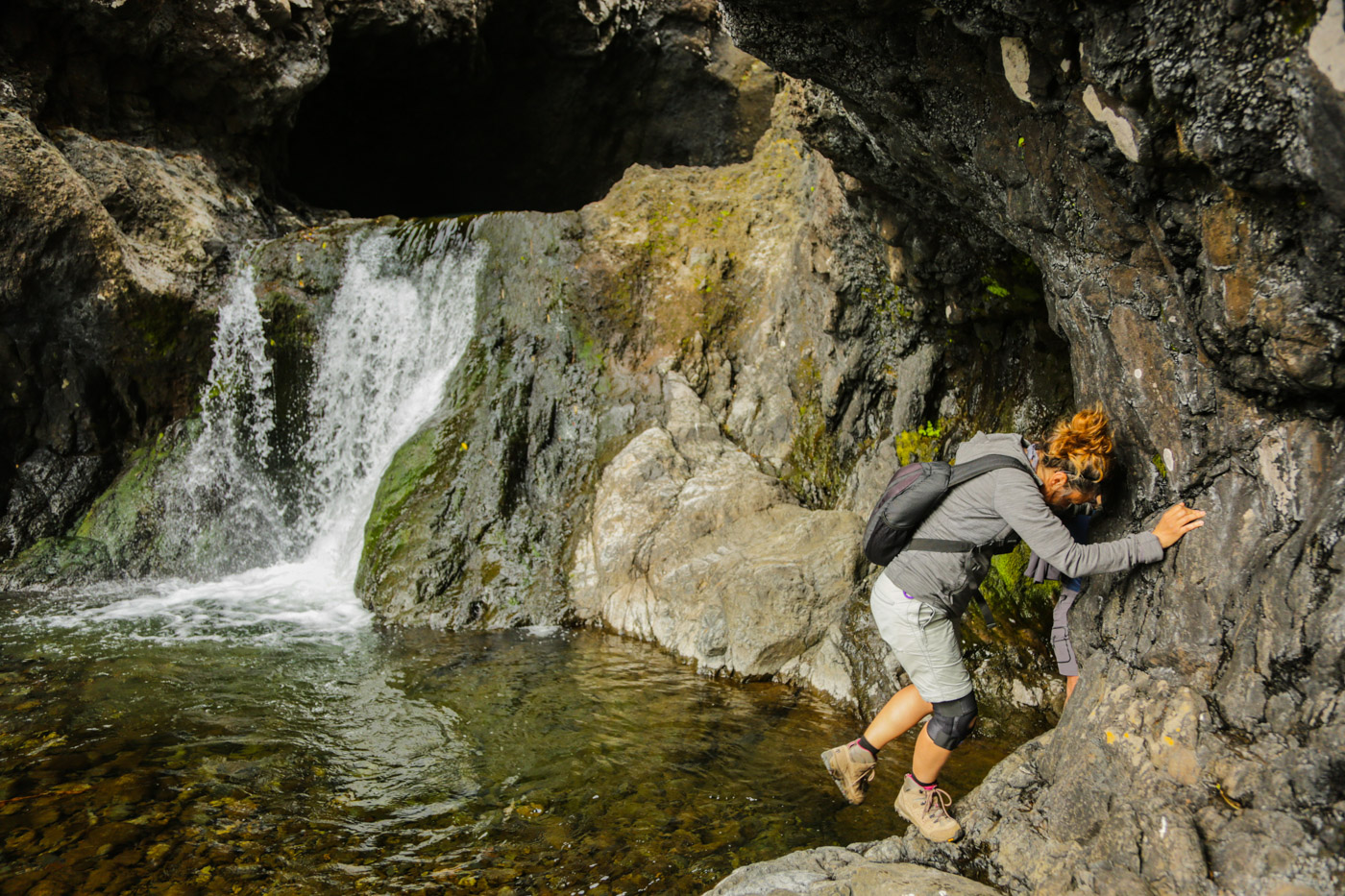 We had been to Alagoa before and did not find the waterfall. This was one of the 'hidden' gems that we discovered with a local guide. In order to find it, you need to go down to the beach at the bay of Alagoa, and then walk left. Although you will probably be able to find it on your own, going with a guide is safer. Our guide had brought climbing ropes which allowed us to climb up and down the upper pool. This was a lovely and refreshing surprise.
7. Ribeira do Cascalho Waterfall
Some of the waterfalls are difficult to reach, therefore it is advisable to wear good walking shoes. Please don't wear flip-flops, to avoid any accidents. Some of the waterfalls are located not necessarily in remote places, but are difficult ro reach. If by any chance you twist an ankle, and need to be carried, it will be a bit of a burden to reach the main road.
8. José Fraga Waterfall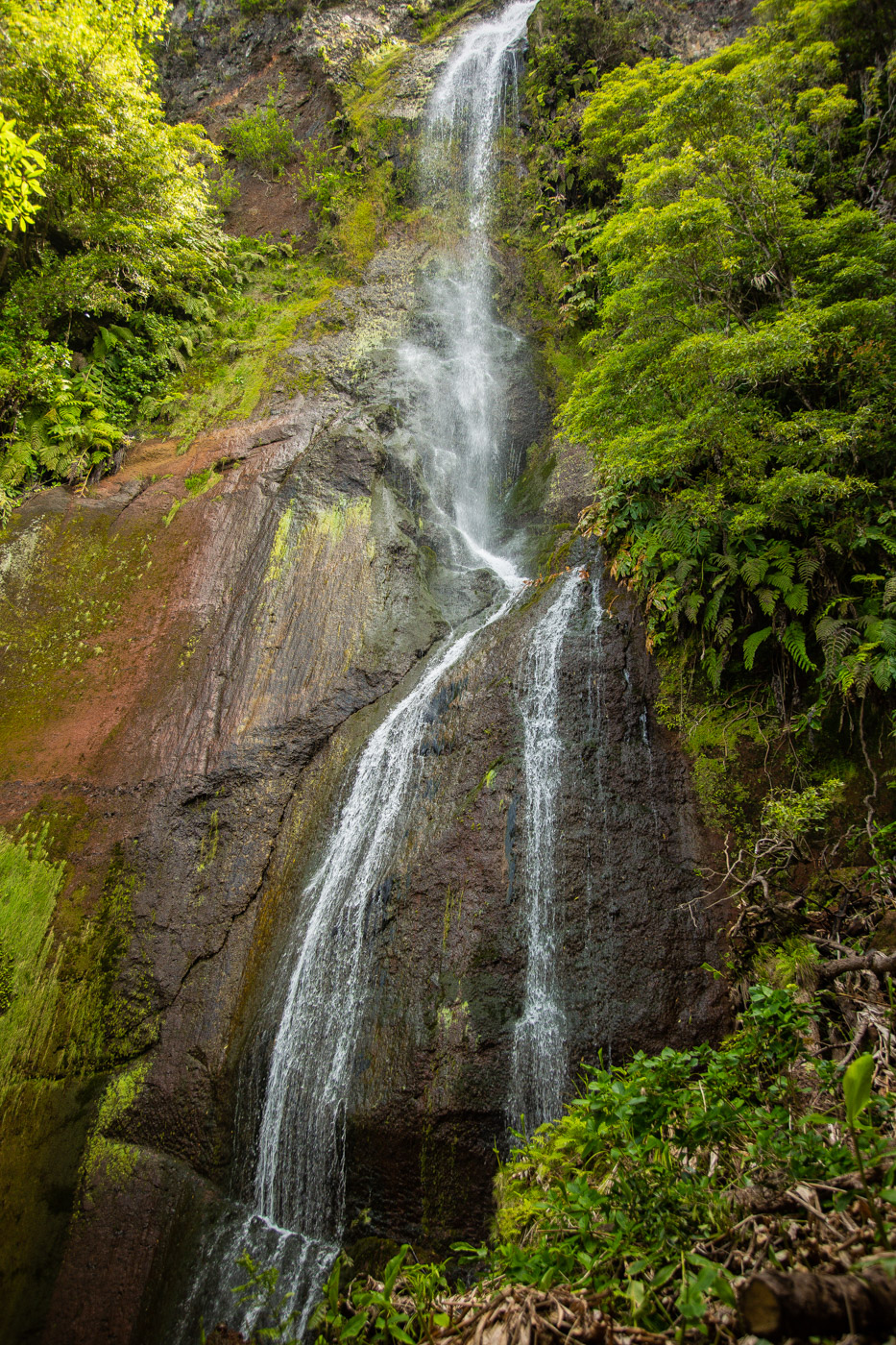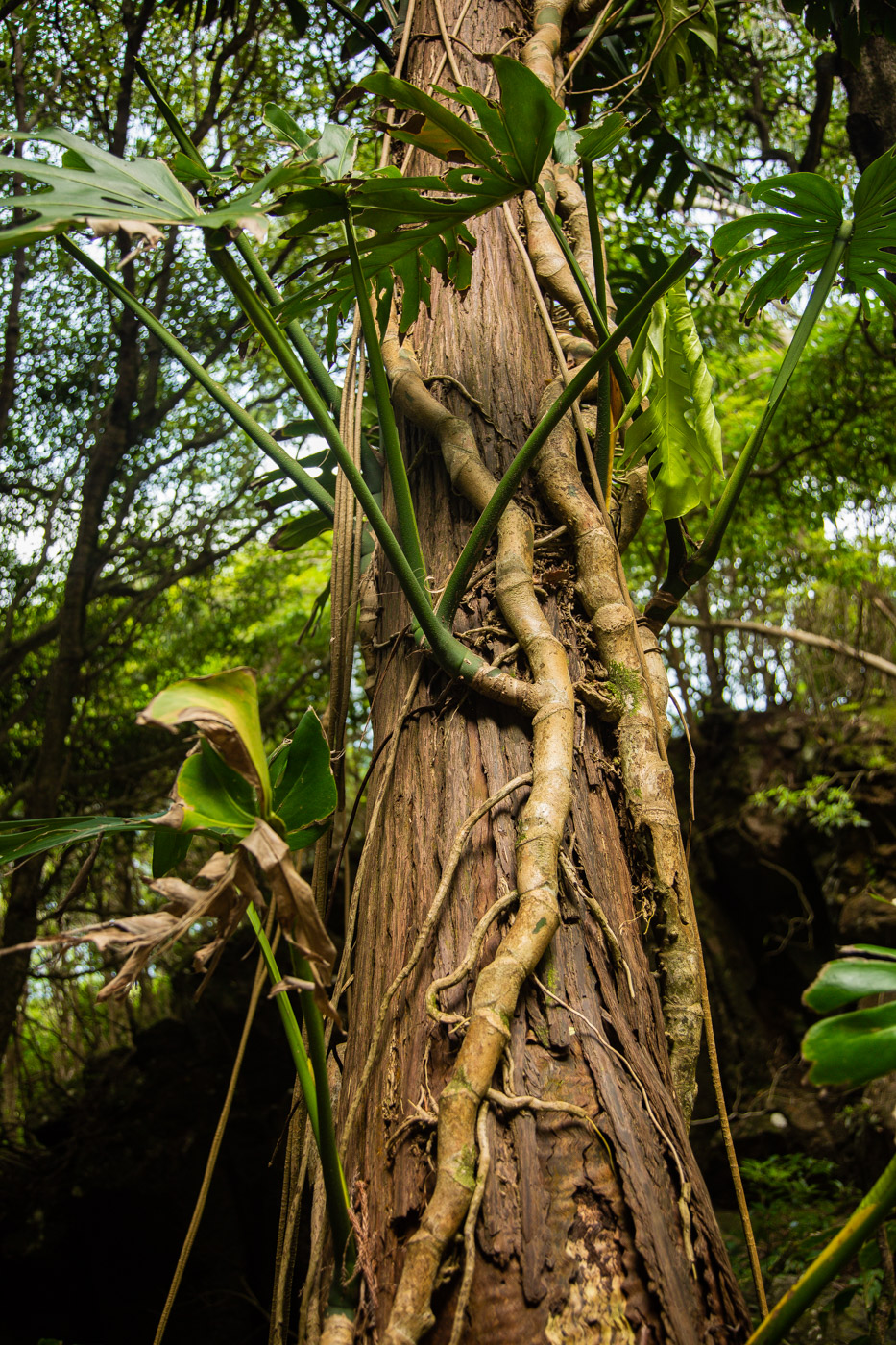 Another waterfall that we discovered with our local guide. It wasn't very easy to reach this waterfall, but it was worth all the efforts. We had to clear the way as we advanced through the wild vegetation that grows everywhere. We started hearing the fall before we got to see it. Once we arrived there, at the place where it drops into a tiny pool, we couldn't believe how strong the colours of the vegetation and the rock were. Incredible!
9. Ribeira do Cão Waterfall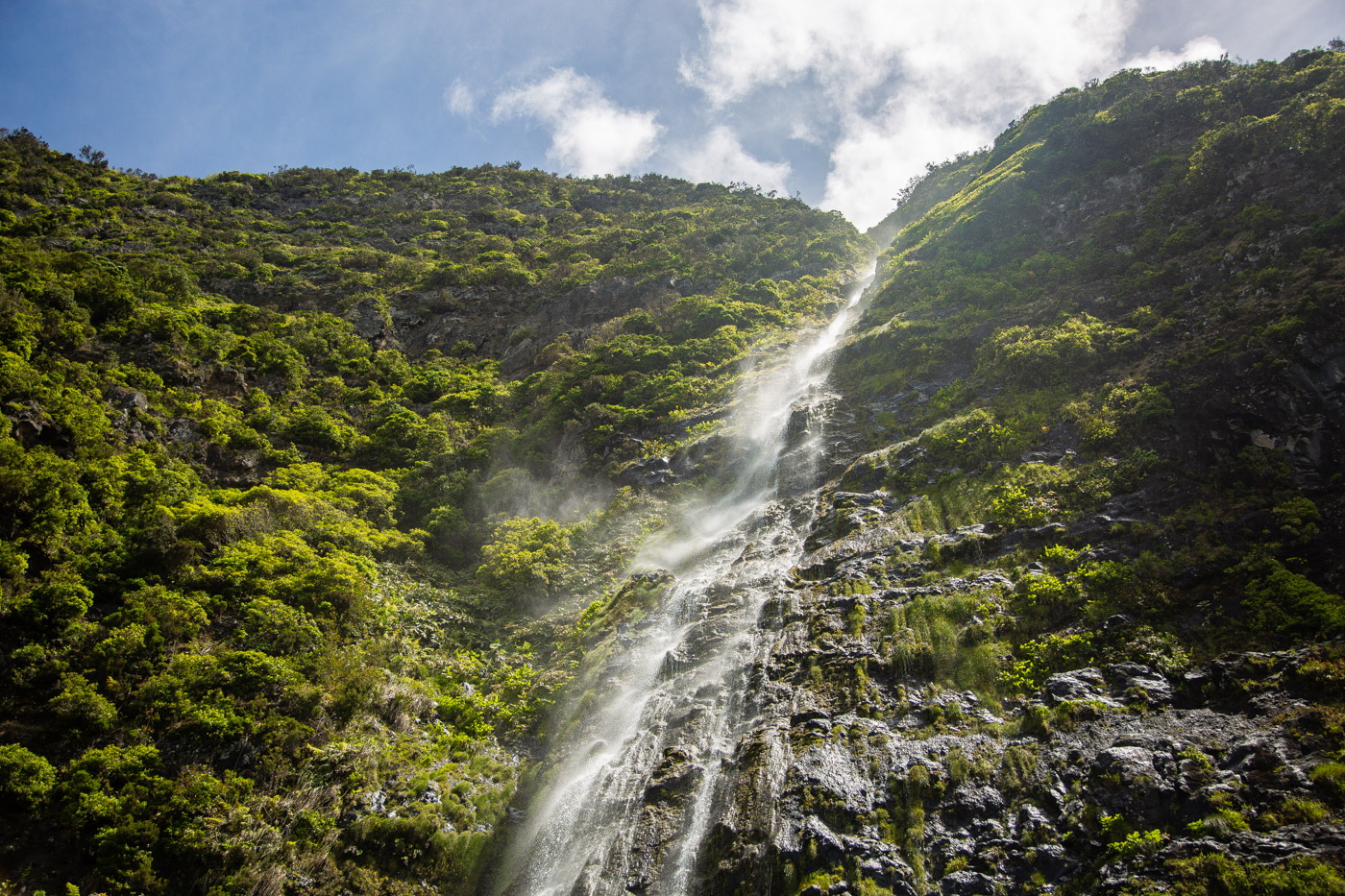 Another waterfall that we discovered with our guide. If you would like to have a tour that will take you to the waterfalls, there are several agencies offering such service. We picked Experience OC, and went with them for a day tour on their Extreme Waterfalls Experience. We can only recommend the tour, since we would probably not be able to find most of the waterfalls on our own.
Where to stay when you visit Flores Island
– Camping sites: As we said above, the island is well served with camping sites. If you would like to have a closer contact with nature (hike or bike and camp), the island is well prepared for that.
– Local accommodation: There are a few local stays, and as people are beginning to open their homes to tourism, this could well increase in the next couple of years.
– Hotels: There is a small but very nice selection of hotels in the island. Most of the hotels are located in Santa Cruz, Fajã Grande and Lajes.
OUR PICKS:
If you are planning to visit Flores Island in the Azores, you should not miss our articles below:
Going to the other islands in the Azores? Don't miss these articles: