If you are planning a visit to the Azores, you should include in your plan the island of Flores, which has been one of our favourite islands in the archipelago. Find below the places you should not miss when you visit the island of Flores. Also the experiences you can have while staying on the island.
Since 2009, Flores Island is a UNESCO Biosphere Reserve, a classification that allows the unique characteristics of the region to remain untouched, such as vegetation, flora and fauna.
1. Hike to the Poço da Ribeira do Ferreiro
(also known as Poço da Alagoinha or Lagoa das Patas)
This lake can easily become your favourite spot on the island. It is located in the parish of Fajã Grande and is only a few kilometres away from the municipality, being quite easily reachable. What makes this place incredible is the green cliff from which the waters of several waterfalls flow out. This vertical wall is totally covered in intense vegetation, that turns this place into a unique natural wonder. This Poço (lake) is part of the Morro Alto Forest Reserve Zone, an environment protected area.
Useful info:

Free entry
Access through a 700 metres path / 10 minute walk from the main road
Start: near the bridge over the Ferreiro stream
Visit in the afternoon to have the sun on the cliff and waterfalls
You can (and should) combine this Poço with the Poço do Bacalhau in a fabulous hike (see below)
Location: Google/Maps
2. Visit the Poço do Bacalhau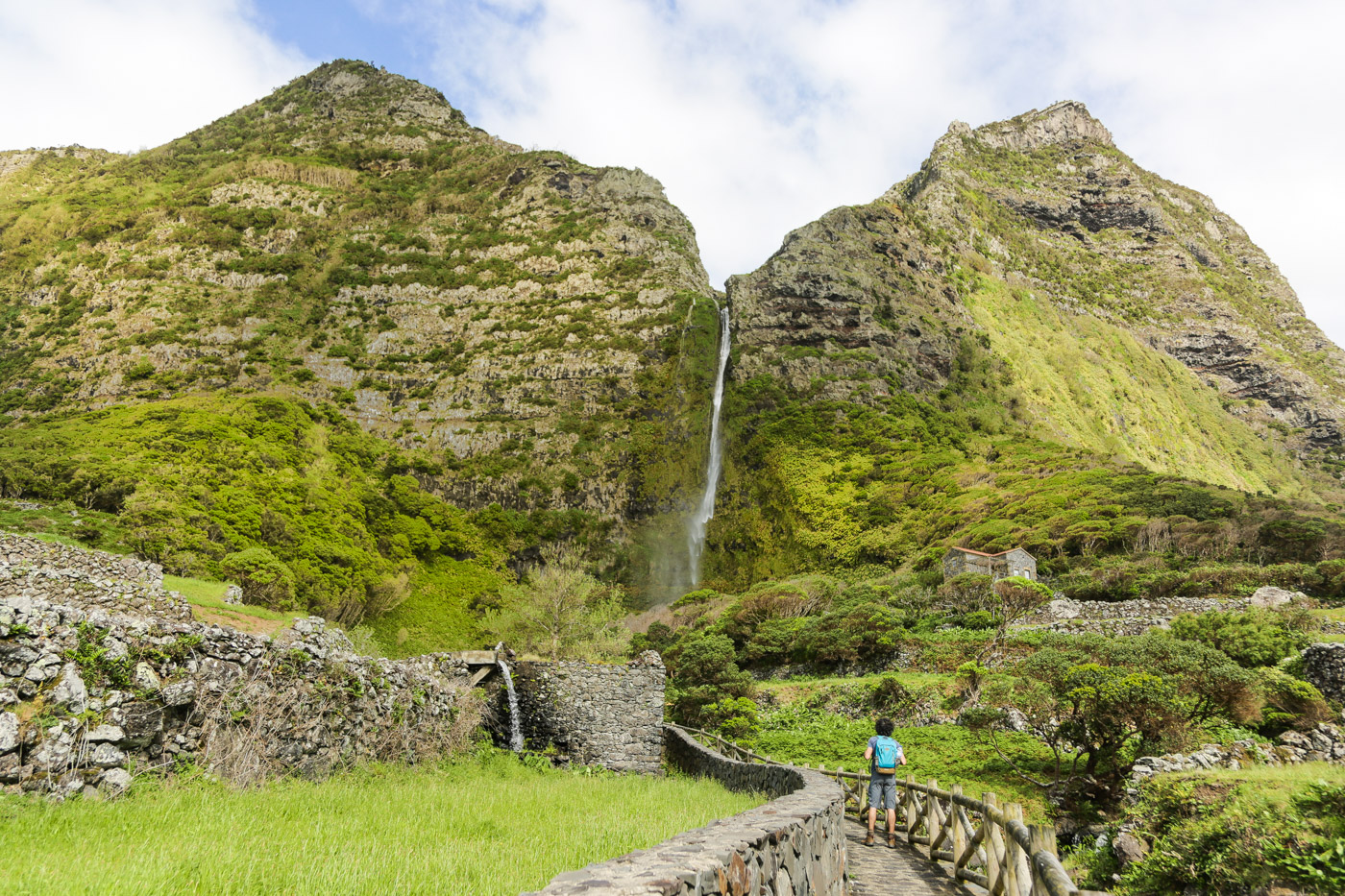 The Poço do Bacalhau is again a combination of an impressive waterfall that drops from a high cliff to create a small lake at its bottom. The ninety-metre drop is not only impressive because of its height, but also because of its location, in the bucolic surroundings of Fajã Grande. The clear and fresh waters of the waterfall create a pool, ideal for a quick swim after the hike.
Useful info:
Free entry
Access through a trail and walkway / 5 minute walk from the main road
Start: near the coast, 700 metres from the port
You can combine this Poço with the Poço da Ribeira do Ferreira in a fabulous hike (see below).
Location: Google/Maps
3. Hike to the Seven Lagoons district
There are at least seven lakes (Lagoa Rasa, Lagoa Funda, Lagoa Seca, Lagoa Branca and Lagoa da Lomba) that are worth a visit and they are all quite close to each other. It is possible to visit them while touring the island by car (unfortunately there is no public transport servicing the lakes) and some of the hikes pass through some of the lakes.
Useful info:
4. Don't miss the waterfalls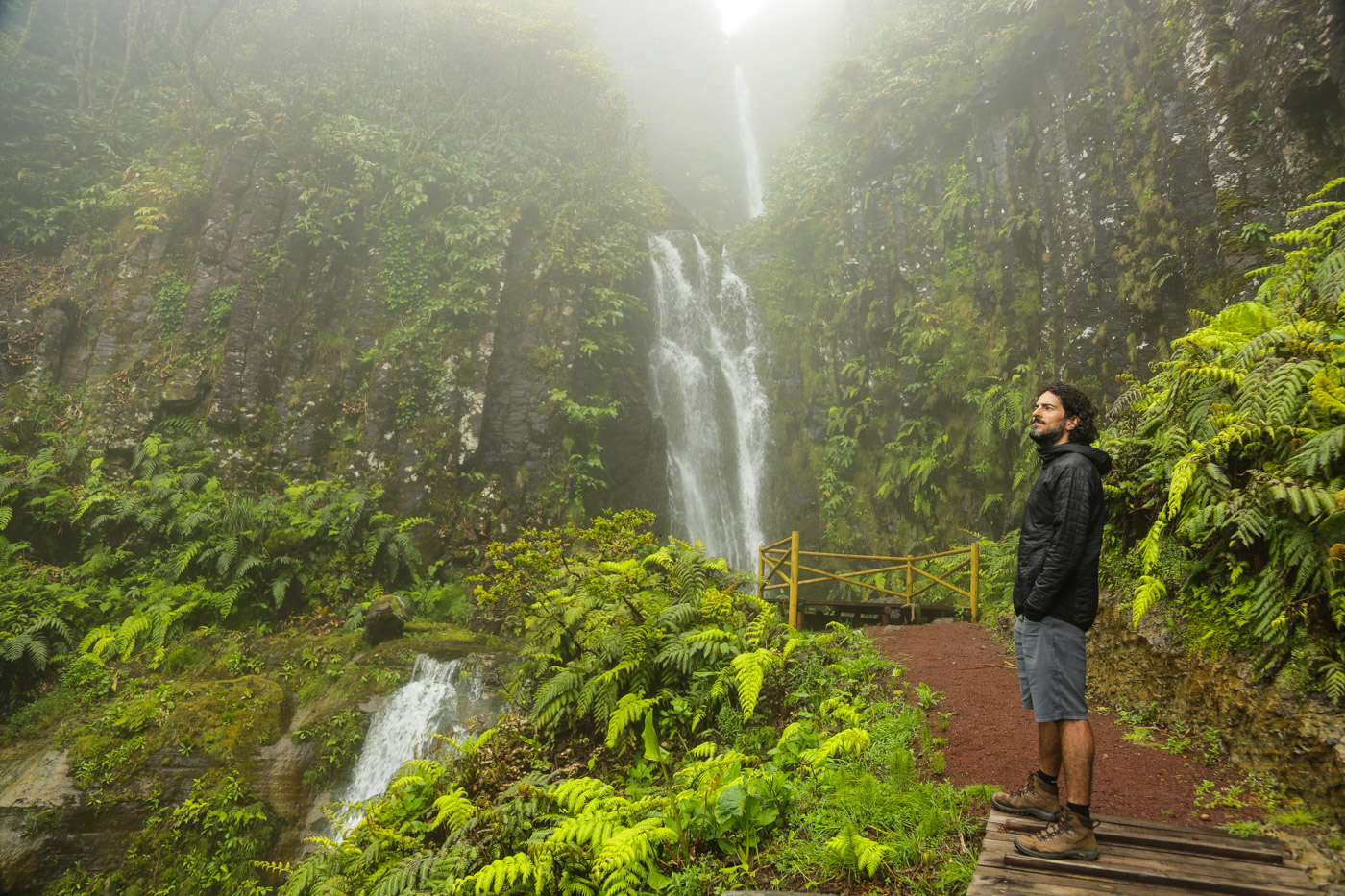 There is no shortage of waterfalls on the island of Flores. The reason for that is the abundance of rain, but in summer you should not get a lot of rainy days. We stayed 10 days in May and only got one rainy day. You can try to find them on your own, but you will need a car to go from one to the other. Some of the waterfalls are really hidden gems and we only found them because we were with a local guide.
Useful info: 
5. Stay at Fajã Grande
Fajã Grande has a small population of about 200 inhabitants only, but has got a good amount of waterfalls, and some of them rank amongst the most beautiful in Europe. It is also known for being the westernmost village in all of Europe. It's a quiet village, whose inhabitants make a living out of fishing and, more recently, tourism.
Useful info:
Don't be scared of the weird screams you will hear at night, if you are sleeping near the coast. These are no ghosts nor witches screaming. These are the sounds made by the Cory's Shearwater. Strange at first but when we got used to it, we looked forward to the evening to listen to these birds' songs.
There's a free camping site with very good infra-structures in Fajã Grande (check below).
Location: Google/Maps
6. Walk up until the whalers' lookout
Just in the outskirts of Fajã Grande, near the restaurant Casa do Vigia, there is a trail that leads to Fajãzinha. A few metres into the trail, there's another path to the right that leads upwards to the old whalers' lookout. It is worth to make the detour and walk the rough path for incredible views over Fajã Grande.
7. Enjoy the views over Fajãzinha
The best way to fully appreciate the beauty of Fajãzinha is from one of the outlooks from above the hamlet. But don't forget to drive down the deep descent to the centre of the hamlet, or to include it in one of your hikes for a feel of a truly rural place.
Useful info:
Try the hike that starts at Fajã Grande and goes through Fajãzinha and Aldeia da Cuada. A good part of it follows along the coast (see below).
Location: Google/Maps
8. Stay at Aldeia da Cuada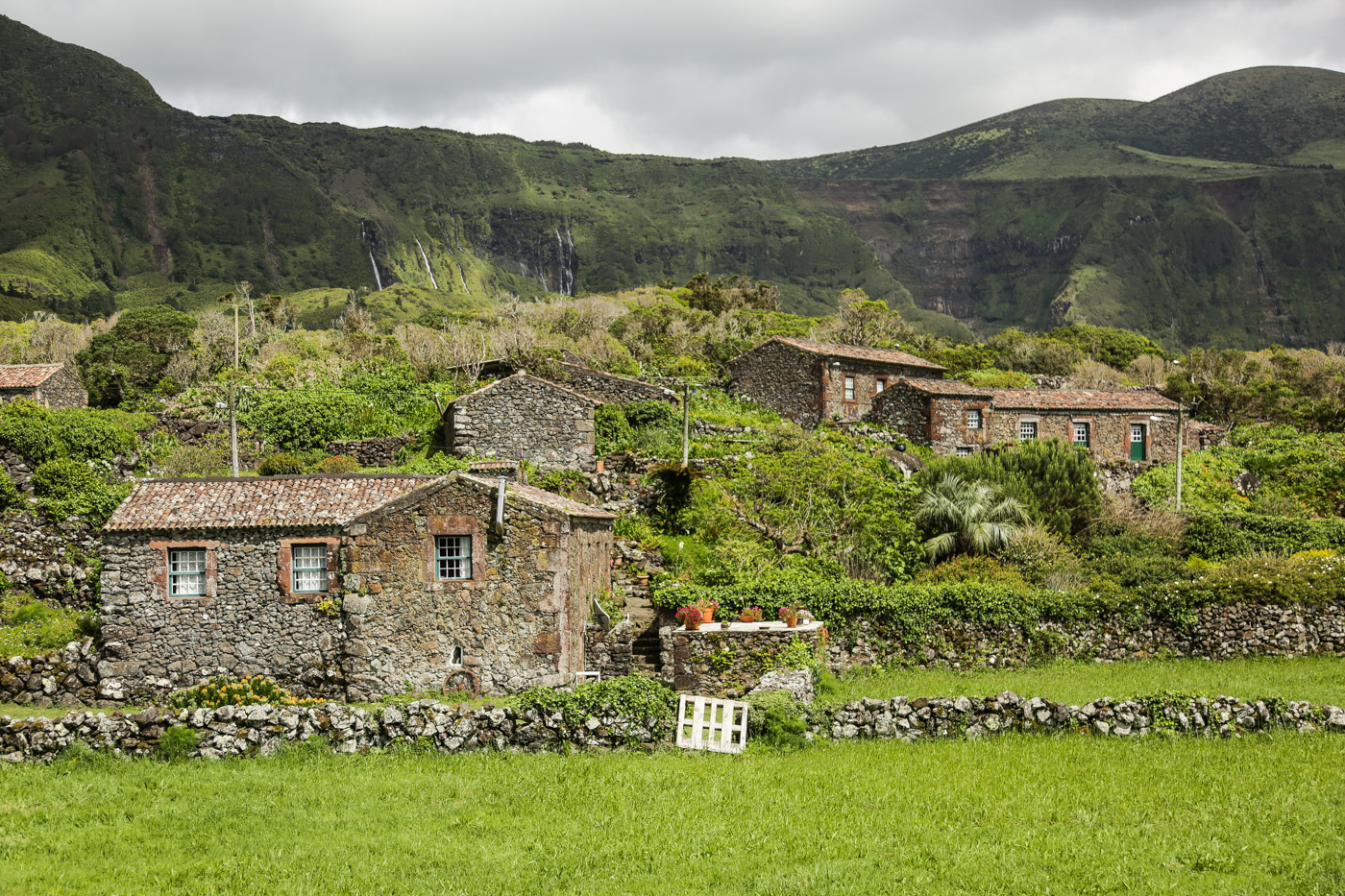 Today, the Aldeia da Cuada is a tourist resort with sustainable lodgings. It used to be a hamlet which was set up in 1676 and later abandoned, in the 1960's, when the population emigrated to North America. During its most prosperous period, there lived 122 inhabitants at Cuada, housed in twenty stone houses. Teotónia and Carlos Silva have bought all the houses of the hamlet and restored them, while keeping the original architecture, where stone is the main character.
9. Enjoy Santa Cruz das Flores
Santa Cruz is the capital and largest village in Flores. You will most certainly arrive here, because that's where the airport is located. Here you will find most of the accommodations on offer and a few nice restaurants. But the village has its own attractions to keep you busy for a couple of days.
Useful info:
There's a camping site next to the natural pools (Closed at the time of our visit).
10. Swim at the natural pools of Santa Cruz das Flores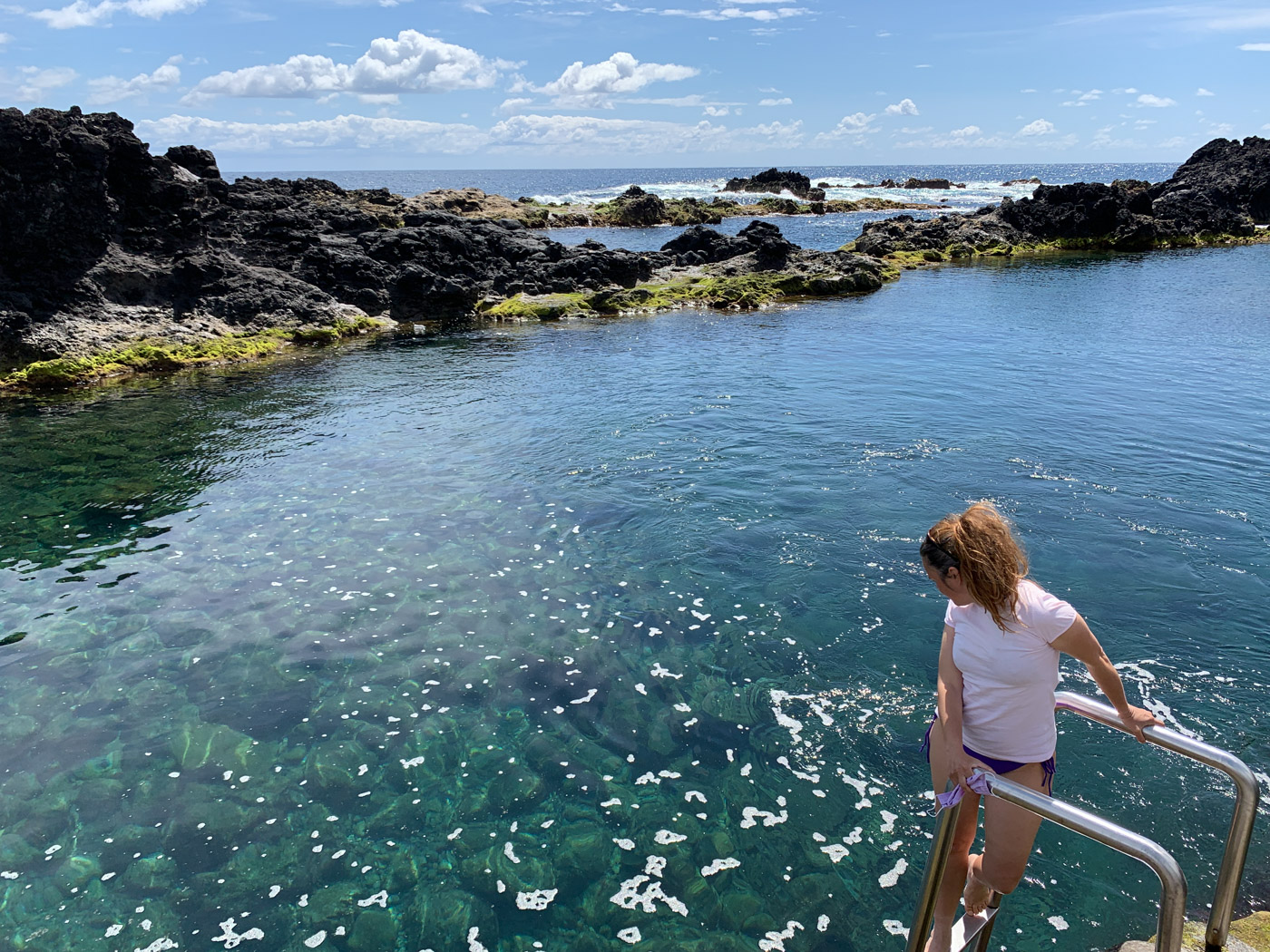 The natural pools of Santa Cruz das Flores are located next to the camping site, and are accessible via a structure of concrete stairs. Below, there are a few pools with clear ocean water, and many places to hang out while sunbathing. The perfect spot to enjoy a relaxing moment.
Useful info:
11. Visit the whale museum in the old Fábrica da Baleia do Boqueirão (Santa Cruz)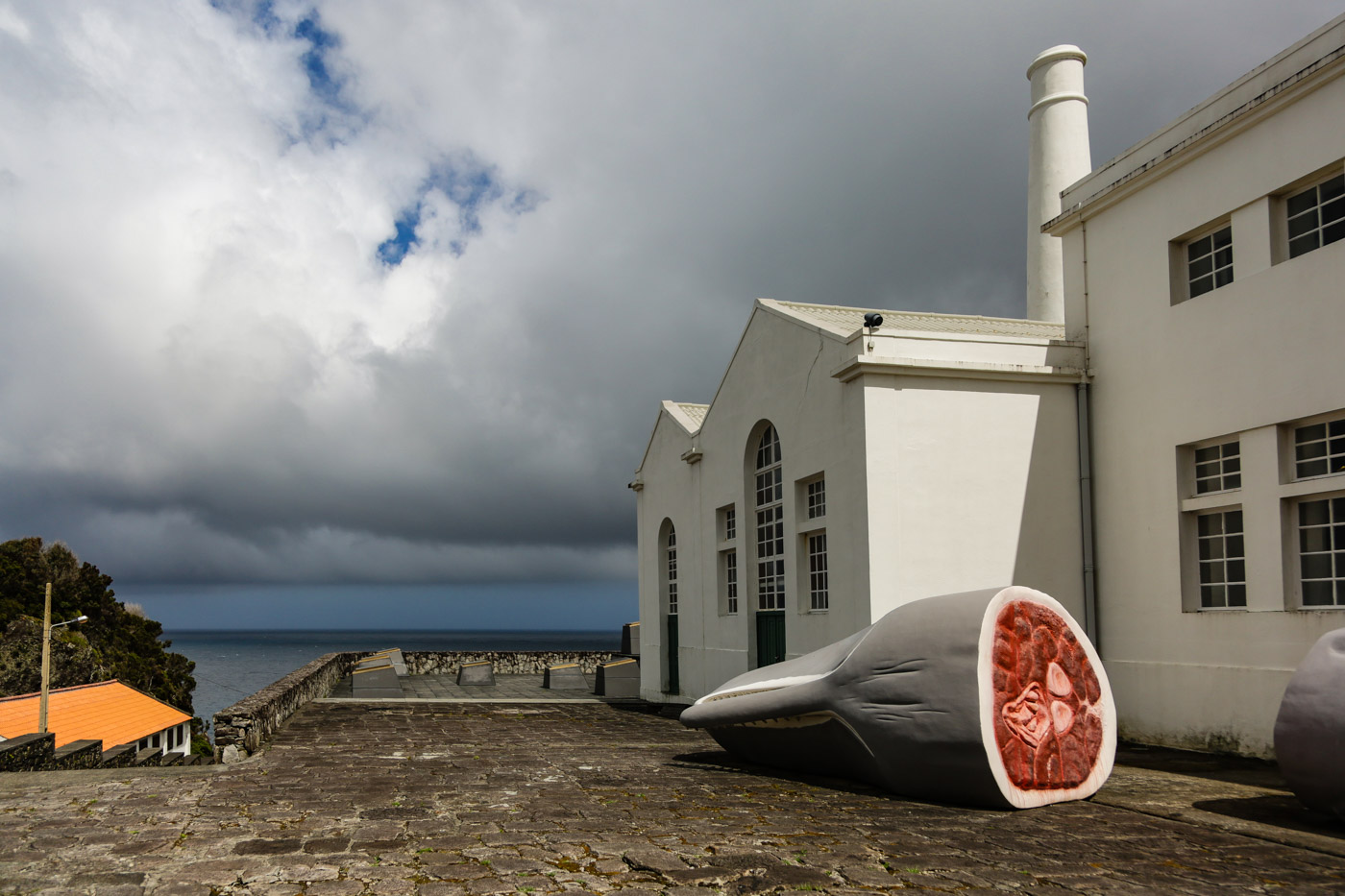 The whale museum is located in the old whale factory, an industry that hunted and transformed sperm whales and that worked until 1986. The museum is well presented with many explanations in English and is worth a visit to learn about this industry which was once so important to this island and to the Azores in general.
Useful info:
Entry: 3 EUR
Opening Hours: High season (June-September) – Monday to Sunday: 9.00 – 17.30.                                            Low season (October – May) – Monday to Saturday: 09.00 – 17.00
Location: Google Maps
Read more about the old whale hunting industry in the Azores.
12. Don't miss the church of our Lady of Lourdes (in Fazenda de Santa Cruz)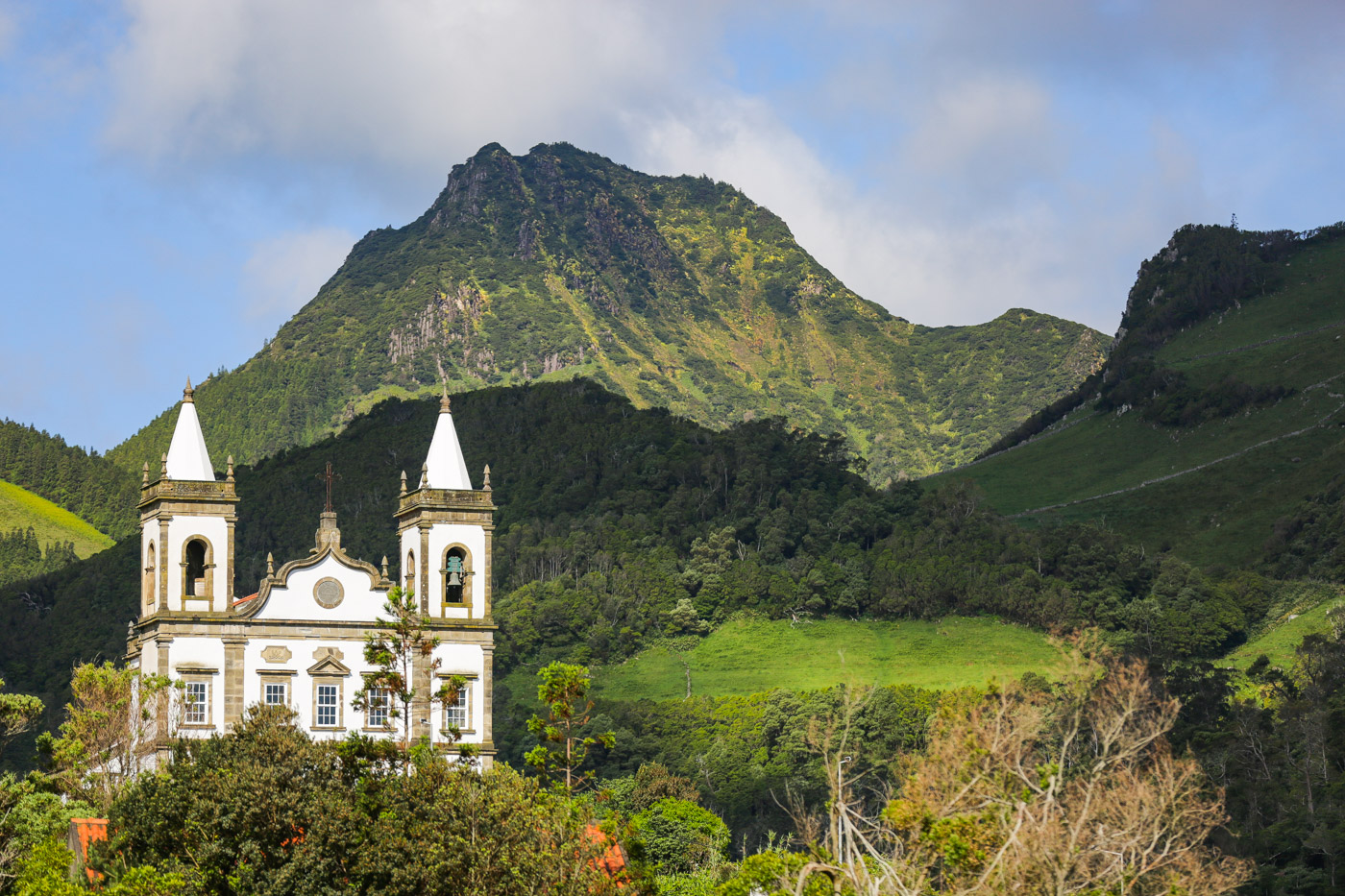 From all the churches in Flores, for us, this one is the most beautifully located! It is only two kilometres northwards of Santa Cruz das Flores, on the road to Ponta Delgada. Were it not for the typical Portuguese architecture, we could almost imagine we were somewhere in Switzerland.
13. Camp in the Alagoa Bay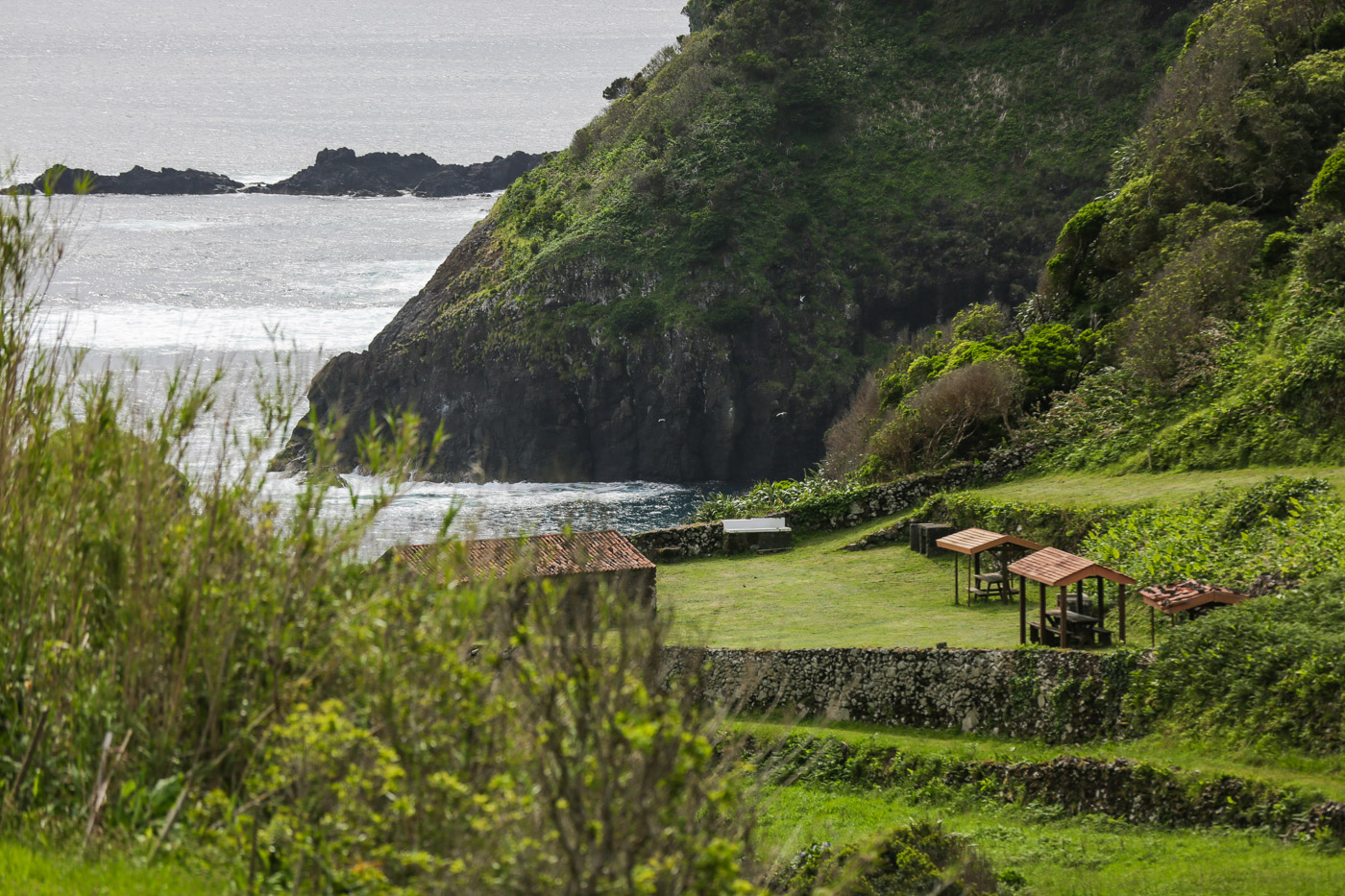 Alagoa is one of the hidden gems of the island. It is an excellent spot to see the sun rise. The bay has privileged views over the Ilhéu dos Moinhos (The Mills Islets), which is home to the biggest colony of roseate terns. The place is also a weekend favourite for locals who come here to grill and spend the night.
Useful info:
There's a free camping site with gorgeous views and some basic infra-structures (i.e. no warm showers).
Location: Google Maps
14. Drive until Ponta Delgada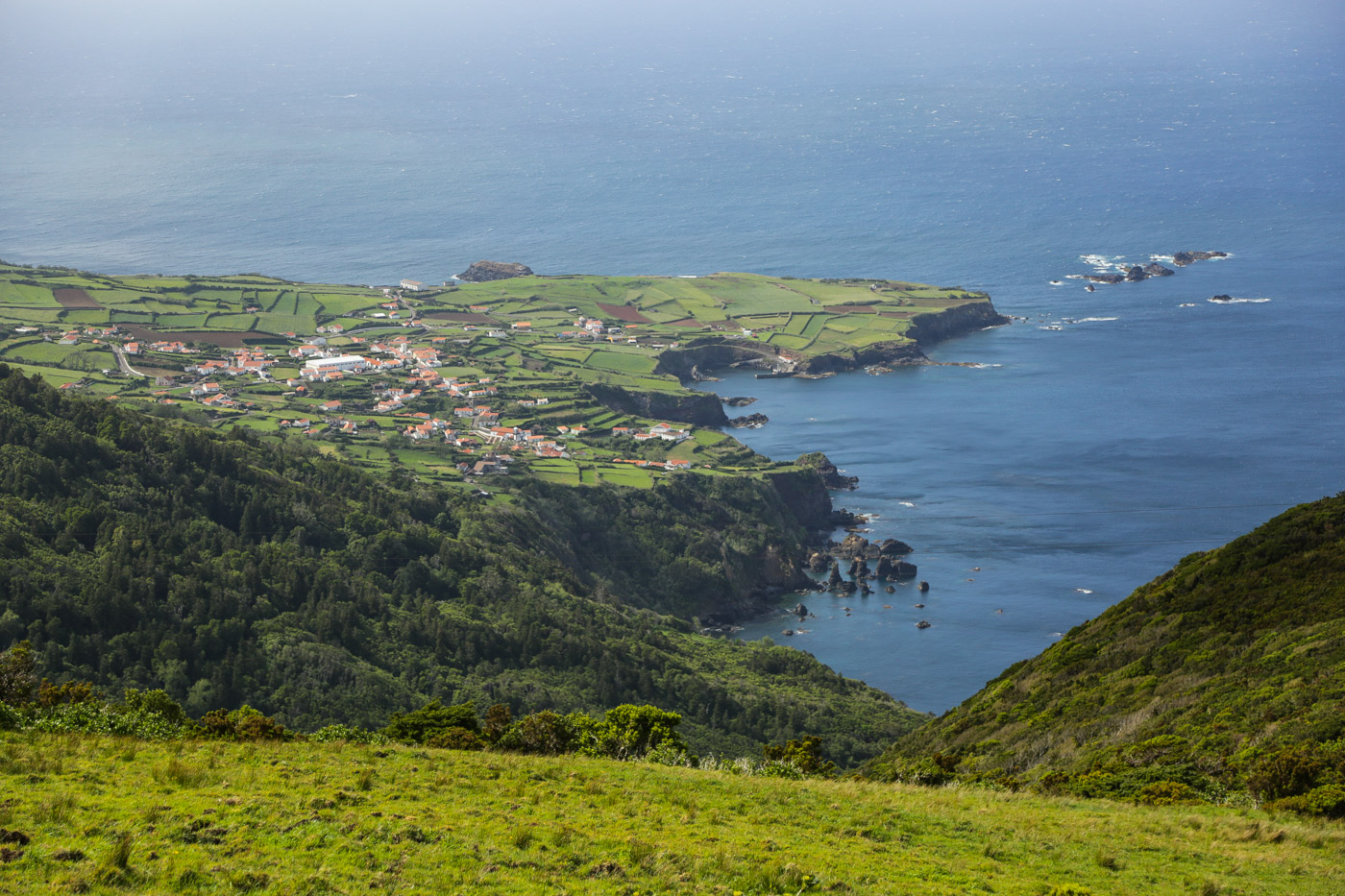 Ponta Delgada is a tiny village (and the third oldest after Lajes and Santa Cruz das Flores) in the northernmost end of the island. Before starting the deep descent into the village, stop at one of the miradouros (outlooks) for amazing views of the village from above.
15. Don't miss Ponta do Albernaz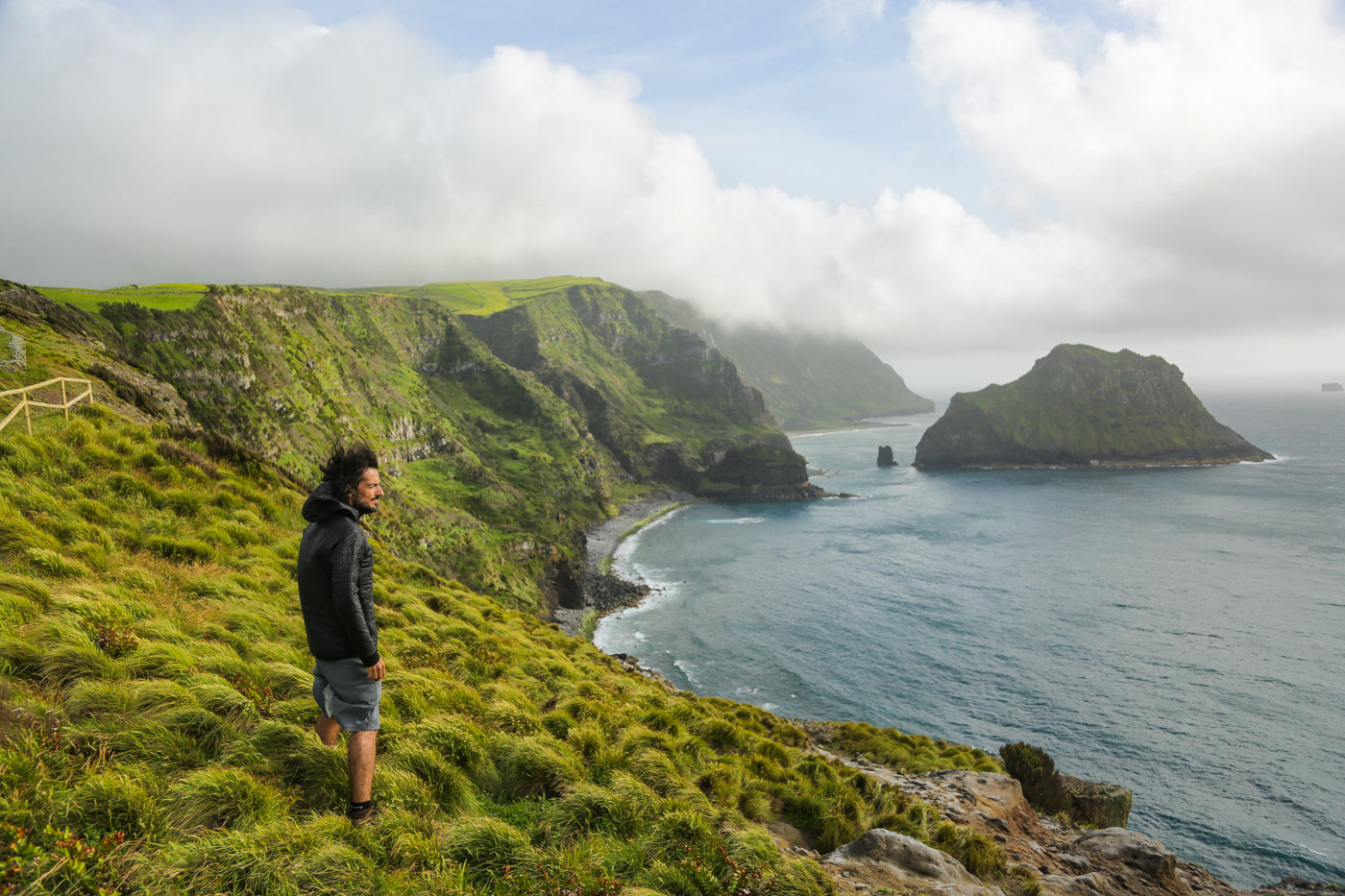 This is a natural rock cliff located in the western portion of Ponta Delgada. You can drive all the way along the coast for incredible views over the cliffs. Or you can come here along one of the trails that passes here. The lighthouse is located just next to them. Beware! Winds can be very strong here!
16. Look for the lighthouse at Ponta do Albernaz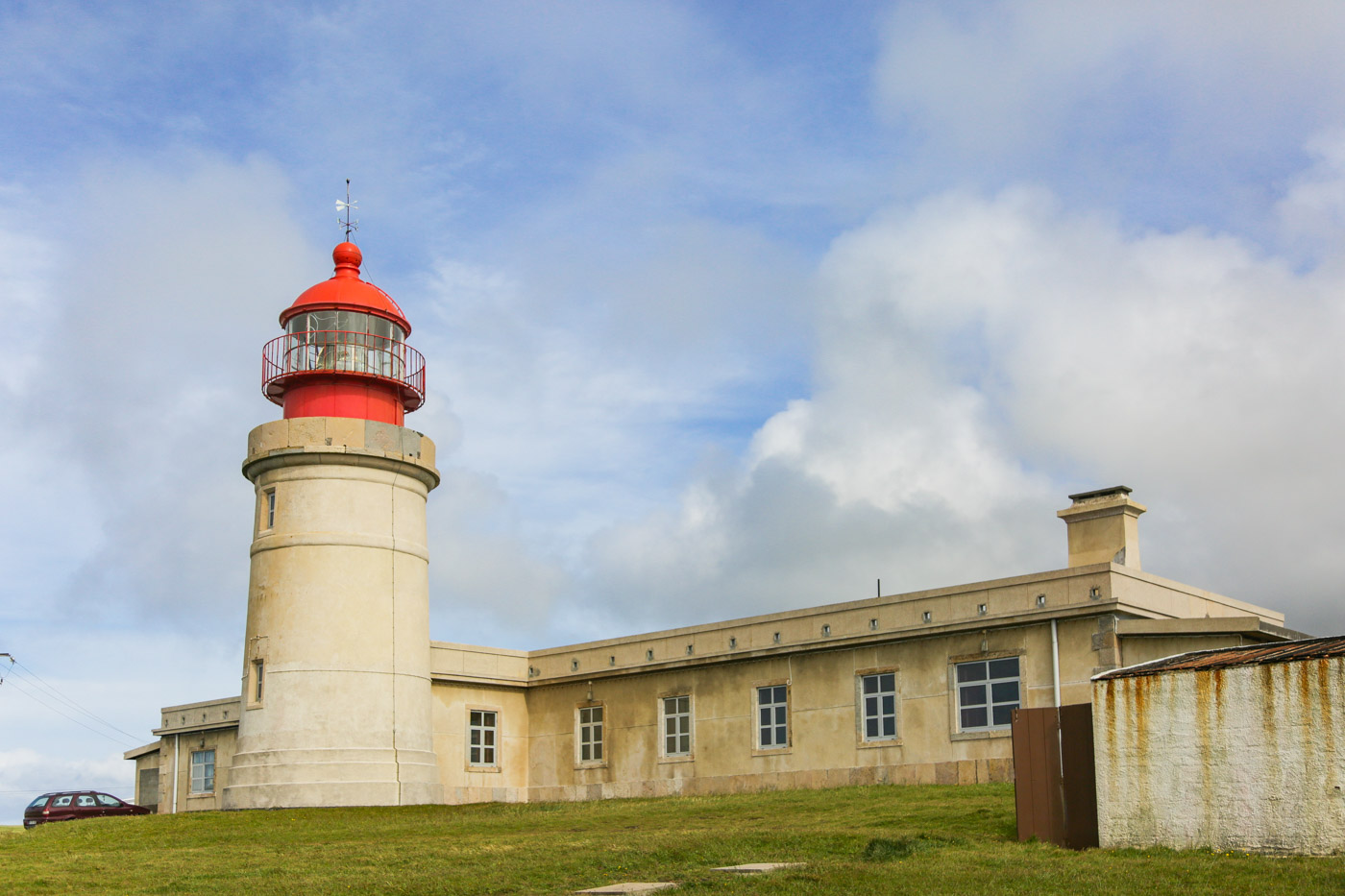 Ponta do Albernaz Lighthouse has the singularity of being the westernmost lighthouse in the Azores archipelago and also in Europe. Apart from that, it is 15-metre high and its light signal ranges 41 kilometres. Its position is strategic, on a high cliff on the west coast, allowing the signal to be seen from the coast of Corvo Island and all over the northwest coast of Flores. Ponta do Albernaz Lighthouse is the most powerful lighthouse in the Azores.
Useful info:
Located in the parish of Ponta Delgada
Visits possible on Wednesdays
The Lighthouse is the first point of arrival of migratory birds to the island of Flores. As it is a coastal location to the north, it is where they stop first. Thus, it is an important place for the observation of seabirds
Location: Google Maps
17. Stop at the Bordões Rock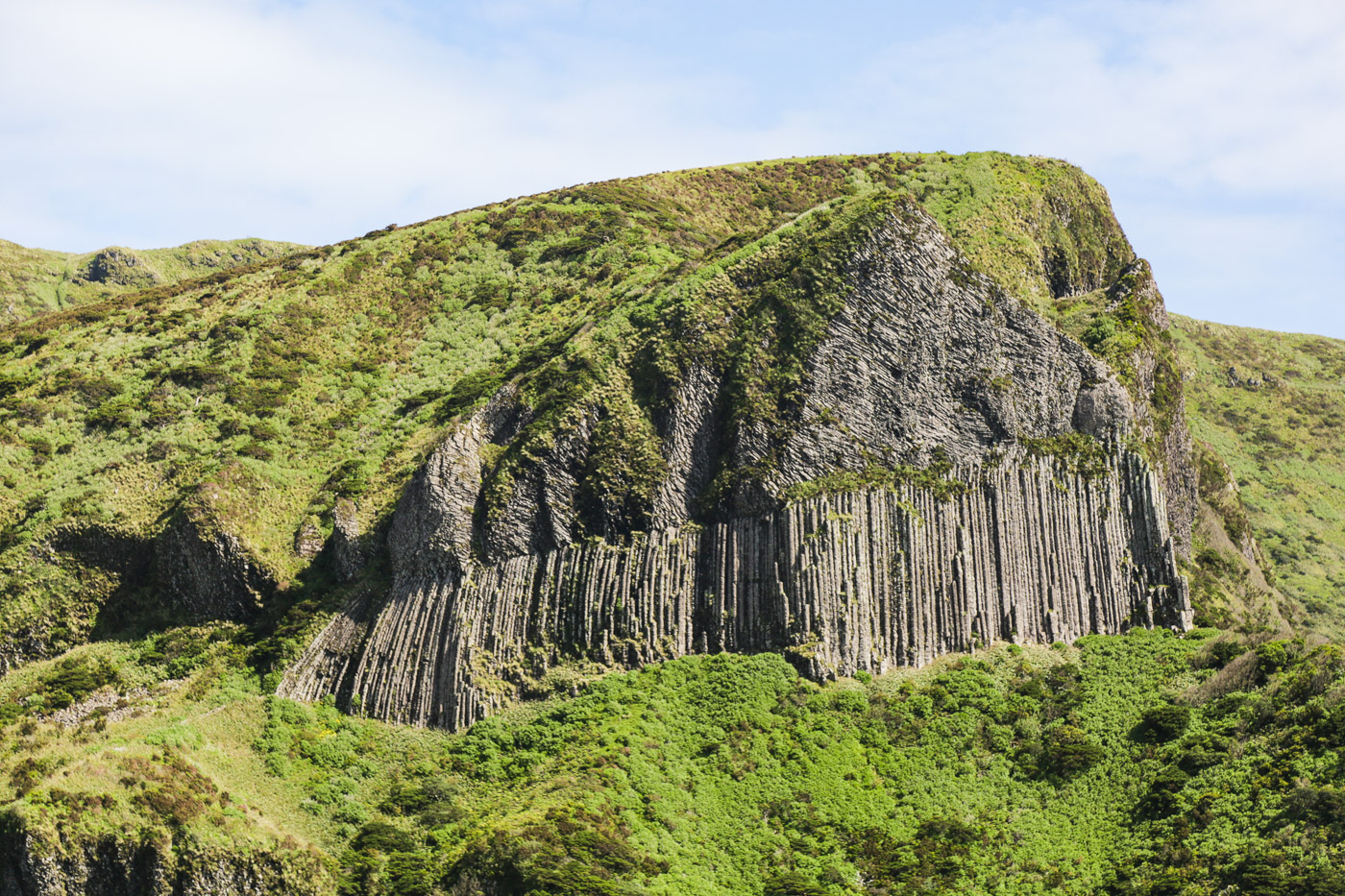 The Bordões rock is a large set of vertical basalt columns that resemble a pipe organ. Its 20-metre high columns turn this rock bigger than the famous Giant's Causeway in Northern Ireland. There are a few outlooks from Mosteiros to Lajedo that provide good views of this natural phenomenon. According to science, this rock was created 570,000 years ago with the solidification of volcanic lava.
18. Visit Lajedo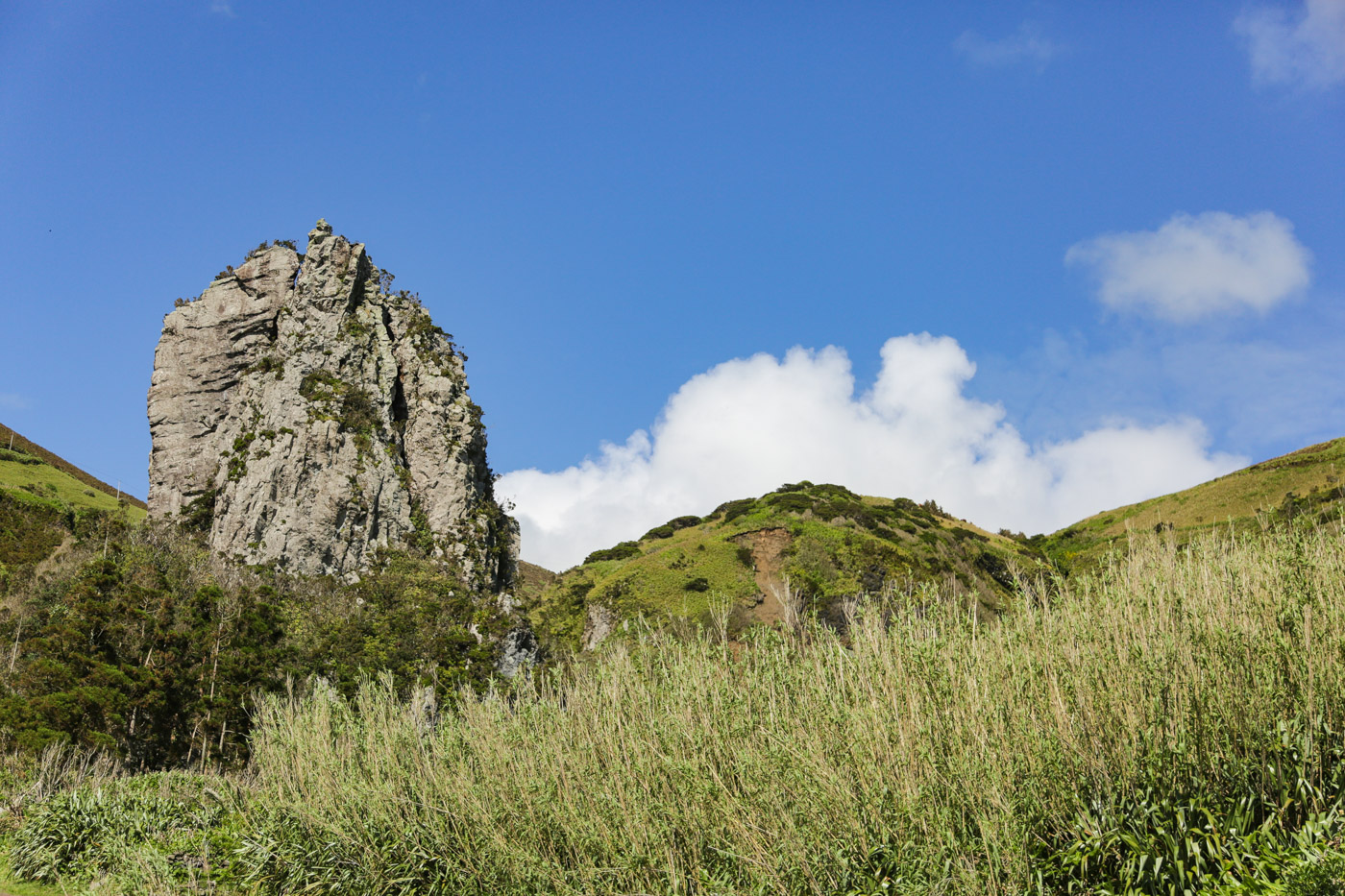 The small village of Lajedo is accessible through the road, that twists down the valley. It is a really small hamlet, with a nice church and narrow streets. It also has this high rock standing all by itself, which gives a special charm to the place.
19. Stop at the many miradouros (outlooks)
There are 20 official lookouts spread throughout the island. All of the lookouts have parking lots allocated to them, so there is no need to park on the road for great views. These are some of our favourite lookouts:
Miradouro Craveiro Lopes for views over Fajãzinha
Miradouro da Pedrinha for views over Ponta Delgada
Miradouro Arcos Ribeira Cruz for views over Ribeira da Cruz
Vigia da Baleia for views over Fajã Grande
20. Try the delicious limpets (lapas), a local speciality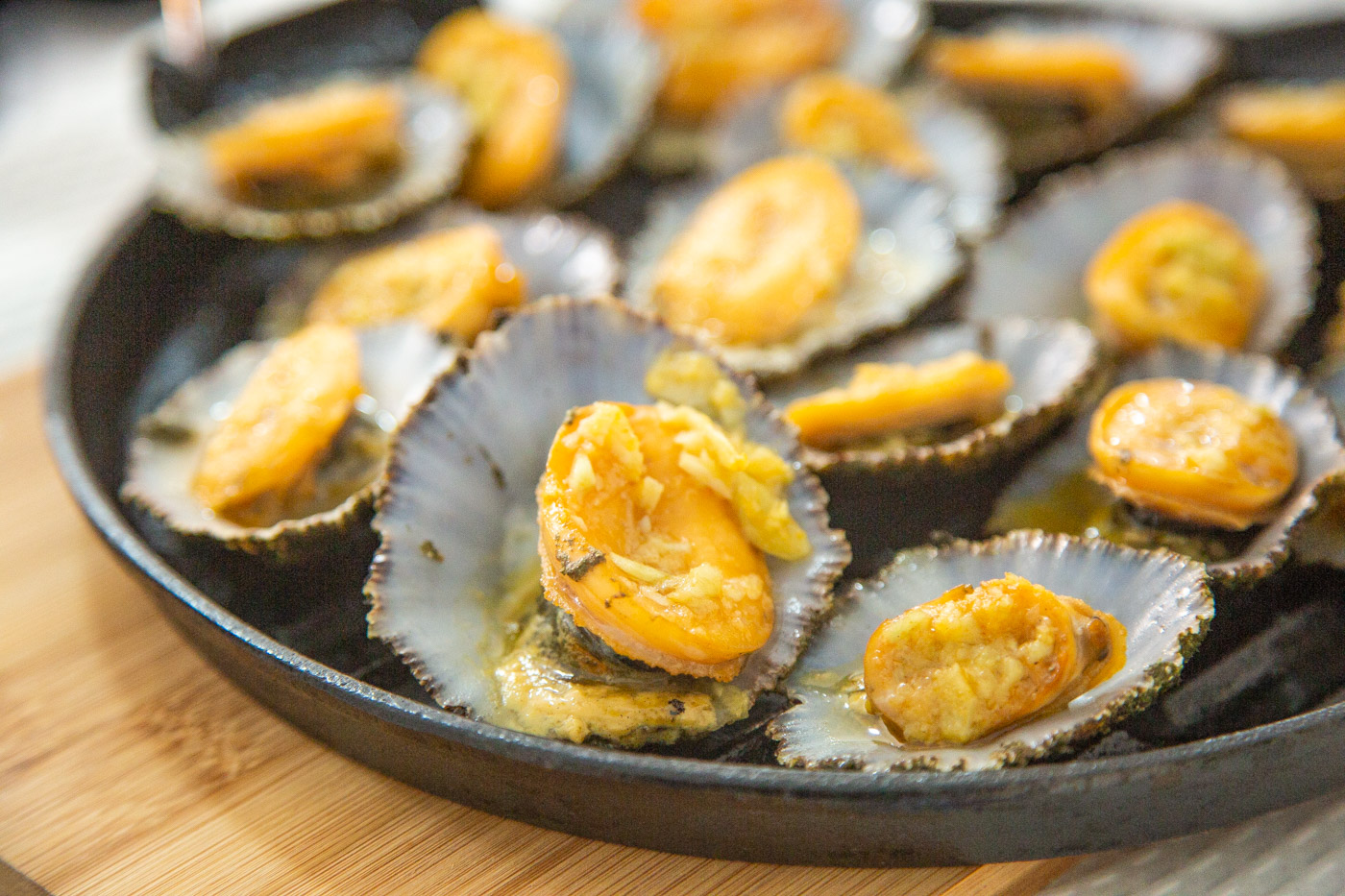 Almost every restaurant in Flores serves limpets as a starter. They are usually grilled with a lot of garlic and lemon juice. In order to be well prepared the limpets need to be soft, if the limpet is very chewy, it means it was over cooked. Enjoy!
21. Have a glimpse over the Island of Corvo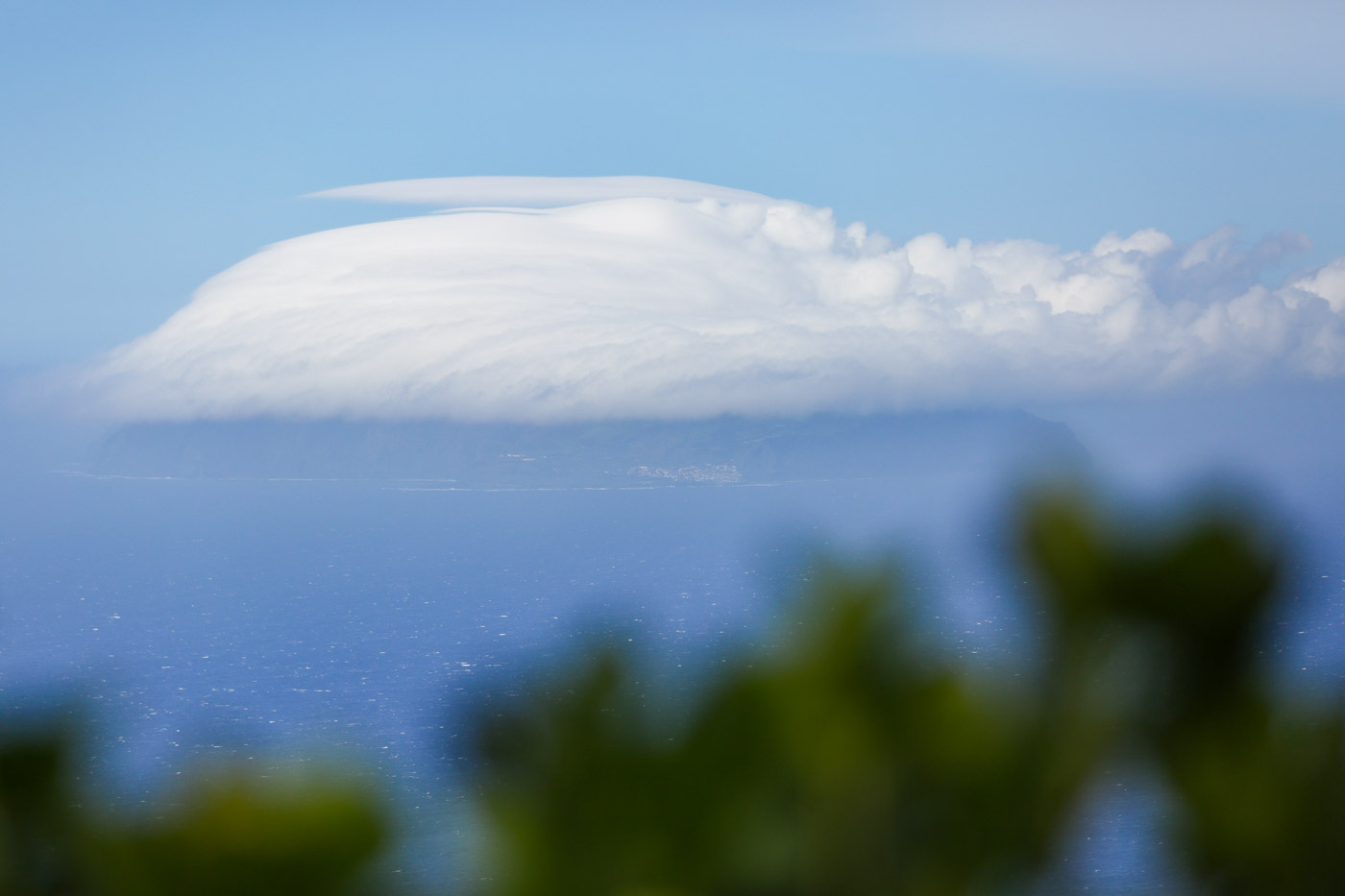 During our stay in Flores, we didn't always see the neighbour island Corvo. Sometimes Corvo gets  a lenticular cloud  over its summit that covers the entire island. If you are patient, wait for the cloud to become smaller or to dissipate in order to have a superb glimpse of it.
22. Have a boat tour around the island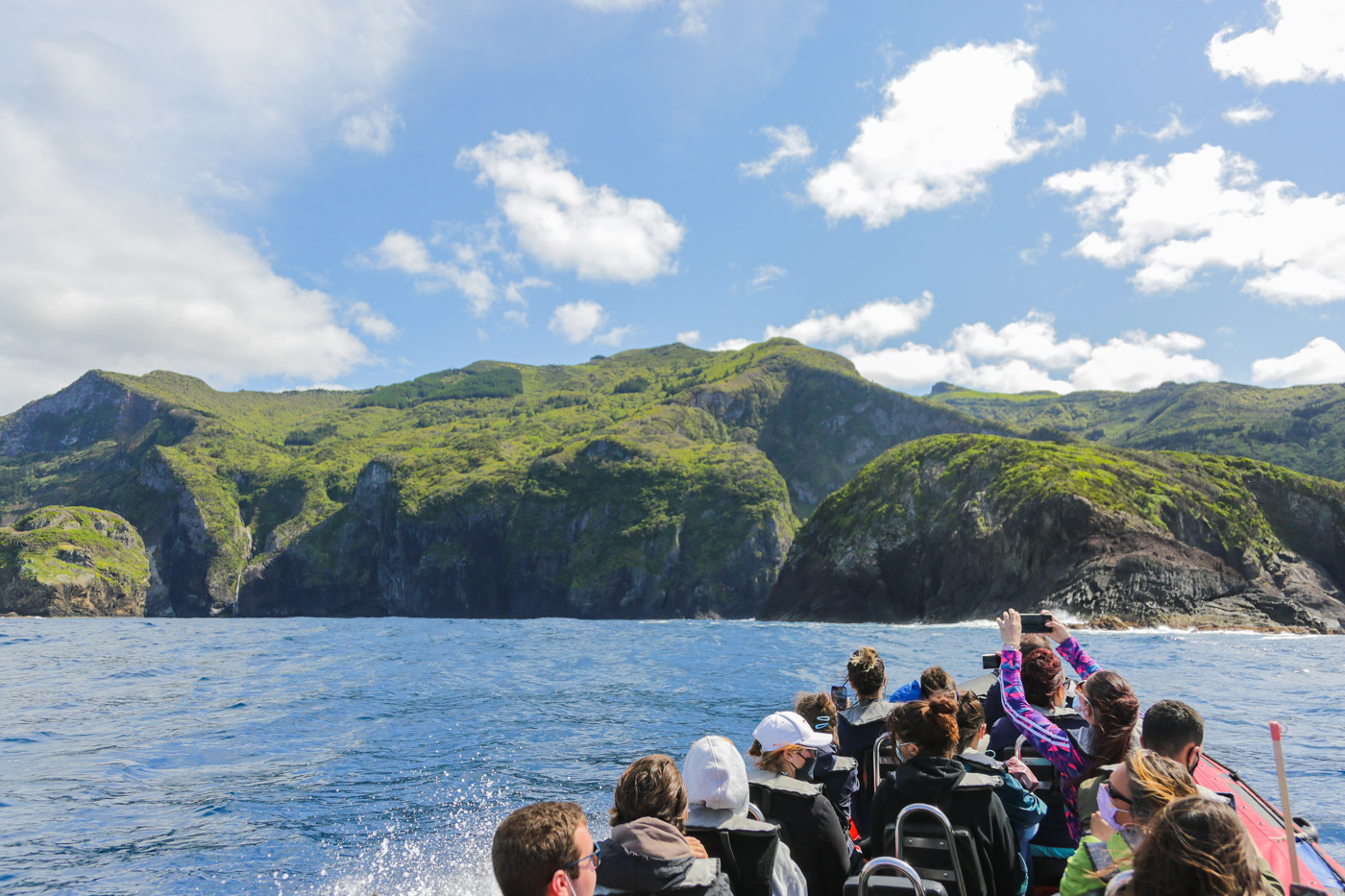 You should not miss the opportunity to have a boat tour around the island, or at least, a boat tour along the northeast coast. There are several caves, and very interesting rock formations along the coast, which are better seen from the sea.
Useful info:
It is better to combine a boat trip to Corvo with a visit off the coast of Flores. There are several companies offering that service (Corvo+Flores coast on a day tour). The price of a ticket costs around 35 EUR.
23. Have a car tour around the island
Although it is possible to drive around the island in one single day, we strongly advise you against it! Why should you hurry, when you can rent a car for a couple of days, and go from one lookout to the other, all spread around the island. If you plan to visit the island and not hike any trails, nor take any swimming breaks, then one to two days should be enough for that. But we stayed ten days and feel we had a good grasp, with a good combination of hiking, swimming, visiting the villages and going to one museum.
Useful info:
We rented a car with Autatlantis and can only recommend them. Prices and service were very good.
24. Try the delicious fresh tuna steak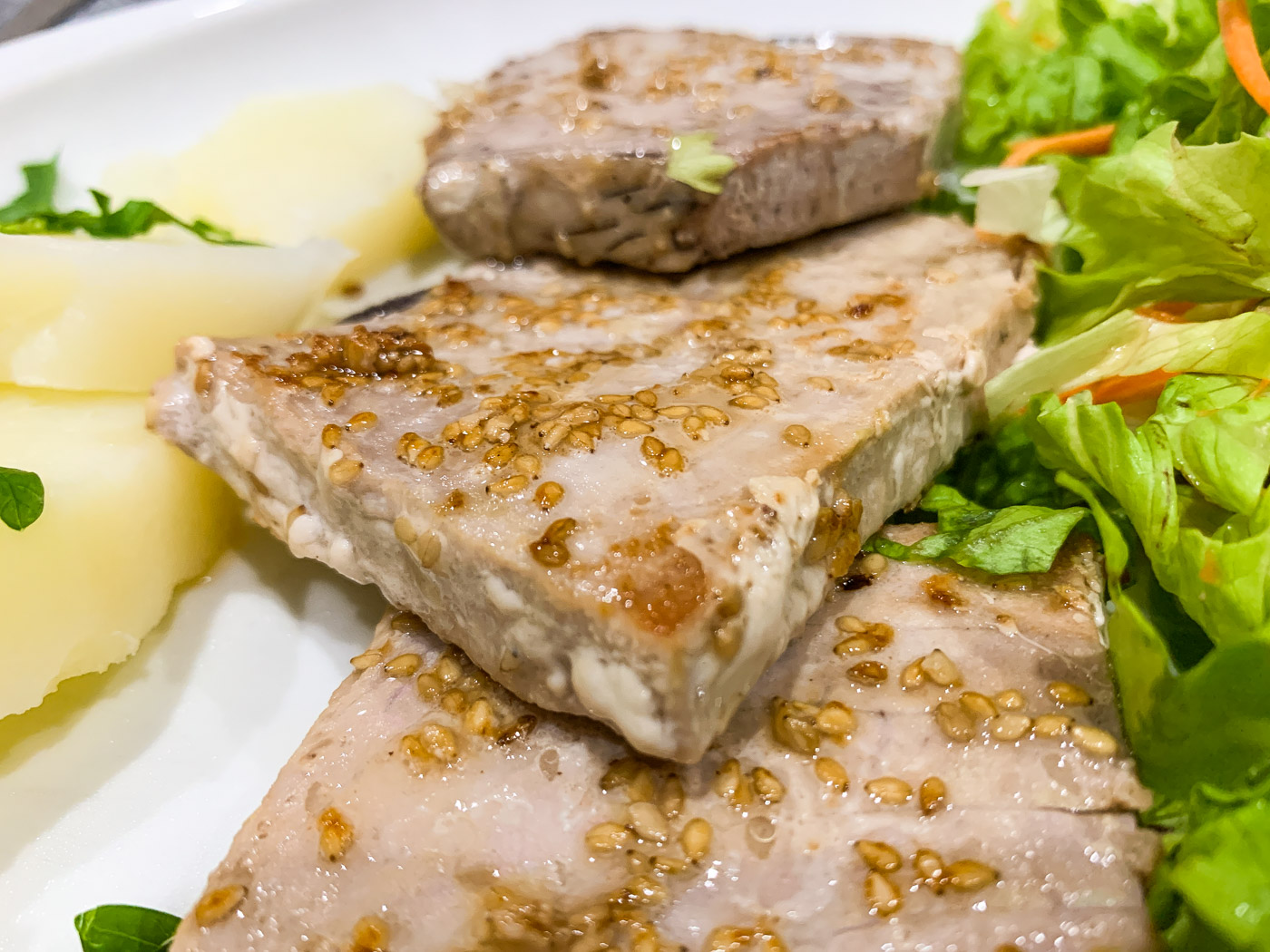 Almost every single restaurant will have its own variation of tuna fish. Our preferred way was grilled and served with a sesame sauce. Portions in Flores are generous, therefore make sure you do not over order! These three steaks were actually on one dish for one person only! Do you see what we mean?
25. Be attentive to the fields to spot new born calves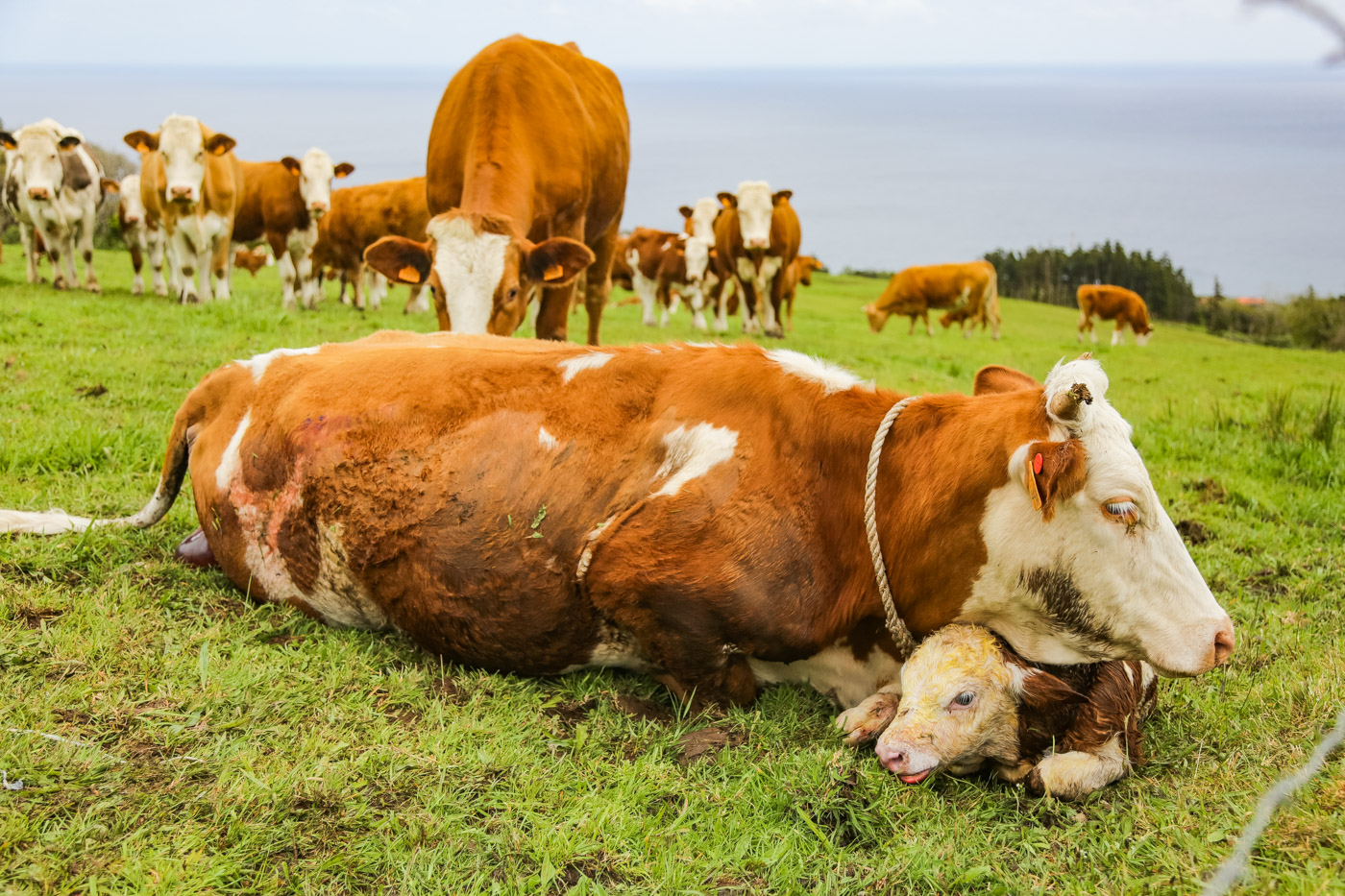 One day, while we were driving towards the top of the island, we noticed two men close to a cow that was lying down. As we were driving slowly, we noticed the very small calf next to the cow. We stopped the car and spoke to the men who told us the cow had just delivered. We were happy to see the small calf giving its first steps, a very touching moment, that one can only experience in a place like Flores!
26. Stay at the camping sites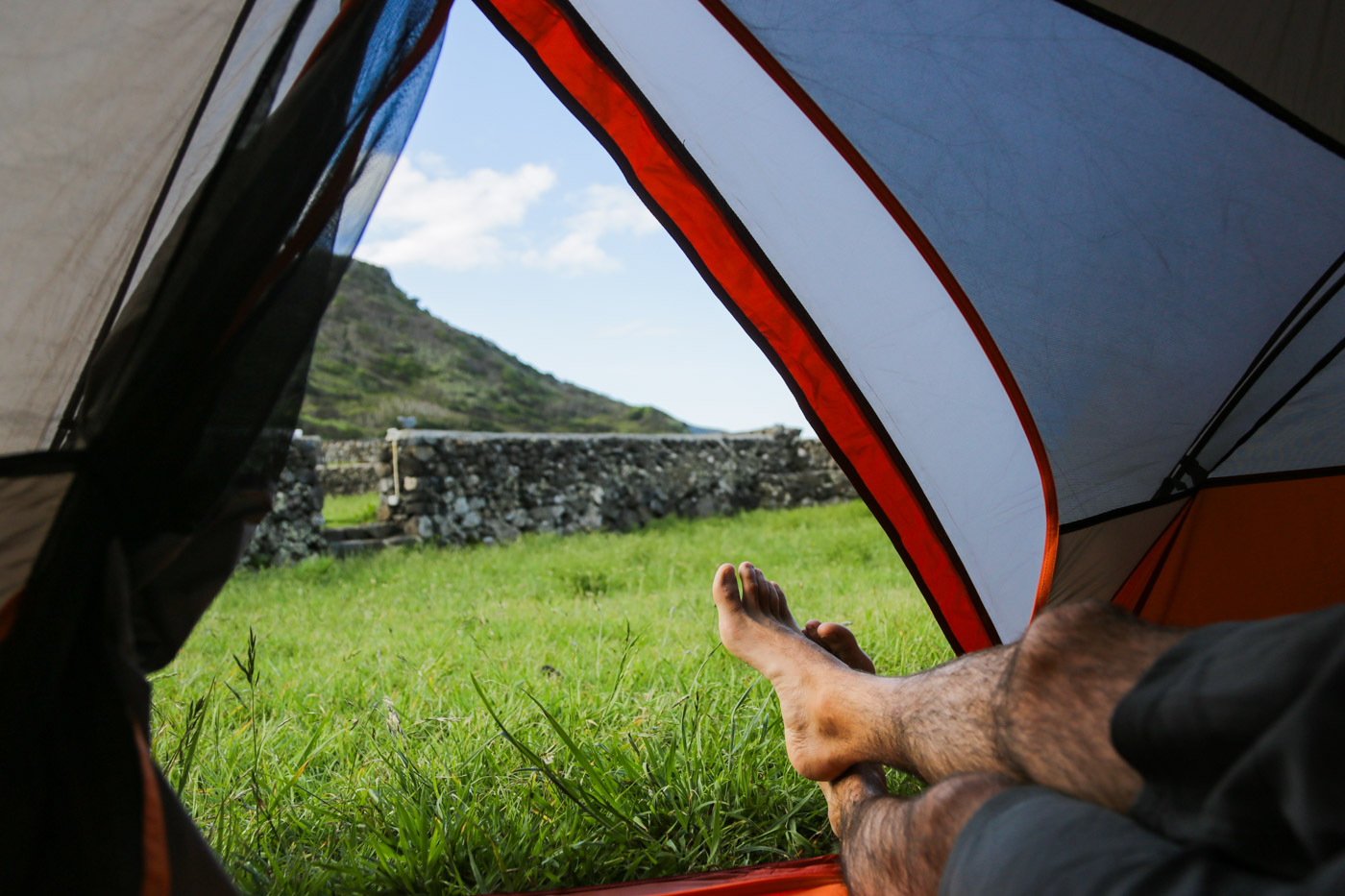 There are five Camping sites on the island. We have tried some of them and were quite impressed that some could be used for free and, despite that, had very good facilities, including hot showers. The five camping sites are located in:
Fajã Grande (free, hot showers), located next to the snack-bar Barraca Q'abana, whose owners keep an eye on the site. For this reason you should try to have your meals there, for courtesy, the best sunsets, and good food.
Alagoa (free, without hot showers), located a few metres above the bay, it is one of the best spots of the island to watch the sun rise.
Santa Cruz Das Flores (with hot showers, located next to the natural swimming pools).
Ponta Delgada
Velas
It is possible to hike around the island, next to the coast (GR1) and sleep in the different camping sites, strategically located next to the coast. We would love to try this on our next visit to Flores Island.
27. Try the local Caldeirada de Peixe (fish stew)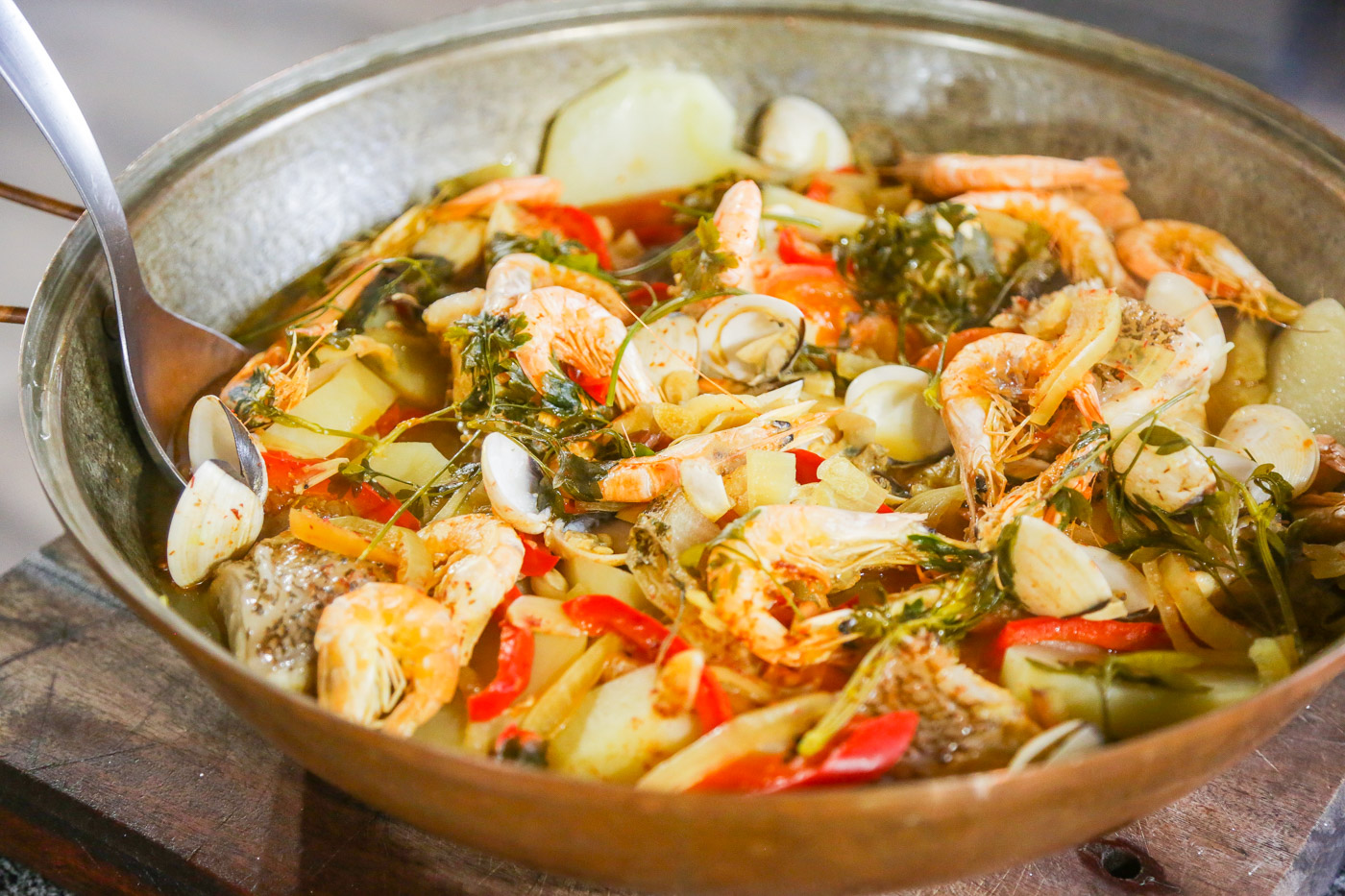 This is another traditional dish, which you will find in restaurants. This one was prepared for us at the private home of Senhor Marcolino, who invited us for dinner, so we could taste his caldeirada. It was definitely one of the best meals we had in the island.
28. Hike in Flores Island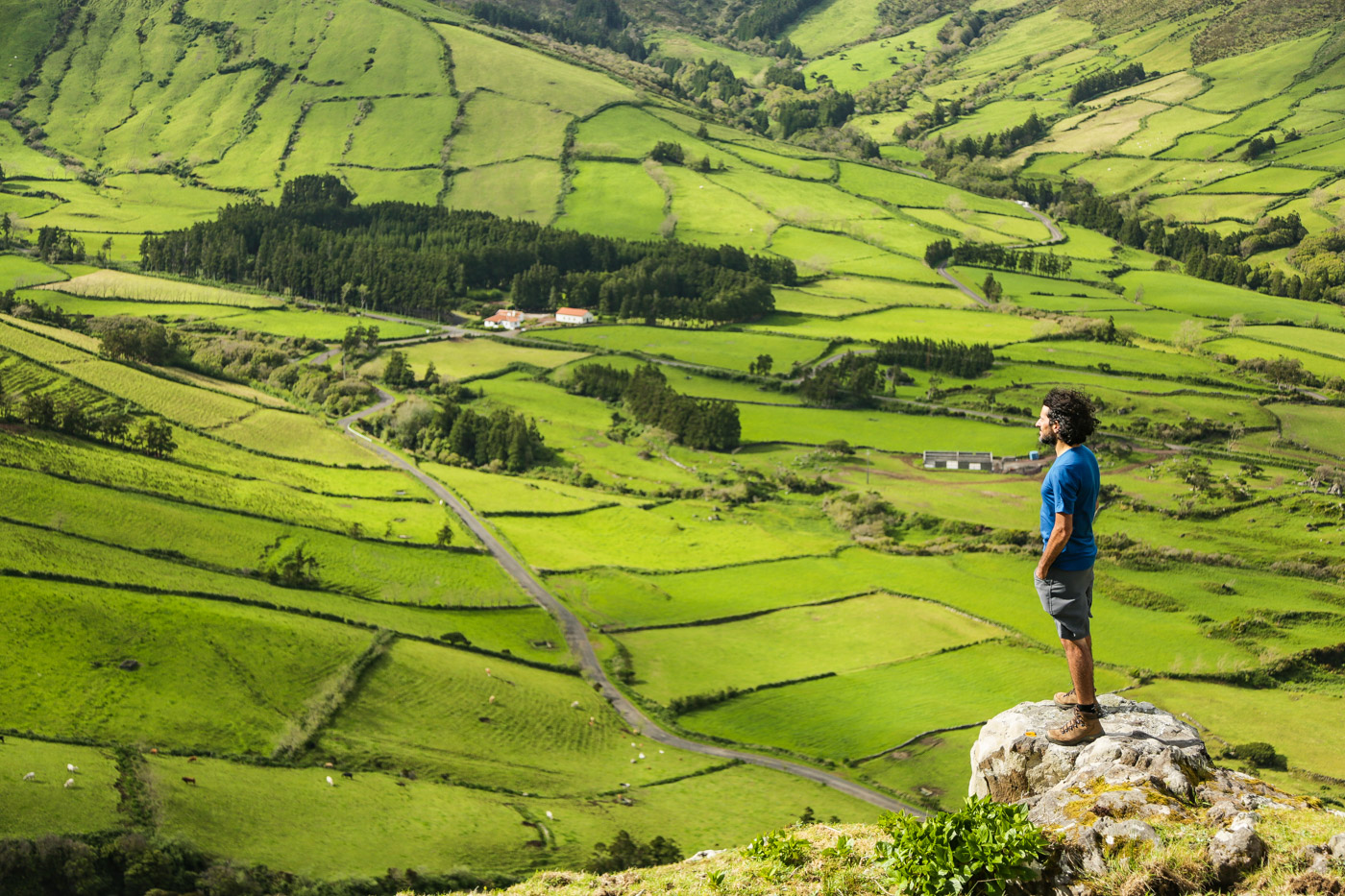 Flores is the haven for hikers, offering many possibilities to hike, from smaller to bigger hikes. You can choose to have long hikes (marked as GR) or smaller trails (signed as PR). For some of the most beautiful and popular hikes in the island, read our article about Hikes and Trails in Flores Island.
29. Stay in Lajes das Flores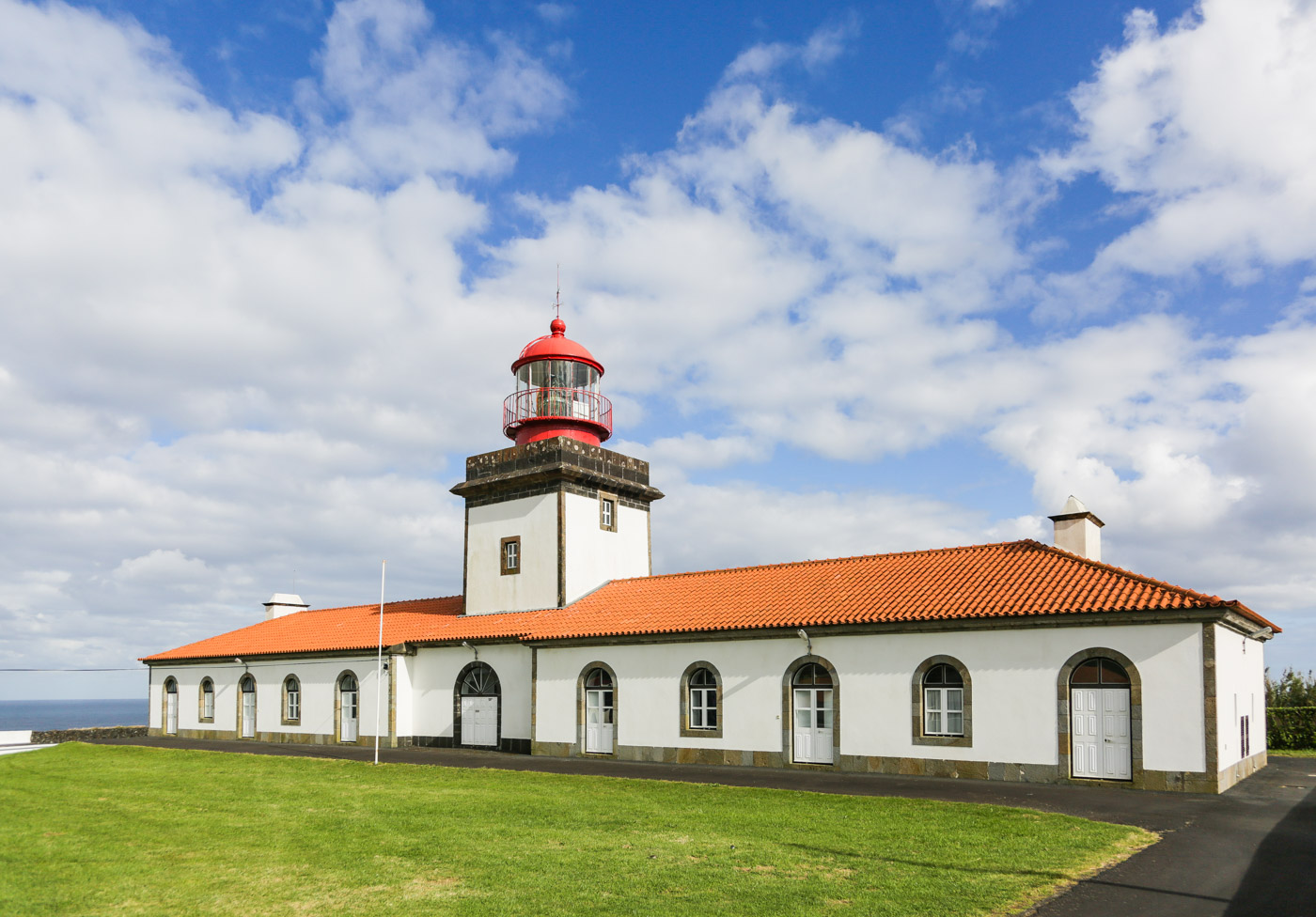 Lajes is another lovely village in Flores Island, and has also got a beautiful lighthouse. With a handful of places to overnight, Lajes is an alternative base to Santa Cruz and Fajã Grande.
Tips to help you plan your visit to Flores island Azores
Free Flight Routing Service to a Second Island
SATA Air Açores provides a free routing service to passengers travelling within the Azores, and to or from Mainland Portugal or Funchal. In practice this means that if you want to visit, let's say, Flores, you only need to have a ticket to Terceira or São Miguel (the archipelago's gateways), and do not need to buy another ticket to continue to Flores. You get a free routing to Flores (certain conditions apply, though).
Transport during your Visit to Flores Island
Unfortunately, public transport will not allow you to visit the entire island, because there are few bus routes, and the ones that exist make few journeys per day. Only the main villages are connected and often the schedule is reduced to one or two trips in the morning and another one or two in the afternoon. We did use the bus to travel from Santa Cruz Das Flores to Fajã Grande, but had to leave with the only bus in the morning. To travel back from Fajã Grande there were more trips (because kids come to school in Santa Cruz).
For travellers interested in seeing different villages, stopping at lookouts, having a break for a swim, the easiest solution is to rent a car or bike. There are some car rentals in Flores (but not many), so it is better to have this organised before arrival, to make sure you get a car. In the high season, the island can get busier.
OUR PICK: We rented our car with Autatlantis and recommend the experience.
Useful Websites – Spotazores
Weather changes very quickly in the Azores. Locals usually say that sometimes the weather is so capricious that the four seasons show up in only one day. Also, sometimes it is raining on one side of the island, and the other side has a bright sunshine. In order to help you search for the best weather, there is a website and app (Spotazores) that features live webcams located in different places of the island. It makes it easier to decide which way to go if you are seeking for good weather or running away from fog. Here is the link to spot Azores.
Where to stay when you visit Flores Island
– Camping sites: As we said above, the island is well served with camping sites. If you would like to have a closer contact with nature (hike or bike and camp), the island is well prepared for that.
– Local accommodation: There are a few local stays, and as people are beginning to open their homes to tourism, this could well increase in the next couple of years.
– Hotels: There is a small but very nice selection of hotels in the island. Most of the hotels are located in Santa Cruz, Fajã Grande and Lajes.
OUR PICKS:
If you are planning to visit Flores Island in the Azores, you should not miss our articles below:
Going to the other islands in the Azores? Don't miss these articles: