This is our quick guide with some insights and information with what you need to know before you go to Cuba. We hope this can be helpful if you are planning to visit Cuba.
1. Visa & Extension of Visa
Finding the information about where and how to get a visa was the most difficult part of the process. We read everywhere that travel agencies handle the visas, but since we were flying to Cuba independently, it took us some time to find how to get our visas without agencies and without passing through the Cuban Embassies.
We got mixed information about getting a visa through the embassies in European countries. From 'very easy and quick' to 'a pain and bureaucratic', we wondered whether there would be an alternative to spending a day or two at the Embassy.
Finally, we found a Dutch website (www.cubavisa.net) that was providing that service and promised delivery in three days. We gave it a try and are happy that it all worked perfectly well. We inserted the requested data, made the payment online and in less than three days, as advertised, we received the visas, which were mailed by post to our address in Portugal, where we were staying at that moment. In all, we paid 29 EUR for each visa + 10 EUR for the shipping. It was worth all the trouble we were spared.
Visa Extension
Our visa was valid for one-month counting from the day of entry in Cuba. Since we planned to stay for two months, we had to ask for an extension once in the country. We did it during our stay in Santiago, two days before our visa expired. The procedure itself was uncomplicated. That officials could make it last one entire day fell on us as a surprise!
Knowing that we needed official stamps in the amount of 25 CUC (Cuban Convertibles), for each of us, we headed to the bank, early in the morning, to avoid the queues. We were quite lucky and managed to complete the operation in just two hours. Then it would be another 'short' wait for our turn at the immigration office, where we would hand the stamps, passport with a valid visa and health insurance. But why making things simple, when we can take pleasure in complicating someone else's life? The officer in charge, an old lady whose voice hinted at a strong cigar smoking habit, ran towards Jorge like a missile and barked that his shorts were inappropriate to the situation. To his defense we need to say, they were made of jeans and long enough to cover his knees (on a side note, there were officers wearing miniskirts and décolletés that would have made Marilyn blush! But true, no one else was wearing shorts but Jorge). A Spanish tourist (wearing proper attire), made Jorge a sign to go outside and exchange clothes so that we would be allowed in and get our papers that same day. While outside he explained that the trousers he was wearing, were also not his. He too had to go back to his hostel and borrow a pair of trousers for some hours. Luckily, these trousers were helping more than one guy get an extension visa!
2. Climate
Unless you are a hurricane hunter, you will want to avoid to visit the country during the rain and hurricane season (i.e. from June to November). Best season is between December and April, when temperatures are moderate, but expect some wind on the coast.
3. Health
You do not require any special vaccines to travel to Cuba. We have the usual ones up-to-date (Hepatitis, Tetanus-Diphtheria-Poliom).
Alert: Please beware of mosquito bites, especially in the areas around the mangroves, near the beaches, where Dengue and Zika have been recently detected.
4. Money & Credit Cards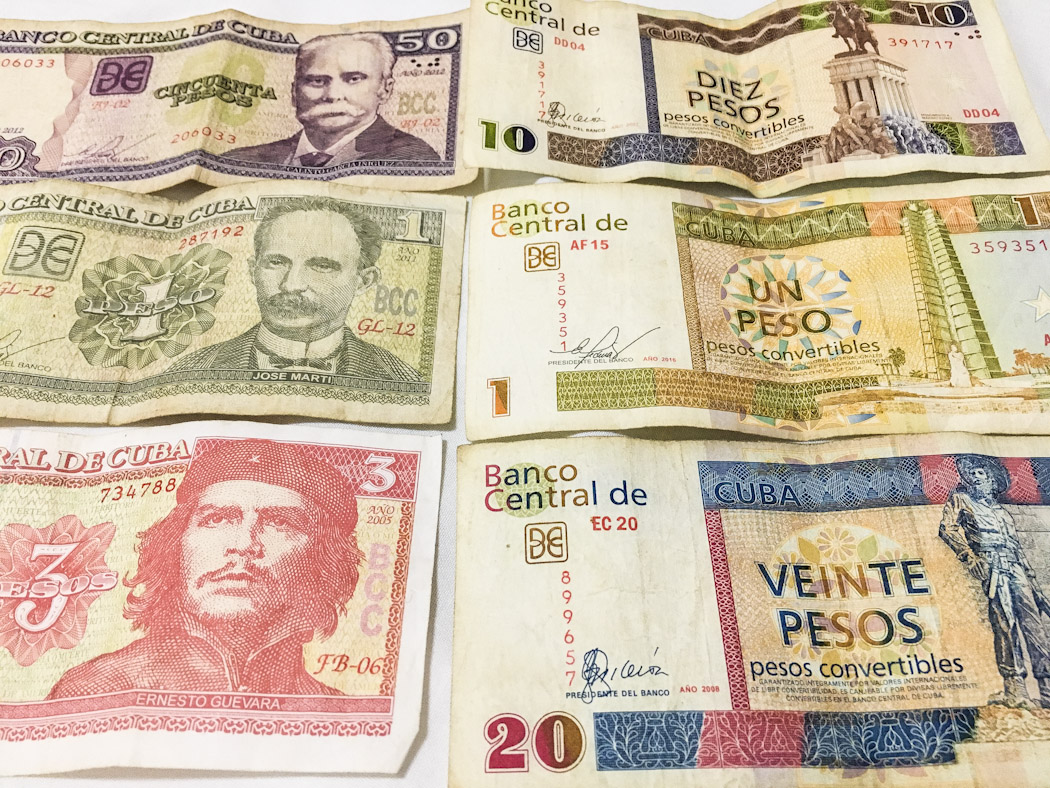 We have brought Euros and Dollars and have been able to exchange them nearly everywhere, in places called 'cadecas' or at the banks. We have also been able to use our credit cards (Visa and Mastercard) but have heard that US credit cards are not accepted. If your bank account is connected to a US bank, you are strongly advised against doing any e-banking either.
Cuba has got two parallel currencies: CUC (Cuba Convertible) and CUP (Cuban Peso).
1 CUC = 1 US dollar
25 CUP = 1 CUC
While the government prefers tourists to stick to CUCs, nobody prevented us from getting both currencies. Sometimes we even managed to exchange CUC into CUP in the cadecas (other times this was not possible, God knows why!). Very often we asked our hosts to exchange us some CUCs into CUPs. Why did we need CUPs? Because some state-run restaurants only accept CUPs and refuse to give you your change back if you pay in CUCs (only God knows why!); and also because this is the currency of most public transports and street food stalls.
It took us a while to adapt to both currencies, and there is no shame in using the calculator, especially when you pay in one currency and get your change back in another or even in a mix of both. Eventually, we got some kind of expertise, and some locals even made fun of us, saying we were more Cubans than many Cubans 🙂
Alert: Make sure you are not scammed with the Cuban banknotes. Some Cubans have found that foreigners have difficulties with the two currencies (some are not even aware of the double system!) and are eager to hand you pesos for convertibles.
5. Transportation
There is no lack of choice as far as the means of transport are concerned. This is because there are not so many private cars in Cuba. Each of the listed public transport below has its own particularities and public.
Rental car – tourists can rent cars, even though the rate per day is extremely expensive (circa 100 CUC per day for a budget option, i.e. a Kia Picanto). We couldn't find any car available in Santiago at the time of our stay, in February, despite the exorbitant prices.
Motorbike tours – it is possible to join a motorbike tour, and that was exactly what we did for 10 days. A motorbike tour is a unique way to discover the island and we highly recommend it. Check Edelweiss' tours here: www.edelweissbike.com.
Bus – there are two companies of buses. The Via Azul buses are meant to serve tourists and the Omnibus Nacionales are meant to serve Cubans. Prices are in CUC and CUP respectively. While Cubans can use the Via Azul (if they are willing to pay for the high price, an average of 1 CUC/20km), tourists are not allowed in the Omnibus Nacionales. Both leave on schedule and it is possible and preferable to reserve tickets in advance.
Truck – trucks or camiones are widely used for the transport of passengers. Everyone is allowed on board, as long as there is enough room (no worries, our experience showed us that there is always room for one more!). There are different types of seats, the most comfortable ones having seats comparable to buses, and the least comfortable having wooden or iron benches. Unfortunately, the truck waits until it is relatively full before it starts the journey. The ticket price of the cheaper ones is, on average, 5 CUP/20km. Whereas the ones with seats are usually a little bit more expensive.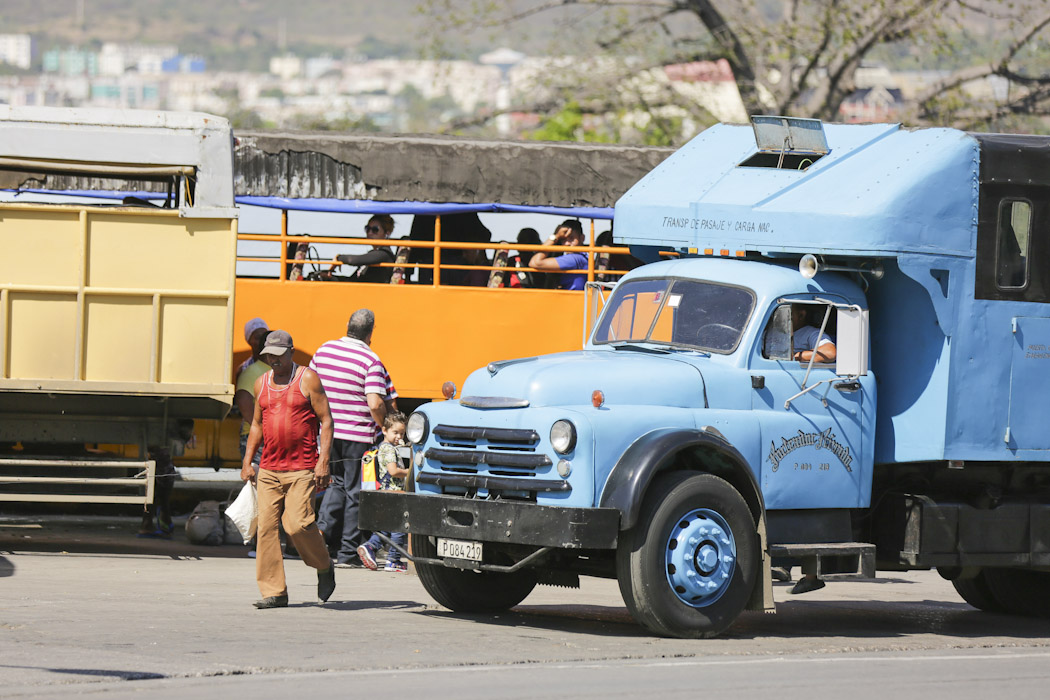 Guagua – the guaguas are small buses used for short distances within provinces. They cost only 1 CUP/20km and are usually packed like sardine tins. Positive about them is that they run on a fixed schedule regardless of having passengers or not.
Train – even though we tried to take the train on several occasions, we ended up giving up on the experience. The first time we tried, we were given all the information, including prices, but were told to come and buy the tickets the following day. When we returned the day after, as told, the rules had suddenly changed, and foreigners could not take the train any longer! Further tentatives remained unfruitful.
Shared taxi – shared taxis are taxis that are used by a fixed number of 6 passengers that go to the same destination. The driver announces the destination and waits until the car is full to start the journey. Usually shared taxis are American old-timers.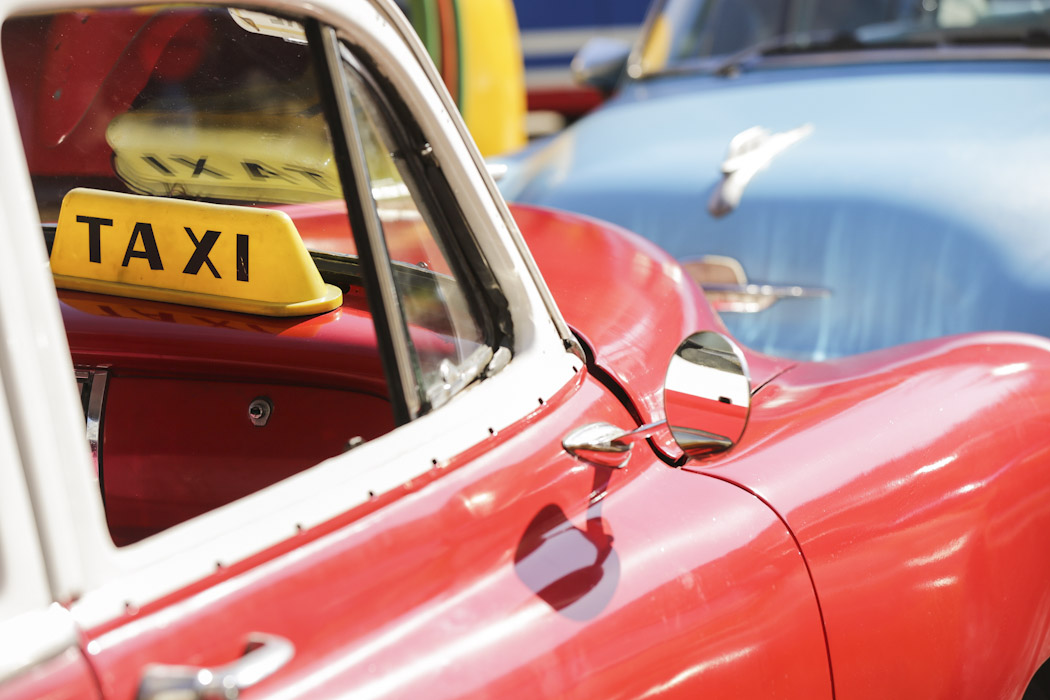 Pici-corre – are American old-timer vans that due to their long size can take up to 17 passengers. The same principles of the shared taxi apply.
Coco-taxi – is a motor tricycle covered by what looks like a yellow coconut, therefore the name coco-taxi. The coco-taxi takes two passengers and is mainly found in bigger cities.
Moto-taxi – is a regular motorbike that takes one passenger besides the driver. Some have a sidecar and are therefore able to transport two passengers.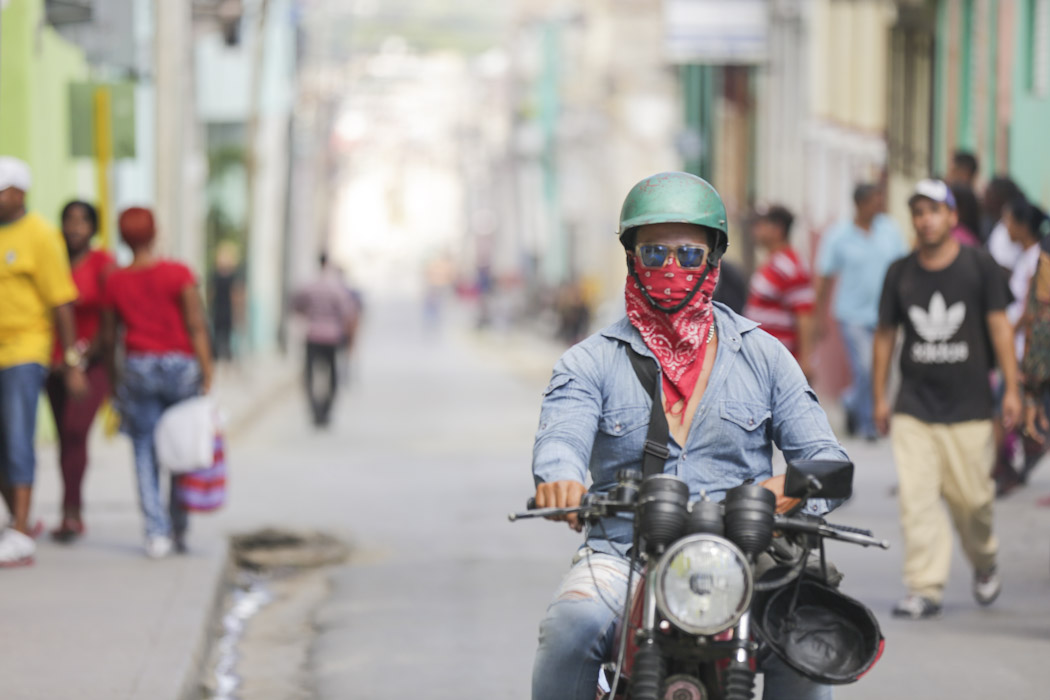 Bici-taxi – is a kind of rickshaw drawn by one person and taking up to two passengers. Very popular next to the stations or next to the main tourist attractions.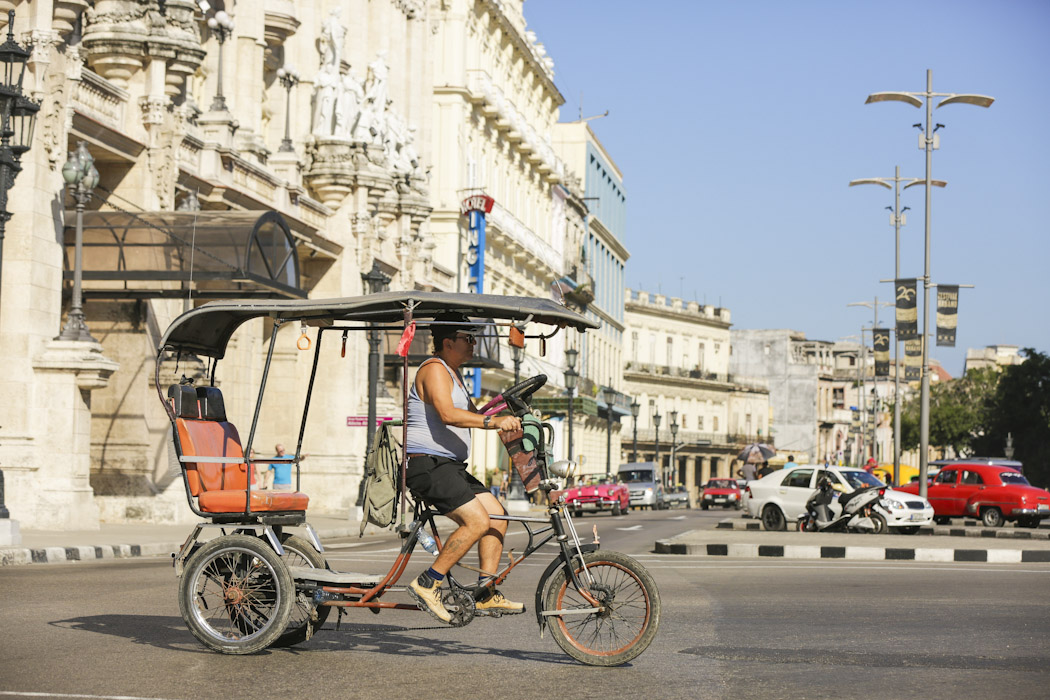 Horse-cart – Pulled by one horse, the horse-carts are typically loaded with up to eight passengers.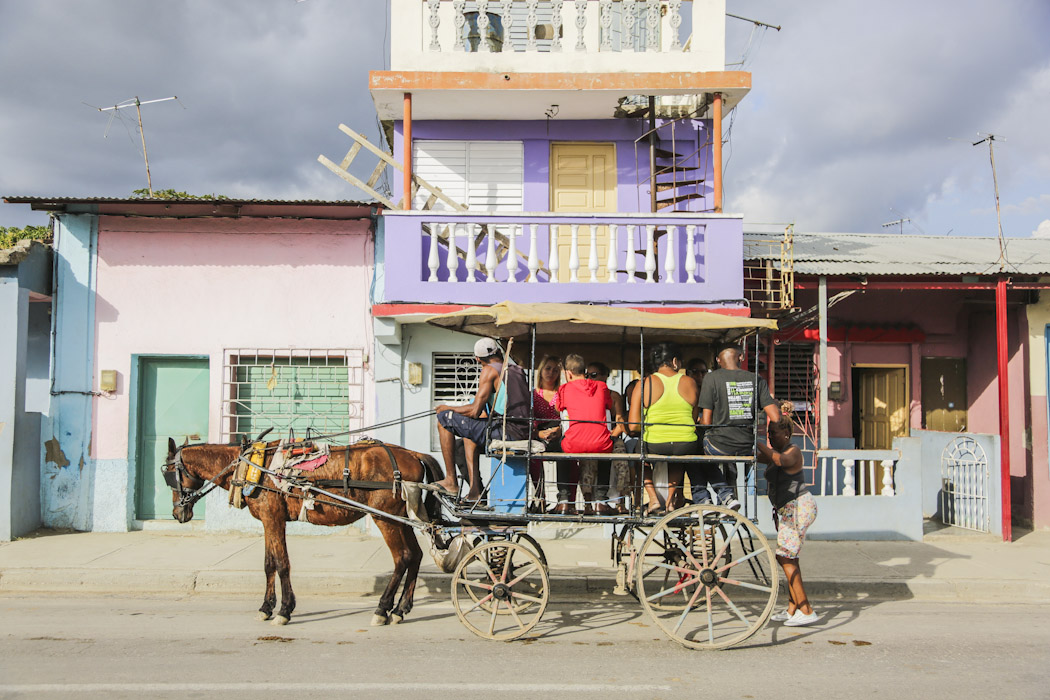 6. Accommodation
Casas particulares are Cuba's answer to Bed & Breakfast or Airbnb. You do find some casas particulares on booking.com and on other online platforms (i.e. you find them if you have a VPN, or else, the bank transaction, and consequently the booking, will not happen because of the American embargo). The easiest way to find a room in a casa particular is by showing up and knocking on the door. Casas are well indicated with a blue sign, that looks like an umbrella.
Prices of casas particulares are all more or less the same. In Havana they range from 20 to 40 CUC a night. But most hosts are happy to negotiate the price. We even had some hosts asking us how much we wanted to pay. Among long-haul travellers, we found that the regular price was 15 CUC (per room), so this was usually what we searched for and what we got.
Breakfast is usually paid separately, ranging from 3 to 5 CUC/person. Alternatively, you can buy fruit from the street vendors (papaya, bananas and guava being our preferred choices).
7. Drone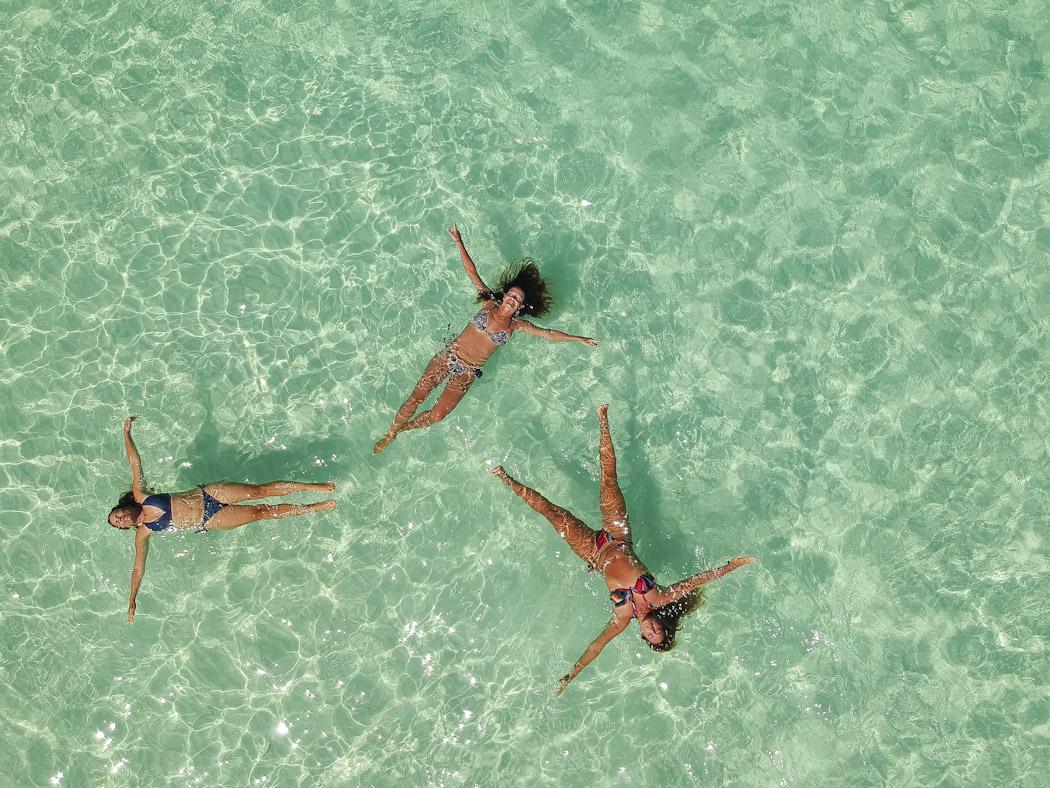 We found one single sign indicating that the flight of drones was forbidden, and that was in the Plaza de la Revolución in Havana. It makes sense that it should be forbidden to fly here, after all, this is where all government buildings are located. The single person, whom we know of, who had problems with flying a drone in Cuba (arrested for 10 days), was flying it… at the Plaza de la Revolución.
We have entered Cuba with a drone (small DJI Spark), and although we did not declare it in the section of electronic equipment (simply because there were not enough lines to declare everything we had with us!), we noticed that the official who received our declaration, didn't even look at it. Our hand luggage (where we were carrying our drone) was scanned at arrival, and the official did not ask any questions regarding the drone either. Didn't see it? Didn't care? Didn't mind? We don't know. Instead, we were asked about our two motorbike helmets.
8. Internet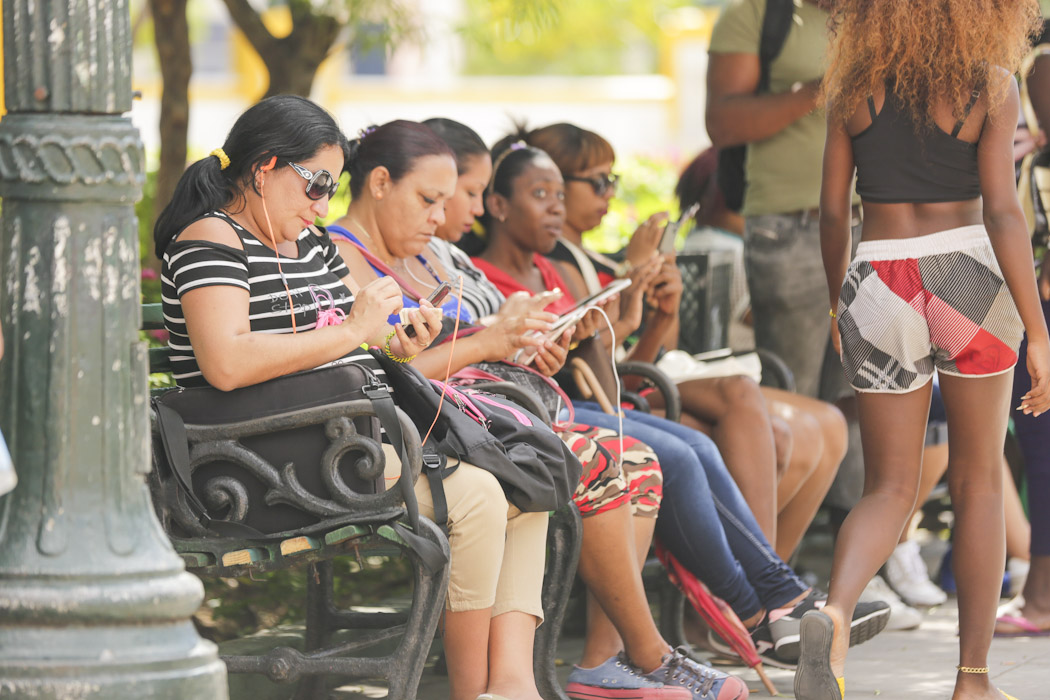 Internet connection is now available in Cuba, but not as widely and freely we are used to having it. None of the casas particulares had free wi-fi. However, a few casas did have a wi-fi modem where we could connect with our own Etecsa card. Some hotels offer internet for free, but for limited access of a few hours only. The normal way to access the internet is with an Etecsa card, which costs 1 CUC for a 1-hour connection. The card provides a user and password code which you insert once you connect to the Etecsa wifi network. Interesting (as much as annoying) is that you cannot connect wherever you want to! You need to be near the antennas, which are installed at public squares throughout towns. For this reason, the squares are packed with people in the evenings, with everyone coming together to connect to the internet. Oh, square fraternity!
You should also be aware that some websites, especially those from US companies (Apple, Airbnb, etc), do not fully work in Cuba. This is because these American companies recognise your IP address as being from Cuba, and they block their services (for instance, Apple's icloud). In order to have access to all American sites it is better to install a VPN.
On the other hand, the Cuban government also blocks some international websites, so you may see your access to news websites blocked.
9. Electricity/Plugs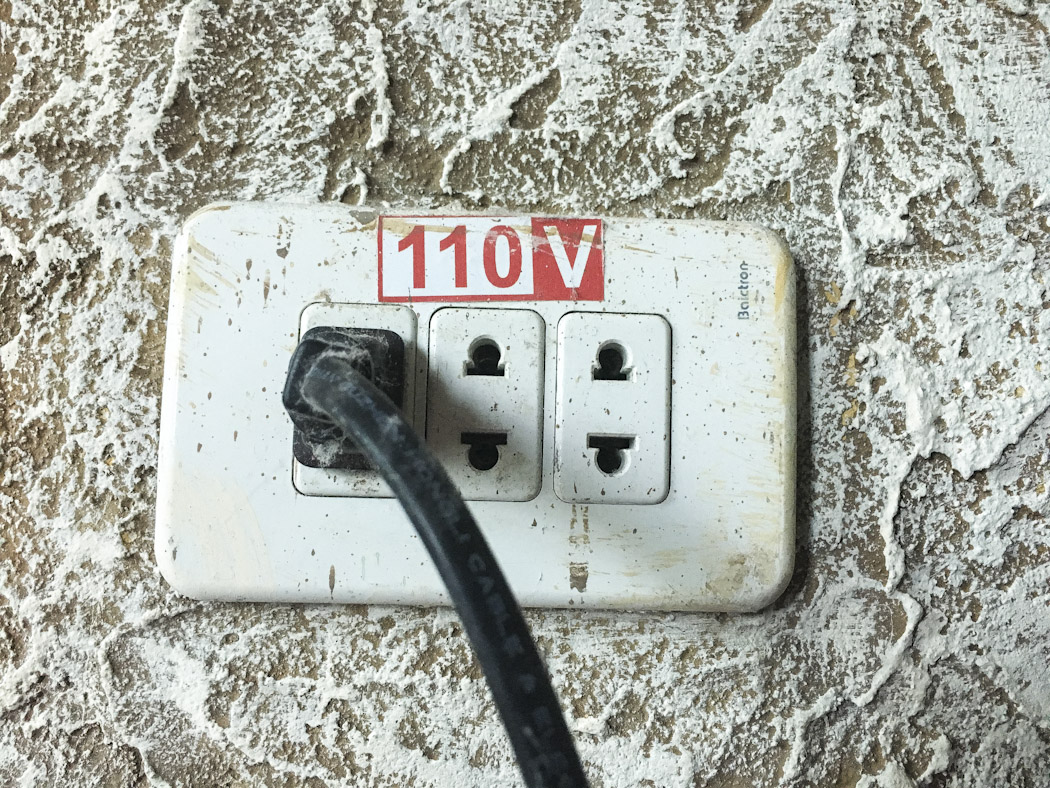 Most houses have a triple system of plugs (the American, the British and the European), where you can plug to 110 or 220 watts.
Interested in Cuba? You may find the following articles useful: