We don't have a particular attraction towards cemeteries, though we tend to visit at least one in each country, in order to have an idea of how specific regions, religions or cultures remember their deceased.
In Cuba, we decided we would visit the Santa Ifigenia Cemetery in Santiago de Cuba, for various reasons. It was considered one of the most beautiful in the country and there were enough illustrious residents amongst the white tombs for us to discover.
Cubans hardly celebrate All Saints Day on the 1st of November. The tradition of visiting the tombs of relatives and bringing them flowers is being forgotten, with very few old people still going to the cemetery on that day. But this cemetery is the last resting home of many notable Cubans, including José Martí and Manuel Céspedes, and since recently also Fidel Castro, therefore, it is not surprising that it looks very tidy and neat.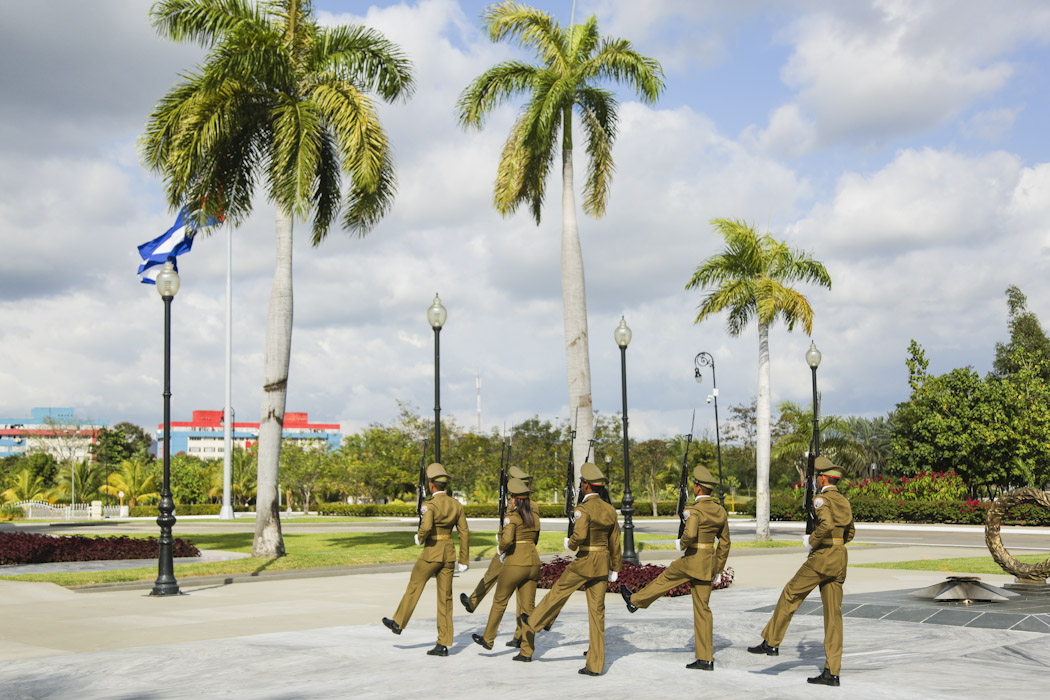 When we arrived we hurried to see the changing of the guard that was just happening. A number of guards are in guard all day, next to Fidel's and Martí's tombs mainly. Had we known that they actually make such a pompous change of the guard every 30 minutes, we would not have hurried.
At the entrance of the cemetery, there are the distinguished mausolea of the national heroes José Martí (1853 – 1895) and Manuel Céspedes (1819 –  1874). Despite being an important figure in Latin American literature, Martí is better known for his role in the fight for Cuban independence against Spain in the 19th century. For this reason, he is one of the national heroes.
Manuel Céspedes is another revolutionary hero, known as the 'Father of the Fatherland' because of his important role in the Ten Years War against Spain. Being a plantation owner himself, he freed all his slaves and declared the Cuban independence in 1868.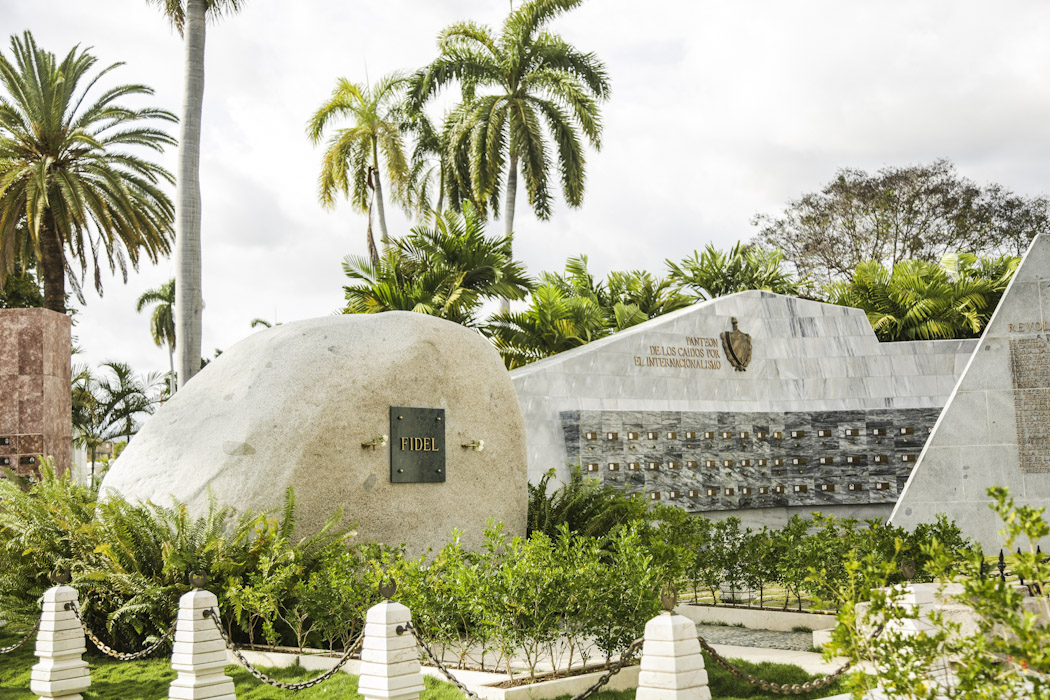 Fidel's tomb is surprisingly simple. It consists of a huge boulder with the inscription 'Fidel'. There are no dates referring to his birth and death, giving the impression of eternity. Fidel displayed as a God. As someone who was not born like any ordinary man and who will live forever…
As we walk deeper into the inside of the cemetery, we find other tombs. We don't recognise the names on the gravestones, but it is obvious that these were people of means – the gravestones look clean and prosperous. Occasionally a Cuban flag informs us that there's the grave of someone connected to the revolution.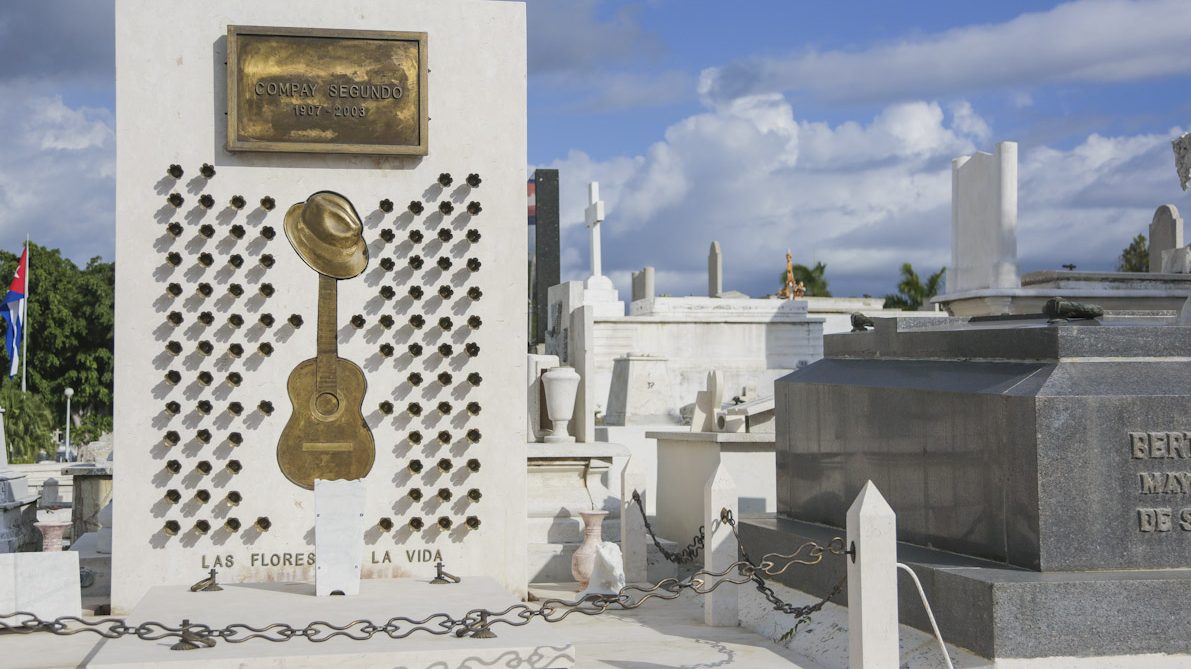 There's a very special tomb in this cemetery. It is the tomb of Compay Segundo, leader musician of Buena Vista Social Club band. It is a beautiful tomb with a guitar and a Cuban-styled hat on it, reminding the hat that Compay Segundo so often used, including in stage. Just the fact that we came across the tomb of this almost eternal man, who brought so much joy to us and to the hearts of so many Cubans with his music, made our visit to this cemetery worth it.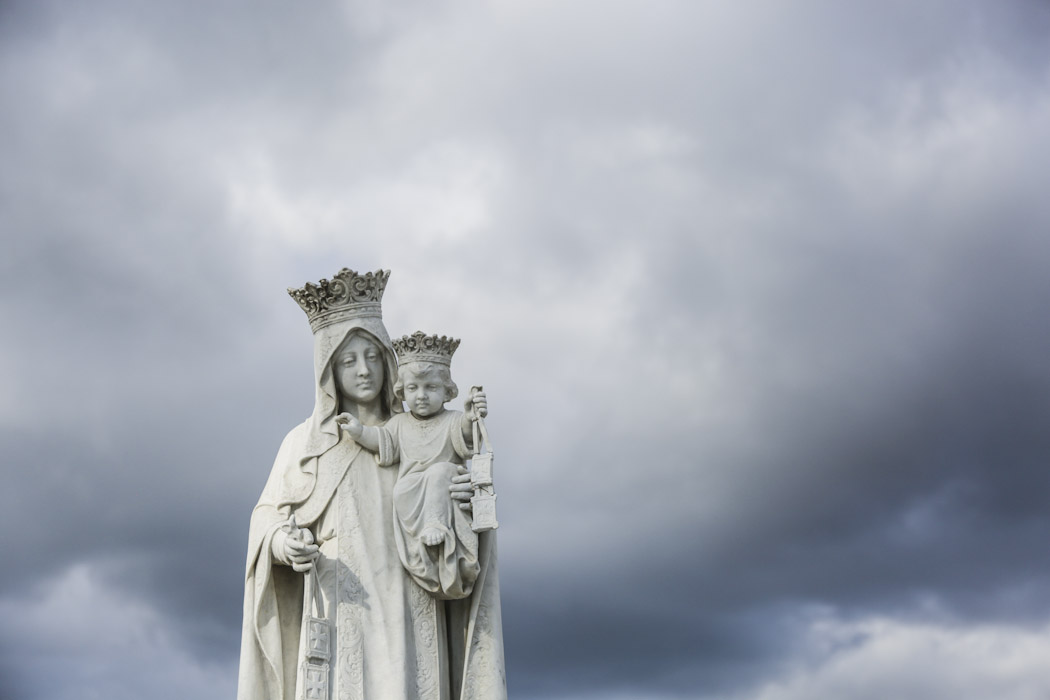 Interested in Cuba? You may find the following articles useful:
Check our diariesof magazine about Cuba for more travel inspiration
Pin For Later
Click one of the images to save it on your Pinterest